Whoever said "blogging is like riding a bicycle!" was totally wrong.
Wait, I don't think anyone ever said that.
But if they did — if they said "blogging is like riding a bicycle"; if they ever insinuated that one could take an unintended hiatus from blogging and then return three, six, twelve months later and just start writing deep, thoughtful and thought-provoking prose; if they implied one could remember five months prior what the hell was unfolding at slow-motion warp speed around one's ruination of a life and in one's heart-destroyed mind when one actually baked these cookies — IF THEY DID SAY THAT.
They were fucking wrong.
I think I really did forget how to write a good story, integrate a life theme, format a recipe and retouch a photo. Fark. Did I just blog that out loud? Now you know that we do, indeed, retouch photos here at The Delicious Life and that these Oatmeal Blueberry Cookies aren't as porcelain-skinned, anorexic-thinned, toned and tanned as they appear.
Now you know. Recipe below.
(At least I didn't forget how to rhyme.)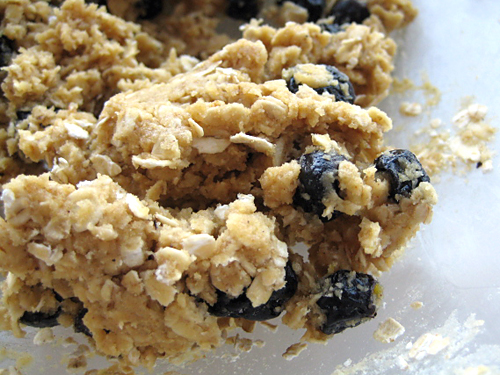 Blueberry Oatmeal Cookies Recipe
I would love to say that this recipe is special and unique and oh so creatively created by moi based on the original Quaker Oats recipe on the canister, but it's not. It is the exact same recipe, with a simple substitution of (slightly more) dried blueberries for the raisins.
½ pound (2 sticks) butter, softened
1 c. firmly packed brown sugar
½ c. granulated sugar
2 eggs
1 tsp. vanilla
1½ c. all-purpose flour
1 tsp baking soda
1 tsp ground cinnamon
½ tsp. salt (optional)
3 c. oats
1½ c. dried blueberries
Heat oven to 350°F. In large bowl, beat margarine and sugars until creamy. Add eggs and vanilla; beat well. Add combined flour, baking soda, cinnamon and salt; mix well. Add oats and dried blueberries.
Drop dough by rounded tablespoonfuls onto ungreased cookie sheets.
Bake 10 to 12 minutes or until light golden brown.
I never wait for cookies to cool.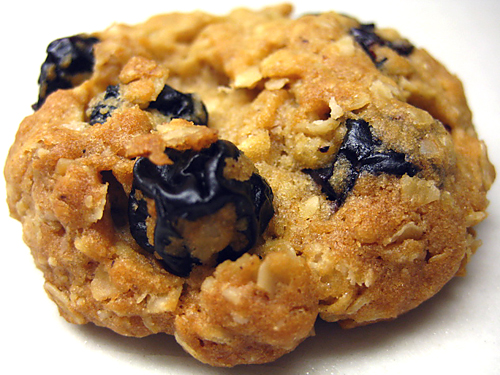 Blueberry Oatmeal Cookie Recipes from Around the Web:
If you've made some version of Oatmeal Blueberry Cookies, please share the link in the comments and I'll add it here.