The phone buzzing in my hand jerked me back to reality. I had been sitting on the edge of my bed in a sort of half-dream, fantasizing about the future – a house in West Hollywood, a pretty little garden without a birdbath because birds are disgusting, three cars (one each, plus a "weekend car"), and an English bulldog named Queen Elizabeth. You know, those silly, highly-detailed future-fantasies that girls have.
"Hello," I purred into the phone. Seriously, I purred. I never purr, and had it been any other day, I would have made myself puke, but it seemed strangely appropriate.
"I'm here. Come on down."
To the minute. No, to the nanosecond. He was on time, and surprisingly, I was, too. I am almost never "ready" on time when it comes to going out. It doesn't matter how early I start, I will always need at least another 10 minutes. This time, I stayed focus; no checking email while still in my towel, no IM-ing between eyeliner and mascara. I guess that's what happens when it matters. I was showered, blowed out, rolled, moussed, made up, and dressed, before he even got there. That's why I was sitting on my bed waiting.
Just before the elevator groaned open in the lobby, I did the final once over. He was in a car with the hazards on out front, but the front entry of my building is all glass. He could have seen me. I had to look good from the lobby. I could see him. He looked *ahem* awesome. It made me nervous. I hate when awesome makes me nervous.
"Hi!" The black leather seat was cold when I sunk into it, but I pretended not to notice.
"You look great."
It took every ounce of willpower in my body, plus some extra that I swigged just before stepping out of my apartment, to refrain from my immediate, natural response. Do not do it. Do not say it. Don't. Don't-don't-don't-don't.
I smiled. "Thank you." (I didn't do it.)
Slightly smug in my personal victory that he will never know about, I settled back in the passenger seat and buckled my seat belt. "So where're we going?" I asked out of habit.
He shifted into Drive with determination. "It's a surprise." He drove with purpose. He knew where we were going. I did not.
Screeeeech!!!
Skidding, twirling, turning, then bang! The sound of metal tearing, crushing, folding and glass disintegrating into a thousand jagged shards tore through both my eardrums on either side into me head until they met in the middle of my brain and completely vaporized it in a horrible, pulpy mess. My eyes were closed for just a millisecond, but I had been blinded.
He had just said "It's a surprise, " and while we had not literally gotten into a car accident, and were in fact, very steadily making our way along San Vicente Blvd, his saying "It's a surprise" was the equivalent of an ear-piercing trainwreck.
I was stunned. I didn't know what to say, so I remained silent on the outside, but inside, my head was spinning like I had been possessed by Prada. I had just asked where we were going and though he said something that I am sure he was intending to be vaguely playful and "cute," translated to my ears as "I eat live puppies with a side of kitten blood," spoken in hellsmouth. I faced forward. My hands were neatly folded in my lap, and if I looked at myself in the vanity mirror on the other side of the visor flap, I am sure my lips would have been sealed tightly into a thin pink line.
"Oh!" I said in the highest octave I could muster so that "Oh" would sound sweet and girlie and excited, and not like an evil "Oooooh?"
I do not like surprises, but that is not the point.
It was the spirit of his response to "Where are we going?"
In anyone else's world, the natural response to "Where are we going?" is "Somewhere" or in his case, "It's a surprise." Fine. That's the normal world. This is the Delicious World, and in the Delicious World, the standard response to "Where are we going" is not "Somewhere." In fact, it's not anywhere.
In my world, "Where are we going?" is the equivalent of the normal "How are you?" Despite what standard language structure you may have learned in grammar school, when someone asks "How are you?" no matter how high-pitched the inflection is at the end, no matter that there is an actual question mark (?) there when on the printed page, it is not a question. "How are you?" is a statement that actually translates to "Hi," maybe "Hello" if you're all formal like that. Because "How are you?" is not a question, there is no answer. Unless s/he is Mother Theresa, the Pope, or Dr. Ophilprah, the person asking does not want to know how you really are. The universal, accepted response to "How are you?" is "Great!" regardless (hear me? regardless) of roadrageous traffic, your seasonal allergies, your manic depression, the promotion you didn't get, or anything else positive or negative for that matter.
(Incidentally, I have tried to ban "How are you?" from my personal lexicon, unless I am gossiping with a girlfriend, in which case, "How are you?" actually means, "OMG, he is such a pig. Tell me everything.")
So in the Delicious World, "Where are we going?" is not a question, but in fact, a simple greeting for which the acceptable return greeting can range from "I don't know, babe, what do you feel like?" to "I don't know, babe, what do you feel like?" :) It is not any permuation of "I have already chosen," and most certainly not "I have already chosen and it's a surpise."
We were on Wilshire. Am I supposed to playfully play along like the playful girl that I'm not, playfully clap my hands together and squeal? "Eeeee! I love surprises! Oh, can I guess?" Do I feign flirtatious irritation, which isn't really feigning anything because I really was irritated? "Awww, come on. Where are we goooOOOoooing?" Do I sit there and spew out this same Delicious dissertation to him, only to leave him wondering why we were going out in the first place? Do I sit quietly and braise in a self-psychoanalysis of my "control issues?"
I could feel the cold of the leather seat through my clothes. I didn't say anything about turning up the heat. I wanted to be cold and uncomfortable.
As we turned down Lincoln, I surrendered (not that I was in any sort of battle, other than with myself) and told myself to have a good time, dammit. We ended up in front of a space where I used to party as an alternative to the hassle of Hollywood. Sugar. Same beats, different drive. It isn't Sugar anymore, though.
Where are we going? Bodega Wine Bar.
OooOOOoooh! I love surprises!
Wine bars, while slowly becoming too trendy for their own good, are still one of my favorite ways to play. They are popping up like dandelions in April all over LA, but the Westside has only seen a few. I had gone to Bodega Wine Bar in Pasadena once before for a job interview (who holds a job interview in a wine bar?!?! a place I'd love to work), but Pasadena is pretty far out of my life's radius, so I never went back. I didn't get the job, so that might have had something to do with my non-return, too. When I had rumours in the dining underground that Bodega had taken over the Sugar space, I was excited. Wine. Proximity. I followed their opening.
The outside looks very different. Sugar somewhat lurked in the shadows with a simple industrial garage looking door that made you feel like you were about to step into a dirty warehouse. Bodega punched through the brick facade and made it all glass, teasing random passers by with a dark view of the interior. Of course, there really isn't any teasing going on at all, since Bodega is on a section of Broadway where the only random passers by are wandering homeless who can't find the Promenade.
Bodega's owners completely transformed the interior, except for the location of the bathrooms and the actual bar. The wall that used to separate the bar area from a dancefloor is gone, creating one large, open space. There is still a warehouse loft-ish feel because some of the old brick wall is exposed, but it feels clean. I always felt like Sugar's walls and floor needed a thorough hosing down at the end of the night.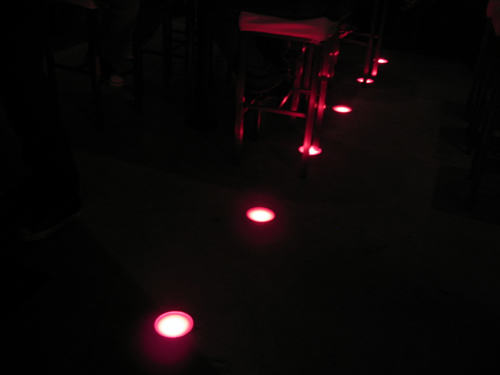 We walked toward the bar, stepping over dark pink lights embedded deep into the polished concrete (not sure, I am not an interior designer) and dodging between high bar tables in the middle of the room. For a weeknight, at an early hour, Bodega Wine Bar was already pretty crowded. Lots of Westside hipsters, but that was okay. I have developed an immunity to them.


The drink menu is confined to alcoholic beverages that can be classified as beer or wine, which is a function of the liquor license that Sugar had before. The wine list didn't make me particularly hot, either positively or negatively, but I most certainly did not want soju, the culprit of many an insidious mornings after, no matter how little I sipped. I was a little bit flummoxed when the bartender said they didn't have sparkling wine. Normally, I am all for sharing a single bottle (or two) for the whole evening, but it defeats the prupose of a wine bar for me. I like variety. I like options. I don't want to be tied down to the same thing all night (talking about the wine here). The bartender said they did have a sparkling wine "in a can," but the look on his face and the tone of his voice made it clear that I'd be better off drinking Alka Seltzer from a Capri Sun pouch. The can comes with a straw, he mentioned, that bends. Just like Capri Sun.
He's a bartender though, and boozers, like me, can't be choosers. I ordered the sparkling wine in a can because it is Sofia Blanc de Blancs. The regular Sofia Blanc de Blancs in a bottle, ultra-femfloralpink and flossing a chiffon bag, is not bad. Would that soft, light fruity effervescence be the same from a hot pink can, sucked down with a straw, or will it taste like a fermented version of Tab Energy?


Sofia Mini Blanc de Blancs is not so horrible that I couldn't finish the entire can (which the baretender actually poured into a glass for me). However, I also had no other choice, and while I can appreciate the novelty of sparkling wine in a can, I can't quite understand how convenience of a portable 4-pack overrides a better tasting bottle.
** disclaimer ** So that you can decide how seriously you would like to take comments about wine on The Delicious Life, here are a few things for context: 1) TDL drinks a glass of wine every night – for antioxidants, 2) Chardonnay is termite feed, 3) there is nothing wrong with pink wine, and 4) Syrah, like Sarah, goes with everything. ** end disclaimer **
Bodega's food menu (pdf) offers a small selection of the types of foods that you might serve if you were hosting a cocktail party at home – cheese, cured meats, crackers, light salads, paninis and pizzas.
No more surprises. No more statements disguised as questions. We started with hummus, most likely because I pointed at it on the menu and squealed, "Ooooh! I loooove hummus!" Unless it has been made with rotting fermented garbanzo beans, rancid olive oil, or "lemon juice" made from a concentrate, I will eat hummus. Heck, I might even overlook fermented garbanzo beans, but I draw the line at those green-capped yellow plastic bottle shaped like lemons. I have standards, you know.
Bodega's hummus was good enough, so we ventured to the PLT, their take on the BLT made with Portobello mushrooms for "P" instead of Bacon for "B" (I only make that explicit because now the sandwich is vegetarian, and not made with Prosciutto or Plain ol' Pig, or some other thing that starts with "P"). The sandwich wasn't foodgasmic by any stretch of the imagination, for it is a sandwich, after all, but I did appreciate the attention to balance - thinly pressed bread that did not overwhelm the good things inside. If I could, I would eat every sandwich without the bread (which would make it…a salad!), but that is not always the most practical method of eating, especially with your hands. Especially in a wine bar. Especially with him.
I have been back to Bodega since that first time, and it was decent food and wine-wise (no sparkling wine for me that time). However, the second time, I noticed that the noise level was unusually high. We were sitting at a high table in the center of the room and even when both of us leaned in to an uncomfortably close angle, we couldn't hear each other. My guess is that the acoustics against brick walls and concrete floors is pretty good - made it great for a club like Sugar, not so great for a wine bar.
Where are we going? I don't know. Maybe Bodega.
** a year ago today, la salsa made me mrs. florence, mistress cage **