Curious after a mysterious tweet, interested after the review, I am now slightly obsessed after my own experience at Kiyokawa, a tiny Japanese treasure in Beverly Hills that Jonathan Gold says is "the first place I was tempted to keep for myself."
Good thing he didn't.
We tried the chef's tasting menu ($78), the sushi omakase ($48), and had a couple bottles of sake.
Sometimes a picture is worth a thousand words. Here are 47,000, first the entire Chef's Omakase in course order, then the Sushi Omakase.
Kiyokawa Chef's Omakase
First Course: Marinated Vegetables
Marinated Spinach from First Course
Cucumber Oshinko with Bottarga (slices of dried fish roe) from First Course
Lotus Root from First Course
Burdock Root from First Course
Second Course: Sashimi with Whole Mackerel
Whole Mackerel, spotted across the bar
Spanish Mackerel Sashimi from Second Course
Halibut, Uni, Toro! Toro! Spanish Mackerel Sashimi
Halibut Flower and Uni Sashimi from Second Course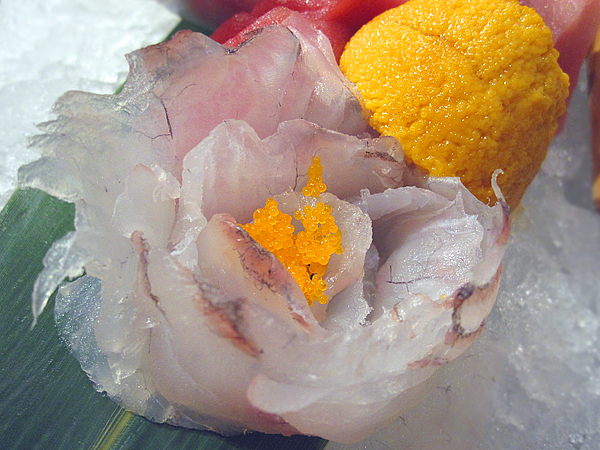 Fresh Grated Wasabi on Tiny Grater, presented alongside sashimi
It took a lot to restrain my inner korean klepto and not snatch the tiny, Post-It sized grater from the sashimi presentation and shove it into my purse.
Deep Fried Whole Mackerel Skeleton, taken away, fried and re-presented after finishing Second Course
Third Course: Pretty Little Things (I am making this name up because...because)
Foie Gras, Uni, Snow Crab, Halibut, Oyster, Hamachi [clockwise from top left]
Seared Foie Gras from Third Course
I asked what it was.
"Foie gras."
From...?
He gave me a curious look then replied "Hudson Valley..."
I clarified, asking from what animal? His was a question-answer. "Duck?"
But it's such a tiny little foie gras, it must have been a tiny duck!
He laughed. I think it was out of politeness. Or fear.
I wasn't buzzed. (Yet.)
Marinated Uni from Third Course, presented in jewel box
I do not love uni. In fact, I used to hate uni because I could not get over what they actually are — gonads — even though...well, never mind. The point is, when I have a piece that is that particular perfect combination of sweet and metallic, I enjoy it, but I don't crave uni like I crave a funyun.
The marinated uni makes me crave funyuns. Yes it was so good, it confused me, too.
Snow Crab on Wonton Crisp from Third Course:
Is this...a crab nacho?
Hamachi and Jalapeno from Third Course
Kumamoto Oyster with Caviar and Gold:
There may be bigger, "better," brinier, there may be milder, sweeter, or even overall tastier, but there will never be an oyster sexier than the tiny Kumamoto coming so completely undone, reaching down with her frilly little lip for a taste of the luxury left on the bump of her belly just barely rising above her own innocent puddle.
East Coast Halibut from Third Course
Fourth Course: Daikon, Taro and Tofu in Broth
from Jonathan Gold: "astonishing in its simplicity, a strong dashi bathing a single, luscious round of daikon; some carrot; half a taro root with its hairy outside but not its potatolike inner skin removed; and a couple of snow peas. It takes 15 minutes to remove the outer skin of taro, rubbing each tuber with a crumpled piece of aluminum foil instead of swiping it with a knife. Each vegetable needs to be simmered separately, and combined only at the end, so that the flavors do not muddy one another. It is a dish worthy of a three-star French chef."
Fifth Course: Miso Marinated Cod
from Jonathan Gold: "so delicate that it barely makes it to mouth without collapsing"
Sixth Course: Fried Scallop and Tofu Dumpling in Broth
from Jonathan Gold: "recalls a New York deli by way of Japan: a kind of treyf matzoh ball"
Seventh Course: Sushi
Toro, Super Toro, Halibut Fin, Uni and Salmon Sushi [clockwise form top left]
Halibut Fin from Seventh Course
Yuzu and Fresh Wasabi on Grater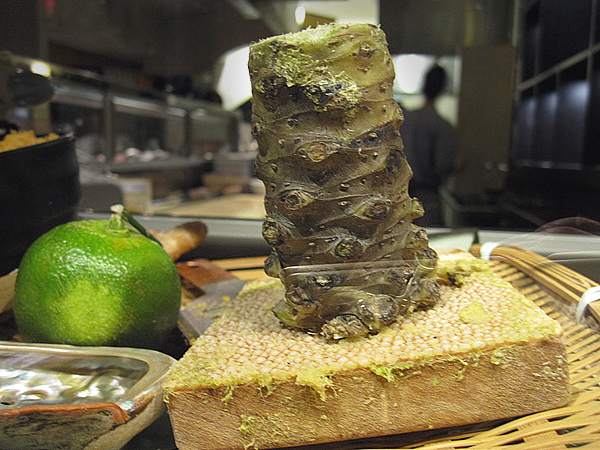 Caviar, Ankimo ("I thought it was raw chicken, but..." Never mind.) Truffle Salt
Live Abalone
What's that?
"Live abalone!"
(Gross)
"Try it!"
Ooo K. (Gross)
Horin Sake: "Rich fragrance, smooth taste, clean finish"
Sushi Omakase
Miso Soup
Sushi Omakase, First Course
Black Snapper, Red Snapper, Kanpachi, East Coast Halibut [clockwise from top left]
Black Snapper from First Course
Red Snapper from First Course
Kanpachi, Wasabi from First Course
East Coast Halibut from First Course
Second Course: Spanish Mackerel Sushi
Second Course: Pike Mackerel Sushi
Second Course: Pike Mackerel Sushi, from the backside
Third Course: Toro Sushi
Third Course: Albacore Belly with Tokyo Fried Onions
Fifth Course: Live Abalone Wrapped in Shiso with Plum Sauce
Fifth Course: Scallop
Sixth Course: Hamachi Belly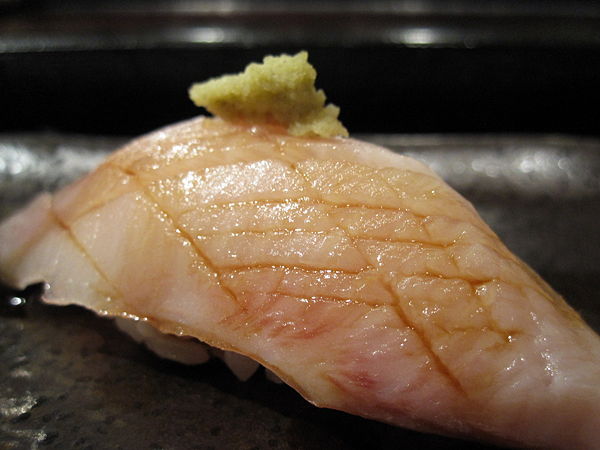 Sixth Course: Uni
Seventh Course: Hamachi Handroll
Flash Seared Super Toro
Tasted like steak.

Pickled Baby Ginger
If for nothing else, just go to taste the pickled ginger, which is (re-)pickled in-house to a much sweeter, milder flavor, and served shredded. If you ask with curiosity, Chef breaks out the secret stash of baby ginger. Condiment candy.

Dessert: Black Sesame Ice Cream