As Lukshon — or in our case, friends with a reservation — would have it...
raw: Malpeque Oysters
Malpeque oysters from Prince Edward Island, sudachi long pepper mignonette [$15/$30]. Oysters were very deliciously "oyster-y." Drank sauce straight.

raw: Deer Island Scallops
with water chestnut cucumber relish and prawn salt [$17]. Very sweet.

raw: Spanish Mackerel - WIN!
with coconut vinegar, jalapeno, lemongrass, and green papaya [$14] Weird, but in a good way.

wine: Brokenwood Semillon Hunter Valley (Australia)
with raw oysters, scallops, and Spanish mackerel, selection by Eduardo "singing somm" Porto Carreiro

small: Shrimp Toast
rock shrimp with cilantro, chiles and tiny crouton [$14]

small: Chicken Pops - WIN!
Shelton Farms drumettes, garlic, kecap manis, spicy sichuan salt [$14]. Kind of want to order an entire tray for a party. Or just myself.

wine: Lambrusco
"shimmery sweet"

small: Pickled Cauliflower
accompaniment to roti canai

small: Lamb Sausage Roti Canai - WIN!
chana dal, cumin, mint, pickled cauliflower [$15]. All pizza should be on crisp, flaky roti.

big: Prince Edward Island Mussels
green chile rempah, coconut, tapioca, thai basil, lime [$19]. "Is that roe?! Ew..." "It's tapioca." "Oh. Oh! *slurp*"

big: Short Rib Rendang
malay spices, red chile lemongrass rempah, coconut cream [$32]

noodles: Dandan Noodles - WIN!
kurobota pork, sesame, preserved mustard greens, sichuan peppercorns, peanuts [$13] like jia jiang myun. but browner. and heavier. and spicier. so actually, no, not like jia jiang myun.

rice: Heirloom Black Rice
lap cheong, onion, roasted garlic, fried egg [$11]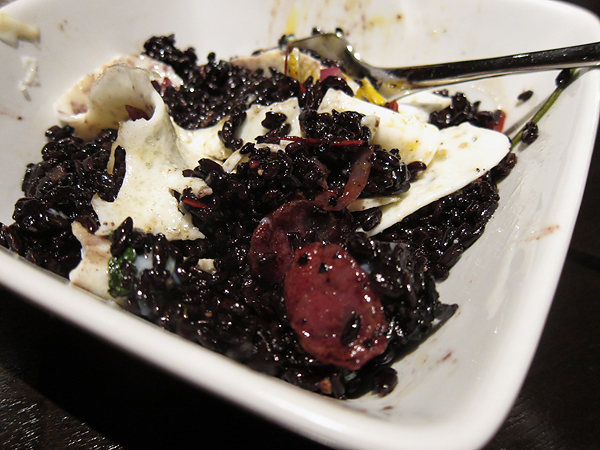 rice: XO Rice
jasmine rice, housemade xo sauce, long beans, egg [$10] skip this. weird, in a weird way.

sides: Yu Choy Sum
with aged ham, shaoxing wine, garlic. $8

endings: Vietnamese Iced Coffee
endings: Dessert Plate
pine nut cake with Asian pear sorbet, mandarin sorbet with pomegranate, coconut boba

endings: Boba from Dessert Plate
Lukshon
in the Helms Bakery Complex (with H.D. Buttercup and Father's Office)
3239 Helms Ave.
Culver City, CA
310.202.6808
www.lukshon.com