beacon
3280 helms ave.
los angeles, ca 90034
310.838.7500
www.beacon-la.com
Beacon in Culver City is a hard table to come by at lunch time. At 12:45, it's full, and even though it's grey and cold outside, diners have spilled out onto the front patio under the beacon laundry sign. there are power lunches in the works, pairs of PTA moms between stops on furniture shopping at the helms bakery complex, and groups of grannies having "lovely lunches." Because they don't take reservations for fewer than 6, we had to wait for a few minutes. No matter as it allowed time to take in the decor - clean and modern with high ceilings and japanese accents. there are a lot of straight lines, edges, and cubes, but it still feels warm.
The lunch menu at beacon is smartly organized, but it hints at an identity crisis because there are so many categories: small plates, large plates, soups, salads and sandwiches, noodles, sushi and sashimi. though it is an asian cafe, some of the dishes are purely asian, some are fusion, and some are downright just burgers. you can't go to ruth's chris and order a roast chicken, and you can't go to beacon, "an asian cafe" and order a burger and fries. you could, but just how asian are french fries? (that's a jo-ku). i wasn't at all turned on by the noodles or sushi, and wondered if anyonewould come to beacon over say, a ramen house or a sushi bar, and actually order those.
We started with the green bean and smoked tofu salad, which was a little too tart, especially since i was expecting a sweet, creamy dressing. perhaps it was the banyuls of the banyuls-sesame dressing (and i admit i had no idea what banyuls was until i did a little research on the web). i wouldn't order it again.
however, even though they weren't sensational, the crispy vegetable springrolls i would order again. they were screaming hot, straight to the table from the fryer, so the paper thin skins were still flaky crisp. the filling was a little squishy for my taste, but perhaps that was better for soaking the fairly thin sweet and sour sauce. i prefer only vegetables inside, none of the other "stuff" (cornstarch or flour?) that is meant to make everything stick together into a solid mass. but, they're fried, and as eve said, eggrolls are like pizza.


speaking of pizza, who knew that the sauteed mushroom salad would be so pornographic? the shiitake, porcini, and other mushrooms were tossed in with the greens, but the mass of hoshi meki mushrooms lounging on top with its enormous mushrooms heads sprawled out was just so x-rated. the rest of the salad is innocent. like the green beans, the yuzu dressing was tart. however, the it didn't seem quite as sharp; a kick came instead, from togarashi-spiced almonds. what i thought were diced pineapples around the edge of the plate turned out to be manchego cheese, not melted, but warmed enough only until just glossy opaque.


I was pleasantly surprised by miso-marinated black cod. a long time ago, i vowed to never order miso marinated cod ever again, not because it doesn't taste great, but because, along with wasabi mashed potatoes, it was the ultimate representation of asian f *ew* sion cooking. it's a food-trend principle thing that i have a hard time explaining. but i am learning to overcome my fusionphobia, even in just trying beacon and was open to trying the cod. the flesh fell apart into slippery flakes that were sweet and mild, and not at all overpowered by the miso. i couldn't identify the yellow sauceon the plate that i was expecting to taste like mustard, but was sweet. the greens beans were in perfectly perpendicular lincoln log stacks, and tasted like they had the same yellow sauce. this is the flavor i was expecting on the green bean salad in the beginning.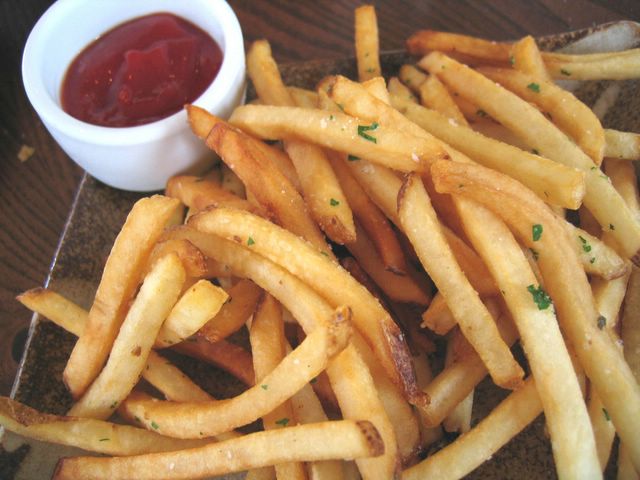 We couldn't resist ordering a side of french fries. and that's all i need to say about that.
even though it was lunch, i had to order a dessert, even if only for a taste. the dessert menu is a mix of zen-asian, japanese, and american. is the rice krispy sundae american because it's a sundae, or is it asian because the rice krispy treats are made with...rice? that's stretching it a little too far. we ordered the coconut rice and mango brulee. i don't like creme brulee because i like desserts that i can bite into, but this one, with the coconuts and rice, had some chew. i doubt i'd order it again, though, and probably pass on beacon's dessert menu altogether.
Overall, beacon has good food, a clean atmosphere, and not too expensive at $28 per person. but it's nothing worth my conversion to asian (con)fusion-ism. it's a nice place to take a client or a friend for lunch because it's close to my office, but i'm not so sure beacon will be a regular nighttime destination for me unless i'm already in the area.