Pho Ga (chicken pho) with Quinoa
Pho Ga to phight phlu. Quinoa for january qleanse. Recipe first, cook's notes and shopping resources follow.


Yes, that is parsley in my pho. I can't stand cilantro.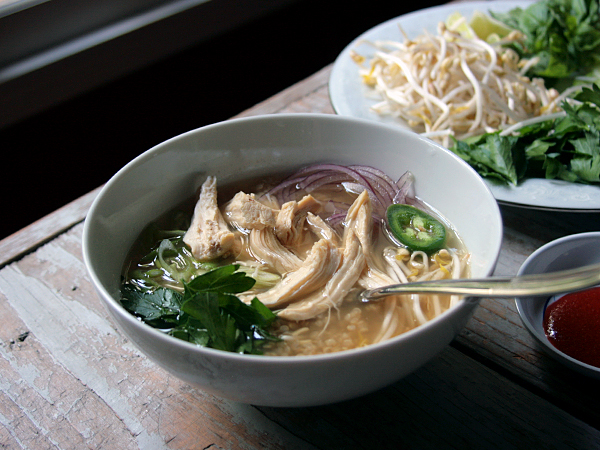 Pho Ga Quinoa (Chicken Pho with Quinoa) Recipe
Guided by recipes from Charles Phan, Steamy Kitchen, and Viet World Kitchen
serves 4
INGREDIENTS
For the Quinoa:
2 cups quinoa, uncooked
2 garlic cloves, lightly crushed
1-inch piece ginger, lightly crushed
1½ cups filtered water
For the Soup Base:
1 medium onion, cut in half, unpeeled
1 3-inch piece of ginger
1 whole chicken, quartered
1 tablespoon salt
2 tablespoons fish sauce
1 tablespoon sugar
10-12 sprigs fresh cilantro
1 tablespoon coriander seeds
1 pod star anise
½ stick of cinnamon
5-6 whole black peppercorns
For Garnish:
sliced scallions
sliced onions
fresh bean sprouts
mint
basil
cilantro (I HATE cilantro, so I use parsley, which is totally sacrilegious, I know, but who cares when you're using QUINOA instead of noodles already?!)
sliced jalapeño or serrano peppers
lime wedges
sriracha hot sauce, garlic chili sauce, and hoisin sauce
DIRECTIONS
Cook the Quinoa: Rinse the quinoa in a pot of cold water until the water runs clear. Drain the rinse water, then add the garlic, ginger, and filtered water for cooking. Place the pot on the stovetop over high heat. Once the water boils, turn down the heat to medium-low or low and simmer the quinoa uncovered until cooked, about 20 minutes.
If you have an electric rice cooker, use it to cook the quinoa with the garlic and ginger. You can also use plain cooked quinoa that you already have.
Make the Soup Base: Turn one of the burners on your gas stove to medium-high. Using a pair of metal tongs (and wearing a heatproof mitt or glove), place the onions and ginger directly on the burner over the flame, turning them occasionally until they are charred black all over, about 10 minutes. If you don't have a gas stove, you can get the same effect with a grill, the broiler in the oven, possibly a toaster oven. Allow the ginger and onion to cool, then remove the black charred skins by running the onions and ginger under water and rubbing the skins off with your fingers. Use a few paper towels to dry off the onions and ginger, rubbing to remove any remnant charred skin.
Place the charred onion and ginger, chicken parts, and the remaining Soup Base ingredients (salt, fish sauce, sugar, cilantro, coriander, star anise, cinnamon, and black peppercorns) in a large stock pot. Fill the pot with about 5 quarts cold, filtered water, or at least enough to cover the chicken by several inches. Bring to a boil, then immediately turn the heat down to medium-low. Simmer uncovered until the chicken is cooked through, about 25-30 minutes, skimming the surface of the soup to remove foam and fat globules with a mesh skimmer. I use a spoon because I'm too cheap and lazy to buy a special utensil.
Remove the cooked chicken parts from the soup base with a pair of tongs to a plate. Keep simmering the soup base, while the chicken cools. Once the chicken parts are cool enough to handle (about 10 minutes), peel off the skin and tear the meat from the bones. Cover and refrigerate the chicken meat until serving. Return the skin and bones to the simmering soup base and allow the soup base to simmer for 1½ hours on very low heat, covered with just a little bit of airspace to let steam escape.
Strain the soup base through a colander lined with cheesecloth or a large sieve, pressing down on the skin, bones, onions, ginger and spices to extract all the flavorful liquid. Discard the skin, bones, onions, ginger, and spices. Taste the soup base and adjust the seasoning with any more of salt, fish sauce, or if you must, sugar.
(I try to stay as far away as possible from any added sugar to anything, especially savory food even though I KNOW sweetness brings out the contrasting savory and sour flavors. OMG THERE IT IS - contradiction.)
If planning to eat immediately, return the strained soup base to the cooking pot and place over low heat to keep the soup base hot. If planning to eat later, cool the soup base to room temp, cover, then refrigerate.
To Serve the Pho Ga Quinoa: Place about 1 cup of cooked quinoa in each of four bowls. Ladle hot soup base into each bowl. Add a handful of shredded chicken meat to each bowl, along with some sliced scallions and sliced onions. Serve with plates of the remaining garnishes on the side (fresh bean sprouts, mint, basil, cilantro, sliced jalapeño or serrano peppers, lime wedges, sriracha hot sauce, garlic chili sauce, and hoisin sauce).
To Store Leftovers: If they are kept in separate containers and covered, leftover quinoa, soup base, and cooked chicken can all be stored in the refrigerator for a day or two. Reheat individual components separately then assemble to eat again. Pho Ga Quinoa that has been assembled in the bowl doesn't keep well so plan accordingly.
NOTES and RESOURCES
QUINOA. I buy organic quinoa from the bulk bins at Whole Foods.
CHICKEN. From Puritan Poultry/Marconda's in the 3rd/Fairfax Farmers' Market (LA)
SUGAR. More traditional pho recipes incorporate "rock sugar" which is literally giant rock crystals of sugar, slightly amber in color. I have a bag that I bought when I visited a Vietnamese market in Orange County, but it's not super easy to find, so substituting regular sugar is fine. If you are avoiding refined sugar, just leave it out. (If you're eating truly low-carb, you wouldn't be eating this with quinoa either.)
FISH SAUCE. There are many brands of fish sauce out there, but I use Red Boat fish sauce, which I have found in the larger Whole Foods markets in my city (Los Angeles), though it may not be available in all regions. You can always buy Red Boat fish sauce online.
SRIRACHA. We all know the sriracha sauce that comes in the rooster bottle with the green top, but that is not the only one. I found a (mostly) organic sriracha sauce by Sky Valley at Whole Foods.
All other produce and ingredients from local farmers' markets or Whole Foods (though my local Ralphs grocery store is ever-expanding their organic selections).