I am obsessed with Pok Pok (Portland, NYC) and I haven't even eaten there yet. When Andy Ricker (chef) came down to night+market in LA to cook a family-style feast for Thai New Year last week, I somehow very luckily scored an invitation to the private event.
Ok, maybe I bullied my way in...
Since it was a New Year festival, I'm hoping it's okay to reset my New Year's resolutions, one of which now includes "Go to Portland. Eat at Pok Pok."
I missed photos of some of the dishes. Sometimes that happens when you're having too much fun.
Laap Ped Umphoe Phen
Issan duck laap in the the style of Umphoe Phen, Udon, by night+market

Laap Muu Suk
Pork laap, Northern style with naam phrik laap Mae Rim, offal, khaep muu, herbs, fried garlic, by pokpok

Hor Ab
Catfish "tamale" seasoned with pork fat and sawtooth, by night+market

Yam Jin Kai
Village chicken soup with makhwen and diiplii, chilies, and herbs, by pokpok

Kaeng Hung Leh
Burmese-style curry of pork belly, ginger, pickled garlic, tamarind and burmese curry powder, by pokpok

Phat Khanom Jiin
Stir-fried golden rice vermicelli, by pokpok. This was one of the later courses and even though I had already indulged to the point of unladylike fullness, I ate almost the entire plate (meant for the table) by myself.

Sankhaya Turian
Pandan-scented coconut cream custard, duck eggs, palm sugar, and durian, with sweet sticky rice, by pokpok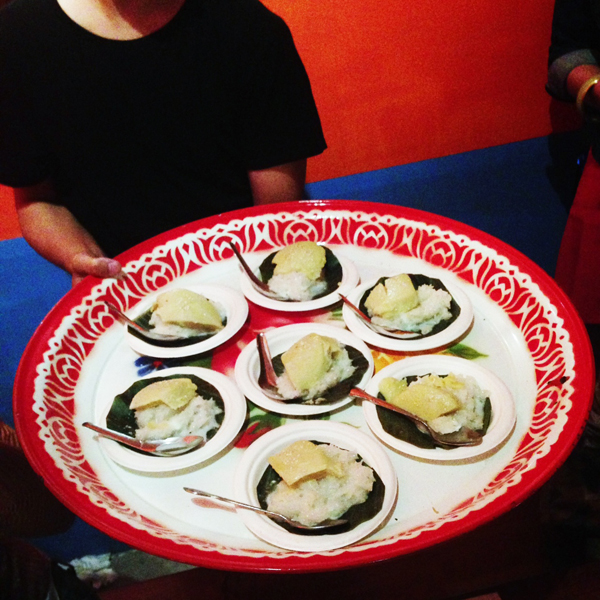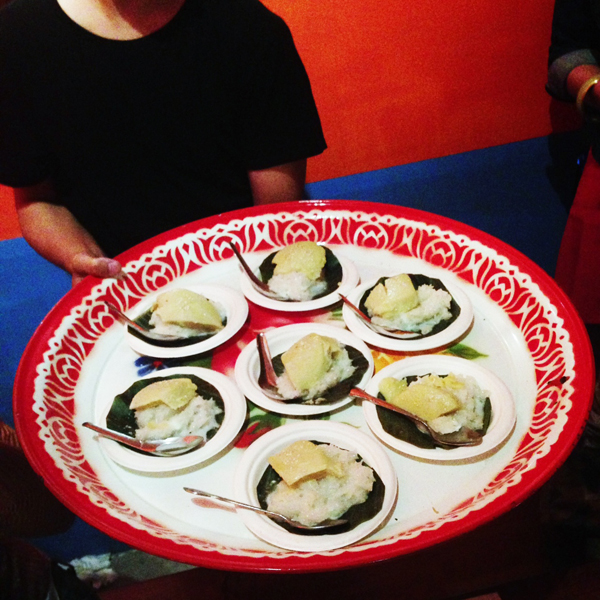 Pok Pok at Night+Market Menu