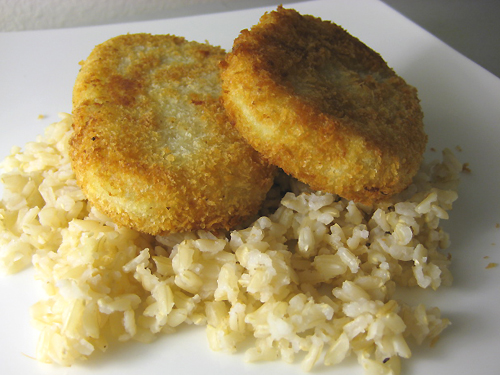 Japanese Potato Croquette Korokke Curry
"Authentic" Potato Croquettes usually start with plain whole potatoes. This recipe starts with about two cups of leftover mashed potatoes, which obviously will have some butter, milk/cream and salt. If your mashed potatoes are exceedingly creamy, i.e. "runny," the croquettes will not hold together very well, so you may want to heat the mashed potatoes slowly first in a frying pan to dehydrate them a little.
If the leftover mashed potatoes have other things in them, you are on your own with respect to how they will taste. I suspect bacon will be fine since these have ground beef, and wasabi will just go with the whole "Japanese" theme. However, if you got all crazy and mixed blue cheese into your mashed potatoes, first I salute you for such bravery at he Thanksgiving dinner table and second, I recommend you make the croquettes with leftover plain mashed potatoes next year.
Japanese Potato Croquette Korokke Ingredients
2 cups leftover plain (butter, milk/cream, and salt are fine) mashed potatoes:
1 tablespoon cooking oil
¼ lb ground beef
½ onion, finely chopped
1-2 cloves of garlic, finely minced
1 large egg, lightly beaten
salt pepper to taste
flour and panko, about half cup each
frying oil
½ package Japanese curry
Japanese Potato Croquette Korokke Directions
Heat cooking oil in large frying pan over medium heat and saute ground beef and chopped onions. When beef and onions are about halfway cooked, add minced garlic and cook until ground beef is fully cooked. Drain excess fat/oil from ground beef mixture. Add mashed potatoes to frying pan to heat (but not cook).
Remove mashed potatoes/ground beef mixture to a bowl, season with salt and pepper and cool until you can handle it.
Scoop out about about a half cup of the potato mixture and shape into an oval disc about ½-¾" thick. You should get 4-5 discs.
Carefully dredge each disc with flour, then egg, then breadcrumbs.
Heat about ½" of oil in frying pan over medium heat. Fry croquettes on each side until golden brown, about a minute on each side. Drain croquettes of oil on paper towels.
Prepare Curry Sauce according to package directions and add whatever cooked vegetables you like (I happened to have frozen peas and carrots). You can also make Japanese curry from scratch, but damn, that is a lot of effort for leftover mashed potatoes.
Serve croquettes with curry on steamed rice.