[above: What a Jerk! Chicken Wings, Sunny Spot restaurant, Venice, CA]
Who?
WHO?
And WHY?!
Who and why would anyone schedule a meeting at 7 PM?
On a Friday night?
On the Westside?!
I wouldn't schedule the meeting, but I did have to go. It was a meeting. For business. Big Time.
He would be on his way from doing big business somewhere west of here to doing big business somewhere east of here, layover in LA for a few hours on Friday night before a red-eye, did I have time to meet over a drink, maybe dinner?
Obviously.
And so it was calendared.
Dinner at 7PM on Friday night on the Westside doesn't sound bad when it's Monday. Even under the pressure on Wednesday of making a dinner reservation with the impossible parameters of "near the airport," but "fun," but "quiet," and only two days before because I was at a loss, I was into it. A rare opportunity to try a new place on the Westside! I picked Roy Choi's Sunny Spot in LAX-adjacent Venice, which is just west of Culver City, which is actually not that far from my house, which means I'm only going to go through one neighborhood to get there, which means Sunny Spot is essentially in my backyard!
Sunny Spot is not in my backyard (unless there are a blue plastic kiddie pool, a mini trampoline and two Big Green Eggs somewhere in the restaurant).
Sunny Spot is in Venice, which is only 9.8 miles away, which is only about a 15 minute drive on Sunday morning at 7:30 AM, but on Friday afternoon at 4:00 PM it hit me like a semi- barreling down the 405 freeway at 5 mph because...Friday. Rush hour. HolyfuckingwhatthehellwasIthinking?!
Uhhh, so, if I wanted to get to Venice by 7, what time do I have to leave my house?!?!
Oh, probably THREE HOURS AGO.
Seriously, I started to panic because I had no idea how long it would take to go 9.8 miles during Friday rush hour. I used to know. In another lifetime, I was a contributing member of LA's driving society. For a few years, I commuted from Diamond Bar (don't ask) to El Segundo (44 miles). For another few years, I commuted from Westwood to Irvine (53 miles). Occasionally, I commuted from LA to San Francisco, which was oftentimes shorter in time than the drive from Westwood to Irvine. I knew which freeway, which surface streets, and what time for everything.
But these days, I "commute" from the bedroom to the office in an easy 60 seconds. Even if I get caught up in the 405-hallway answering an email on my phone, I still get to from bed-to-desk in 10 minutes. I "never drive east of the 405," "never drive west of La Cienega," pretty much just "never drive." "Cab" is speed dial #2 on my phone. (And if you must know, "vegan delivery" is #1.)
The last time I was conscious of drive-time, it was so long ago that I still thought I could get from anywhere-in-LA to anywhere-else-in-LA in 25 minutes, no matter where-from, no matter where-to. Brentwood to Bev Center? 25 minutes. Downtown to LAX? 25 minutes. I know, I know. When was that, like 1951?
It's been a good 12, maybe 15, oh alright 17 years (has it really been that long?! this means I was driving at age TWO because I have it in my head that I'm forever 19 years old, which is a problem I should fully address another day), and who knows how much traffic patterns have changed in that time. It might take 15 minutes. It might take 90 minutes. If I leave at 6, it might take an hour. If I leave at 6:30 though, it'll only take a half hour so in either case, I get there at 7. Unless there's an accident. Or construction. And then I'll get there on Saturday.
So I tweeted for advice, looked at googlemaps for traffic, assumed googlemaps was totally wrong because it displayed green all the way, and then got on the road, giving myself ONE FULL HOUR to go 9.8 miles.
You guys?
I got there in 25 minutes.
I've never been that on-time for anything on the Westside.
Even when I lived there.
(p.s. The meeting went well! We were at Sunny Spot for four hours! Long enough to miss Friday night traffic back home.)
Scrimshaw Pilsner + Menus
Drank a Happy Hour beer at the bar by myself because I was, you know, THIRTY FIVE MINUTES EARLY.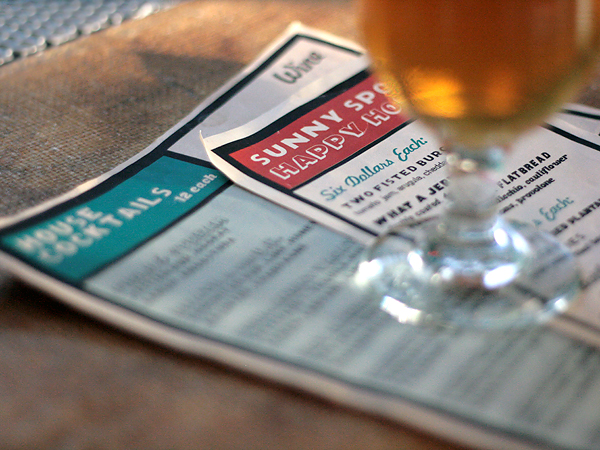 Cured Hamachi with Crunchy Fried Quinoa
Whole Roast Snapper with Ginger, Cilantro, Chili
Daiquiri with Smith & Cross Rum
Much thanks to the ladymix'tender with the killer purrrple eyeshadow for the taste of Smith & Cross!