"I like how you do Sunday brunch, oh you know, for four hours on a Wednesday afternoon."
"Brunch is not a meal. It's a state of mind."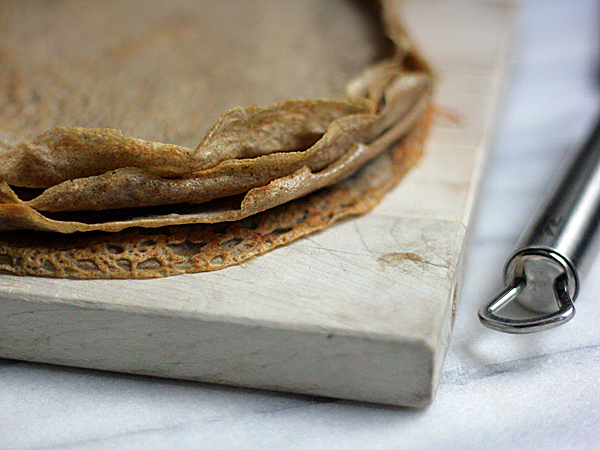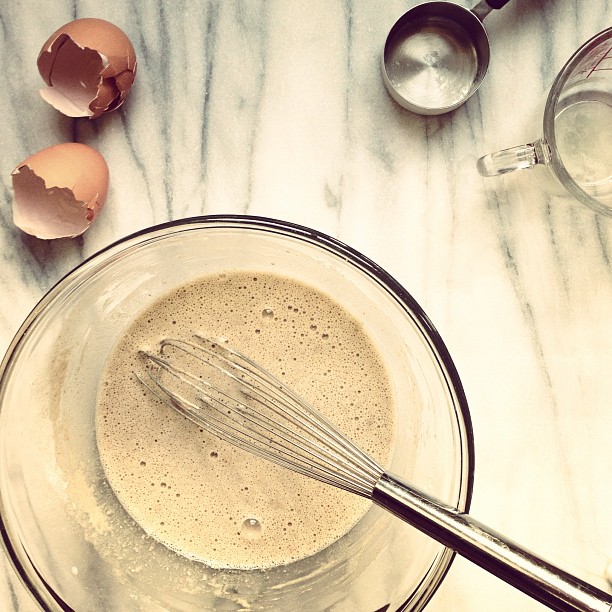 Print Recipe
Buckwheat Crepes Recipe
Ingredients
For the Buckwheat Crepes
1

cup

almond milk

4

large eggs

½

cup

buckwheat flour

salt to taste

olive oil for cooking
For the Crepe Fillings
savory: smoked salmon, fresh avocado, Greek yogurt, chopped fresh parsley, chives, dill, and/or other herbs, fresh cracked black pepper

sweet: fresh berries, Greek Yogurt, lemon zest, toasted almonds, chopped fresh mint
Instructions
In a medium bowl, whisk together almond milk and eggs. Add buckwheat flour and whisk until flour is fully incorporated. Add a pinch of salt (a little more if these will be savory). Cover the bowl with plastic wrap and put in refrigerator for a few hours, up to overnight.
To Cook Buckwheat Crepes
Heat 1 teaspoon of olive oil in large frying, sauté, or crepe pan over medium low heat. Swirl the pan to coat the bottom with the oil.

Re-whisk crepe batter as buckwheat flour may have sunk to the bottom. Ladle about 2-3 tablespoons of crepe batter into the center of the pan, then swirl the pan again to spread the batter over the bottom of the pan. Cook until almost completely set, about 2 minutes.

With a large, wide spatula, flip the crepe over and brown the other side, about 45 seconds to 1 minute. Slide the crepe out of the pan onto a plate. Repeat the process until all the batter is gone.

Fill crepes with smoked salmon and thinly sliced avocado. You can either roll the crepes or fold them into quarters to serve. Top with yogurt, chopped herbs, and freshly cracked black pepper.
Afterthoughts
I am obsessed with buckwheat right now. I haven't done the research myself, but if Drs. Perricone and Weil say its an outstanding whole food for aging, beauty, and life in general, I'm in.
It feels indulgent to eat crepes, but 100% buckwheat along with almond milk and omega-3 fortified eggs make these pretty much health food in a whore's outfit. I don't think I even have to mention the salmon, avocado, and yogurt.
Now this time, I actually did a little bit of research on crêpes. They originate from Brittany, a region in western France. Supposedly, as many foods are, crêpes were born out of necessity. Because the Brittany region is not conducive to growing large amounts of wheat to bake bread, crepes were a less flour-y alternative. A crêpe is a very thin pancake made with a batter of milk, flour, and eggs, but with a proportionally higher ratio of liquid to flour than a regular pancake. Crêpes can be made sweet or savory, often with the addition of a little bit of sugar or salt into the batter itself, and with choices of fillings. I need say but one word: Nutella. Am I right, or am I right?
For some reason, people sometimes have an circumstantiated fear that crepes are too difficult to make at home after marvelling at professionals wielding enormous pans and spatulas to fry crêpes as large as a Metro hubcap. Isn't the batter difficult to get right? Doesn't the batter have to be prepared long in advance? Don't we need a special George Foreman lean, mean, crepe-making machine?!?!
Sacre bleu! Au contraire, mon frere. Frere jacques, dormez vous? Voulez vouz, and all that French osh kosh b'gosh! None of it is true.
I mixed the batter the morning of and fried the crepes a few hours later. Of course, it is true that many recipes recommend letting the better "rest" for up to 48 hours in the refrigerator to allow for a smoother, softer crepe. As the batter "rests," the flour can soak up the liquid. Please - do you think I have the foresight to plan that far ahead?
And no, I do not own a crepe pan, which to me, would just be a ridiculous waste of money that I would rather spend on a massage. There was nothing difficult at all about using a regular frying pan. And forget about the specialspatular or long wooden dowel thing the professionals in the crepe stand at the farmers' market use. Chopsticks are the same thing.