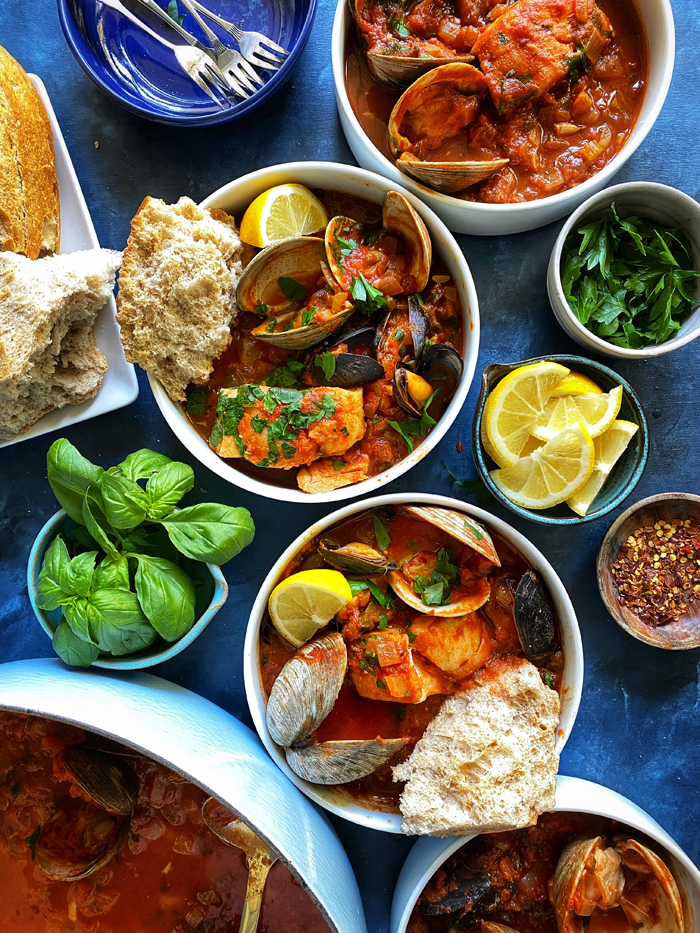 What better way to celebrate National Tomato Day, April 6, than with a Classic Cioppino recipe, an Italian-American tomato-based fish and shellfish stew, born in San Francisco.
This version has Alaskan cod and West Coast shellfish, and stars Pomi Tomatoes, which are 100% fresh Italian tomatoes. Pomi Finely Chopped Tomatoes are peeled and crushed so they're ready to go right out of the box.
Classic Cioppino recipe with Pomi tomatoes below, cooking notes and resources follow.
RESOURCES and NOTES
Advance Cooking. You can make the Cioppino tomato base one day ahead (everything up until adding the seafood), and keep it covered and refrigerated. On the day of serving, bring the Cioppino base back to boil in a large pot, and continue with adding seafood.
Anchovies. Because the anchovies dissolve into the sauce to add umami, you don't need very fancy (read: "expensive") anchovies. This jar of anchovies is the one I use for everything.
White Wine. Any dry white wine that you would actually drink yourself is good. If you want to keep with the California Italian theme, use a Pinot Grigio from California like this one.
Tomatoes. Pomi Finely Chopped Tomatoes are great for this recipe because the 26 ounce box is exactly the right measured amount. The version I used is part of the Pomi Italian Weekend Trio, which includes Strained Tomatoes, a very smooth puree perfect for a soup or fine sauce, and Chopped Tomatoes, which have more texture than the Finely Chopped tomatoes.
Chicken Stock. I use a homemade chicken bone broth, but any high-quality chicken stock works. If you are pescatarian, you can use water, a rich vegetable stock, or seafood stock. I did not use seafood stock because most prepared fish stocks incorporate shrimp, to which I am allergic, and who has the time and energy to make their own fish stock.
Dried Oregano. I use Sicilian dried oregano that comes dried whole on its stems, like this one.
Fish. Use any firm white fish that won't fall apart too easily in the pot. The one pictured here is Alaskan cod; I have also used halibut. You could possibly use salmon, but I have never tried it. The most important thing about fish and all of the seafood is that it's fresh. Ask your fishmonger for the freshest fish available that day, noting that you're putting the seafood into a Cioppino recipe. They'll know what you're talking about.
Mussels. Keep the mussels in the refrigerator or on ice. Scrub the outside of the mussels' shells and rinse them in cool clean water. Remove the fibers (sometimes called the "beard") by pulling them out and away from the shell toward their hinge end. Most mussels are farmed and will be fairly "clean" when you buy them.
Clams. Keep fresh clams in the refrigerator or on ice. Scrub the outside of the clams' shells and rinse them in cool clean water. Soak the clams in a saltwater solution for about an hour, 1 tablespoon Kosher salt to 1 cup of water. This will help "clean out" any gritty sand or other unsavory things inside the clams. Rinse the clams in cool fresh water again before adding to recipe.
Crab. If you are using crab, buy crab legs that are already cooked. My fishmonger had frozen cooked Alaskan King crab legs. (They were $60/pound so obviously I passed this time.) Defrost frozen crab in refrigerator before adding to cooking pot.
Classic Cioppino Recipe
with Pomi Finely Chopped Tomatoes in the Italian Weekend Trio
serves 4 - 6
Ingredients
2-4

tablespoons

olive oil for cooking

4

anchovies

1

onion

chopped

1

celery stalk

finely chopped (about ½ cup)

6

cloves

garlic

finely chopped

1

teaspoon

dried red pepper

1

bay leaf

1½

cup

dry white wine

about ½ bottle

1

26-ounce

container of Pomi Finely Chopped Tomatoes

3

cups

chicken stock or vegetable stock if you're pescatarian

2+ 2

tablespoons

chopped fresh parsley

2

tablespoons

chopped fresh oregano

or 2 teaspoons dried oregano

1

pound

firm-fleshed white fish fillets

cut into 8 pieces

1

dozen mussels

about ½ pound, soaked in fresh water for 20 minutes

10-12

sea scallops or clams

Kosher salt and fresh cracked black pepper to taste

additional garnish: chopped fresh basil

serve with: warmed sourdough bread

grilled garlic crostinis, lemon wedges

optional: 4 Alaskan King crab legs

8 very large shrimp (see Notes)
Instructions
Heat 2 tablespoons of olive oil in a large pot over medium heat. Add the anchovies and gently smash them into the oil with your spoon until they are almost completed "melted." Add onion and celery and cook until the onion is translucent, about 10 minutes. Add garlic, red pepper flakes, and bay leaf and cook 2 minutes until garlic is fragrant.

Add wine and let simmer about 1 minute while scraping any browned bits from the pot. Add finely chopped tomatoes, chicken stock, parsley, and oregano. Cover and bring to a boil. Reduce the heat to medium-low and simmer covered 45 minutes. Season to taste with salt. At this point, I added 1 teaspoon of Kosher salt. The exact amount you use will vary depending on how salty your anchovies and stock are.

(You can cool the Cioppino tomato base at this point and store in the refrigerator to cook the following day. When ready to finish cooking the dish, return the Cioppino tomato base to a large clean pot, bring to a boil, reduce heat, and proceed as follows.)

Remove bay leaf. Add clams to the pot. Cover and cook until the clams begin to open, about 10 minutes. Add mussels, and cook until they open, about 5 minutes. Add the fish. Simmer gently until the fish is just cooked through, and the clams and mussels are completely open, another 5 minutes. Discard any clams and mussels that do not open.

Taste the tomato base and season with more salt and red pepper flakes if necessary. I added about ½ teaspoon more salt here.

Ladle Classic Cioppino into bowls. Garnish with fresh chopped parsley and basil if using.

Serve with warmed or grilled bread and lemon wedges.
recipe created in partnership with Pomi Tomatoes