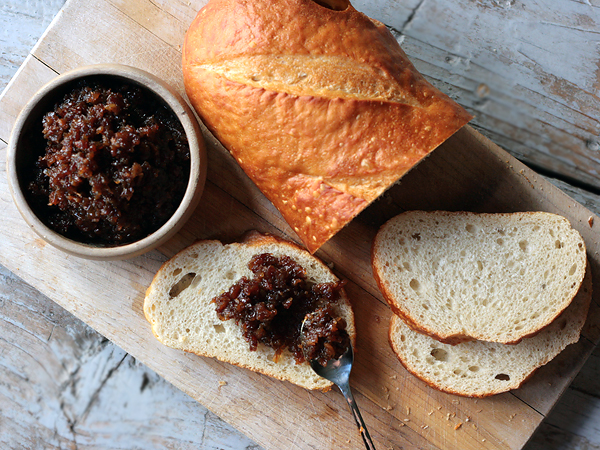 There are lots of things you can add to Bacon Jam — bourbon! maple syrup! hot pepper! — but I am staying on the path of least resistance to get as quickly and easily to this final glorious thing that tastes like sticky sweet bacon.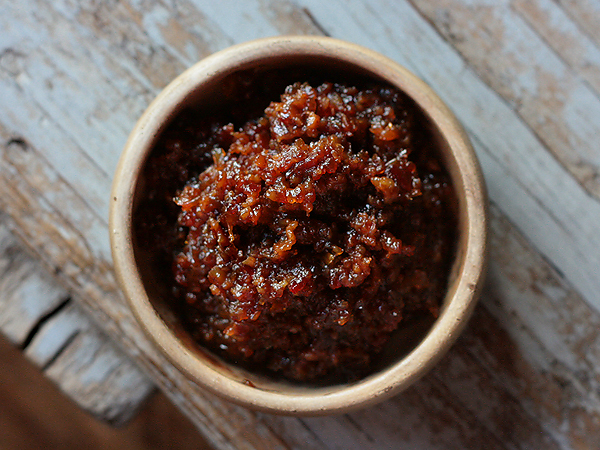 What You Need for Bacon Jam
Bacon Jam requires pretty standard ingredients that you probably already have:
bacon
onions and garlic for aromatics
apple cider vinegar to help break it down
brown sugar or maple syrup
brewed coffee for a little earthy depth
You can add optional flavors like Bourbon, heat in the form of cayenne or other chili pepper, or other kinds of spices. If you would like to add the Bourbon, maple syrup, or heat, those instructions are noted after the recipe.
Bacon Jam Ingredients Notes and Grocery Resources
Bacon. Use any kind of pork bacon, cured or uncured. Thickness doesn't matter as you will be chopping the cooked bacon into very fine mince. This recipe assumes you are starting with uncooked bacon, so it includes an instruction for cooking, but if you are starting with leftover cooked bacon... jk. No one ever has leftover cooked bacon.
Onions. I use the milder yellow onions so there is sweetness from the onions, but not too much "bite." Because the flavors of the other ingredients are fairly strong, you can use any kind of onion you already have.
Apple Cider Vinegar. This is the organic Apple Cider Vinegar brand I always use.
Brown Sugar or Maple Syrup. Whatever you have is fine, and the measurements are equivalent. Maple syrup will add a subtle maple flavor to the final Bacon Jam.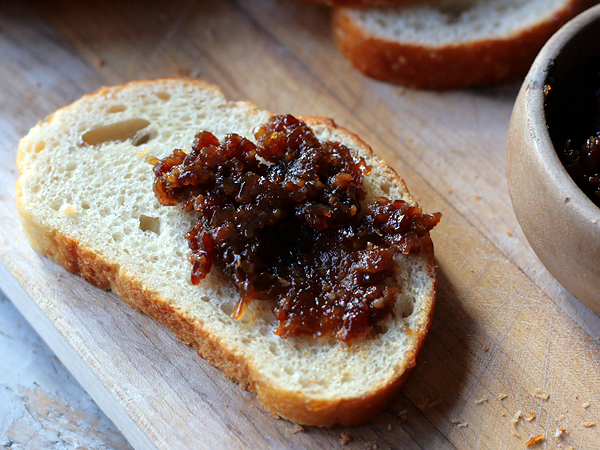 You should absolutely make Bacon Jam. On the stove top or in a slow cooker.
Bacon Jam Recipe
makes a little more than 2 cups
Ingredients
1

lb

bacon

1

medium onion

chopped

3 to 4

cloves

garlic

chopped

¼

cup

apple cider vinegar

½

cup

packed brown sugar

substitute up to ¼ cup with maple syrup

½

cup

brewed coffee

substitute up to ¼ cup with Bourbon

optional: up to 1 teaspoon cayenne/chili powder or half a fresh jalapeno pepper without seeds
Instructions
In a large pot, cook bacon until just starting to brown and crisp at edges. Remove cooked bacon to paper towel-lined plate to cool and drain off grease. Pat with additional paper towels. When cool, cut bacon into 1-inch pieces.

Pour off all but 1 tablespoon bacon fat from pot. Turn heat down to medium low. Add onions and garlic, and cook until onions are translucent, about 10 minutes.

Add vinegar, brown sugar, and coffee (and optional maple syrup, Bourbon, and/or chili if using). Bring to a boil. Add cooked chopped bacon.
Bacon Jam on Stovetop:
Turn down heat to the lowest setting and allow to simmer for about 1½ hours, stirring every few minutes, until most of the liquid has evaporated and what is left is syrupy. Do not leave the pot unattended because 1) that's just not safe no matter what and 2) there is a lot of sugar from the onions and well, there's sugar, so it can burn easily.
Bacon Jam in Crockpot/Slow Cooker:
Pour the contents of the pot into the crockpot. Cook on high for about 3 hours.
After Cooking:
Transfer the cooked bacon jam to a food processor. Pulse until you get the consistency of chunky jam. Bacon jam is sticky, sweet, slightly smoky, and a little bit "crunchy" from crisped parts of cooked bacon.

Store covered in the refrigerator. I have no idea how long it keeps, but based on my recipe research, it seems like a few weeks. I doubt you will have any left after 3 days.