Here's how to slice, dice, and otherwise prepare avocados in all the different ways, including that Avocado Rose so you can serve it up on your own Avo-Cuterie Board! Shall we?
Jump to:
Just because you can put anything on a wooden board and call it a thing, doesn't mean you should (we're looking at you, butter board). But avocado, sliced, diced and otherwise served up five different ways like different cheese absolutely should!
What's an Avocuterie Board?
"What's an Avocuterie Board?" you ask? It's exactly what it sounds like: avocado + charcuterie. Avocuterie is avocado sliced and served like different cheeses and charcuterie on a board. Don't worry, I'm going to show you how to cut an avocado in all the different ways.
An Avocuterie Board might sound like an Avocado Toast Board, which has been done before, but it's not.
Unlike an Avocado Toast Board, an Avocuterie Board is all about the avocado as the main attraction, with or without the toast. Actual cheese and charcuterie appear on the board as accompaniments, and the usual, and maybe not so usual, cheese board ingredients are also on the board to pair with the avocuterie.
Smashed avocado on toasted baguette with a tangle of pickled onions? That kinda sounds like toast.
Sliced avocado on a dark, seeded cracker with crumbled feta and marinated olives?? Now it's getting interesting.
Avocado wedge by itself topped with a dollop of whipped avocado, julienned soppressata, and a drizzle of hot honey??? Take me home or lose me forever!
Or just take me to the recipe.
What You Need for an Avocuterie Board
The most important ingredient for an Avocuterie Board? You guessed it. A sense of humor.
You also need avocados.
Estimate about ¾ of a large avocado per person. If the Avocuterie Board is going to be served as a light meal, up the quantity to 1 whole avocado per person. You can never have too much avocado. So if you want to put four avocados on an Avocuterie Board for just yourself, you follow your healthy heart.
In addition to avocados, you will need:
bread and/or crackers
citrus like lemons, limes, and oranges for both topping as well as zesting and squeezing juice
eggs soft- and medium-boiled
your favorite charcuterie
tangy, salty, highly flavorful cheese
hot sauces
spices and seasonings
fresh herbs as garnish
flaky sea salt and fresh cracked pepper
honey and other sweet spreads
pickled things like olives, capers, onions, and carrots
savory spreads like mustard
Exact amounts are included in the Ingredients list in the recipe below, and all items are listed in a color-coordinated, sortable shopping list at the bottom of the post that you can download. My preferred brands and shopping/store resources are listed under "Shopping Resources."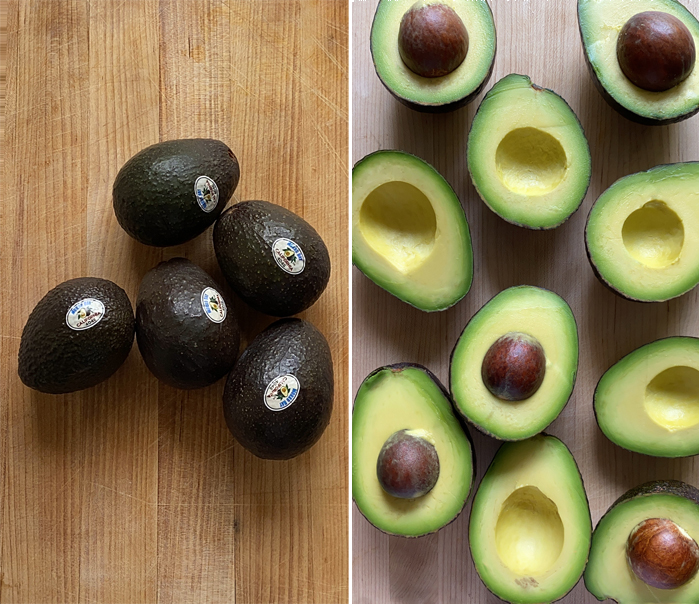 What Kind of Avocados? California, of course!
Ok, one quick note before we get to the recipe, about specifically what kind of avocados to get and where you can get them.
California-grown avocados are the best and the Hass variety, which is the pear-shaped, dark, pebbled skin variety most commonly available in grocery stores, happens to be born and bred right outside Los Angeles! Yes, I will be making a pilgrimage to the site of the original tree at some point in my life, though the actual tree that is the mother of all Hass avocados has since passed.
The Hass avocado works well in every preparation, and I like them particularly for recipes that involve cutting an avocado into larger slices and pieces, as opposed to smashed, mashed or pureed.
Buying California avocados is not only purely for their taste, though. Buying California avocados is a great way to support California farmers who work year-round to provide one-third of the vegetables and two-thirds of the fruit and nuts that we get here in the United States!

Where to get California Avocados
I am an enthusiastic supporter of local farmers' markets, so I highly recommend that if you live in California, you drop by your closest farmers' market and look for locally grown avocados when they're in season!
But not all of us are lucky enough to live in the Golden State, and even if we do live in California, near a farmers' market. Grocery stores carry California-grown avocados. Just look for signs on avocado display tables or stickers on individual avocados that say "Grown in California." If your grocery store doesn't carry California avocados, ask someone!
This guide shows all the ways you can look out for California grown avocados and all produce, including shopping online, which is helpful in this new world we live in.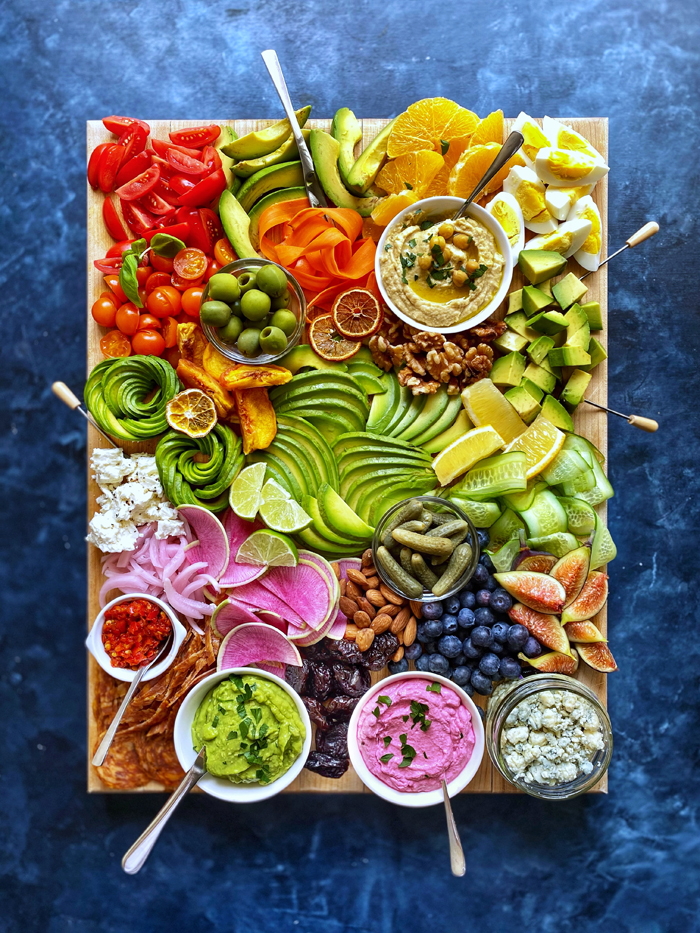 TIPS and TRICKS for AVOCADOS
How to Choose Avocados at the Grocery Store or Market
Hard-ish is better. Buy hard-ish avocados. You can always ripen avocados to your exact desired softness at home, but just like Cher, you can't turn back time on over-ripe avocados. Also, harder avocados are less likely to be bruised or browned from people's overzealous squeezing at the store.
Palm hug. That said, don't press avocados with your fingertips at the store to check for ripeness, and definitely don't press them very hard. Hold an avocado in the palm of your hand and give it a gentle hug. It should feel firm and just barely give.
Stem check. If you're still not sure if an avocado is good, pop the stem end of the avocado out and peek inside. If it's any shade of green, you're good to go. If it's brown, the avocado is too far gone.
What to do with Avocados When you Get Home
Wash your avocados. With a brush. It doesn't seem like you should wash an avocado since the very thick skin always gets removed, right? Wrong. Remember how you fondled every avocado at least three times at the store? Now imagine every customer in the store that day touching the same avocados. Now imagine that multiplied over the course of a couple of days. Wash your avocados before you cut into them so that whatever germs are on the skin don't get inside.
Store avocados in the refrigerator to keep them at the same ripeness for a few days.
Keep avocados on the counter if you want the avocados to soften over a few days.
How to Keep Avocados from Browning. Search "how to keep avocados from browning" and there are enough answers to write an entire blog post in and of itself. Citrus juice. Plastic wrap. Avocado seed. Raw onion slices. Even submerging the entire cut surface under water! This is what I do: Rub any cut surfaces with a thin layer of olive or other mild oil. Obviously you can use avocado oil. The oil acts as a barrier to oxygen in the air.
Ingredients Notes and Shopping Resources
Anything you'd put on a cheese and charcuterie board will work on an Avocuterie Board. Ingredients I save for different kinds of Avocado-based boards would be anything that leans toward guacamole like cilantro, lime juice, and cholula, or feels avocado toast-y but wouldn't necessarily be on a cheese and charcuterie board like super seeds flax and hemp, or cooked vegetables. I know I contradicted myself already by including smoked salmon and boiled eggs in the ingredients list, but nobody's perfect.
You can download a color-coded, sortable grocery shopping list of the ingredients in spreadsheet format from googlesheets here.
Avocados. I bought my California avocados from a very well-known, national healthy grocery store chain. The stickers said the avocados were grown in Morro Bay, California! You can find California avocados using this guide. Choose avocados of slightly varying ripeness. Firm-ripe avocados are best for slicing and shaping into cubes, fans, and roses. Ripe avocados are best for Whipped Avocado.
Cheeses: Because we are going all California here, all of the cheeses featured on this particular Avocuterie Board are from California. The feta cheese is a cow's milk feta by Mediterranean-style fresh cheese specialist Bel Fiore. Northern California's Point Reyes makes great blue cheeses; the Bay Blue is a slightly milder blue. I make my own ricotta using whole cow's milk from California, but you can buy Bellwether Farms basket ricotta which is super luxe.
Eggs. There are other ways to cook eggs for avocados, but boiled eggs are the easiest to handle on and off a board. They also taste fine when not hot. I cannot imagine eating room temperature or even worse, refrigerated, sunny side up eggs.
Charcuterie. Literally any charcuterie works. Prosciutto or speck. Coppa. Genoa salami. Soppressata. Even really good pepperoni. There are also beef-based charcutes like bresaola and beef salamis.
Smoked Salmon: It might feel a little "Bagel Board" to include smoked salmon, but I consider smoked salmon a fish-based charcuterie so if you're feeling like smoked salmon on your Avocuterie Board, no one can stop you. Buy one made from a sustainably fished salmon.
Dried Fruit: Dried fruit is an everpresent component of cheese and charcuterie boards, and would be fine on an Avocuterie Board, but I've left them off here because there are so many other fresh options, and why not take advantage of fresh fruit when we can, leaving dried fruit for the dead of winter.
Capers and Caperberries: Use the small, non-pareil capers in liquid brine. If you use capers in dry salt, soak the capers in plain water for about 15 minutes. This store brand is organic. Caperberries are not as easy to find, but are found on the same shelf as regular capers.
Olive Oil. I used California-grown organic extra virgin olive oil as a finishing oil. This brand is an olive oil that's more widely available, though it is not organic.
Kosher Salt. I use this brand Kosher salt in the dark red box
All other fresh herbs and produce from either the Santa Monica Farmers' Market (multiple days), or that national "healthy" grocery chain when I can't find what I need at the farmers' market.
Advance Prep for Avocado
Except for slicing the avocado, which you MUST WAIT to do immediately before serving, you can prep almost every ingredient in advance. If you are making any of the pickled things or spreads yourself, do that at least the day before, and depending on the recipe, you can probably make several days in advance. You can boil eggs, peel them, and store them in the refrigerator the day before. Cut them right before serving.
Wine Pairing for Avocado
Lemon and lime juice do more than just keep avocados from turning brown too quickly. Their acidity counterbalances avocados' creamy, silky texture and complement avocados' green vegetal flavor. Light, bright white wines with a lot of acid have the same effect when paired with avocados. The acid cuts through the buttery-ness of avocado, and certain white wines have a lemon, lime, or other citrus undertone. Generally, California Sauvignon Blanc has these qualities, and those from the Central Coast, where much of California avocado farms are located, also have very subtle floral aromas that work with all the other components on the Avocuterie Board. What grows together in California, goes together!
California grenache rosé like J.Lohr Gean Vineyard Rosé, California Sauvignon Blanc like Dragonette Cellars Happy Canyon Sauvignon Blanc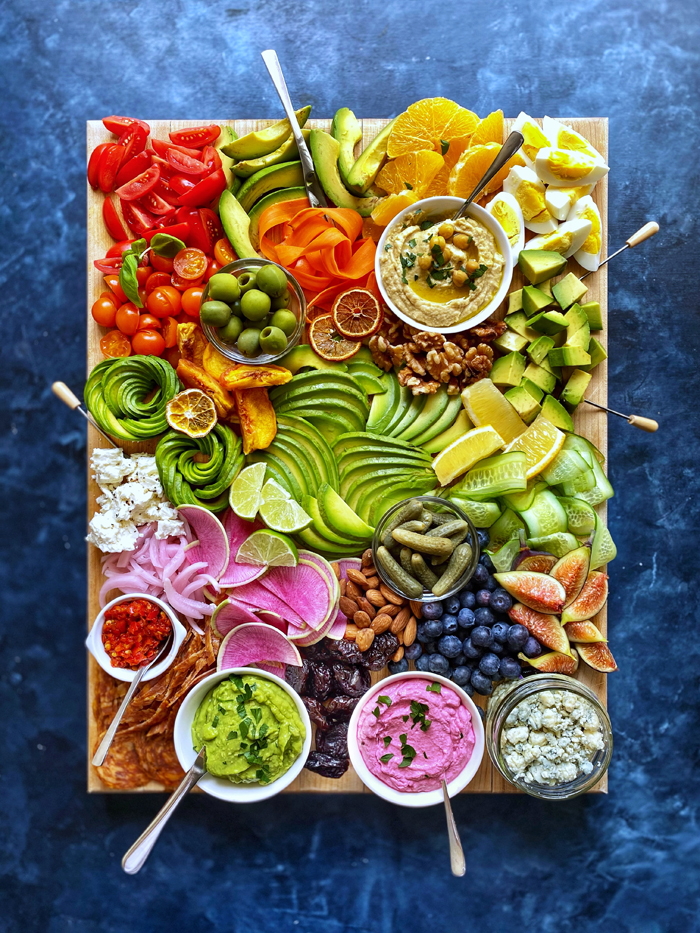 Print Recipe
HOW TO CUT AN AVOCADO and "AVOCUTERIE" BOARD
Avocado and all the delicious little accompaniments served just like a cheese and charcuterie board, that's infinitely adaptable to things you already have at home and your personal tastes. The ingredients listed in this recipe are shown in the image. Additional ingredient options are listed in the Notes section.
Ingredients
4-5

large California avocados
Fresh Fruit
1

pint

strawberries

sliced or chopped

1

pint

blueberries

1

orange

segmented, or peeled and sliced into sunshines

6-8

figs

sliced lengthwise into quarters

options: any other seasonal fruit, small bunches of grapes
Fresh Vegetables
1

cup

cherry or sungold tomatoes

halved or quartered

2

Persian cucumbers

sliced into paper-thin ribbons

1

small watermelon radish sliced paper-thin

options: sliced sugar snap peas
Cheese
4

ounces

tangy salty cheese like feta or goat cheese

options: ricotta, crumbled blue cheese, parmesan shavings
Eggs and Meat
4

medium boiled eggs

quartered

2-3

types of your favorite charcuterie

options: 6 slices smoked salmon

cooked bacon or pancetta
Nuts and Seeds
½

cup

roasted salted almonds

½

cup

raw walnuts

options: pistachios, pepitas, sunflower seeds
Pickled Things
olives

cornichons

pickled onions [Pickled Onions recipe here]

pickled carrot ribbons [Pickled Carrots recipe here]

options: cherry peppers, sweet drop peppers, pickled jalapenos, capers, caperberries, chopped kimchi
Spreads
hummus [Classic Hummus with Canned Chickpeas recipe]

beetziki or beet hummus [Roasted Beet Tzatziki recipe here]

red onion rose marmalade

dijon or grainy mustard

options: roasted garlic, herb pesto or salsa verde
Sweet Spreads
honey/honeycomb

pinot prune jam [Pinot Prune Jam recipe here]

options: sour cherry spread, fig jam
Spicy Condiments
calabrian pepper

chili crisp

options: crushed red pepper, sriracha, tapatio (no, not cholula)
Seasonings and Spices
Maldon sea salt

cracked black pepper

options: everything bagel seasoning

furikake
Garnishes
chopped fresh green herbs like basil

chives, parsley, and scallions

edible flowers
Breads and Crackers
6-8

very thin slices bread

grilled or toasted

dark seeded crackers

sweet potato chips

options: baguette

white flatbread crackers
Instructions
Place whole, unpeeled avocados on board as placeholders. You will be peeling and cutting them at the very end right before serving.

Arrange, fruits, vegetables, cheese, eggs, charcuterie, salmon, nuts and seeds, pickled things, spreads, spicy things, and seasonings and spices in small bowls around avocados on the board.
How to Cut Avocado:
Remove avocados from serving board. Cut each avocado in half, remove the seed and peel. Slice or cut each avocado as follows:

For avocado wedges: slice avocado half lengthwise into wedges about ½-inch wide at its widest part. Gently pile into an empty space on the serving board.

For avocado cubes: Cut avocado half into ¾- to 1-inch cubes. Gently pile into an empty space on the serving board.

For avocado fan: Place avocado half flat side down on cutting board. Slice avocado half length-wise into very thin slices. Gently press down on the rounded end of the slices to create a fan. Use the broad side of your knife's edge or a thin spatula to move the avocado fans to a spot on the serving board. You may use more than one avocado to create multiple overlapping fans.

For avocado rose: Place avocado half flat side down on cutting board. Slice avocado half cross-wise into very thin slices. with both your hands, carefully slide the slices apart into a "caterpillar," then shape into a rose by curling the caterpillar, starting with the smaller end. Gently press down on the slices and outward from the center to "open" the flower shape. Use the broad side of your knife's edge or a thin spatula to move the avocado rose to a spot on the serving board. Generally, one avocado half creates one rose.

For whipped avocado: Place two halves of peeled avocado in food processor. Add ¾ teaspoon salt, 1 tablespoon lemon juice, 1 tablespoon ice cold water, and 1 tablespoon mild olive oil. Run food processor until avocado is pureed and has the consistency of frosting. Add more water, then olive oil, 1 teaspoon at a time until you get the desired consistency. You can also use a blender for whipped avocado. Transfer Whipped Avocado to a small serving bowl, then place on the serving board.

Garnish the board with edible flowers and fresh herbs.

Add small serving spoons and forks. Cheese serving tools work well for sliced and cut avocado!

Leftovers: Avocado halves can be stored in an airtight container in the refrigerator for up to one day. Rub the cut surfaces with olive oil first. Generally, leftover sliced or cut avocado does not keep well, no matter what you do to it to keep it from browning. Your best bet is to freeze untouched wedges, cubes, and slices and use for smoothies. Whipped Avocado, depending on the avocado itself, may keep up to one day in an air-tight container in the refrigerator. Treat Whipped Avocado as you would guacamole.

Other fruits, vegetables, and other ingredients can be stored in zipper plastic bags or airtight containers in the refrigerator.
This recipe and post are produced in partnership with California Grown. You can see more of my fawning all over California and California-grown produce on California Grown's blog, and TheDeliciousLife.com posts here.