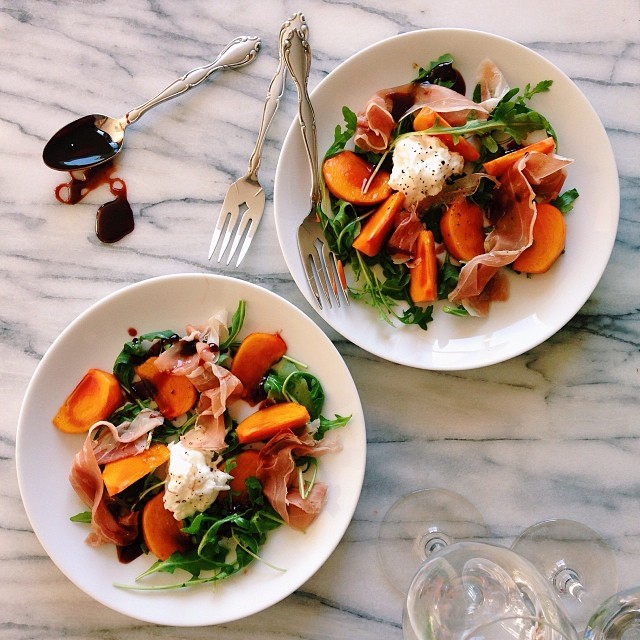 You need Pomegranate Molasses in your life, and thankfully, here is a recipe. I use pomegrante molasses for so many things, including making one of the greatest salads in the world. Persimmon Salad transforms into "Autumn Caprese" with billows of soft and creamy burrata, and substituting sweet Fuyu persimmons and bitter arugula for the usual tomatoes and basil. The pomegranate molasses is the perfect subtly sweet, not-so-subtly tart condiment to drizzle over it all.
What is Pomegranate Molasses?
Pomegranate molasses is simply a reduction of pomegranate juice with some lemon juice for additional tartness and some form of sugar to provide sweetness as a counterbalance to the sour. You could consider it similar to a balsamic vinegar reduction in its consistency, but with a different flavor profile.
What Do You Do with Pomegranate Molasses?
Other than just drizzling it over salads, you can use pomegranate molasses the same way you would use honey or maple syrup. It has a different flavor, a much darker color, and of course, add tartness. I most often use it in this Pomegranate Salsa recipe, and in vinaigrettes as the sweet tart balance.
Why Make Pomegranate Molasses?
If you live in a larger city that has Middle Eastern and Mediterranean specialty markets, or even larger Whole Foods Markets with a broader inventory, you can just buy pomegranate molasses in a bottle or jar off the shelf. I have done that before, and this is the brand I usually have in my refrigerator door as a backup when I run out of my homemade one.
Even if you live somewhere without local access, there's always Amazon! However, when you make your own, you can ensure the quality of the ingredients and the "freshness" of the final product. Most importantly, at least for me, you can adjust the amount of sugar to your desired sweetness level.
Do You Need Fresh Whole Pomegranates
Fresh-squozen pomegranate juice from fresh whole pomegranates is best, since you can juice the seeds by hand without getting the bitterness of the skin and the actual hard seeds. However, that is messy and time-consuming... and messy. Then again, you are going to the 1-hour-plus trouble of making homemade pomegranate molasses, so what the hell, grab about 5 or 6 large pomegranates and get juicing.
That being said, bottled pomegranate juice is perfectly fine, and since it's probably more accessible geographically than actual pomegranates and available year-round, go for it!
How to Make Homemade Pomegranate Molasses
Ingredients
4

cups

pomegranate juice

½

cup

sugar

2

tablespoons

lemon juice
Instructions
Combine the pomegranate juice, sugar, and lemon juice in saucepan. Bring to a boil over medium heat while stirring, then turn heat down to low and simmer until all of it has reduced to 1 cup, about 1 hour. It should be the consistency of simple syrup (and will thicken to a more "molasses" consistency in the refrigerator).

Remove from heat, allow to cool, and store in a covered glass container in the refrigerator.

Can be kept for up to 6 months in the refrigerator.