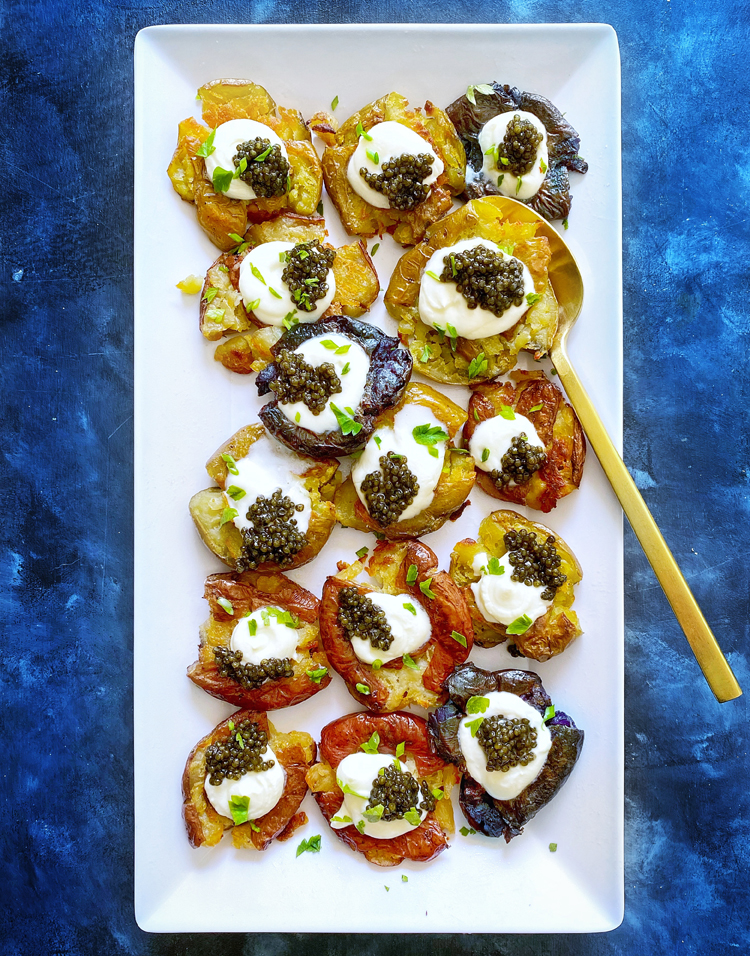 Jump to:
NOTES and RESOURCES
POTATOES. Use the smallest potatoes you can find, 2-inches maximum. The red, white and blue potatoes in the top photo are baby red potatoes, Yukon Gold, and Baby Blues by Melissa's Produce, available at most national chain grocery stores.
COOKING OIL. I use this olive oil for cooking the potatoes. You can also use butter, which will add more umami flavor.
KOSHER SALT. Diamond Crystal brand and nothing else.
YOGURT. I prefer a thicker, strained yogurt like Greek, almost the consistency of frosting. However, regular yogurt, as long as it's plain (no added fruit or flavoring) works, it will just be a little runny on the hot potatoes.
CAVIAR. Use a medium-grade caviar (read: not super expensive) since the caviar will be competing with potatoes. I get caviar from Petrossian, and for this case, the transmontanus from California white sturgeon is perfect.
TOOLS and EQUIPMENT
Print Recipe
Crispy Smashed Potatoes, Oven-Fried Method
These Crispy Smashed Potatoes are made in the oven, which is best for making a larger batch for entertaining, and gives you more hands-off time!
Ingredients
1½

pounds

baby potatoes, the smallest you can find, washed and scrubbed

or about about 2 dozen

¼

cup

cooking oil

1

tablespoon

coarse salt

½-1

cup

plain yogurt or creme fraiche

½

cup

about 125 grams caviar or other fish roe

optional garnish: finely chopped chives and red onion
Instructions
Heat oven to 425°F.

In a pot large enough to hold the potatoes in about 2 layers, cover potatoes with water by 1-inch, then bring potatoes up to a boil. Turn down heat and simmer until potatoes are tender, about 15 minutes, but will depend on size of potatoes. Drain, rinse with cold water, and set aside to dry. The potatoes need to be as dry as my dating life in order to get crispy.

Gently smash each potato with the palm of your hand or the bottom of a sturdy glass, making sure to keep each potato generally intact. Small pieces that break off will turn into the best crispy bits in the pan later.

Transfer smashed potatoes to a rimmed baking sheet. Drizzle potatoes with oil or melted butter, carefully moving them around and flipping them over to fully coat the potatoes with the oil. Sprinkle with salt.

Roast the potatoes until they turn deeply golden brown and crisp, about 20 minutes. Carefully flip the potatoes halfway through the bake time. Remove crisped potatoes to serving plate.

Spoon 1-2 teaspoons of yogurt on each crispy smashed potato, followed by 1 teaspoon of caviar. Exact amount depends on the size of the potatoes. Garnish with chopped chives and red onions if you're using them.

Leftovers will not store and re-heat well. Just eat all of it, especially the caviar.