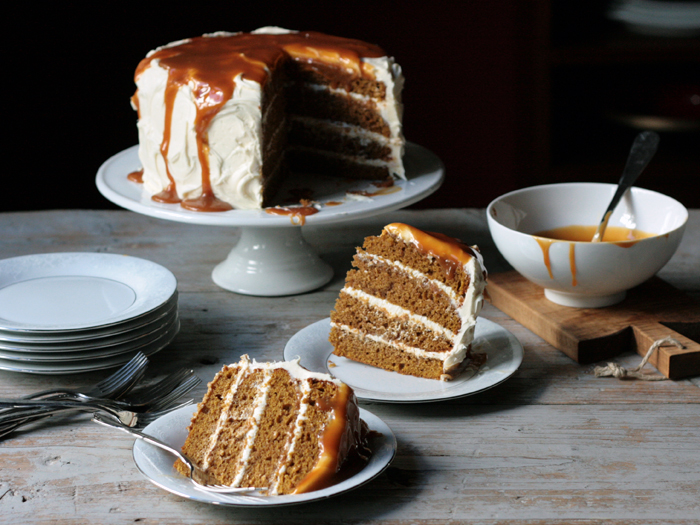 Forget about your Starbucks coffee order, the pumpkin-y, spicy PSL I'm talking about is
P
umpkin
S
pice
L
ayers. As in Pumpkin Spice Layer
Cake
, with four layers, cream cheese frosting, and caramel drizzle, to keep it tall, creamy, and caramel-y, just like your coffee.
If you're here for the recipe, jump ahead.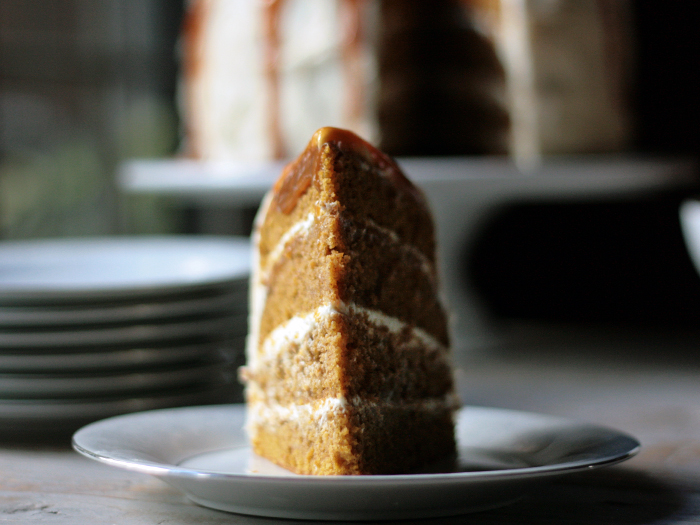 We baked this little bit of layered heaven, Pumpkin Spice Layer Cake, in two 9-inch round pans, and just so we could squeeze MORE cream cheese frosting into the cake, we split the two layers in half into four layers.
The layers give height, and let's be honest, a tall cake looks super impressive. But here's the secret from a certified non-baker (me): it's not complicated. In fact, the reason I make this cake at all is that it's essentially as quick as my all-time favorite Pumpkin Bread recipe.
We could feel our inner overachievers reaching for maple or browned butter or candied citrus or even additional spices to flavor the cream cheese frosting, but we kept it fairly simple so as not to compete with the spices in the cake.
A flood of caramel is the "ta-da" that puts this cake over the top. Or more literally, over the edge. Either way, I feel seen.
Pumpkin Spice Layer Cake with Cream Cheese Frosting and Salted Caramel recipe first, personal notes and shopping resources follow.
Pumpkin Spice Layer Cake with Cream Cheese Frosting and Salted Caramel Recipe
serves 12. lol. or one.
Ingredients
butter and flour for pans and parchment liners

3

cups

all-purpose flour

2

teaspoons

baking powder

1

teaspoon

baking soda

1

teaspoon

salt

1

tablespoon

ground cinnamon

2

teaspoons

ground ginger

½

teaspoon

ground nutmeg

½

teaspoon

ground cloves

2

sticks (1 cup)

unsalted butter

softened to room temperature

1

cup

granulated sugar

1

cup

light brown sugar

4

large eggs

1

tablespoon

vanilla extract

1

15-ounce can pumpkin puree

(about 1½ cups)

Simple Cream Cheese Frosting

quadruple this recipe for The Last Cream Cheese Frosting Recipe You'll Ever Need

Caramel Sauce

this recipe by Rose Levy Berenbaum
Instructions
Bake the Pumpkin Layer Cake
Butter two 9-inch round cake pans and line the bottom with rounds of parchment paper. Butter the parchment paper, as well, then flour the parchment paper bottom and sides of the pan.

Sift together flour, baking powder, baking soda, salt, cinnamon, ginger, nutmeg, and cloves.

In the bowl of a stand mixer (or in a large bowl, using a hand mixer), beat on medium speed granulated sugar, brown sugar, and butter until fluffy, about 3 minutes. Beat in eggs one at a time. Stir in pumpkin and vanilla until just combined (low speed on the mixer).

Add the flour/spice mixture to the butter/sugar/eggs mixture, stirring until just combined.

Divide the batter between the buttered pans. Lightly tap the pans on the countertop and smooth out the tops of the batter.

Bake until cakes pull away from sides of pan, start to barely turn golden at the edges, and a toothpick inserted into the center of a cake comes out clean, about 35 minutes. Cool the baked cakes for 15 minutes in their pans. Flip the cakes onto wire cooling racks and peel off the parchment paper. Let cool completely (upside down, so the rounded tops can flatten out a little).

You can bake the layers a day in advance, let them cool, wrap them up tightly in plastic wrap and keep in the refrigerator.
Cake Assembly
Carefully slice cooled cake layers across the "equator" into two halves each. Brush away any errant crumbs. Place one layer on a cake stand or plate — I've had better luck when I place layers with the flat, cut side down.

Top the bottom later with enough frosting to make a ½-inch thick layer of frosting.

Add a second layer. Top the second layer with a ½-inch thick layer of frosting. Add the third layer, frost, and finally add the fourth layer. Frost the tops and sides of the cake. Try to frost the top as flat and level as possible so the caramel doesn't run off too easily.

Drizzle caramel sauce over the top of the cake an . You can also leave the cake frosted as is and drizzle caramel sauce on each piece of cake on individual plates.
NOTES and RESOURCES
Spices: Ground spices are available in any grocery store, but I do like to stop in at Penzey's Spices, a specialty spice store with a location in Santa Monica. They have everything.
Pumpkin: I use this brand of organic canned pumpkin, found at Whole Foods Market. If you're weird about cans, the same brand also sells the same pumpkin puree in BPA-free tetrapaks.
On timing: Obviously, you don't have to wait until the cakes are baked and cooled to make cream cheese frosting and caramel. Time them how you best see fit. My recommendation is to get the cakes in the oven first. While the cakes are baking, make the Cream Cheese Frosting, wrap it, up and put it in the refrigerator. While the cakes are cooling, make the caramel.
On baking in advance: You can make everything a day before you plan to serve the cake, just keep everything separate, then assemble and frost the morning of. Keep the layers tightly wrapped in plastic wrap, and the frosting and caramel sauces in air-tight containers, and keep in fridge.
All fresh herbs and produce from either the Santa Monica Farmers' Market on Wednesday, or Whole Foods Market when I can't find it at the farmers' market.