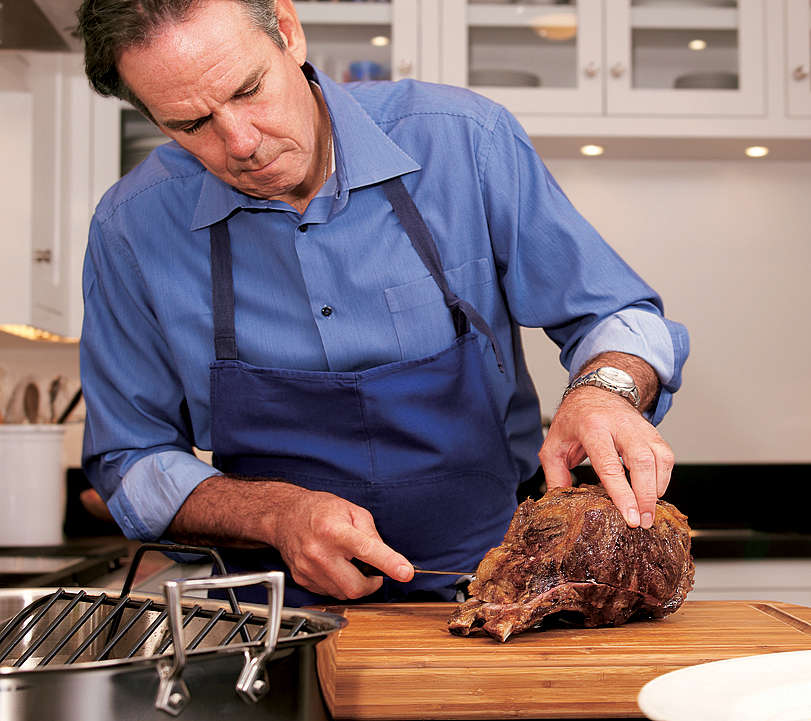 Earlier, I promised a recipe that includes a blow torch, so here I present Chef Thomas Keller's Prime Rib Roast recipe from the Ad Hoc at Home cookbook.
A big standing rib roast is always an impressive main dish for a special occasion dinner, and a recipe from world-renown Chef Thomas Keller makes it even more so. Throw a blow torch into the mix and now your prime rib roast truly is a masterwork.
What You Need for Thomas Keller's Prime Rib
The beauty of this recipe is that in terms of ingredients, you actually don't need much more than:
center-cut prime rib
salt
gray salt, black pepper, and horseradish cream for serving
For tools and equipment, you need:
roasting pan with rack
blow torch
meat thermometer.
You don't even really need a roasting pan with a rack because the bones in the rib roast can serve as its own "rack" in a large enough cast iron skillet or other baking dish.
You do, however, absolutely do need a meat thermometer and blow torch.
Blow Torch for Thomas Keller's Prime Rib
Do you really need a blow torch for prime rib? Of course not. You can achieve a similar effect as in more traditional recipes by blasting the prime rib roast in a high heat oven or set it under the broiler for a few minutes before the regular roasting. But then you wouldn't be making The "Thomas Keller Prime Rib."
This is Chef Keller's head note that introduces his Prime Rib Roast recipe and explains why you want to use a blow torch:
"I cook rib roast in a very low oven to ensure that it is a rosy medium-rare from the very center almost to its outer edges. But we like the dark caramelized surface, for flavor and for visual appeal, which is typically achieved through roasting at high heat.
We discovered that if you start by giving meat a quick heating using a blowtorch, though it won't look particularly brown after the toasting, it will develop a beautifully browned surface even in that very low oven."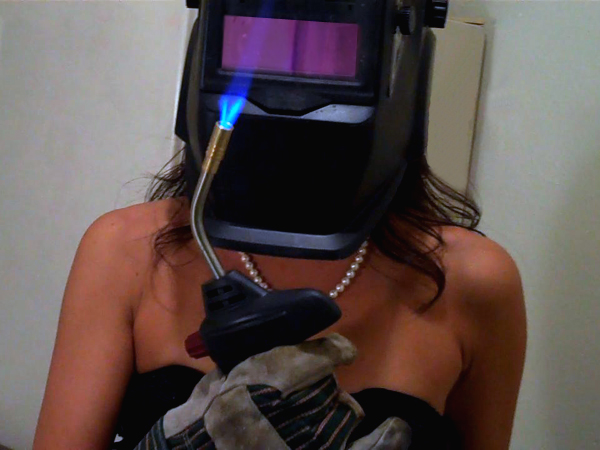 What Kind of Blow Torch and Where to Get One
How I got my fat, little gel-manicured hands on an industrial-strength power welder propane-fueled blowtorch I cannot tell you. Just know that Chef Keller recommends the propane-powered blow torch in his recipe, as opposed to the weak "chef's torches" that might as well be a butane lighter.
The point is that I torched a giant round of meat, roasted it, and rubbed down my body with the crispy, curly, caramelized ruffles of fat that came out in the end. I actually did not do one of those three things. It's up to your imagination to figure out which. I do understand now, though, the primal fascination with shooting fire.
"Be sure to store your torch in a safe place." Oh, that TKells. Always considering safety first.
You can find propane blow torches at most hardware stores, and online for under $50. Consider it a kitchen investment. You can also use the blow torch for caramelizing sugar on crème brûlee, toasting meringue and marshmallows, and of course, flash browning meat and fish.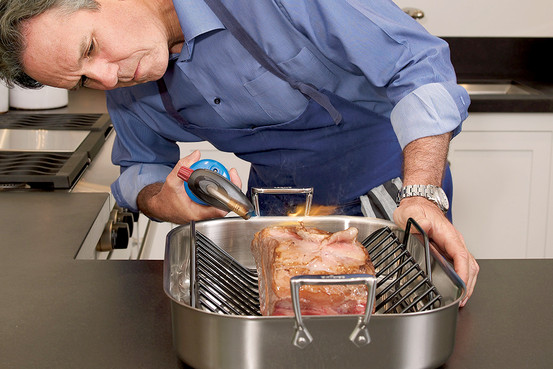 If you make it to the very end of *this* post, you might find a little video that helped my sanity last night. You are 100% welcome to provide, encouraged to comment with, and in fact, I ain't too proud to beg for, your feedback.
After wielding the power that is a blowtorch, my ego could use a good reality check.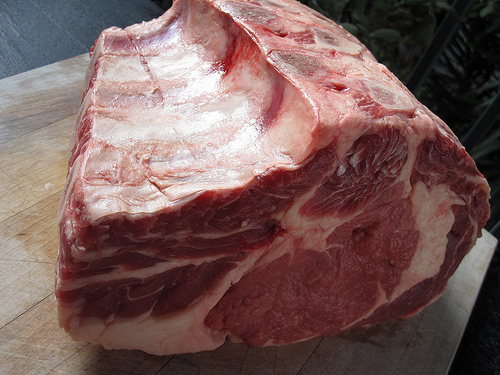 For a full Prime Rib Roast 101 "primer," check out this post, which has a traditional-ish recipe for Prime Rib, information about quality and grades of beef, grass-fed vs others, aging, and ideas for how to serve prime rib.
Thomas Keller's Prime Rib Ingredients Notes, Resources, and Substitutions
It's a short list, so get the highest quality ingredients you can afford.
Prime Rib. A full prime rib roast is made up of seven rib bones and the attached meat. Because the prime rib is the star of the show and there is literally nothing else except salt and pepper to season it, get the highest quality you can afford.
How Much Prime Rib? Chef Keller's recipe calls for a 2-bone section, about 4.5 pounds, to serve 6 people. My tendency is to err on the side of generous/leftovers, so I generally allot a little more than what this recipe calls for, 1 pound of bone-in prime rib per person, or about 1 bone per 2 people.
Kosher salt. Use this kosher salt in the dark red box.
Sel Gris/Gray Salt. This is a fancy sea salt with larger crystals that you serve at the table alongside the prime rib.
Sherry Vinegar for the Horseradish Cream. If you don't have sherry vinegar and don't want to buy an entire bottle to use once and never again, you can use white wine vinegar, Champagne vinegar, or even apple cider vinegar. Just don't use distilled white vinegar, which is too acrid.
Tools and Equipment for Thomas Keller's Prime Rib
What to Serve with Prime Rib
Chef Keller serves this Prime Rib Roast with a Horseradish Cream (recipe follows).
I also like to serve any prime rib "au jus," with a thin pan sauce made from the roast drippings that collect in the pan (the "jus"). But since he didn't include any jus or gravy here, I'll leave that recipe over on the Prime Rib 101 post.
The best side dishes to complement Thomas Keller's Prime Rib are ones that keep things simple. Think traditional Prime Rib side dishes from that famous prime rib restaurant that include Yorkshire Pudding, creamed corn, creamed spinach, and different kinds of potatoes.
Try these:
Of course, you can't lose by choosing any vegetable or side dish recipe out of Chef Keller's Ad Hoc at Home Cookbook. All the recipes are listed here!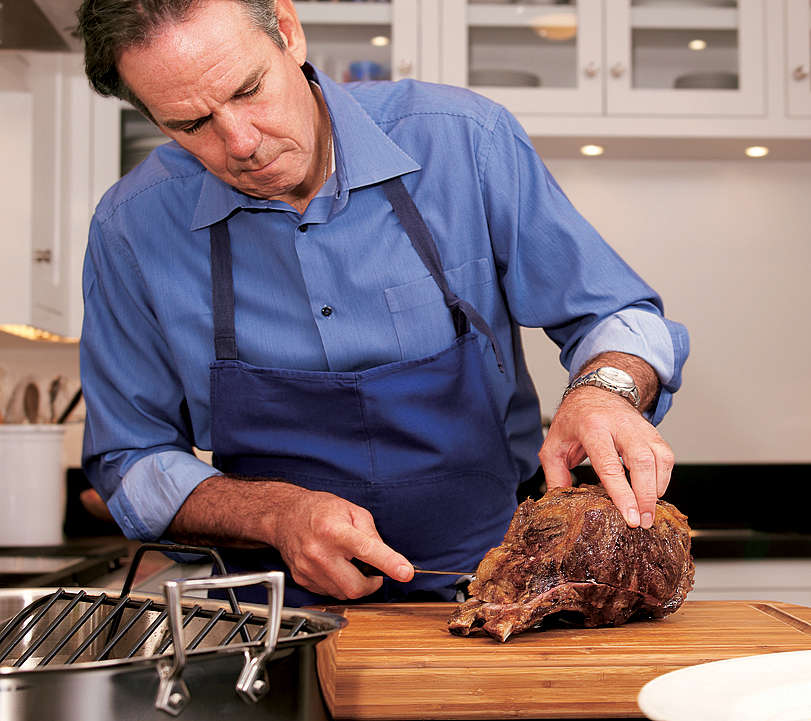 Print Recipe
Thomas Keller's Prime Rib Roast Recipe Using a Blow Torch
serves 6
Ingredients
Ingredients for Prime Rib Roast
1

2-bone center-cut rib roast

—about 4½ pounds, trimmed of excess fat

Kosher salt

Coarsely ground black pepper

Gray salt or coarse sea salt
Ingredients for Horseradish Cream
½

cup

very cold heavy cream

2

tablespoons

sherry vinegar

¼

cup

drained prepared horseradish

½

teaspoon

fleur de sel

plus more to taste

½

teaspoon

fresh ground black pepper

plus more to taste
Instructions
Directions for Prime Rib Roast
Position an oven rack in the lower third of the oven and preheat the oven to 275°F.

Put the roast on a roasting rack in a roasting pan. Hold a blowtorch about 1 inch from the roast and turn to lightly brown the fat on all sides; the idea is to start the fat rendering and to torch the meat just until the surface begins to turn gray. Season the roast generously with salt and pepper.

Transfer to the oven, with the meat toward the back of the oven, and cook until the roast registers 128°F in the center. The total cooking time will be about 2 hours, but begin to check the temperature after 1½ hours. Remove from the oven and let rest in a warm spot for at least 30 minutes for medium-rare.

To carve, cut the meat away from the bones. Separate the bones and put them on a serving platter. Cut the roast in half through the center, turn each piece cut side down, and slice straight down into slices that are about ½ inch thick. Arrange the meat on the platter and sprinkle with gray salt and pepper.

Serve with the horseradish cream on the side.
Directions for Horseradish Cream
Put the heavy cream and vinegar in a medium bowl and whisk until the cream holds a soft shape. Whisk in the horseradish, salt, and pepper.