Guess who's going to populate this list with her own recipe posts. That's right. The TasteSpotting/Delicious Kitchen has its own hard copy of Ad Hoc at Home...[Christmas 2010]
[each individual image in the grid above links to a recipe]
Thomas Keller sent me on a madcap scavenger hunt.
It started out as a simple google search to verify an in-store appearance/book signing of his brand new cookbook Ad Hoc at Home released this month, but somewhere around "blowtorch," I took a distracted turn, immediately got tangled up in a web of results, and then spent all of the daylight hours of Friday and pretty deep into the darkness of Friday night thrashing my way through my special, psychotic, web-food-point-oh version of Amazing Race.
I made it out alive. Barely.
And with a tiny treasure, too.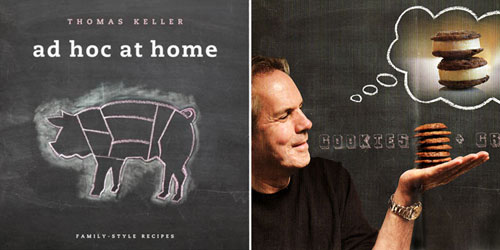 That is if 18 19 21 of the 200 recipes from Ad Hoc at Home all available in one place (here) is considered a treasure.
It is. It is a treasure! Just tell me it is so I don't go crying hot tears of wasteful shame into the bowl of buttery, fatty feelings, aka TKells' Butter Poached Marble Potatoes, that I will eat to cope.
Yes, I spent the better (and worse) part of Friday hunting down every single recipe from Ad Hoc at Home that is reprinted on the web, or at least on the web as deep as page 34 of search results. It wasn't the actual searching for recipes that took time. Google collected 12 million findings in 0.12 seconds and I filtered out 18 in the two hours between lunch and afternoon snack. However, while 18 recipes (plus the one for Blowtorch Prime Rib Roast I did myself, and more coming in as time goes on) seems insignificant in the grand scheme of TKells' 200, copying, pasting, linking, double checking, downloading, cropping, uploading and formatting 18 links and images takes, well, and entire uninterrupted Friday.
Apparently, the cookbook does not have a formal Table of Contents, but Grub Street took on the task of typing one out. I've organized my findings into an outline based on their list. As a special treat, all of the images in the grid link to a recipe, too, same order left to right, as below.
And if the only recipe you could ever hope and dream for is one that involves a blowtorch, well, here you go.
Recipes from Ad Hoc at Home by Thomas Keller
POULTRY Recipes from Ad Hoc at Home
Buttermilk Fried Chicken
Pan Roasted Chicken with Sweet Sausage and Peppers
Whole Roasted Chicken on a Bed of Root Vegetables
Chicken Pot Pie
Roast Poussins or Cornish Hens
Sauteed Chicken Breasts with Tarragon
Chicken Mar i Muntanya
Crispy Braised Chicken Thighs
Quail with Lemon and Herbs
Pomegranate Glazed Quail
Duck Confit
Pan-Roasted Duck Breasts
MEAT Recipes from Ad Hoc at Home
Braised Beef Shortribs: Mondo Dinner
Beef Stroganoff
Catalan Beef Stew
Peppercorn-Crusted Beef Tenderloin
Hamburgers
Meatballs with Pappardelle
Porterhouse Steak
Marinated Skirt Steak
Santa Maria Style Tri-Tip
Braised Oxtail and Mushroom Tartine
Blowtorch Prime Rib Roast (with Horseradish Cream)
Sauteed Lamb Loin Chops
Herb-Crusted Rack of Lamb
Roasted Spring Leg of Lamb
Brined Pork Tenderloin
Rack of Pork Arista
Roasted Pork Shortribs
Rubbed and Glazed Pork Spareribs
Fig Stuffed Roast Pork Loin
Confit of Pork Belly
Braised Pork Belly
Slow Roasted Veal Shank
Breaded Veal Cutlets
FISH Recipes from Ad Hoc at Home
Soft-Shell Crabs with Sweet and Sour Cherry Gastrique
Crab Cakes
Maine Lobster Rolls
Caramelized Sea Scallops: A Kitchen in Brooklyn | A Bird in the Kitchen | Food Gal
New England Style Clambake
Pan Roasted Halibut: DarinDines...and cooks! | Examiner
Poached Salmon: Poached Salmon on TasteSpotting!
Wild Cod en Persillade
Roasted Monkfish: Turntable Kitchen
Salt-Crusted Striped Bass
Oil-Poached Sturgeon
Crispy Fried Fish
SOUPS from Ad Hoc at Home
Spring Vegetable Garbure
Sun Gold Tomato Gazpacho
Heirloom Bean and Escarole Soup
Split Pea Soup with Ham Hock Fresh Peas and Mint
Mushroom Soup with Cavolo Nero and Yukon Gold Potatoes
Lentil and Sweet Potato Soup
Chicken Soup with Dumplings
Clam Chowder with Bacon
Cream of Cauliflower Soup with Red Beet Chips
SALADS from Ad Hoc at Home
Endive and Arugula Salad
Mediterranean Melon Salad
Little Gem Lettuce Salad/Honey Vinaigrette
Pickled Radish and Red Onion Salad
Broccolini Salad with Burrata Cheese
Tomato and Handmade Mozzarella Salad
Iceberg Lettuce Slices
Curried Cauliflower-Chickpea Salad
Grilled Asparagus
Green Bean and Potato Salad | with mission figs and Iberico ham
Mushroom and Leek Salad | with oven-roasted tomatoes and radishes
Farro and Black Rice | with roasted autumn squash
Roasted Beet and Potato Salad | with soft-cooked egg, smoked salmon, and mustard vinaigrette
Saffron Rice Salad | with summer squash and Maine lobster
Frisee and Duck Confit Salad
Fresh Tuna Salad
Shellfish Salad | with endive, watercress and spicy herb vinaigrette
Fritto Misto
Marinated Feta with Olives
Quinoa with Duck Confit
~ TasteSpotting makes Quinoa with Duck Confit
Lamb Meatballs
Sauteed Shrimp with Garlic
Fried Fresh Chickpeas
Dressings
Simple Vinaigrette
Spicy Herb Vinaigrette
Sherry Vinaigrette
Mustard Vinaigrette
Bacon Vinaigrette
Roasted Garlic Vinaigrette
Garden Herb Vinaigrette
Curry Vinaigrette
Lemon Vinaigrette
Buttermilk Dressing/Blue Cheese Dressing
Piquillo Pepper Vinaigrette
Anchovy Dressing
Creamy Pepper Dressing
VEGETABLES and SIDES from Ad Hoc at Home
Corn on the Cob with Lime Salt
Creamed Summer Corn
Nantes Carrot Stew
Asparagus Coins
Asparagus and Tomato-Bacon Stew
Baked Beets
Caramelized Fennel
Sauteed Broccoli Rabe with Garlic and Chili Flakes
Butter Braised Radishes, Kohlrabi and Brussels Sprouts
Caramelized Savoy Cabbage
Sauteed Red and Green Cabbage
Coleslaw
Celery Root with Melted Onions
Summer Vegetable Gratin
Honey Glazed Cippollini Onions
Romano Beans with Mint
Rainbow Chard with Raisins, Pine Nuts and Serrano Ham
Creamed Baby Spinach
Chanterelle Mushrooms with Pea Shoots
Morels with Madeira
Peperonata Rustica
Borlotti Bean Ragu
Leek Bread Pudding
Baby Leeks
Pappardelle with Mushrooms
Grits Cakes
Polenta
Buttered Farro
Saffron Rice
Braised Artichokes
Potato Hash
Butter Poached Marble Potatoes
Puree of Garlic Potatoes
Smashed Roasted Marble Potatoes
Potato Pavé
Red Potato Green Bean Salad with Creamy Pepper Dressing
Scallion Potato Pancakes
Glazed Sweet Potatoes
Fingerling or Sweet Potato Chips
LIFESAVERS recipes from Ad Hoc at Home
Candied Pecans, Herbed Toasted Walnuts, Spiced Mixed Nuts
Nut Butters: Marcona Almond Butter, Pistachio Butter, Hazelnut Butter
Chutneys: Apple Beet Chutney, Cipollini Onion Chutney
Compotes: Potted Rainier Cherries, Potted Bing Cherries, Apricot Currant Compote, Pear with Vanilla Bean Compote
Jams and Jellies:
Fig and Balsamic Jam: Sugar & Spice
Plum Zinfandel Jam
Raspberry Jam
Red Pepper Jelly: Red Pepper Jelly
Marmalades:
Red Onion Cranberry Marmalade
Tomato Basil Marmalade
Tangerine Kumquat Marmalade
Peach Puree: Peach Puree
Slow Cooker Apple Butter: Slow Cooker Apple Butter
Tapenades: Sweet Onion, Artichoke, Olive
Mustards:
Artichoke Mustard
Eggplant-Raisin Mustard
Fennel Mustard: Food & Wine
Quince Paste, Red Wine Poached Prunes
Pickled: Basic Pickling Liquid, Garlic, Carrots, Cauliflower, Green Beans, Baby Leeks, Radishes, Red Onions, Watermelon Rind, Cucumbers, Wine Steeped Golden Raisins, Champagne Grapes with Yellow Curry, Green Grapes with Green Curry
Mushroom Conserva, Oven Roasted Tomatoes
Preserved Lemons: Preserved Whole Lemons, Cured Lemons
Soffritto: Soffritto on Project Foodie
Oils:
Chive Oil, Basil Oil
Garlic: Garlic Confit and Oil, Garlic Puree, Garlic Chips
BREADS, CRACKERS, CHEESE Recipes from Ad Hoc at Home
Grilled Cheese Sandwich: Take Thou Food
Buttermilk Biscuits: Sugar & Spice
DESSERT Recipes from Ad Hoc at Home
Blueberry Cobbler: Telegraph | Foodogenic | M Loves M |
Peaches and Cream
Apple Fritters: LAist
Banana Bread Pudding: The Los Angeles Times
Panna Cotta
Brownies: Oui, Chef | Furey and the Feast | What's Gaby Cooking | Kitchen Musings | TasteFood | Sugar & Spice | The Cookbook Chronicles
Lemon Bars with Meringue: Marcus Samuelson
Pecan Walnut Bars
Cherry Pie: KateCookstheBooks
Coconut Cake
Pineapple Upside Down Cake: Sweet Cakes Bake Shop | Food Gal
Grapefruit Cake: Tracey's Culinary Adventures
Cheesecake: : Sasha's Kitchen
White Cupcakes: TreatsSF
Devil's Food Cupcakes
Carrot Cake Cupcakes
Ice Creams (Vanilla, Chocolate, Mint Chocolate Chip, Cherry, Caramel, Coffee)
Caramel Ice Cream: Dine-o-Mite | Wall Street Journal
Chocolate Chip Cookies: Daily Dish | The Los Angeles Times | Food Gal | Chaos in the Kitchen | Pixie Baker | Escape Hatch Dallas | Foodista
BASICS
Cooking Eggs
OTHER RECIPES BY Thomas Keller ON THE WEB
31 Recipes by Thomas Keller at Food & Wine, (some called out below):