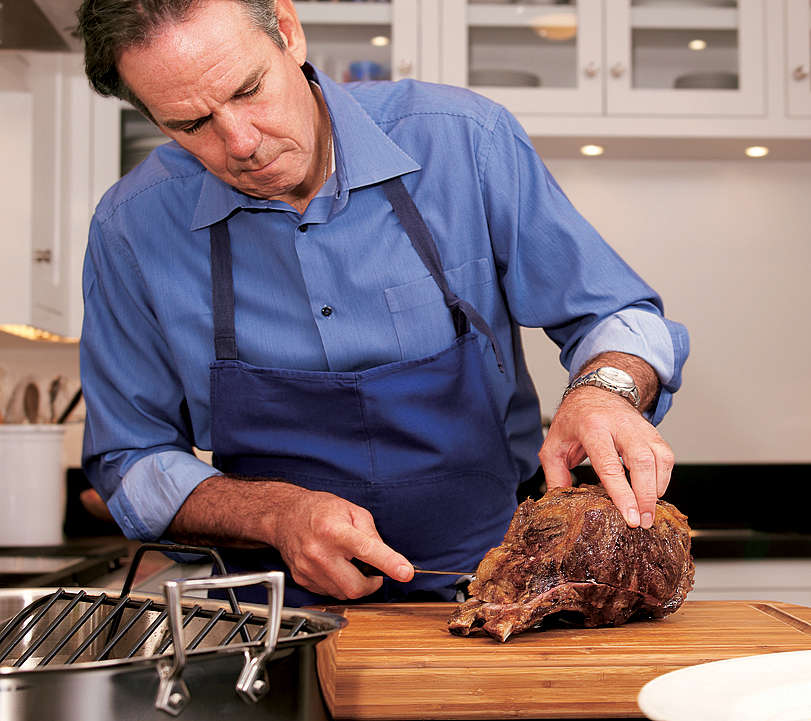 If you, like me, don't live within a Bouchon Bistro restaurant, you can do what I do: stare at your almost-pristine copy of the Bouchon cookbook from which you've never actually cooked in the fifteen years you've owned it because it's not that Thomas Keller recipes are that hard *ahem*, it's just the book is so huge it doesn't fit through the doorway to your kitchen and besides where would you put your coffee if you took the book away from the living room?
Oh, you don't have the book? Start cooking with the list below, which I've culled together from around the web. The recipes are listed exactly as they are presented in the copy of the book I have, and include the recipe name, the page number in square brackets like this [xx], and then links to pages where a website has cooked the recipe.
You're welcome.
For an even more casual collection of Thomas Keller recipes, check out the list of recipe links for the Ad Hoc at Home cookbook! Thomas Keller's Fried Chicken recipe is in it.
Jump to:
Thomas Keller Recipes from the Bouchon cookbook
My Favorite Simple Roast Chicken - Mon Poulet Rôti [xii]: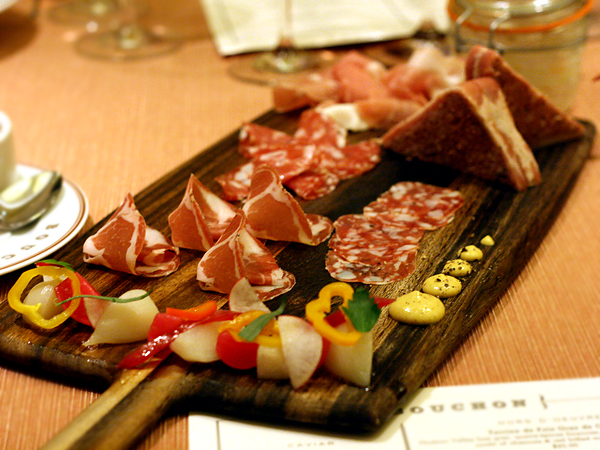 FIRST IMPRESSIONS - Premières Impressions
Marinated Olives — Olives Marinées [6]
Roasted Beet Salad — Salade de Betteraves [7]
Celeriac Rémoulade — Celeri Remoulade [8]
Lentils Vinaigrette — Salade de Lentilles [10]
Chickpeas and Carrot Salad — Salade de Pois Chiches et Carottes [11]
Fried Zucchini Blossom — Beignets de Fleurs de Courgettes [14]
Olivade — Fromage Blanc aux Olives et Capres [14]
Hard Cooked Eggs in Russian Dressing — Oeufs a la Russe [16]
Tapenade — Olives Niçoises en Tapenade [16]
Vegetables a la Grecque [17]
Foie Gras Terrine — Terrine de Foie Gras [24]
Smoked and Steamed Salmon Rillettes — Rillettes aux Deux Saumones [26]
Rabbit Rillettes with Prunes — Rillettes de Lapin aux Pruneaux [27]
Rabbit Pate — Pate de Lapin [28]
Charcuterie Plate — Assiette de Charcuterie [30]
Gloria's Cornichons Recipe
Shellfish Platter — Plateau de Fruits de Mer [38]
Mignonette Sauce
Cocktail Sauce
Mustard Mayonnaise Sauce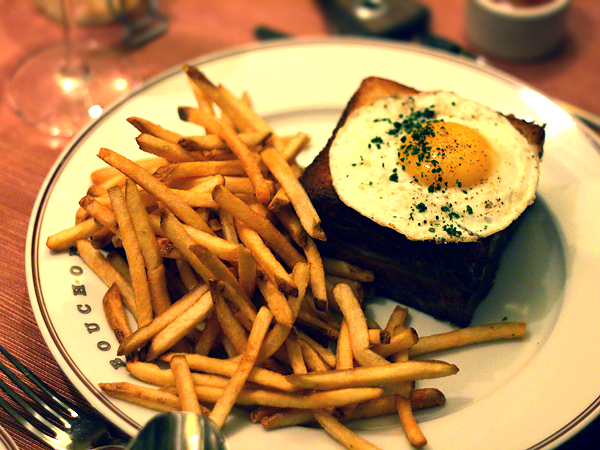 ANYTIME—A Toute Heure
Onion Soup - Soupe a L'oignon [49]
Lentil Soup — Soupe aux Lentilles [51]
Spring Vegetable Soup — Soupe de Légumes de Printaniers [52]
Potato Leek Soup — Soupe de Poireaux et Pommes de Terre [56]
Sorrel Soup [57]
Butternut Squash Soup with Brown Butter, Sage, and Nutmeg Crème Fraîche — Soupe de Courge au Beurre Noisette et à la Crème Fraîche Muscadée [60]
Bibb Lettuce Salad — Salade de Laitue [66]
Endive Salad with Smoked Trouts and Lemon Vinaigrette [47]
Chilled Asparagus with Vinaigrette and Eggs Mimosa [68]
Chilled Leeks with Vinaigrette and Eggs Mimosa — Poireaux en Vinaigrette et Oeufs Mimosa [70]
Watercress-Endive Salad with Roquefort and Walnuts [71]
Roasted Beets and Mache Salad with Goat Cheese and Toasted Walnuts [76]
Marinated Squid Salad with English Cucumber and Tomatoes [77]
Chilled Salad of Haricots Verts and Tomatoes [78]
Market Greens with Warm Goat Cheese and Hazelnuts [79]
Frisée Salad with Julienne Bacon and Poached Egg — Salade Frisée aux Lardons et Oeuf Poche [82]
Quiche Basics: Basic Quiche Shell, Basic Quiche Batter [88]
Roqueforte and Leek Quiche — Quiche au Roquefort et aux Poireaux [90]
Bacon and Onion Quiche — Quiche Lorraine [91]
Spinach Quiche — Quiche Florentine [94]
Wild Mushroom Quiche — Quiche Forestière [95]
Tuna Niçoise Tartine - Tartine de Thon a la Niçoise [98]
Tartine of Lamb with Pickled Red Onions — Tartine de Gigot d'Agneau et Oignons Rouges au Vinaigre [99]
Pickled Red Onions [99]
Tartine of Pork with Celeriac Rémoulade [100]
Grilled Ham and Cheese Sandwich with Fried Egg and Mornay Sauce — Croque Madame, Sauce Mornay [101]
FIRST COURSES — Entrées
Salmon Tartare — Tartare de Saumon [106]
Smoked Salmon with Frisée Salad with Oranges and Radishes [108]
Dungeness Crab Salad with Cavaillon Melon [109]
Cod Brandade with Tomato Confit and Fried Sage — Beignets de Brandade de Morue au Confit de Tomates et Sauge Frite [110]
Clams Marièneres with Soffritto — Palourdes Marieneres au Soffritto [114]
Coquilles St Jacques [115]
Snails with Herb Butter — Escargot de Bourgogne [119]
Frogs' Legs Provençal — Cuisses de Grenouille à la Provençale [122]
Crispy Frogs' Legs — Cuisses de Grenouille Croquantes [124]
Melted Raclette Cheese with Boiled Potatoes and Bayonne Ham [125]
Stuffed Quail on Dandelion Greens [128]
Stuffed Duck Neck with Tuscan Kale [130]
Duck Confit — Confit de Canard [135]
Duck Confit with Brussels Sprouts and Mustard Sauce — Confit de Canard aux Choux de Bruxelles, Sauce Moutarde [137]
Garlic Sausage with French Green Lentils [138]
Garlic Sausage in Brioche [140]
Pork Trotters with Mâche and Sauce Gribiche [148]
Warm Lamb's Tongue and Potato Salad with Sherry Vinaigrette — Salade de Langue d'Agneau aux Pommes de Terre et Betterave au Vinaigre de Xérès [150]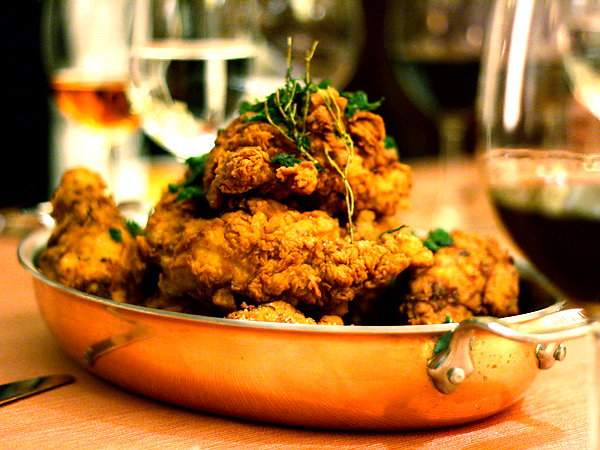 MAIN COURSES — Plats de Résistance
Herb Gnocchi — Gnocchi à la Parsienne [156]
Gnocchi with Summer Vegetables — Gnocchi a la Niçoise [158]
Gnocchi with Mushrooms and Butternut Squash — Gnocchi à l'Alsacienne [160]
Mussels with Saffron and Mustard — Moules au Safran et à la Moutarde [166]
Mussels with Leeks and Red Verjus - Moules aux Poireaux et Verjus [167]
Scallops with Citrus-Braised Endive — Coquilles St Jacques aux Endives Braisées [168]
Monkfish Stew — Bourride de Lotte [172]
Sautéed Atlantic Salmon with Leeks — Saumon de l'Atlantique Poèlé aux Poireaux [174]
Lemon Trout with Haricots Verts and Almonds — Truite aux Haricots Verts et Amandes (178)
Trout with Haricots Verts, Capers, and Lemons [179]
Skate Fish with Fennel-Onion Confit and Tapenade Sauce [180]
Skate Fish with Lyonaisse Potatoes and Red Wine Jus [181]
Rouget Fish with Couscous and Tomato Confit Broth [181]
Pike Fish Barigoule — Brochet a la Barigoule [184]
Cod Fish with a Stew of Sweet Peppers — Cabillaud et Pipérade [187]
Pan-Seared Sole with Potatoes and Parsley Lemon Brown Butter — Sole Meunière Pommes Château [188]
Mediterranean Bass with Squid, Fennel, and Tomatoes — Loup de Mer à la Provençale [189]
Roast Chicken — Poulet Rôti [192]
Roast Chicken with Ragout of Wild Mushrooms — Poulet Rôti Forestière [194]
Poulet Rôti aux Courgettes et Tomates Persillées—Roast Chicken with Summer Squash and Tomatoes [195]
Crepes with Chicken and Morels — Crepes au Poulet et aux Morilles
Savory Crepes Recipe [199]
Chicken in a Pot — Poulet au Pot [200]
Braised Rabbit Legs with Buttered Egg Noodles and Mushrooms [204]
Duck with Olives and Red Rice - Canard aux Olives et Riz Rouge de Camargue [206]
Flatiron Steak with Herb Butter and French Fries — Steak Frites Maitre d'Hotel [207]
Skirt Steak with Caramelized Shallots and Red Wine Jus — Bavette a la Bordelaise [209]
Braised Beef with Red Wine — Boeuf Bourguignone (212)
Lamb Stew with Spring Vegetables [218]
Leg of Lamb with Flageolets Beans in Thyme Jus [220]
Brined Roasted Rack of Pork [224]
Veal Roast [225]
Veal Stew — Blanquette de Veau [226]
White Sausage with Prunes and Potato Puree [228]
Blood Sausage with Potato Puree and Caramelized Apples — Boudin Noir, Purée de Pommes de Terre, Pommes Caramélisées [229]
Liver and Onions with Figs [232]
Braised Tripe in Dijon Mustard Sauce [234]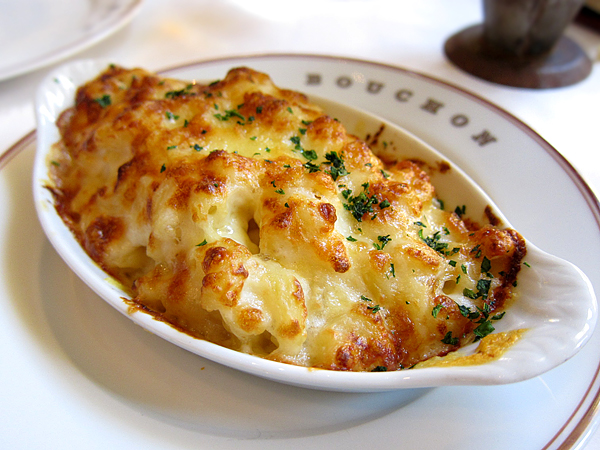 ACCOMPANIMENTS
Haricots Verts with Shallots [236]
Sautéed Spinach with Garlic Confit [236]
Morels and Peas with Onion Confit [237]
Glazed Vegetables — Légumes Glacés [243]
Glazed Pearl Onions — Oignons Grelots Glacés [244]
Provençal Vegetables — Byaldi (Rattatouille) (245)
Cauliflower Gratin — Gratin de Chou-Fleur (246)
French Fries — Pommes Frites [249]
Fried Lattice Potatoes — Pommes Gaufrettes [249]
Potato Puree — Purée de Pommes de Terre [250]
Sautéed Potatoes with Onion Confit — Pommes de Terre a la Lyonnaise [251]
Potato Gratin — Gratin de Pommes de Terre [252]
Macaroni Gratin — Gratin de Macaroni (253)
Red Rice — Riz Rouge de Camargue [256]
Moroccan Couscous — Couscous Marocain [256]
Flageolets with Garlic Confit — Flageolets à l'Ail Confit [257]

DESSERTS
Crème Caramel [264]
Vanilla Bean Pots de Crème [268]
Chocolate Pots de Crème [269]
Cinnamon Pots de Crème [269]
Mint Pots de Crème [269]
Almond Pots de Crème [269]
Dark Chocolate Mousse — Mousse au Chocolat Noir (270)
Chocolate Mousse Tart with Hazelnut Crust — Tarte au Chocolate [271]
Lemon Tart — Tarte au Citron (272):
Grandma Sheila's Cheesecake Tart with Huckleberries — La Tarte au Fromage Blanc et Myrtilles de Grand-Mère Sheila [273]
Tarte Tatin [276]
Strawberry Tart — Tarte aux Fraises [278]
Almond Cake with Strawberry Rhubarb Compote - Gateau aux Amandes, Compote de Fraises et de Rhubarbe [282]
Chocolate Bouchons - Bouchons au Chocolate (284):
Raspberry Napoleon - Napoleon aux Framboises [285]
Chocolate Terrine with Custard Sauce and Pistachios - Marquise au Chocolat, Creme Anglaise et Pistaches [289]
Fruit Sorbets — Sorbets aux Fruits (290)
Vanilla Ice Cream — Glace a la Vanille [292]
Coffee Ice Cream
Chocolate Ice Cream
Prune Ice Cream with Armagnac — Glace aux Pruneaux et à L'Armagnac (296)
Apple Ice Cream with Calvados — Glace aux Pommes at au Calvados [297]
Cream Puff with Vanilla Ice Cream and Chocolate Sauce — Profiteroles (300)
French Toast with Apricots — Pain Perdu aux Apricots [302]
Poached Prunes — Pruneaux Pochés [303]
Sweet Crepes with Peaches and Pastry Cream — Crepes aux Peches, Creme Patissiere [304]
Fresh Cheese with Fruit and Honey — Fromage Frais aux Fruits et au Miel [305]
Sugar Cookies - Biscuits au Sucre (306)
Cats' Tongues Cookies - Langues de Chat [306]
Almond Petit Fours - Financiers aux Amandes [307]
Vanilla Macaroons - Macarons a la Vanilla [310]
BASIC PREPARATIONS AND TECHNIQUES
Garlic Confit [312]
Onion Confit [312]
Fennel-Onion Confit, Tomato Confit [313]
Soffritto, Piperade [314]
Basil Puree, Preserved Lemon [315]
SAUCES and BUTTERS
House Vinaigrette (315)
Aioli [315]
Roux, Mornay Sauce, Clarified Butter, Maitre d'Hotel Butter [316]
STOCKS and JUS
Chicken Stock [317]
Veal Stock, White Veal Stock [318]
Beef Stock [319]
Vegetable Stock, Fish Fumet [320]
Shellfish Broth, Chicken Jus [321]
Lamb Jus [322]
Red Wine Jus [323]
SWEET DOUGHS and CREAMS
Pine Nut Crust [324]
Brioche [324]
Creme Anglaise [324]
Chocolate Sauce [325]
TECHNIQUES
Bouquet Garni or Sachet [325]
Brine [325]
Parchment Lid [326]
Peeling and Cooking Pearl Onions [326]
Cleaning Wild Mushrooms [326]
Hard Cooking Eggs [326]
And here is the biggest secret of all: a limited preview of the Bouchon cookbook is on google books. You're welcome very much.
Other Recipes from the Bouchon Bakery:
Thomas Keller Oreos (TKOs)
Nutter Butter Cookies from Bouchon Bakery
Gingerbread Cookies from Bouchon Bakery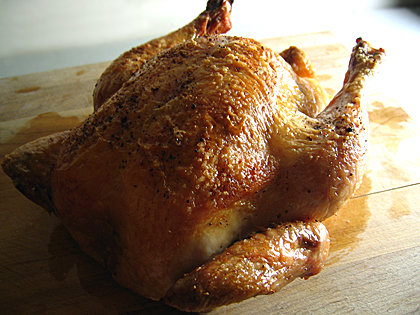 Print Recipe
Thomas Keller's Roast Chicken Recipe
This is one of two recipes for Roast Chicken—Poulet Rôti—in Bouchon. The first recipe is so simple it doesn't really require a recipe. This is the second recipe which is more interesting (and definitely more involved!) with a wet brine and chicken stock. The ingredients call for two smaller chickens which aren't quite as easy to find. The recipe works perfectly fine with one larger chicken 4-5 pounds.
Ingredients
2

2¼ - 2½ pound

chickens

or 1 larger 4½ - 5 pound chicken

brine

kosher salt and coarsely ground black pepper

2

tablespoons

canola oil

2

teaspoons

thyme leaves

1

cup

Chicken Jus

Fleur de Sel

(flaky sea salt)
Some of us might get upset that 1) TKells' recipes are available "for free" on the web when he's trying to make living by selling the book on which he and his team worked so diligently and/or 2) I am making them all the more easily accessible by compiling them in one place, but ... seriously? Do some of us really believe that access to 30-something of the 300 recipes in the book, less than 30% of the book, put together by someone who isn't even smart enough to calculate percentages, will deter cooks from buying the book?