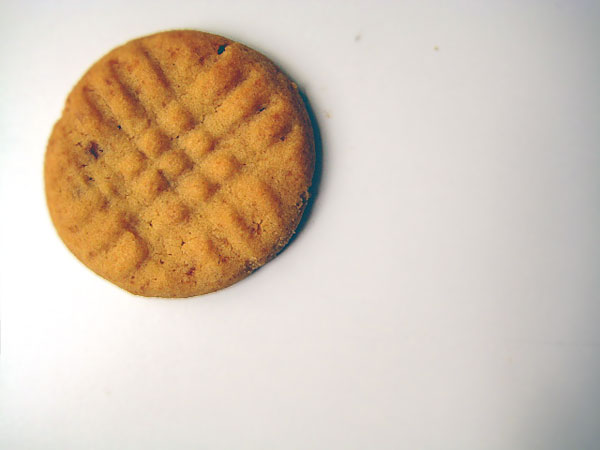 Here, Kitty, Kitty...Just in time for a Study Bake? You're getting the Sweet Melissa Baking Book! Please send me your mailing address and we'll get this sent to you just in time to bake during the Holidays. Thank you to everyone for participating in the giveaway. I'm holding off on the rest of the gifts under the Delicious Tree for something huge...

We've given away a copy of the The Sweet Melissa Baking Book, but don't let that stop you from getting a copy yourself, or making Melissa Murphy's Peanut Butter cookies from the book. They're not bad. You know. For peanut butter.
Some Foods Are NeverBad™
There is a category of foods in The Delicious Life that I call NeverBad™. No matter how "bad" they are, they are never bad. French Fries. Potato Chips. Pizza. Vodka on the rocks.
These are foods that you love so much, of which you've tried every different variety, that you know how to make, have learned the history, could do a half hour episode of Good Eats with Alton Brown right after you do a half hour episode of The Secret Life of with Jim O'Connor that you could almost call yourself a connoisseur.
However, you can't really be a connoissuer expressly because you love it so much that even when you are faced with French fries from McDonald's, they taste pretty fucking good to you because they're French fries and French fries are never bad even when they're McDonald's.
That was a bad example. Every French fry connoisseur would agree that McDonald's French fries are, in fact, the standard against which all other French fries should be measured.
You get my point, though, right?
Cookies Are NeverBad™
The point is that cookies are in the category of NeverBad™. Let's ease into this with store-bought cookies. Store-bought cookies are perfect every time because a team 41 scientists have perfected the formula recipe and the cookies are made by robots so they are perfect, every batch, every time, every box. The only time store-bought cookies might be bad is when they get to your house and you let them either go stale or grow mold. But store-bought cookie will never go stale nor grow mold because there are enough chemicals in each cookie to keep it as fresh as a summer's eve that you're probably preserving your own GI tract until 2050 just by eating it.
What about homemade cookies? There are many more uncontrolled variables in homemade cookies that could result in a bad cookie, but really, unless there was some gross error in the manufacture of a homemade cookie like unknowingly using rancid butter or accidentally adding 2 cups of salt instead of sugar or God forbid, raisins instead of chocolate chips, homemade cookies will never be bad. They might be a little too salty, a little too sweet, slightly underbaked or slightly over burnt, but if they are in front of you, if you've ventured to take a bite, you're going to eat it. In fact, homemade cookies even have an advantage over storebought cookies in that they are...homemade.
Peanut Butter is Bad, But It's Still a Cookie
Cookies – all of them – are never bad. Even peanut butter. I never grew up with peanut butter, don't have even a childhood nostalgia for peanut butter, can't stand the texture of peanut butter, am not particularly fond of the fragrance of peanut butter, cringe at the thought of how fatty fattening peanut butter is.
But a peanut butter cookie is still a cookie.
And I will eat it.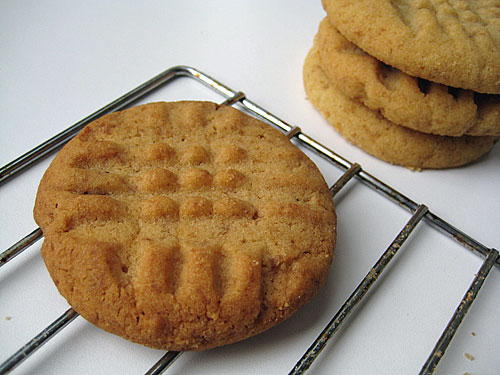 Makes 2 dozen cookies
Peanut Butter Cookie Ingredients
½ cup smooth peanut butter
8 tablespoons (1 stick) unsalted butter, softened
½ cup granulated sugar
½ cup firmly packed light brown sugar
1 large egg
1¾ cups all-purpose flour
½ teaspoon baking powder
¾ teaspoon baking soda
¼ teaspoon salt
Peanut Butter Cookie Directions
Position the rack in the top and bottom third of your oven. Preheat the oven to 325F. Line two cookie sheets with parchment paper or aluminum foil.
In the bowl of an electric mixer fitted with the paddle attachment, cream the peanut butter with the butter and sugars until light and fluffy, 3 to 4 minutes. Beat in the egg.
In a separate bowl, whisk together the flour, baking powder, baking soda, and salt. Add the flour mixture to the peanut butter mixture and mix until combined. Be sure to scrape down the sides of the bowl so that everything is combined evenly.
Scoop dough by the rounded tablespoonful and roll into balls. Place the balls about 2 inches apart on the prepared cookie sheets, and press down slightly. Using a fork dipped in flour, press down on the cookies first one way and then the other to form an "X" pattern, creating the cross hatch effect. (The cookies should now measure approximately 2 inches in diameter.) Bake for 10 minutes, or until the edges are lightly golden. Overbaking will cause these chewy cookies to become crunchy, so try to avoid it.
The cookies will keep in an airtight container at room temperature for up to 3 days. For longer storage, they can be frozen wrapped in plastic wrap and aluminum foil for up to 1 month. Do not unwrap before defrosting.