Hypocrisy is not just a river in Egypt...
I cooked fried rice not only from a recipe, but from a recipe by a white guy.
And this, just hours after posting about how "recipes" for rice, particularly fried rice, are upsetting to me.


But this fried rice is different.
It's from Jean-Georges, who cooks and seasons each ingredient separately, fries the rice in rendered chicken fat, and perfectly plates each serving individually with a gorgeous runny-yolked egg. (Also? His wife is Korean.)
So this isn't so much fried rice as it is Rice with Egg and Crisped Garlic and Ginger.
Denial, thy name is woman.
(Korean girl. White guy. Food. Wine. Life. Love. It's been a weird, confusing, tough week for me. And it's only Monday.)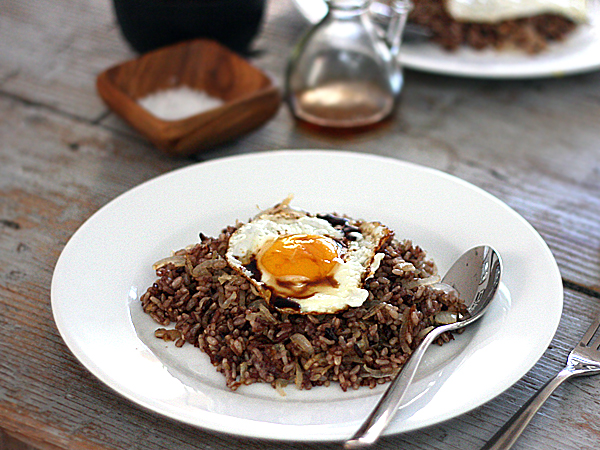 Garlic Ginger Fried Rice
inspired by Jean-Georges Vongerichten's recipe in the New York Times
serves 4
Ingredients
½ cup canola oil (Jean-Georges uses chicken fat, and the NYTimes recipe calls for peanut oil)
2 tablespoons minced garlic
2 tablespoons minced ginger
salt
2 cups thinly sliced onions (Jean-Georges uses leeks, but I didn't have leeks)
4 cups day-old cooked rice (I used leftover purple rice from Thai take-out the night before, Jean-Georges prefers jasmine rice)
4 large eggs
2 teaspoons sesame oil
4 teaspoons soy sauce
Directions
In a large skillet, heat ¼ cup oil over medium heat. Add garlic and ginger and cook, stirring occasionally, until crisp and brown. With a slotted spoon, transfer to paper towels and salt lightly.
Reduce heat under skillet to medium-low and add 2 tablespoons oil and onions (or leeks). Cook about 10 minutes, stirring occasionally, until very tender but not browned. Season lightly with salt.
Raise heat to medium and add rice. Cook, stirring well, until heated through. Season to taste with salt.
In a nonstick skillet, fry eggs in remaining oil, sunny-side-up, until edges are set but yolk is still runny.
Divide rice among four dishes. Top each with an egg and drizzle with ½ teaspoon sesame oil and 1 teaspoon soy sauce.
Sprinkle crisped garlic and ginger over everything and serve.