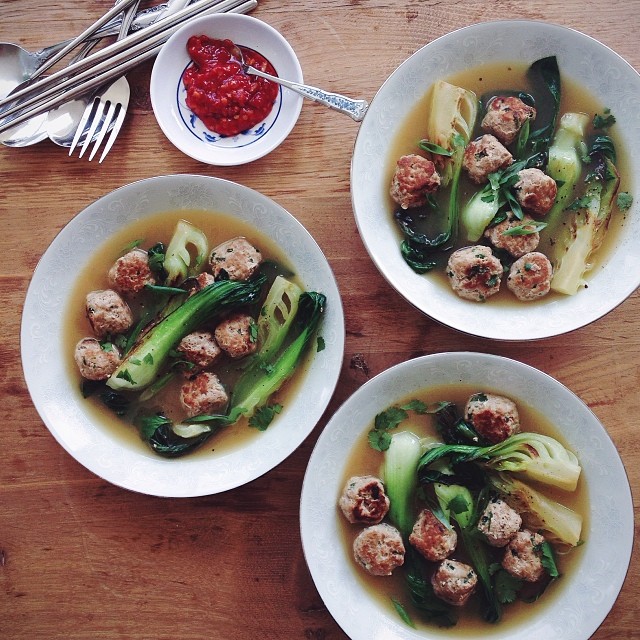 What is Asian Chicken Meatballs and Soba Noodle Soup
Asian Chicken Meatballs is neither original nor remarkably unique, but this version is important because of the way the meatballs are served — in a shallow pool of broth rather than smothered in a sticky sauce.
I added grilled baby bok choy to the bowl my second attempt, then shiitake mushrooms on a third attempt, and finally soba noodles with double the soup. With all of that, Asian Chicken Meatballs becomes a light, yet filling—God, I hate that qualifier—meal. I might stir a little spoonful of miso into the next iteration, but let's just take it one step at a time here ok?
What You Need to Make Asian Chicken Meatballs and Soba Noodle Soup
Ground chicken
Aromatics: minced garlic, grated ginger, sliced scallions
Tamari or soy sauce
Avocado oil or neutral oil substitute
Baby bok choy
Shiitake mushrooms
Chicken bone broth
Buckwheat soba noodles
Kosher or sea salt
Toasted sesame oil
Garnishes for serving: thinly sliced scallions, chili sambal, toasted sesame seeds
How to Make Asian Chicken Meatballs and Soba Noodle Soup
Combine all of the ingredients for the Asian Chicken Meatballs in a bowl, form into meatballs, and sauté.
Pan-sear baby bok choy and shiitake mushrooms.
Combine cooked meatballs, vegetables, buckwheat soba, and hot broth and ladle into bowls
Drizzle each bowl with toasted sesame oil, sliced scallions,, and toasted sesame seeds.
Ingredient Substitutions and Variations
This recipe is absolutely perfect as-is IMHO, but is honestly a fairly flexible template open to substitutions and variations. Ground turkey is on sale? Use ground turkey. Can't find baby bok choy? Use any leafy green or vegetable that's in season. Here are the best susbsititions:
Ground chicken. If you cannot find ground chicken, ground turkey is an equivalent substitute.
Tamari is a Japanese-style soy sauce. If you are not sensitive to gluten, regular soy sauce is perfectly fine.
Avocado oil is my choice for cooking. Olive oil is ok since we're not cooking the chicken at an extremely high heat, though olive oil has a fairly distinctive fragrance.
Baby bok choy is a brassica so if you want a substitute with similar nutrition profile, use broccoli, cabbage, or kale. If you want something tender and leafy, try spinach.
Shiitake mushrooms are a good source of vitamin D, especially in the winter, when we don't get a lot of sunlight directly on our skin. If you can't find shiitake mushrooms, any brown mushrooms will be great.
Chicken bone broth. I highly encourage you to make your Chicken Bone Broth yourself instead of using "4 cups low-sodium chicken broth, divided," which sounds like it comes gurgling out of a $3.99 box from Whole Foods, NOT THAT THERE IS ANYTHING WRONG WITH THAT CHEAP, CHEATER SUBSTITUTE. Gosh, and to think I said that there wasn't going to be some sort of tie-into my life. Anyway, so there you go, use the very best store-bought stock you can afford.
Buckwheat soba noodles, specifically 100% buckwheat, are my choice here not only because they are gluten-free, buckwheat also happens to be one of the most health-promoting foods in terms of fiber-content and antioxidants. However, soba noodles, and moreso 100% buckwheat soba noodles, may not as easy to find in conventional grocery stores. If you want to stay gluten-free, try rice noodles.
Ginger Scallion Sauce
The key to this is that you're supposed to make a generous batch of Ginger Scallion Sauce for something else first. If you happen to have Ginger Scallion Sauce leftover from whatever this other first thing is — I'd be shocked if you actually had leftovers, but there is a chance — and you need a way to use it before its phantom expiration date — though again I'd be shocked if you didn't consume all the leftovers in their entirety the very next day because you can use Ginger Scallion Sauce for pretty much anything including massage oil and currency in some countries — you stir a few spoonfuls of the sauce, drained of most of the oil, into a bowl of ground chicken or turkey, add minced garlic, maybe some tamari, and go from there.
If you don't have the patience to chop 742 bunches of scallions and grate a dozen "knobs" (almost as hateful a word as "moist") of ginger to make the Ginger Scallion Sauce first, then entertain the idea of making the meatballs with 3-4 green onions chopped to make about ½ cup, plus 1 tablespoon very finely minced fresh ginger to replace the Ginger Scallion Sauce in the recipe.
Then suck it up, loser, and make the Ginger Scallion Sauce anyway because unlike ⅔ of the decisions in your life, you won't regret it.
Ingredients Notes and Resources
Ground Chicken. Chicken will be much leaner than pork or beef, so take that into account when buying ground chicken, Look for a mix of about half dark meat to give the meatballs more flavor. I buy high-quality animal proteins from ACA Butcher Shop, Santa Monica
Tamari is a type of soy sauce made without wheat so it is naturally gluten-free. This brand is organic.
Avocado Oil. Avocado oil has the most neutral flavor of the non-seed oils, and has a high smoked-point making it great for stovetop cooking. This is the brand I like.
Chicken Bone Broth. If you are really going for it, make your own Chicken Bone Broth. However, not all of us are full-time food bloggers who have nothing else to do but cook everything from scratch, so use a really good store-bought stock or Bone Broth. Remember that something labeled only "broth" will be much lighter in both flavor and body, and probably nutrients. "Stock" is made with bones, so it will be richer. If you can find something labeled "Bone Broth," look at the ingredients and read the label to make sure it is cooked for along time with the bones.
Buckwheat Soba. Normally, I use whatever soba I find at the market, but note that most "buckwheat soba" has some wheat flour in it. Buckwheat soba that is 100% gluten-free is brittle and breaks down easily, but a soup/broth preparation is probably the best place to use it with more success, though it will still going to be fairly soft and fragile. The gluten-free, 100% buckwheat soba I've used in the past is from Eden Foods.
Toasted Sesame Oil. Make sure you get toasted sesame oil, which is darker in color and has a deeper, nuttier flavor.
Chili Garlic Sauce Lee Keum Kee has gluten from the rice vinegar ingredient, or Huy Fong, which has sulfites as preservative. They taste the same to me; you pick your poison.
All other produce and herbs from local farmers' markets, or organic from Whole Foods Market
Health and Dietary Considerations
Garlic and Ginger are at the very top of my Anti-Inflammatory Favs List
Choosing ground chicken over beef for the meatballs isn't necessarily a "healthy substitute." Red meat can, and is, healthy depending on a person's individual health needs. Chicken has a different fat content and of course, very different flavor — generally milder so it means you can use a lot of ginger and scallions to flavor the meatballs.
Bok choy is a cruciferous vegetable so it has similar nutrition profile as broccoli, cabbage, and kale
Shiitake mushrooms are a good source of vitamin D, especially in the winter, when we don't get a lot of sunlight directly on our skin.
Print Recipe
Asian Chicken Meatballs with Soba Noodles Recipe
Asian Chicken Meatballs in a nutrient-dense chicken bone broth is protein-packed, low-carb, and anti-inflammatory with garlic, ginger and scallions
Ingredients
1

lb

ground chicken

with some dark meat and fat

½

cup

chopped scallions (3-4 stalks, green and white parts)

2

teaspoons

grated fresh ginger, with juice

4

cloves

garlic, grated

2+2

tablespoon

gluten-free tamari

2

tablespoons

vegetable oil for cooking

6-8

small baby bok choy

6-8

shiitake mushrooms

sliced

4

cups

rich chicken bone broth

4

ounces

soba noodles

cooked

1

teaspoon

Kosher or sea salt

4

teaspoons

toasted sesame oil

Suggested garnishes for serving: thinly sliced scallions, chili sambal, toasted sesame seeds
Instructions
Gently stir together ground chicken, scallions, ginger, garlic, and 2 tablespoons tamari in a mixing bowl. Form into 1-inch diameter meatballs, about 1½ tablespoons per meatball.

Heat oil in a large skillet over medium-high heat. Add meatballs and cook until brown all over, about 10 minutes. Transfer meatballs to a plate lined with paper towels to soak up excess cooking oil.

Turn down heat under skillet to medium. Add a little extra cooking oil if necessary, then add sliced bok choy, cooking until slightly charred. Remove bok choy to plate and cook shiitake mushrooms. Divide Ginger Scallion Meatballs, baby bok choy, shiitake, and soba noodles among serving bowls.

In a separate pot, heat chicken stock. Season stock with 2 tablespoons tamari, taste, and adjust with more tamari or sea salt. Tamari will add extra umami and make the soup darker, salt will only make the soup saltier and keep the broth a lighter color.

Ladle boiling hot stock into serving bowls over meatballs, vegetables, and noodles. Drizzle each bowl with 1 teaspoon toasted sesame oil. Serve along with sliced scallions, toasted sesame seeds, chili sambal.