If you can boil water, you can make healthy, nutrient-dense Chicken Bone Broth that can help seal your gut-lining, boost your immunity and just all around make you feel better. Sip and savor Chicken Bone Broth all season long and use it to amp the health benefits of any recipe that uses broth or stock. Shall we?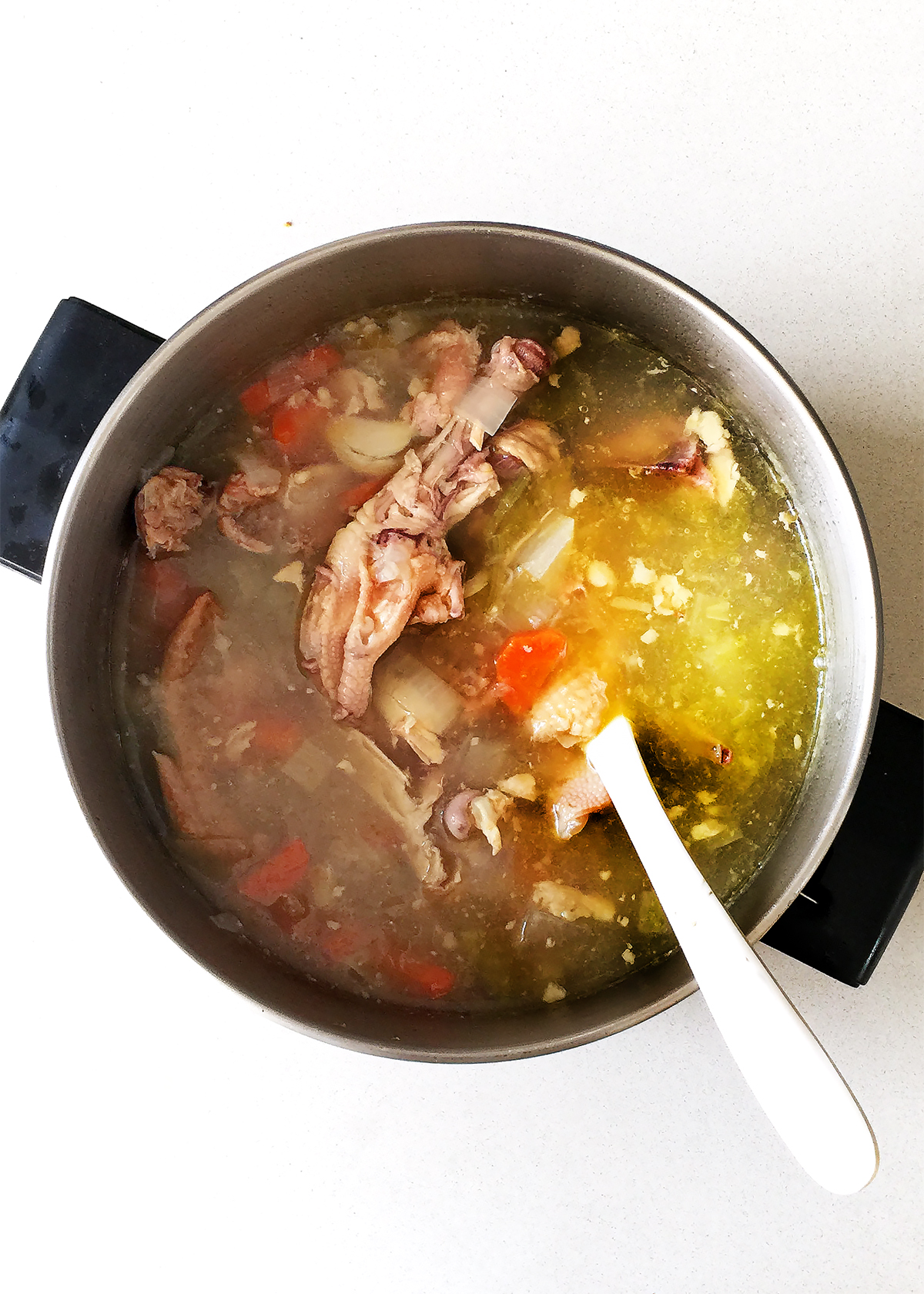 Jump to:
What is Chicken Bone Broth
Chicken bone broth is a simple stock made by simmering chicken bones with water over a long period of time—like 8 to 10 even 24 hours long! It also has aromatic vegetables like garlic and onions added at the end to enhance the flavor and nutrient content.
Bone broth is great to use as a base for soups and stews, or in any recipe that calls for some version of "stock." You can sip on a steaming mug of bone broth straight up, as many do to support various aspects of health.
Difference Between Chicken Broth, Chicken Stock, and Bone Broth
So what's the difference between broth, stock, and what we're going for here, Bone Broth? So glad you asked because they're kind of the same thing, made in similar ways, but different depending on the balance of the meat vs bones, and the application.
Chicken Broth: Lighter, Liquidy
In regular cooking terms, chicken "broth"—as opposed to bone broth—is a liquid made from chicken meat and maybe a few bones and simmered for a shorter period of time, i.e. 1-2 hours. The resulting broth is light in both color and flavor, and doesn't gel. Broth is great as base for soups, especially for soups in which the dominant flavor ingredient is something else like a puréed vegetable, and the broth is used for texture and consistency.
Chicken Stock: Darker, More Flavor, Gels
Chicken Stock, on the other hand, refers to liquid made primarily from bones with some bits of meat and skin attached and simmered for a long time to extract flavor. The resulting stock is darker in color, sometimes because the bones are roasted before simmering, and richer in flavor. Stock usually sets into a gel texture when chilled and is great for braises in which you want a thick braising liquid, sauces, and gravies.
Bone Broth: Ultra Rich, Long-Simmered Liquid Gold
Confusingly containing the word "broth," Bone Broth is actually more like a stock, and when it's called "bone broth," we consider it a liquid that has simmered for longer than plain stock to extract as much collagen, glucosamine, and amino acids out of the bones, which end up becoming soft enough to crumble apart between your fingers.
Bone broth should gel in the refrigerator from all the collagen.
Bone broth is what we're going for here, and I use it for everything from an immune-boosting sipping bone broth to the base of any soup or stew.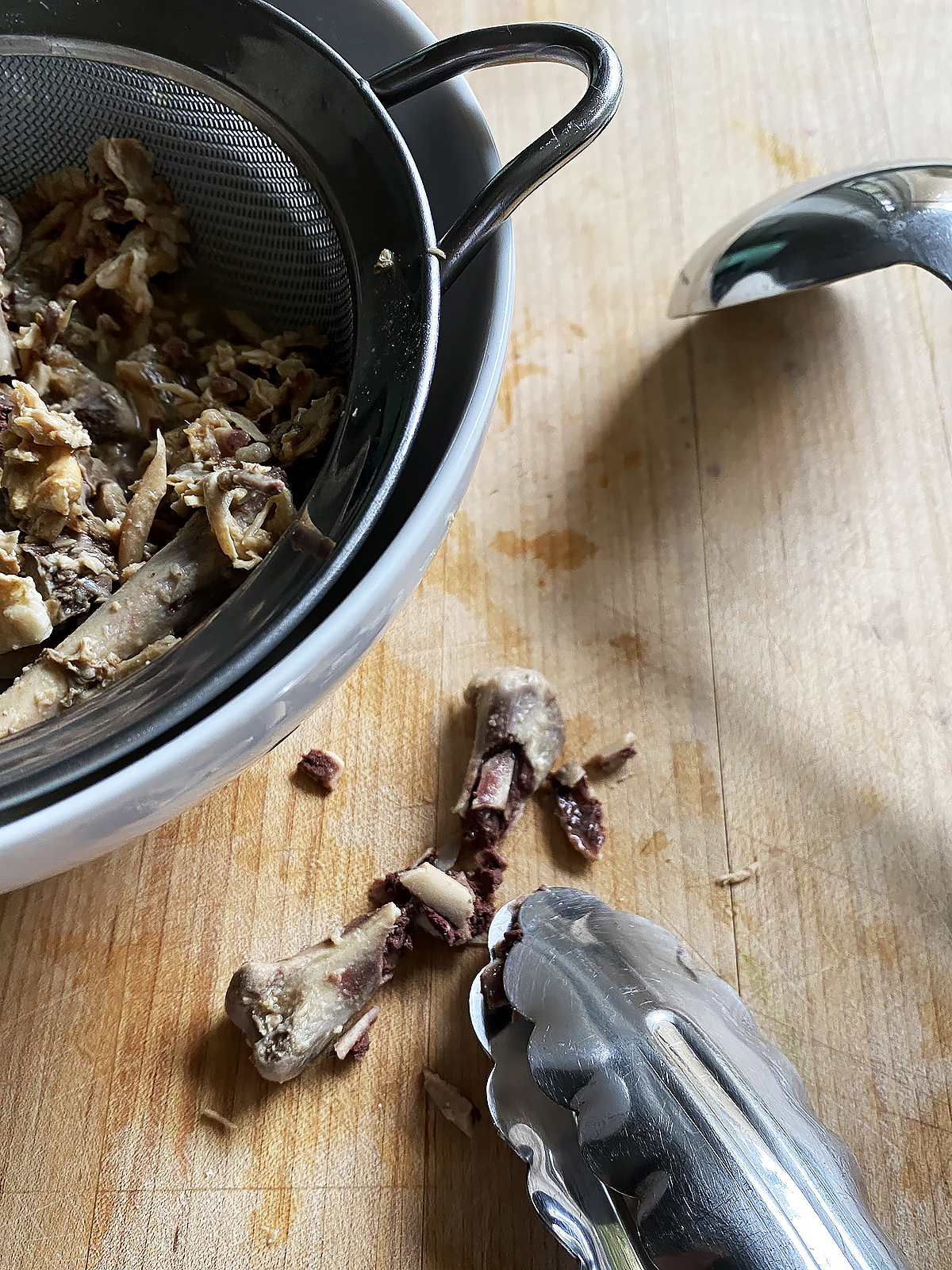 Health Benefits of Chicken Bone Broth
A few years ago, Bone Broth of any kind as a gut biome-building, immune boosting and all-around super hero health tonic was all anyone could talk about. It was so much the rage that there were entire restaurants/pop-up windows dedicated to serving exclusively Bone Broth as drinks in to-go coffee cups.
As suddenly trendy as it seemed, Bone Broth has actually been a staple in many cultures for hundreds, even thousands of years for both culinary and medicinal uses. There's a reason a steaming hot bowl of chicken soup made from chicken and vegetables simmered all day is considered a cure for the common cold.
Dietary Considerations of Chicken Bone Broth
As printed, this Chicken Bone Broth recipe is:
dairy-free
gluten-free
sugar-free
keto- paleo- and Whole30 compliant
A Quick Note: If you make Chicken Bone Broth using leftover bones from Roast Chicken, make sure to keep in mind how you initially roasted the chicken. If the original roast chicken was brined with sugar, basted with butter, or marinated in any way with ingredients that contain gluten e.g. soy sauce, your bone broth will have some degree of these ingredients as well and will affect the Dietary and Nutritional Content of the final Bone Broth.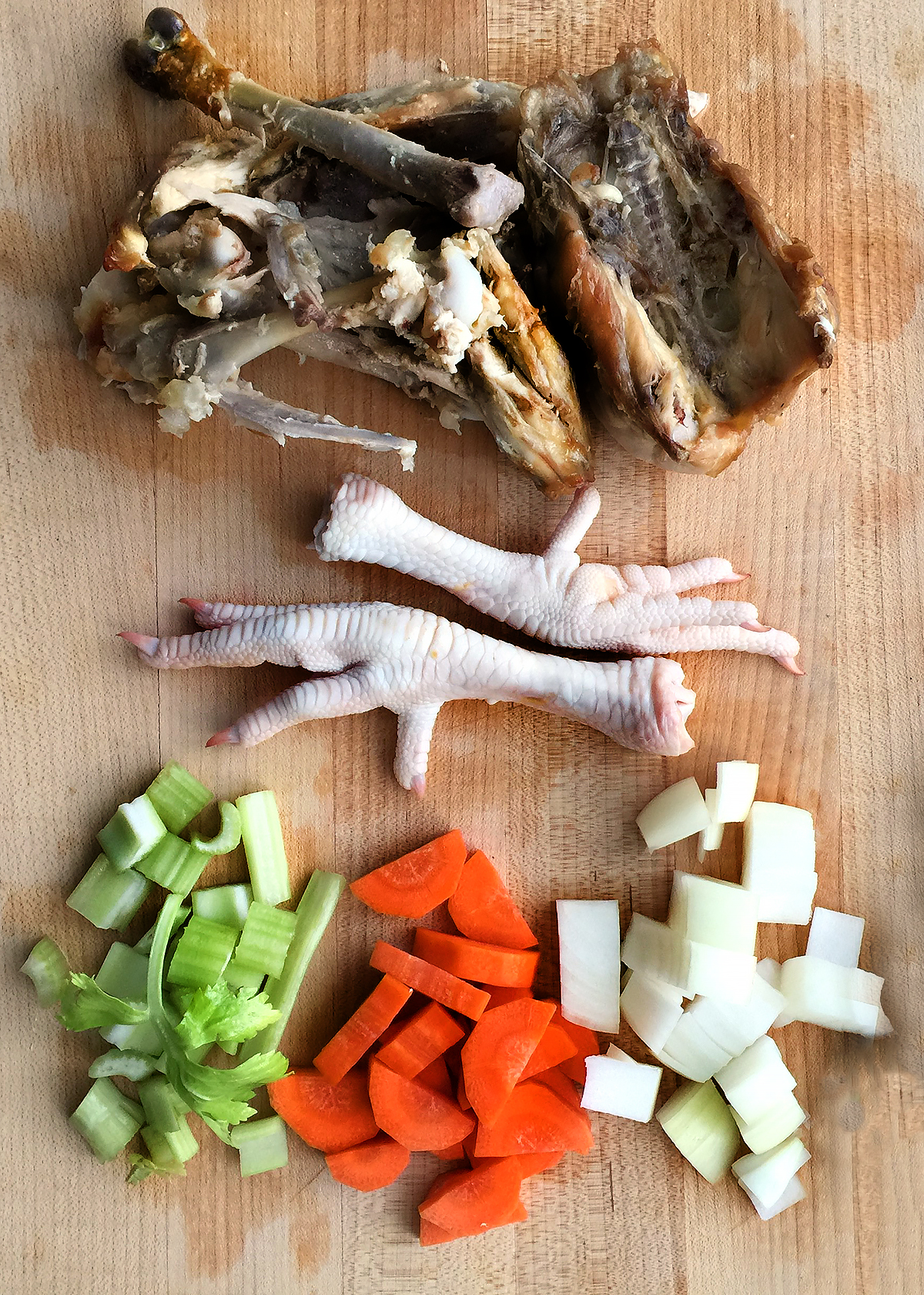 Ingredients You Need for Chicken Bone Broth
At its core, Chicken Bone Broth is essentially two ingredients: chicken bones and water.
If you simmer just bones and water, plus a little apple cider vinegar to breakdown the bones, you will get a nutrient- and collagen-rich broth with that characteristic gelatinous jiggle that's perfect to add body and umami to soups, braises, sauces, and gravy.
However, straight up bones and water tastes, well tbh, not super delicious.
You can greatly enhance basic bone broth's flavor by adding aromatic vegetables, herbs, and spices. This will make the bone broth into something drinkable right out of a mug, which is what you want to be doing all winter and maybe even year long.
Here are the ingredients you need:
Chicken bones from a leftover roast chicken including the skin and the drippings, or fresh chicken bones, or chicken bones roasted specifically for bone broth
Chicken feet, which provide a ton of collagen, are optional
Apple Cider Vinegar acid breaks down the bones to release more collagen into the broth
Onions and/or garlic
Carrots and/or daikon radish
These are optional ingredients to add extra flavor to your bone broth:
Celery is optional
Mushrooms which add a level of umami, are optional
Thyme and other herbs
How to Get Chicken Bones
You will need a few pounds of chicken bones for this recipe. There are different kinds of bones you can use. Use any or a combination of the below:
Roast Chicken Leftover Carcass. I almost always make Chicken Bone Broth with leftover bones from roast chicken rather than starting with a whole fresh chicken. Just collect and save the leftover bones in an airtight container in the freezer until you have the time to make the broth. Add the bones directly from the freezer without thawing first.
Fresh/Raw Chicken Bones. You can use fresh/raw chicken. Just remove the meat to use for something else, and use the bones. You can add the fresh bones directly to the pot.
Wings, neck, and back. All the little bits of bones that you might normally throw away before roasting a chicken, don't. Save them, then throw them into the pot (it's ok if they're not roasted) with the roasted leftover bones. Wings and backbone actually contribute quite a bit of collagen.
Additional Ingredients Notes and Resources
Water. Normally not listed as an ingredient in recipes, water gets a special highlight here because the kind of water matters for the best bone broth. Obviously use filtered water, and make sure you start with COLD water.
Apple Cider Vinegar. I use this brand of apple cider vinegar.
Mushrooms. Shiitakes have the richest flavor, and if you find them dry, even better. However, even adding type of brown mushroom will enhance the Bone Broth.
All other vegetables, herbs and produce I get from the the regular grocery store.
Instructions for How to Make Chicken Bone Broth
You can make Chicken Bone Broth on the stovetop or in a slow cooker. I have included instructions for both in the recipe. I wasn't kidding when I said if you can boil water, you can make Chicken Bone Broth. Literally put everything in a large pot, bring to boil, then simmer for hours.
I highly recommend that you do not use an Instant Pot or similar pressure style cooker to make Chicken Bone Broth.
Once the broth has simmered out, there are just a few additional steps to filter and cool.
Here are the high-level steps to make a glorious golden Chicken Bone Broth: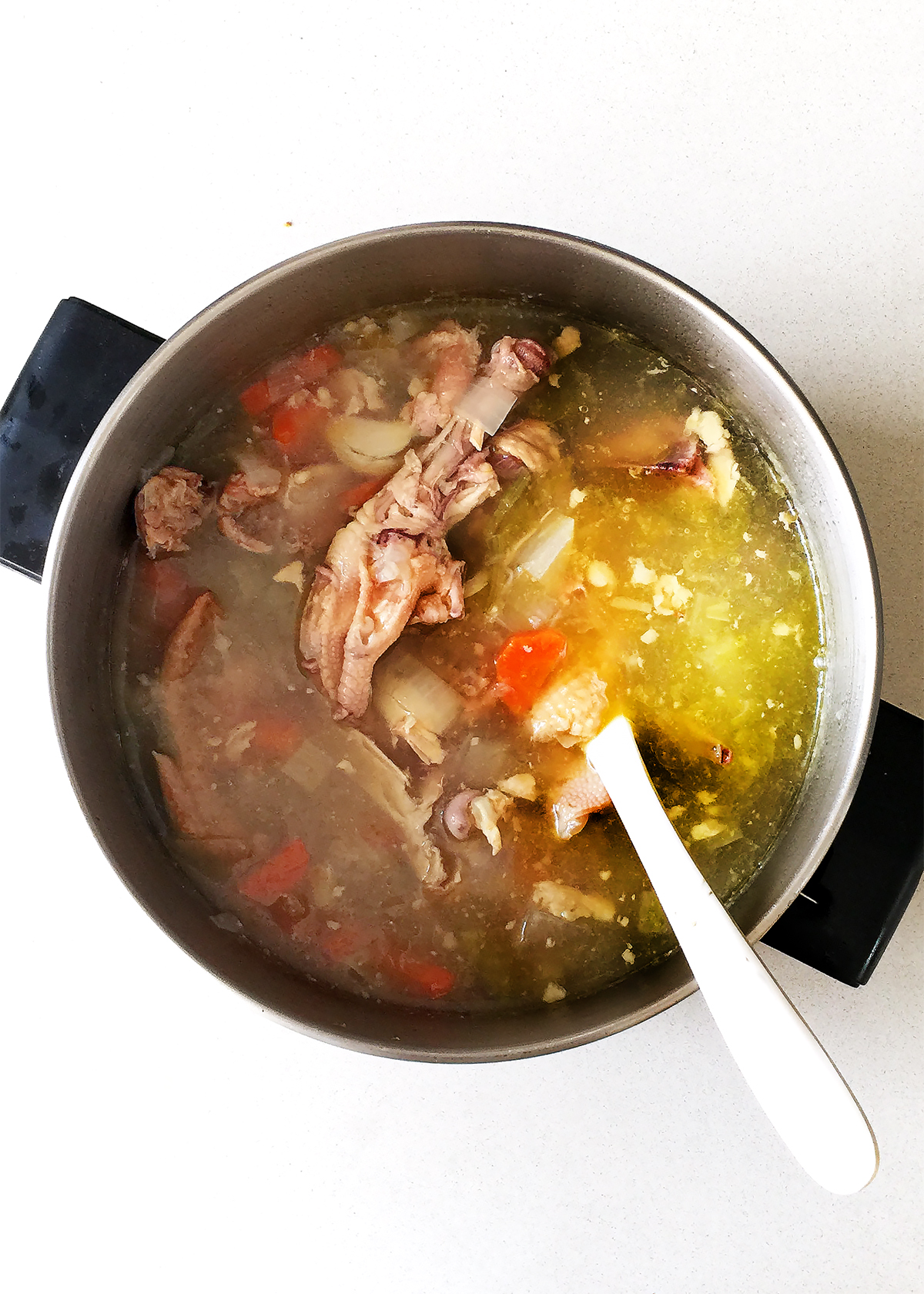 1. Place bones and apple cider vinegar in large pot or slow cooker, fill with water to cover bones by an inch, then simmer 8-12 hours on stove top or slow-cooker. Add vegetables in last hour, herbs in last 20 minutes.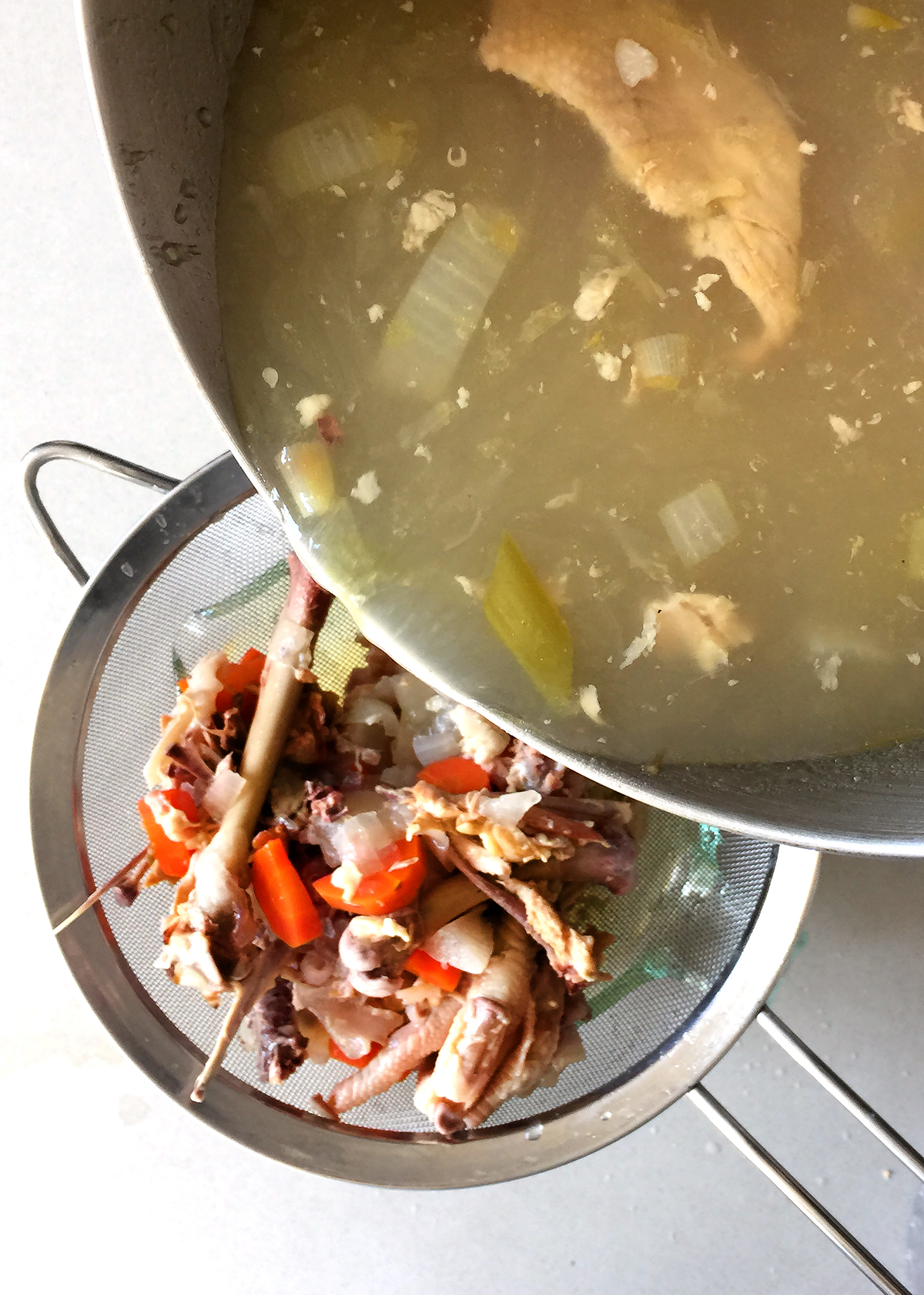 2. Strain broth through a sieve into a large bowl or container that will fit inside a larger bowl filled with ice water to turbo-cool the broth before putting in refrigerator.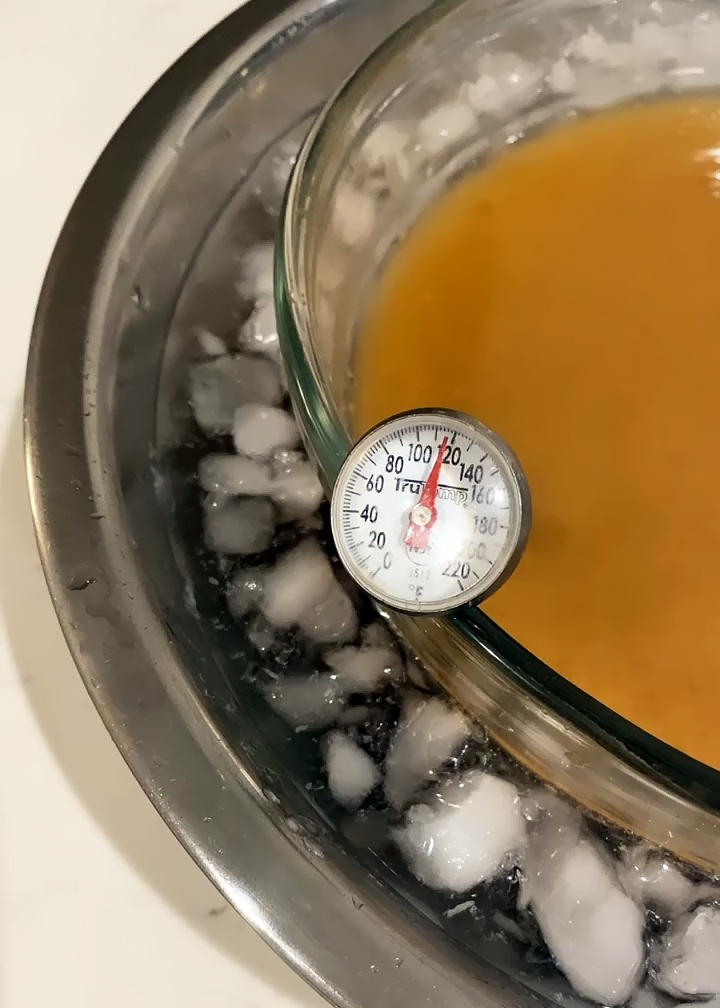 3. "Turbo-cool" the hot bone broth on the countertop in an ice bath for 30-45 minutes either in the bowl or divided into separate storage jars. Then, transfer the cooled bone broth to the refrigerator to chill overnight. ** Do not put hot stock into the refrigerator **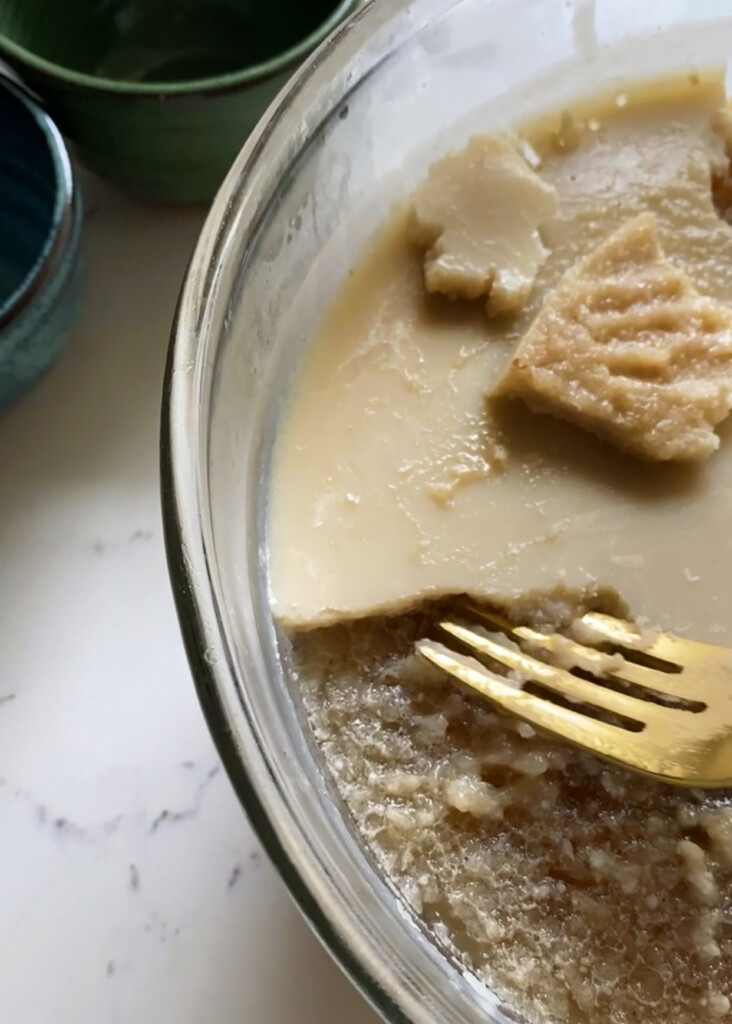 4. Once the broth has completely chilled—and hopefully gelled—scrape off solidified fat from surface of broth. Store the finished bone broth in air-tight containers in the refrigerator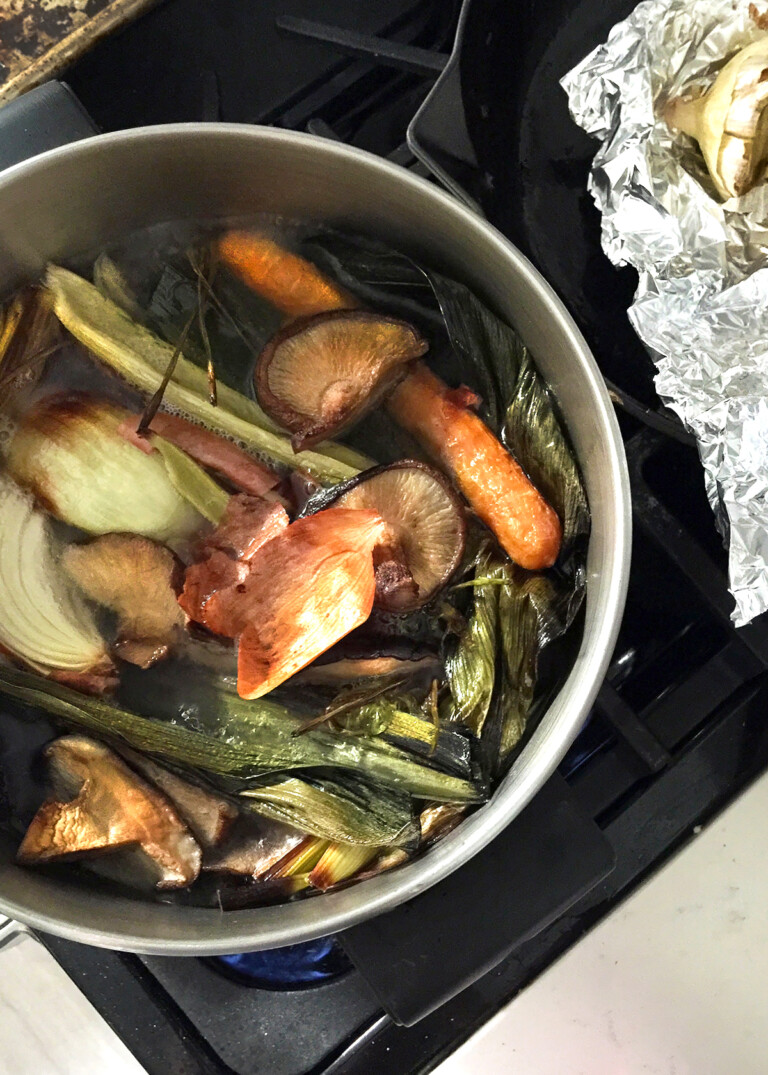 Pro Tips and Techniques for Chicken Bone Broth
Keep an airtight container of "bones and scraps" in the freezer to collect and save leftover roast chicken bones and bits and pieces of vegetables that you would normally discard. Once the bag or container is full enough, it's time to make a big batch of bone broth!
Simmer, not boil. Except for the initial boil to get the pot up to temperature, maintain the temperature at a very gentle simmer. You

cannot

just turn up the heat and boil it to make it faster. The whole point of a bone broth is using time to extract all the good stuff, i.e. collagen, nutrients, and of course, umami. A rough and rowdy boil will stir up to much junk and make the broth cloudy and emulsified with oil.
Add vegetables later. Vegetables don't need to cook as long as bones do for flavor. In fact, simmering vegetables for too long changes their flavor, and not in a great way. Add the vegetables for the last hour of simmering.
Add herbs at the very end. If you love the flavor of fresh herbs, add them last. Herbs need even less time than all those sturdy vegetables to cook. Toss them into the pot the last 20-30 minutes of the cook time, if at all.
Skip the herbs. I leave herbs, spices, and seasonings out completely, so that the bone broth is a neutral flavor base to which I can add herbs and spices at the time I plan to consume it. Broths and stocks cross cuisines and the flavor of rosemary in the stock now, which is great for an all-American pot pie, might taste weird in an Indian curry later.
Use a coffee filter. For crystal clear bone broth, pour the cooled bone broth through a sieve lined with a coffee filter.
DO NOT PUT HOT STOCK IN THE REFRIGERATOR to cool down. The stock will make it too warm in the refrigerator, compromising the safety of the foods in there. Follow the instructions for rapid-chilling the cooked Bone Broth in an ice bath.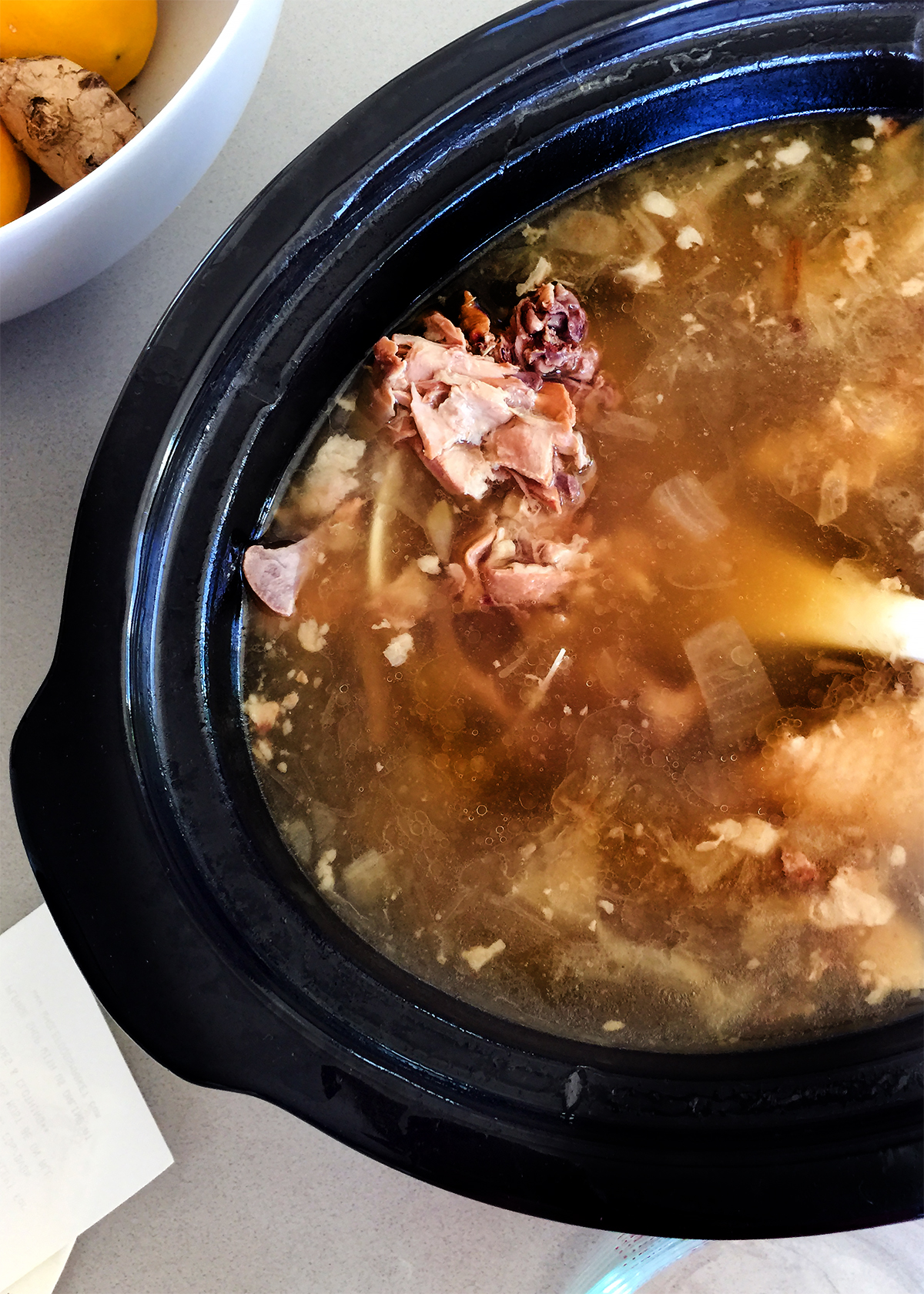 Tools and Equipment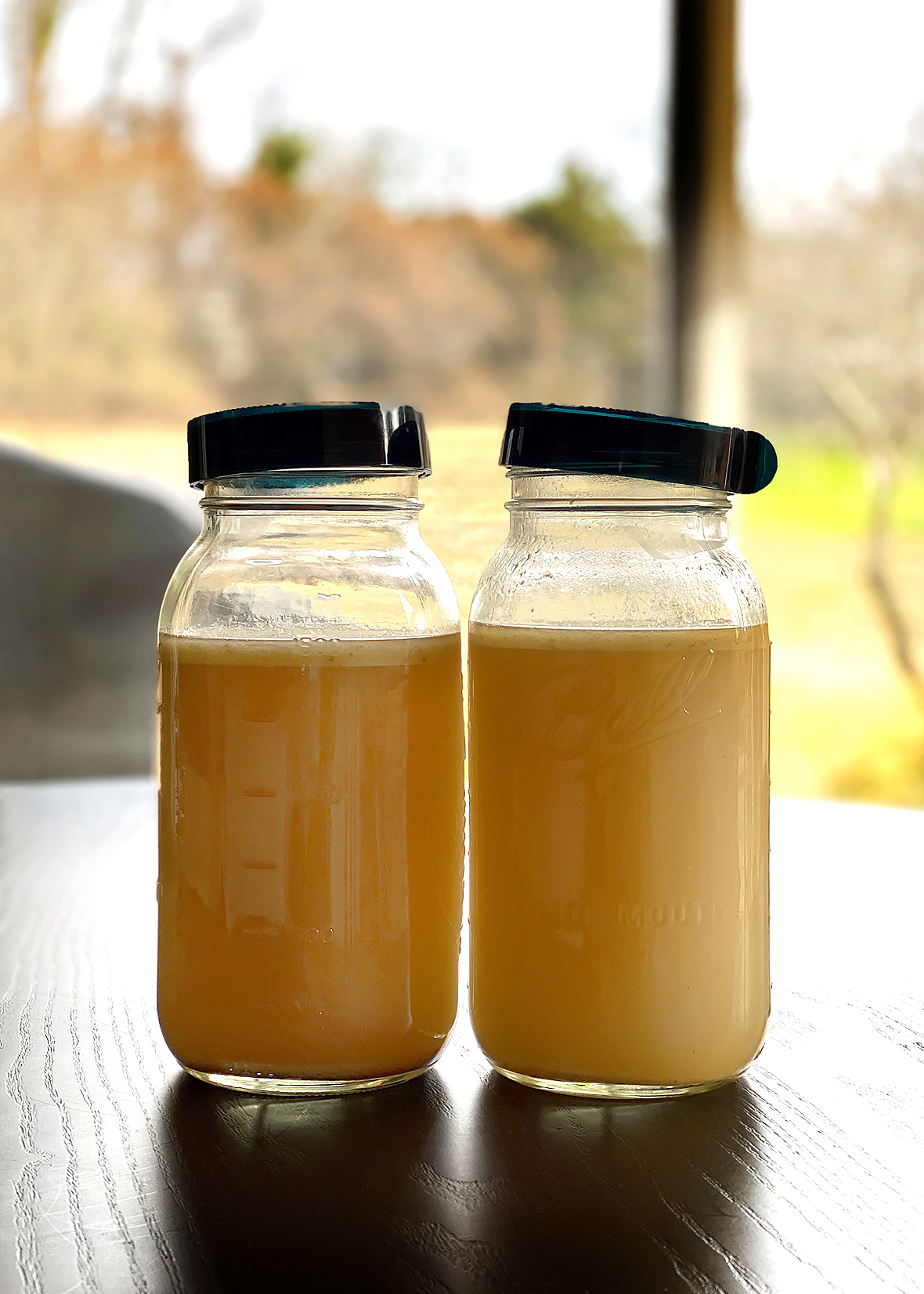 How to Store and Freeze Chicken Bone Broth
Refrigerator. You can keep Chicken Bone Broth in the refrigerator for 5 days. I like to use large mason jars with sealing plastic lids.
Freezer. You can freeze Chicken Bone Broth and keep for about 3 months. Here are a few ways to freeze Chicken Bone Broth:
Freezer-safe Zipper Top Plastic Bags. The way that works best for how I maintain my freezer is ladling bone broth directly into freezer-safe quart-sized bags, squeezing out all the air, sealing, and laying flat in the freezer until the broth freezes. Then I stand them up and line them up like thin books on a bookshelf. If you're looking to reduce single-use plastic, these are re-usable ziptop bags.
Broth Cubes. Use large format ice cube trays to freeze Chicken Bone Broth into ½-cup or 1-cup servings, pop out the frozen cubes, and throw into a freezer-safe bag.
Mason Jars. Yes, you can put glass mason jars in the freezer. Just make sure to leave at least 1½-inch of air space at the top of the jar and freeze with the lid lightly closed. Once, the bone broth is frozen completely, you can close the lid completely. Make sure the keep the jars on freezer shelves that will hold the jars in place, e.g. the freezer door.
How to Use Chicken Bone Broth
Use Chicken Bone Broth the same way you would use any other rich broth or stock. I always have grand plans to make a fancy soup or stew, but end up with the same basic-is-best way, sipping it by the mugful with a few pinches of salt, ginger, and turmeric all winter long.
Here are some more places Chicken Bone Broth shines:
More Broth and Stocks
Use the same method in this recipe for making Bone Broth with different types of bones. You only have to adjust the simmering time.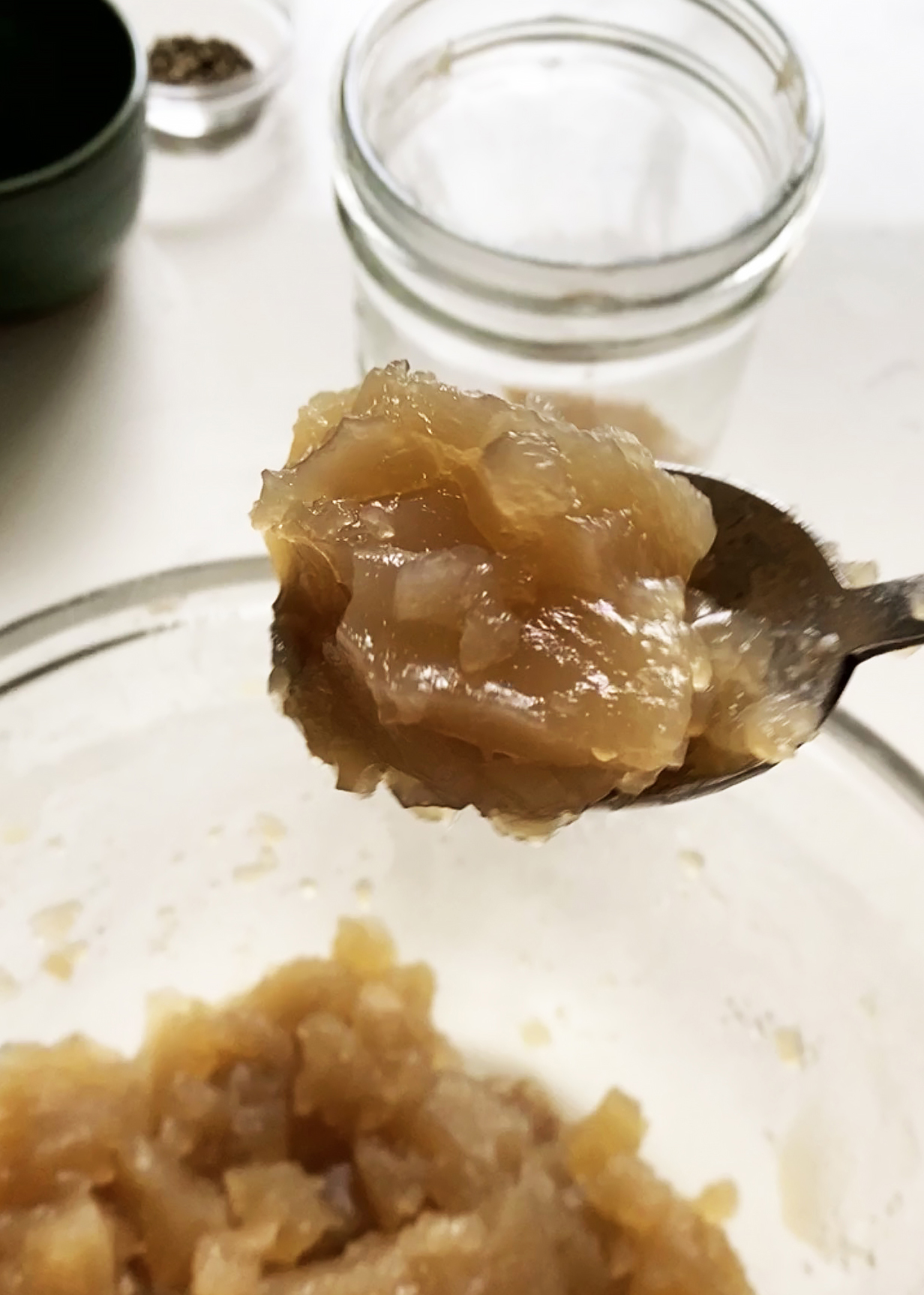 FAQ
How long do you cook bone broth or stock?
A: For Chicken Bone Broth, simmer the pot on the stovetop anywhere from 8 to 24 hours or in a slow cooker on High for 4 hours. There is no hard-and-fast rule. Even after just 2 hours, you will get a good flavor, though it won't technically be a "bone broth" because the bones will not have cooked down long enough to extract their deepest flavor and nutrients.
What if I don't want to simmer broth for 12 hours right after a roast chicken dinner? Can I make Chicken Bone Broth tomorrow?
A: Yes! You can make chicken bone broth anytime later, up to about a month, if you properly store the leftover carcass. Throw the bones into an airtight/zipper bag. If you plan to make the stock in the next day or two, you can keep the bones in the refrigerator. If you want to wait for more than a few days, break down the carcass a little at natural joints so they'll fit into the pot later, and throw the bag of bones into the freezer. It will keep in the freezer for a month. You don't even have to thaw the bones out before simmering, though they maybe more difficult to fit into the pot.
Why is my bone broth or stock cloudy?
A: The cloudiness the the result of little droplets of fat and other blobules that get emulsified into the liquid when the stock is boiled a little too hard. Think of it as the same thing that happens when you vigorously whisk oil into vinegar for a well blended salad dressing.
Is white, cloudy bone broth safe to eat?
A. Cloudy bone broth is perfectly safe to eat and generally tastes the same though the texture may be slightly oilier. If you've ever had certain soups and noodles soups, cloudy broth is actually what you want!
How do you prevent or fix cloudy white bone broth/stock?
A: To prevent cloudy stock, keep the heat low and only allow the broth to simmer. This also means you may have to add water to the pot at some point during the simmering process if too much water evaporates. You can fix some of the cloudiness by filtering the bone broth through a coffee filter or a very fine sieve, or by "clarifying" it by cracked egg whites only into the simmer broth. The fat and other blobs will stick to the eggs white as it cooks, and you can just lift the egg white out when it's done.
Why did my bone broth not gel?
A: There are a few reasons your bone broth didn't gel, but the base reason is that there's not enough collagen in the broth. Collagen is the substance that causes gelling and can be found in the gristly, cartilaginous bits and joints of bones. To maximize extraction, you need to add an acid to help break down the bones, simmer for longer, and make sure there are more of collagen-rich bits like necks, wing tips, skin with the fat rendered out and, you guessed it, feet.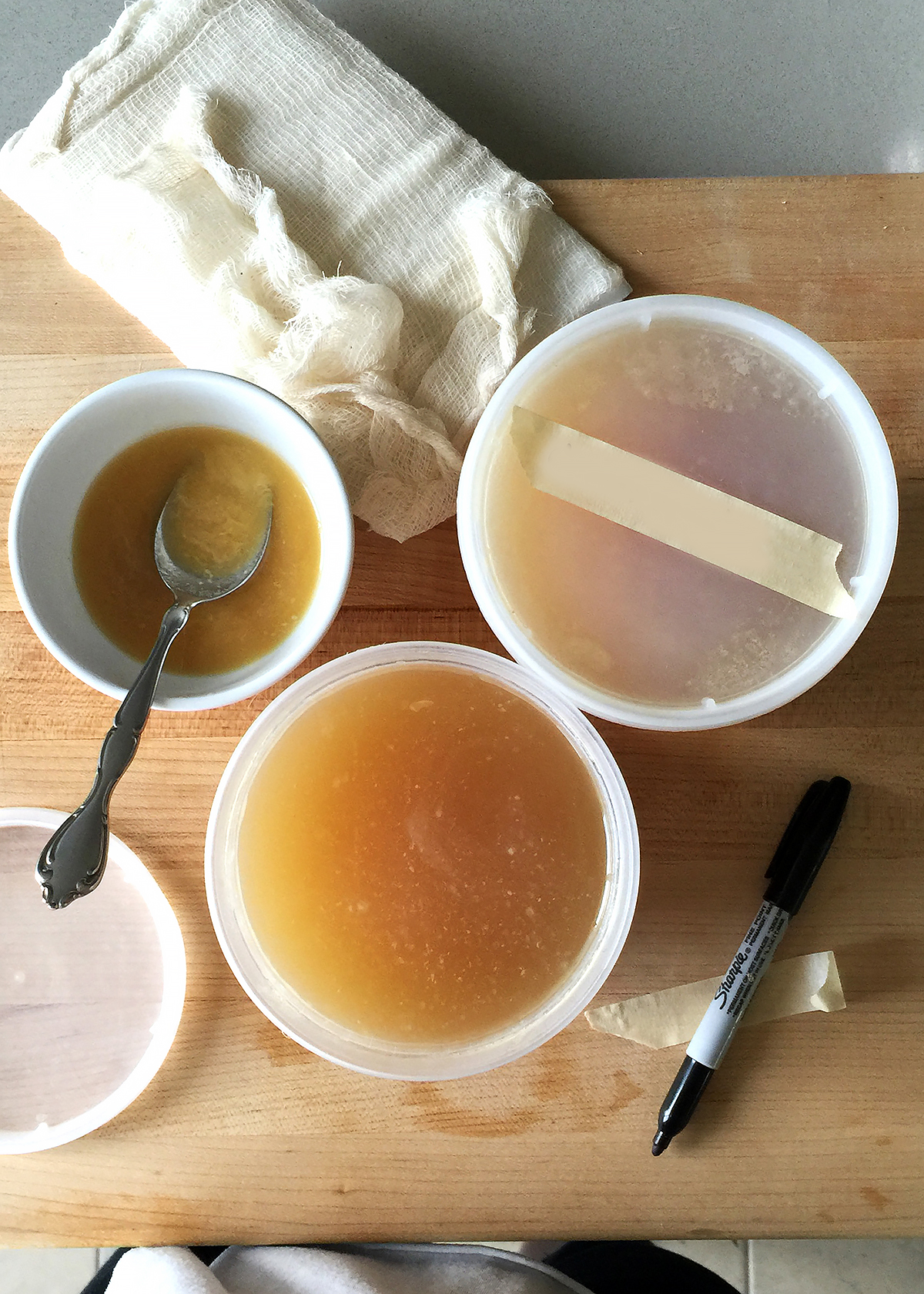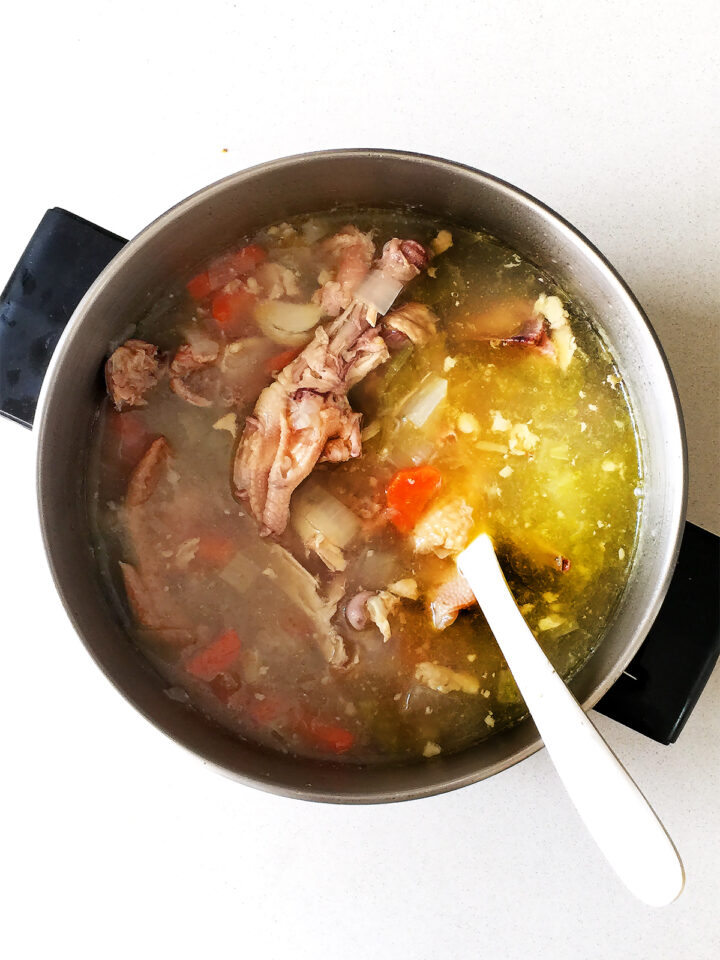 Print Recipe
Chicken Bone Broth Recipe
Simmer chicken bones and veges for the deepest, darkest, mot nutrient-rich Chicken Bone Broth that you can sip for healing
Ingredients
For every 2 pounds chicken bones

roasted or raw:

2

additional chickens feet

for body

1

tablespoon

apple cider vinegar

2-3

quarts

of filtered water

1

onion

coarsely chopped (skins on fine, but root cut off)

1

celery stalk

coarsely chopped (leaves are fine, too!)

1

carrot

coarsely chopped

4-5

cloves

garlic

lightly smashed and chopped

4 to 5-

inch

piece of daikon radish

coarsely chopped

Kosher salt

optional herbs and spices: bay leaves

black peppercorns, cloves, parsley, thyme
Instructions
Chicken Bone Broth, Stove-top Method
Place the chicken bones, chicken feet, and apple cider vinegar in a large stockpot. Cover with water until the bones and vegetables are submerged and covered by 1" of water.

Bring the pot to a boil over medium-high heat. Immediately reduce heat to the lowest setting and simmer for a total time of 8-12 hours. If your stove/range has a super low option so that the stock is barely moving, use it.

With one hour left after simmering 7-11 hours, add vegetables and any optional herbs and spices, then continue to simmer for another 1 hour, again total cooking time 8-12 hours. Every once in a while, give the stock a gentle stir, but I know you can't resist doing that anyway.

Skip ahead to Cool Stock, Chill, and Remove Fat (for Both Stove-top and Slow-Cooker methods) below.
Chicken Bone Broth, Slow-Cooker Method
Place chicken bones, chicken feet, and apple cider vinegar in the slow cooker. Cover with water until the contents of the slow cooker are submerged and covered by 1" of water.

Turn on slow cooker, and set for 4 hours on High or 8 hours on Low. When there are two hours left on the slow cooker, add the chopped carrots, celery, onion, and garlic, as well any optional herbs and spices.
Filter, Chill, and Remove Fat (for Both Stove-top and Slow-Cooker Methods)
With a pair of tongs, remove large parts of bones and vegetables from the pot.

Pour the bone broth through a fine-mesh strainer into another heat-proof container, pressing down on the bones and vegetables to really get the liquids out. Place the bowl of hot stock in another bowl that is filled with ice water to quick-cool the bone broth. When the ice has melted, drain some of the water, and add more ice. Do this a few times until the bone broth is cool enough to touch. 

Ladle the cooled bone broth into to storage containers, and refrigerate overnight to allow fat to rise to the top and solidify.

After fat has solidified, remove, discard. If you actually own a liquid fat separating device of some sort, go ahead and use it to remove the liquid fat from the bone broth before you refrigerate.
Store or Freeze
Store bone broth in refrigerator for five days, or freeze and keep for up to 3 months.