Green shakshuka is a bright,
Ingredients Notes and Resources for Green Shakshuka
Advance Cooking. Washing, prepping, and chopping all the greens in advance is highly recommended. If you don't know already, it takes a long-ass time to wash curly kale. Cooking the greens in advance is a great way to save time, especially if you batch cook a huge haul to eat over a few days. Keep in mind that the greens darken considerably once you start the cooking process. Have you ever eaten one of my all-time favorite foods Indian saag paneer? Or braised collard greens? The greens are super dark dark dark green because they've been cooking for a long time!
Kale. Green kale with the curly leaves works best for this recipe because the leaves stay the lightest and brightest green when cooked. You can use other varieties of kale, e.g. lacinato aka Tuscan kale or dinosaur kale, red kale, which I have tried, but the color of the final shakshuka will be much darker, and may not be green at all.
Swiss Chard. Stems of Swiss chard are edible and will soften when chopped and cooked, but you can leave them out if you'd like a very smooth and soft shakshuka. I just try to use as much of a vegetable as I can. Trust me, I would eat kale stems if I could.
Romaine Lettuce. The Romaine lettuce provides "water" and extra body to the shakshuka. You can use iceberg lettuce if you have it, or leave it out and add vegetable broth a few tablespoons at a time to the greens until you get the consistency of creamed spinach.
Feta Cheese. I am currently on a "light" detox (dairy and gluten elimination to test for gut sensitivity), so I left the feta cheese off my serving. However, feta cheese is tangy and salty, and definitely adds to the final flavor of the dish. Unless you do not eat dairy, please don't omit the feta cheese! That goes for the yogurt on the side as well.
Grilled bread is perfect for scooping up the shakshuka and runny egg yolks, but again, I am on a light detox this month that excludes processed grains, so the bread in these photos is a homemade gluten-free Super Seed Loaf.
Ingredients Substitutions for Green Shakshuka
Greens. Essentially, you can substitute an equivalent amount of any leafy greens for the kale, chard, and zucchini. If you want to use all kale, go ahead! Same with chard! Collard greens, broccoli leaf, spinach, and even chopped broccoli all work well here. The only greens I would avoid are anything that's somewhat bitter like arugula and dandelion greens.
Eggs. If you want to make this Green Shakshuka 100% plant-based, you can leave out the eggs (and dairy at the end) and add fried or roasted tofu, or even dollops of a softer, creamier plant-based cheese like almond milk ricotta.
Spice/Heat. If you are sensitive to spice (heat), substitute the jalapeño peppers in the shakshuka with ½ a green bell pepper, and omit the red jalapeño and crushed red pepper garnish at the end.
Tools and Equipment You Need for Green Shakshuka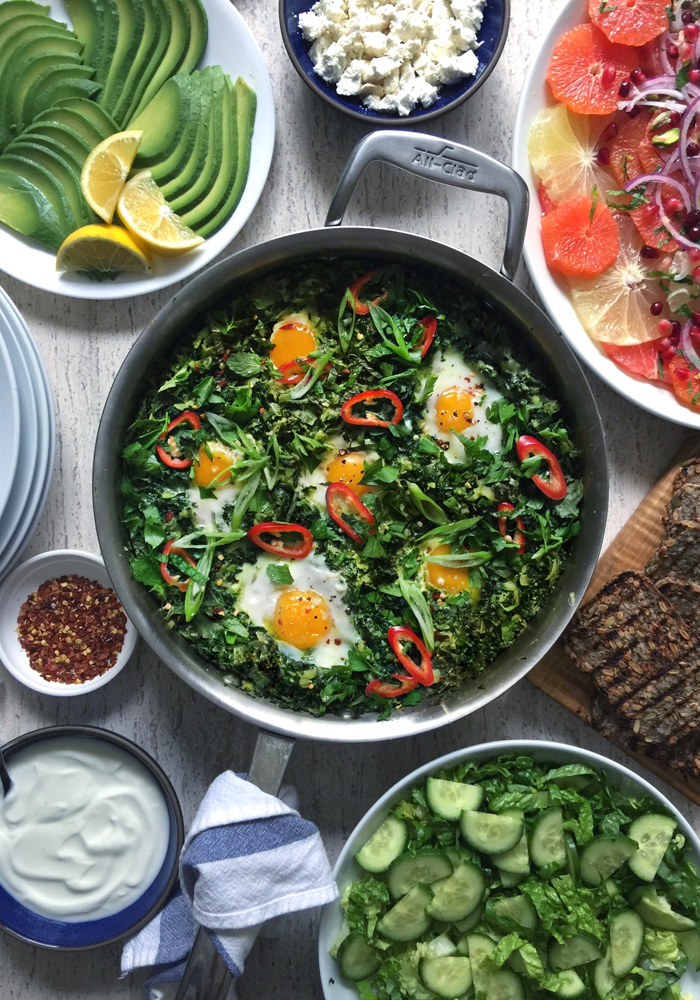 Print Recipe
Green Shakshuka Recipe with Kale and Zucchini
serves 4
Ingredients
2

tablespoons

+ 2 tablespoons grapeseed oil

4

large cloves garlic

chopped

4

scallions

chopped, plus a little saved for fresh garnish

2

large bunches green (curly) kale

stems removed and discarded, leaves chopped

1

teaspoon

ground cumin

½

teaspoon

ground coriander

¼

cup

olive oil

2

tablespoons

fresh lemon juice

1

cup

parsley leaves and tender stems

plus more for garnish

half head of Romaine lettuce leaves

tough center ribs removed

2

green jalapeño peppers

chopped

2

large zucchini

shredded on large holes of grater

1

large bunch green Swiss chard

stems removed and very finely chopped

kosher salt

8

large eggs

½

cup

crumbled feta cheese

to garnish, all optional: 1 red jalapeño or Fresno chile pepper, sliced into rings, crushed red pepper, chopped fresh mint and other bright green herbs

to serve: green harissa, strained yogurt, grilled sturdy seedy bread, sliced avocado
Instructions
Heat oven to 325°.

Heat grapeseed oil in large, oven-proof sauté pan over medium. Cook garlic and scallions until garlic is translucent and scallions are soft, about 8 minutes. Try to keep garlic and scallions from browning.

Once the garlic and scallions are cooked, add the kale to the pan a few handfuls at a time, turning with tongs, and adding a few tablespoons of water to help the kale steam. Cook all of the kale until wilted and bright green.

Transfer garlic, scallions, and kale to a food processor. Add ground cumin and ground coriander to food processor. Pulse the kale, drizzling olive oil and fresh lemon juice, and adding parsley and fresh Romaine lettuce leaves until puréed. Add cold water to food processor 1 tablespoon at a time if needed for a smooth purée.

Heat another 2 tablespoons grapeseed oil in sauté pan over medium-high. Add chopped jalapeño and cook until jalapeños are tender, about 5 minutes. Add shredded zucchini and chard leaves to pan a handful at a time. Cook until soft. Stir in kale-Romaine purée. Season with additional salt (you might need to add up to 1 full teaspoon here).

Use a spoon or ladle to create 8 small wells in the greens. Crack an egg into each well. When the whites barely begin to turn opaque, turn off stove and transfer sauté pan to oven. Bake until eggs are set, 20–25 minutes.

Remove sauté pan from oven. Sprinkle with crumbled feta cheese. Garnish with red jalapeño, crushed red pepper, and fresh herbs.

Serve immediately with yogurt, grilled bread, and sliced avocado on the side.
Notes
Leftovers can be kept in the refrigerator in a tightly sealed container for up to two days. The greens will darken, but are fine to eat.