Every once in a while, you just want to have a legitimate excuse to exclaim, "holy shiitake!" And so Shiitake Mushroom Bacon it is.
Why Shiitake Bacon
I am not opposed to real pork bacon. Which is why this Shiitake Mushroom Bacon isn't intended to be a substitute for pork bacon. It is meant to be made and eaten and appreciated for its own salty, crispy, umami-y self.
However, if you are indeed trying to live a more plant-forward life, then this Shiitake Mushroom Bacon really is a good stand-in for beef or pork bacon.
When pork bacon plays a supporting role in a dish, it's really there for its salt, smoky flavor, fat and crisp texture, and the kind of "umami" derived from meat. Shiitake mushrooms have similar flavor and texture components, even the "umami" part. When you fry or sauté the marinated shiitake mushrooms, they develop a subtle crisp around the thin edges and have a softer, slippery texture in any thicker slices that is similar to the fatty parts of bacon. Mushrooms themselves have an umami quality, and marinating them in soy sauce, which also has its own umami, gives the mushrooms saltiness and that added umami dimension.
What You Need for Shiitake Mushroom Bacon
There isn't much you need for Shiitake Mushroom Bacon. All of the flavor is already there in the mushrooms! Here is what you need:
shiitake mushrooms
soy sauce or tamari
oil
salt
liquid smoked is optional if you want that "smoke" flavor
How to Make Shiitake Mushroom Bacon
Take notes. This will be very complicated.
Mix everything together then sauté or roast it.
Did you get that? I'll let you take some time to re-read and absorb.
You can make shiitake mushroom bacon either on the stovetop or in the oven. Neither method is better than the other. I really just depends on what else you have going on in the kitchen at the time. If you're already standing at the stove cooking and have an open burner, fry the shiitake mushrooms in a large pan. If the oven is already on, or all the burners are occupied with other pots and pans, "roast" the shiitake mushrooms in the oven at 350°F for a few minutes.
Ingredients Notes and Sourcing
Shiitake Mushrooms. Eight ounces of shiitake mushrooms (½ pound) is about 15 large mushrooms. Look for fresh shiitake mushrooms with the largest caps you can find. It's okay if they have little bumps or dirt. Those will all be wiped off when you wash and prep the shiitakes.
Soy Sauce or Tamari. I use tamari, which is a Japanese-style of soy sauce brewed without wheat so it is gluten-free. This is the organic brand of tamari I use. Regular soy sauce tastes almost the same.
Oil. Use a generally neutral oil for the mushrooms. I use this every day olive oil for marinades like this. You can use avocado oil, canola, grapeseed, etc. Just don't use any oil that has a very distinctive flavor or fragrance like toasted sesame oil.
Salt. I use this Kosher salt as my all-purpose salt.
Liquid Smoke. This is optional. Mushrooms and soy sauce/tamari have a lot of umami, but they don't provide the smoky flavor that comes with some pork bacons. Smoked/toast flavor lends a different dimension of umami, so you can add it with a drop of liquid smoke. I personally don't love the flavor of smoke—in bacon, mezcal, or otherwise, so I don't intentionally add it here.
How to use Shiitake Mushroom Bacon
Use Shiitake Mushroom Bacon any way you would normally use regular pork bacon. Or pork belly for that matter.
On the side of eggs for a simple breakfast? Obviously.
In a plant-forward Cobb Salad? Into it.
Chopped up and stirred into pasta carbonara? You wouldn't have it any other way.
Here are some recipes: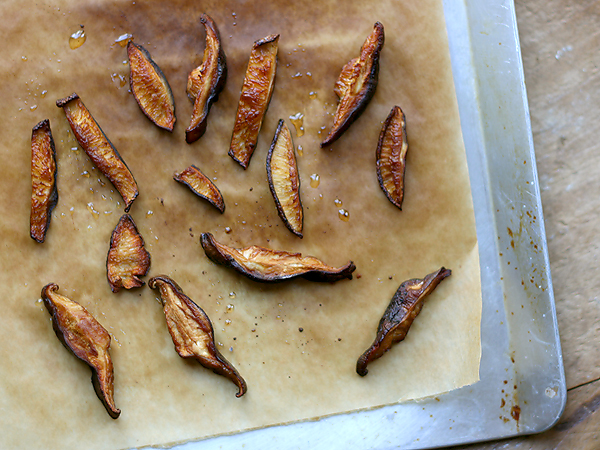 Shiitake Mushroom Bacon
Ingredients
8

ounces

fresh shiitake mushrooms

¼

cup

olive oil

1

teaspoon

soy sauce

½

teaspoon

salt

canola or grapeseed oil for sautéeing
Instructions
De-stem shiitake mushrooms, saving the stems for vegetable stock or other use! Slice caps into ¼-inch strips. Toss with olive oil, soy sauce and salt. Allow mushrooms to "marinate" for about 5 minutes.
"Frying" Shiitake Bacon on the Stovetop:
Heat grapeseed or canola in large frying pan over medium heat. Add shiitake mushrooms and cook until crisp, about 10 minutes. Remove mushrooms to a separate plate.
"Roasting" Shiitake Bacon in the Oven
Preheat oven to 350°F. Line a baking sheet with parchment paper. Spread marinated mushrooms into a single layer on parchment-lined baking sheet. Roast in oven for about 10 minutes, or until dark and very lightly crisped at edges.

For an even stronger taste, cook until the shiitake mushrooms are really dark. And I'll be honest, I kind of like their flavor when they're almost burnt.

Use shiitake bacon in any way you would normally use real pork bacon.