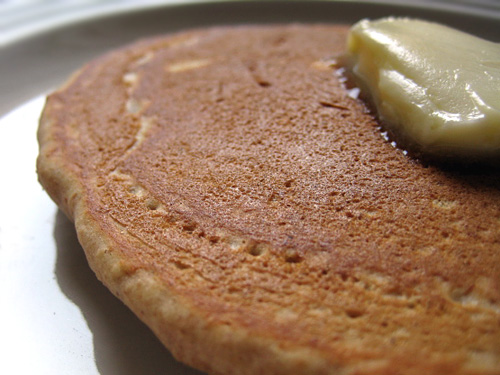 Recipe for Peanut Butter Pancakes at the bottom of this post. Please scroll down.
The Waffle
6255 W Sunset Blvd
Hollywood, CA 90028
323.465.6901
www.thewaffle.us
There isn't a whole lot I miss about working in an office. Sure, the first two to three weeks of working from home was a period of huge mental adjustment, but the only real physical adjustment was atmosphere. The absence of that collective of sounds best-labeled "office buzz" was pretty painfully noticeable. I tried to drown out the silence with low music, tv, even running the dishwasher, but it wasn't the same as the steady hum of computers, buzzing overheard lights, a choppy concert of cell phone ringers, and of course, voices that reminded that you weren't really alone.
Now, a little over a year later, the silence of my live/workspace is not just welcome; it is absolutely necessary. I spend most of my day writing, if not a blog post, then an email that even when subject-line-only, requires some level of concentration to fit an entire idea into just a few words. My mind is cluttered enough with my own thoughts, and those tangled with the barrage of emails, IMs, twitters, txts, and every other manner of communique, create a mental noise level in my head that would rupture an elephant's eardrum if it actually made sound. The quiet of my house keeps me aurally sane.
I don't miss the buzz of an "office" anymore. I don't miss the commute, and even before the commute, having to shower while my body temperature is still registering at "reptile" or to time my morning routine against traffic patterns. I don't miss the seemingly endless search for a spot in the public parking structure, uncomfortable chairs built for someone twice my size, public (like, really public) bathrooms, someone else's tupperware in the fridge filled with some unidentifiable creature that has started to reach out from under the airtight lid. I don't even really miss anymore the pseudo-socializing of a coffee break or lunch with co-workers.
There isn't anything I miss anymore about working in an office.
Except.
Meetings.
In my corporate experience, the general feeling toward "meetings" was always negative. I can understand why. Oftentimes, meetings were called in order to schedule a meeting to create the agenda for The Meeting meeting. There is a lot of talk, little done, and in the end, everyone has burned an hour and a half to come up with a single bullet point that the Team Leader or the Project Manager or the Program Director or any other executive person who wasn't in the meeting, will trash anyway. I've been there. I've done that. I hated meetings.
On the outside.
On the inside, secretly, I loved meetings. Granted, I didn't love every meeting I ever called or attended or tried to avoid, but for the most part, I loved what I can only call Meeting Culture that starts with the anxiety I felt first stepping into a room, wondering how the power would play out in musical chairs around the expanse of mahogany in the center of the room. There was the three-legged alien that crackled in with voices from HQ or NY or SF that somehow never picked up the mute function and shamelessly broadcast someone's IM tones in the background; the sad little long-necked flamingo of a projector shoved awkwardly into the corner that no one has used for the last 15 years but the company has to keep because the 65 year old Board members still use "transparencies." I loved the deck of "decks" at the door end of the table that got progressively shorter as each person paraded past, the flip charts, giant post-its, and walls that were floor-to-ceiling white boards.
I loved standing in my corner of the room because there weren't enough chairs, balancing my coffee on a clipboard clipped with a 60 page deck. I loved eating a whole glazed doughnut plucked from the pink box of grocery store doughnuts on the refreshment table, all the while scanning the room like it was a lineup, trying to pick out the perpetrator who cut a chocolate glazed doughnut and left half of it in the box, only to go back during a "bio break" to not take the half she left, but cut a different doughnut in half, ruining two doughnuts for the rest of us.
I miss all that about working in an office. Meetings.
These days, meetings haven't just been relegated to cyberspace with participants "videoing in," IMing, and reading notes from a screencast. Meetings to do work are almost extinct as a species altogether, but there is still that rare occasion that we meet just to confirm a personality's existence. In a blogger's world, we go to one of the Trinity: Starbucks, Peet's, or Coffee Bean. They are all on the same intersection in my 'hood one block away from me, so I'm not quite sure how I ended up all the way in Hollywood at The Waffle.
The Waffle has been on My To Dine List since it opened, but for whatever reason that is probably related to its location in Hollywood, I hadn't eaten there. Strangely enough, even though I went there, I still didn't eat there.
Maybe it was nerves, maybe it was flustration with the drive, or maybe I just felt really awkward and uncomfortable in The Waffle's somewhat lofty, non-diner-esque diner space, but I couldn't bring myself to order anything off the menu while I "took a meeting." I sucked down two extremely large Diet Cokes, finished the meeting, and went home. I don't feel the need to go back to actually eat there.
The following recipe for Peanut Butter Pancakes has absolutely nothing to do with anything because 1) I have never eaten pancakes during a corporate breakfast meeting (even the "conference" meetings that have full hot breakfast buffets) and 2) The Waffle serves, of all things (!), waffles. There might be a simple stack of plain buttermilk pancakes on The Waffle's menu, but they definitely don't have peanut butter.
Peanut Butter Pancakes Recipe
I was just going to throw about a ½ c. of creamy peanut butter into my favorite basic pancake recipe from the Joy of Cooking, but realized that peanut butter's texture and fat content makes it a little more complex of an addition than say, a handful of frozen blueberries. I searched the web, and against my better judgment, tried this recipe from Rachael Ray, minus the "kid" part of making the pancakes into poodles. Surprisingly, the pancakes were good - a little heavy, but that's to be expected with peanut butter. Next time, I'm adding sliced bananas.
Peanut Butter Pancake Ingredients
1 ¼ cups flour
2 tablespoons sugar
2 ½ teaspoons baking powder
½ teaspoon salt
1 ¼ cups milk
1 large egg
¼ cup peanut butter
3 tablespoons butter, melted
In a large bowl, whisk together the flour, sugar, baking powder and salt. In a small bowl, beat together the milk, egg, peanut butter and butter until smooth. Pour the wet ingredients into the dry and stir until just combined.
Heat a nonstick griddle or large nonstick skillet over medium heat. Drop ¼ cup batter onto the griddle for each pancake and cook until it begins to puff and the bottom is golden, about 2 minutes. Flip and cook until golden on the other side. Repeat with the remaining batter.
More Resources for Peanut Butter Pancakes: