Treat yourself to sushi any time of the week, any time of the year with Spicy Tuna Rolls (and bowls!) at home made with, of all things, very good canned tuna. Shall we?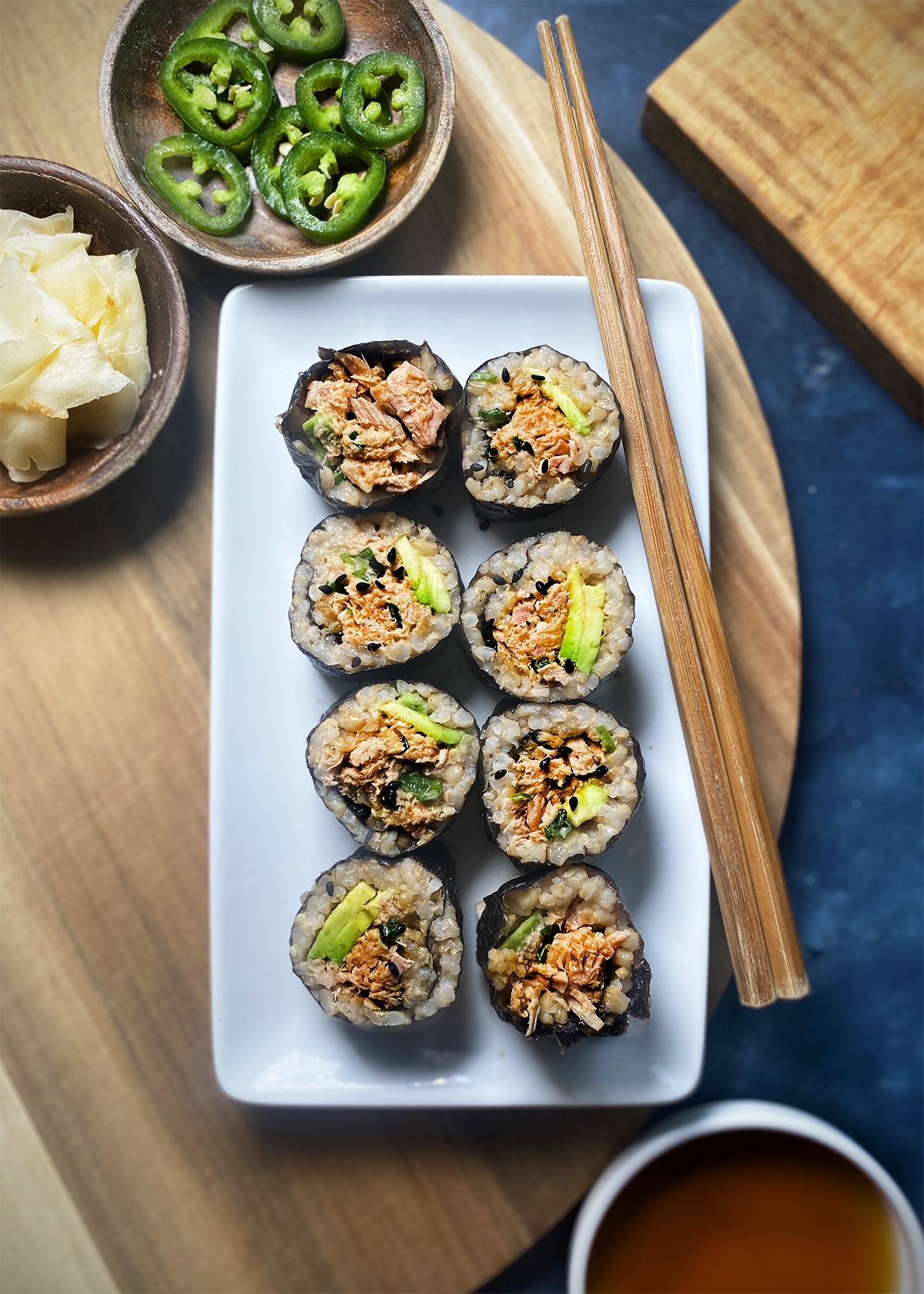 Jump to: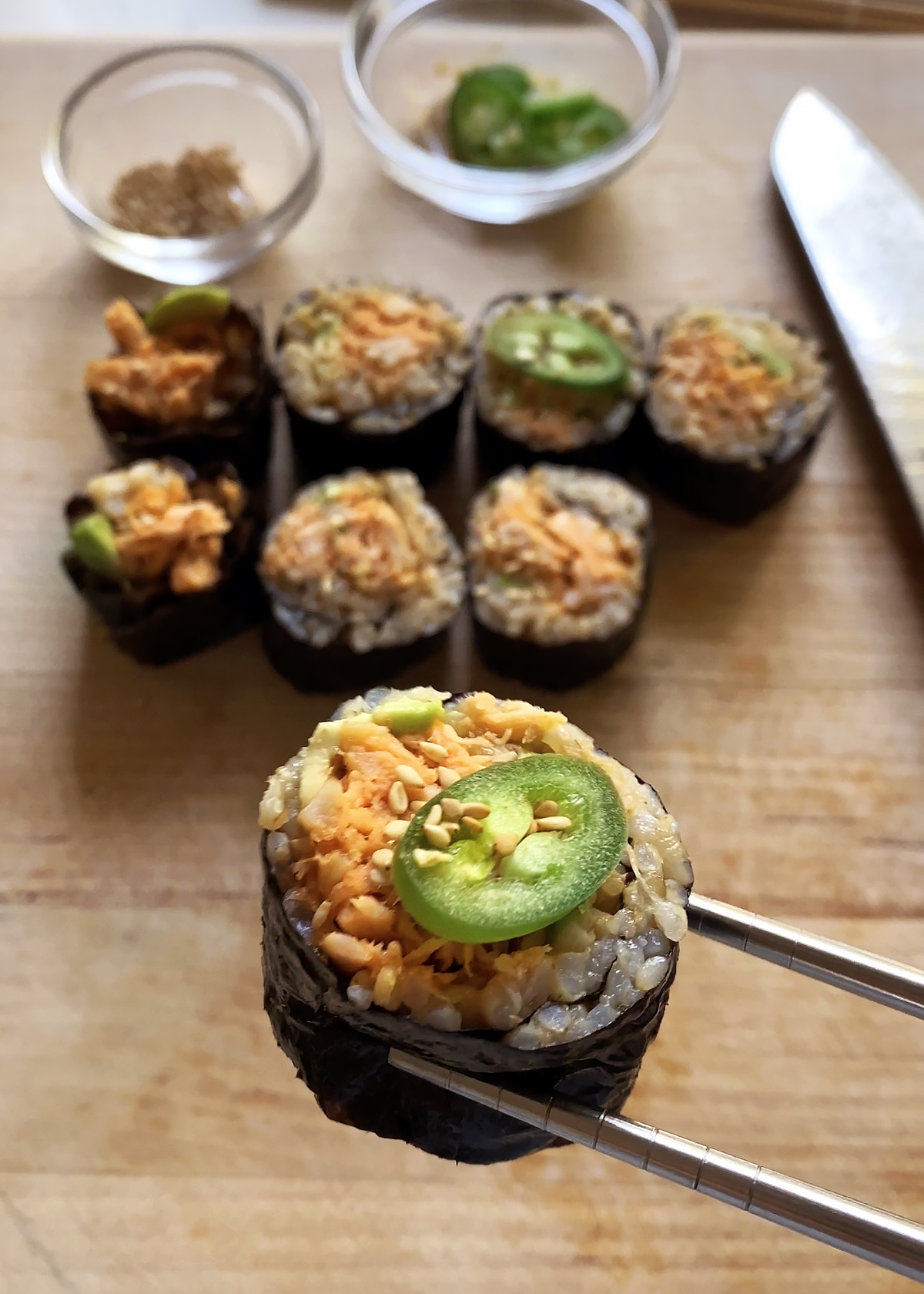 What is a Spicy Tuna Roll
At a Japanese restaurant, a spicy tuna roll at its most essential, is makisushi or sushi roll, made with a mixture of minced sashimi-grade tuna, hot sauce and sesame oil, rolled up with seasoned sushi rice and nori. The spicy tuna mixture sometimes includes additional ingredients for texture, flavor or garnish like mayonnaise, scallions, or toasted sesame seeds.
Spicy tuna roll was the first type of sushi I ever tried as a little and I loved it. For this version, we are making a Spicy Tuna Roll with always available, ever convenient, and generally more affordable pantry staple protein, canned tuna.
Short How-to Video
Health Benefits of Spicy Tuna Roll
Spicy Tuna Roll absolutely can be a healthy addition for certain diets and lifestyles. From a nutrition perspective, canned tuna is high in protein, high in omega-3 fatty acids, and high in vitamin B12. The omega-3 fatty acids make canned tuna an excellent anti-inflammatory food.
This recipe for Spicy Tuna Roll is:
dairy-free
gluten-free if you use tamari instead of soy sauce
refined sugar-free (make sure to check the ingredient labels on the sriracha hot sauce and mayonnaise)
What Ingredients You Need for Spicy Tuna Roll
For the Spicy Tuna mix, which you can use in a few different ways, you will need:
Canned tuna
Sriracha hot sauce
Mayonnaise
Scallions
Sesame oil
Soy sauce or salt
Sesame seeds
To make the mixture into Spicy Tuna Roll, you need:
Spicy Tuna mixture
Cooked short grain rice
Nori sheets
Avocado (optional: cucumber)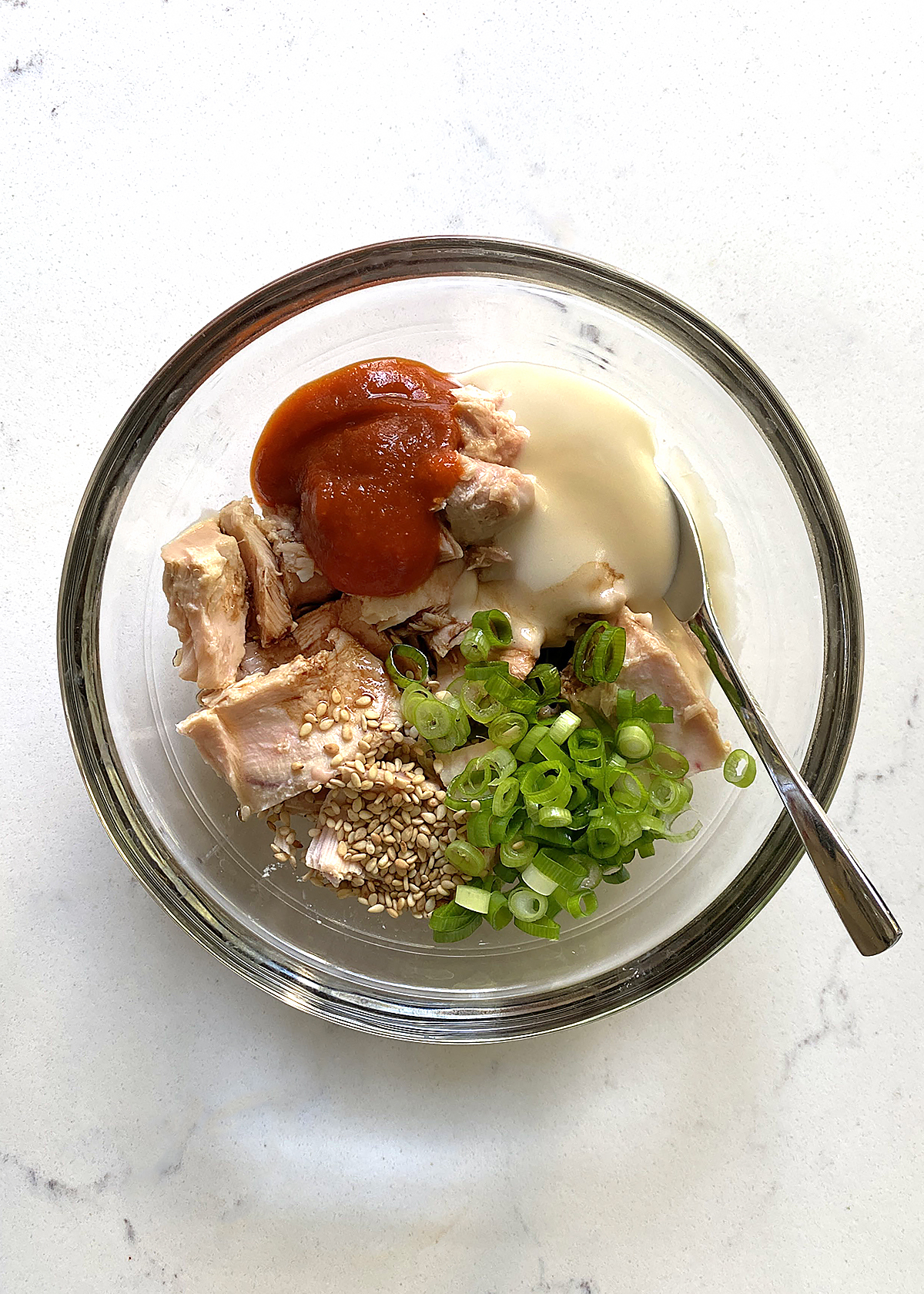 Instructions for How to Make Spicy Tuna Roll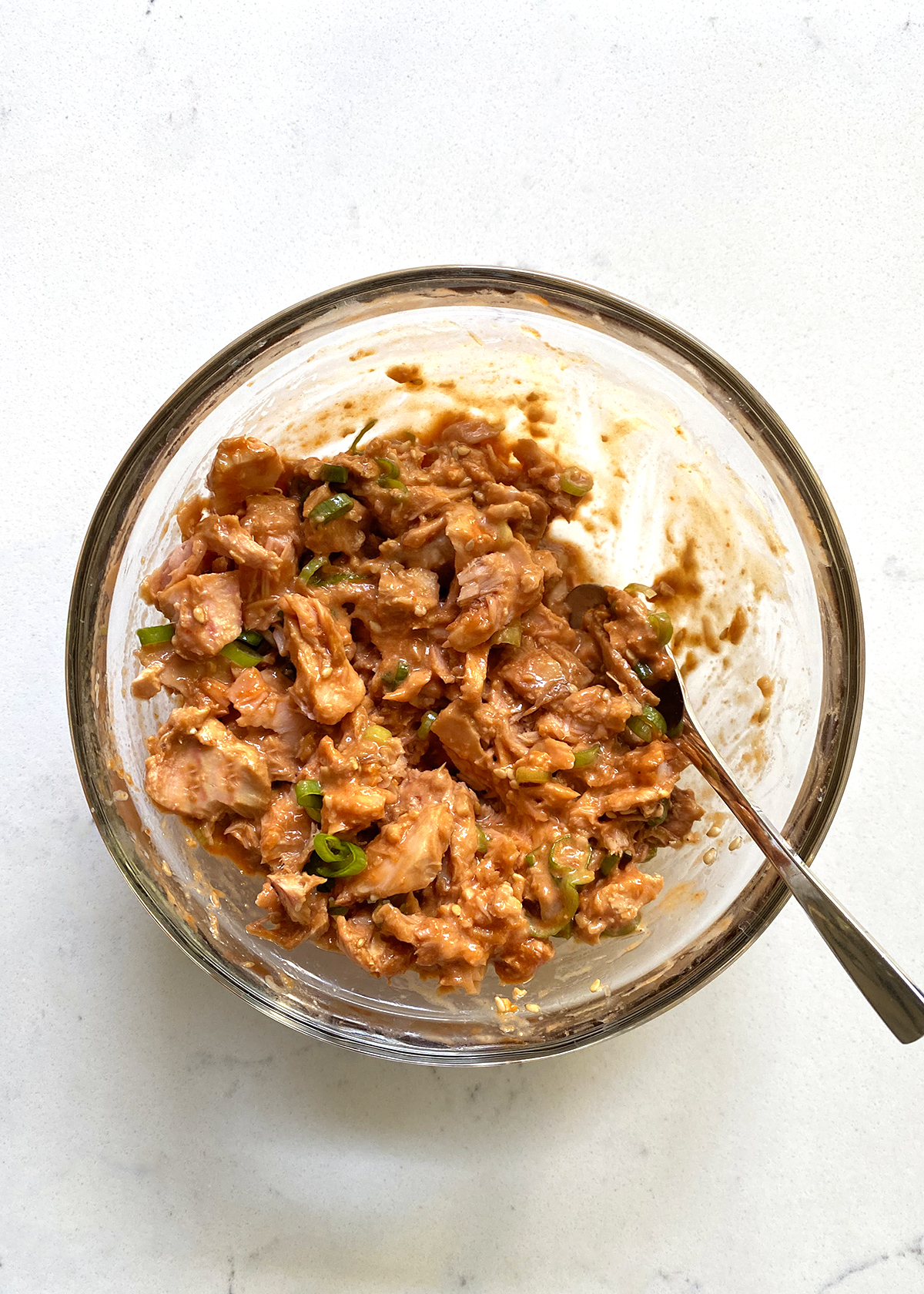 Combine all the ingredients for Spicy Tuna mix in a bowl. Taste and adjust for seasoning and texture.
Place nori sheet with the "rough," non-shiny side up on a bamboo mat with a long side toward you.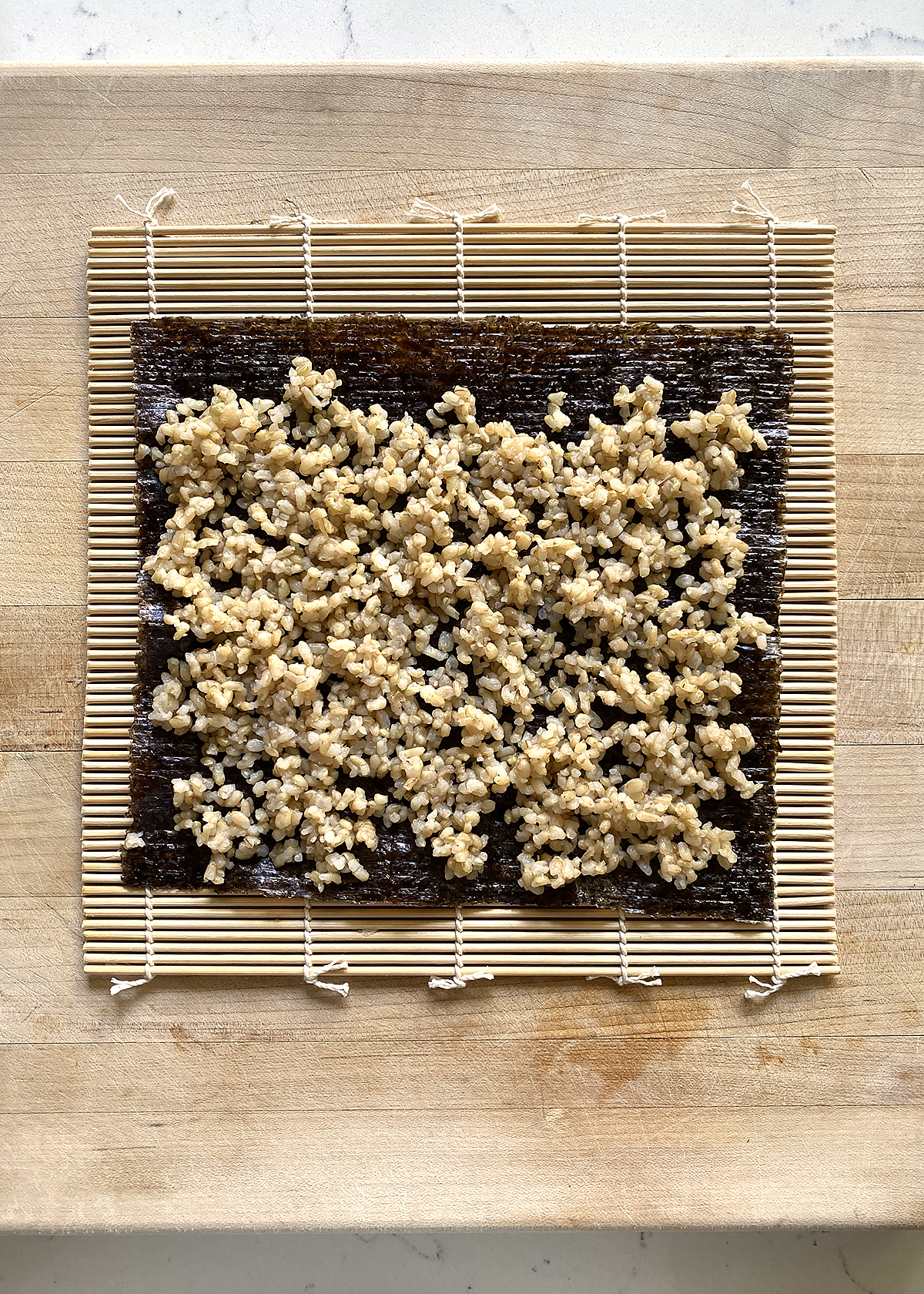 Spread the thinnest layer of rice you can on the nori sheet, leaving a half-inch empty border on each side and along the bottom, and 1-inch empty border at the top.
Lay a single line of avocado slices, cucumber slices, and then a 1-inch wide stripe of Spicy Tuna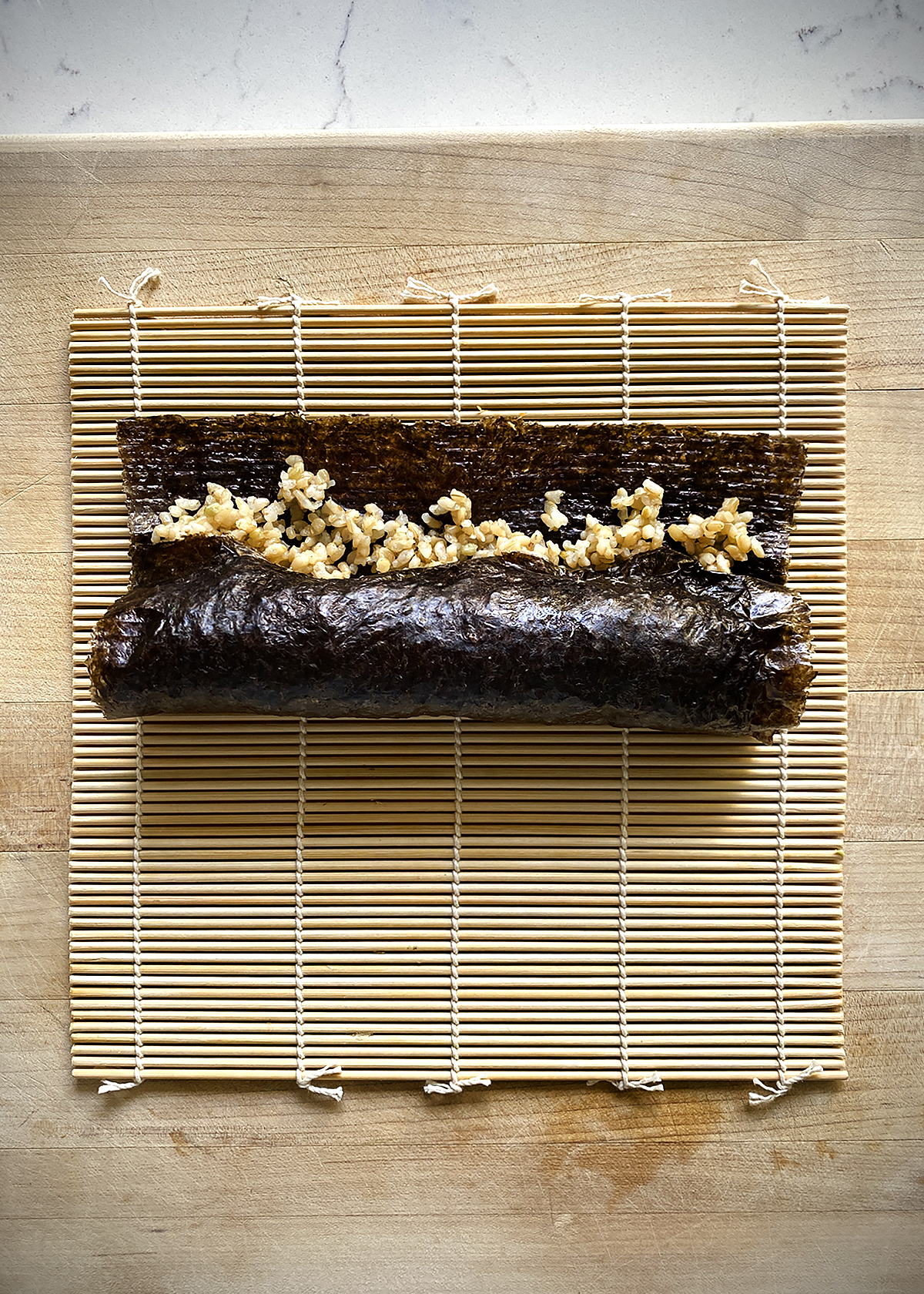 Use the edge closest to you of the bamboo rolling mat to lift the edge of nori over the ingredients, then tuck the edge into the rice with your hands. Continue rolling by using the bamboo mat to tuck and pull.
Cut the roll in half in one long slice with the largest, sharpest knife you have. Wipe the knife blade.
Cut each half again into quarters, then again so you have eight uniform pieces.
Plate Spicy Tuna Roll pieces cut side up, garnish with thin slice of fresh jalapeño or serrano pepper and toasted sesame seeds.
What Type of Canned Tuna
There are many types of canned tuna on grocery store shelves, from different species of tuna to variations in how the tuna is packed. For this recipe, I like yellowfin or skipjack tuna which is sometimes called "chunk light," and packed in water. The chunk light types are softer in texture, slightly more robust in flavor, and because they are packed in water as opposed to oil, combine better with the other ingredients in the recipe.
Ingredients Notes and Resources
Additional ingredients notes for the Spicy Tuna mixture:
Type of Rice for Spicy Tuna Roll
Rice used for sushi is short-grain, and almost always white, but in my home kitchen, I use a short- or medium-grain brown rice for the fiber boost. Any rice labeled "sushi rice," or "short-grain Japanese rice" works. If you have access to a Japanese grocery store, look for rice from Koda Farms, which is a multi-generational Japanese rice farming family in California who grows the best rice. Regular white rice and other types of medium- or long-grain rice will not work for sushi as they are not "sticky."
Traditionally, sushi rice is cooked, then seasoned with a mixture of rice vinegar, sugar, and salt. It is this seasoned rice that is technically the "sushi" part of sushi. This Spicy Tuna Roll recipe uses plain cooked rice rather than seasoned rice. If you 'd like to make traditional seasoned sushi rice, use this recipe.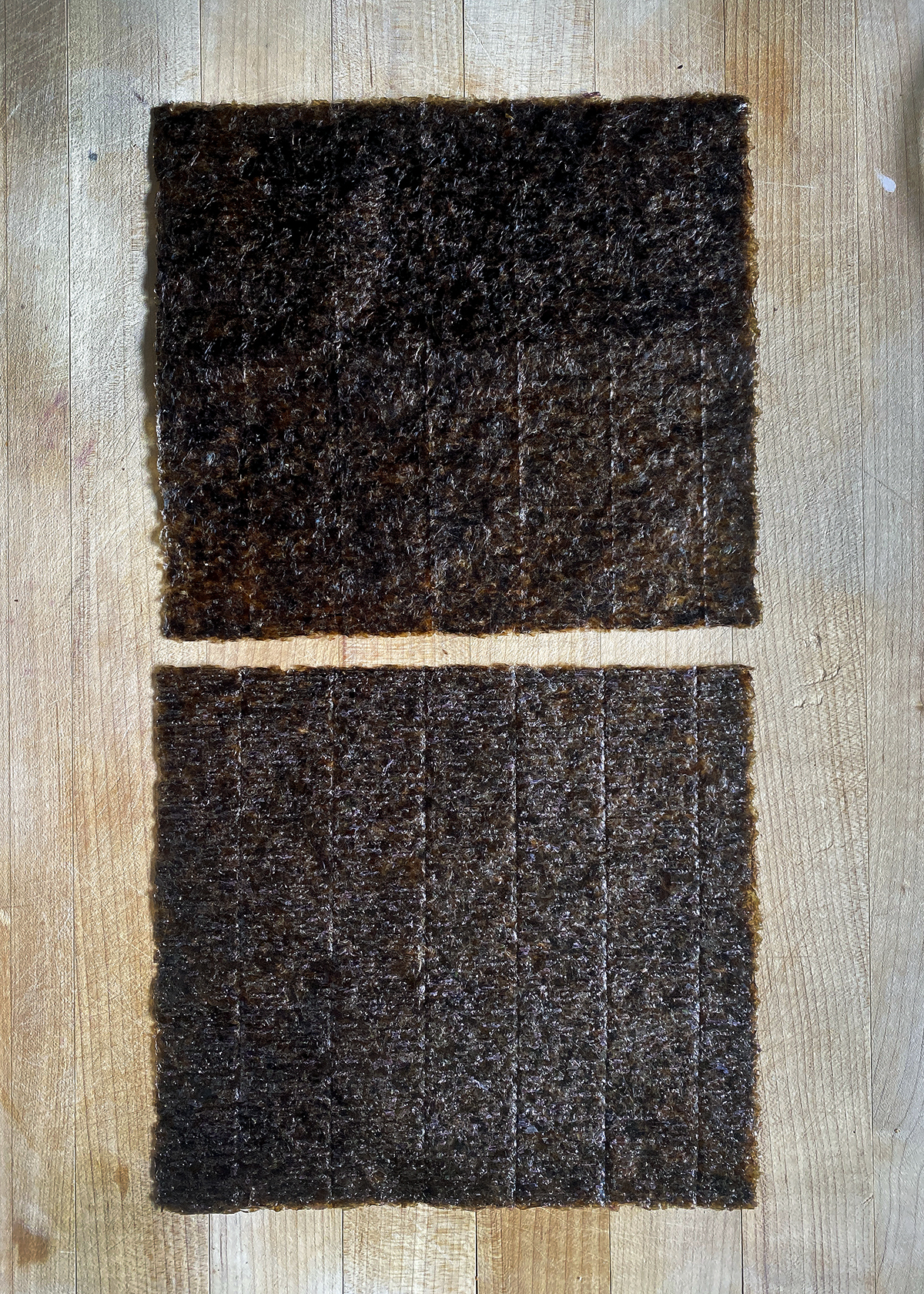 Nori for Spicy Tuna Roll
Nori refers to sheets of dried seaweed used to wrap up rice and other ingredients into rolls. Sushi nori is usually the larger sheet, about the size of a sheet of paper. There is also the toasted/roasted, salted nori cut into small rectangles that are sold in individual packages. These are different from the nori used for sushi rolls.
There are many brands and they vary in quality. A few local sushi chefs have identified this brand as the one they use in their restaurants, too. I've found it at Whole Foods and find it is reliable in the home kitchen.It has a few different "levels" of quality, though for a canned tuna version of sushi, you don't need to spring for premium "platinum."
When using sushi nori, there will be a noticeable difference between the sides of a single sheet. One side is smoother, and shinier than the other, and is meant to be on the outside of the roll. The other side, the "rough" side, is the side you place the rice and other filling ingredients on the inside of the roll. In the photo above, the top sheet of nori is shiny side up, and the bottom nori sheet is "rough" side up.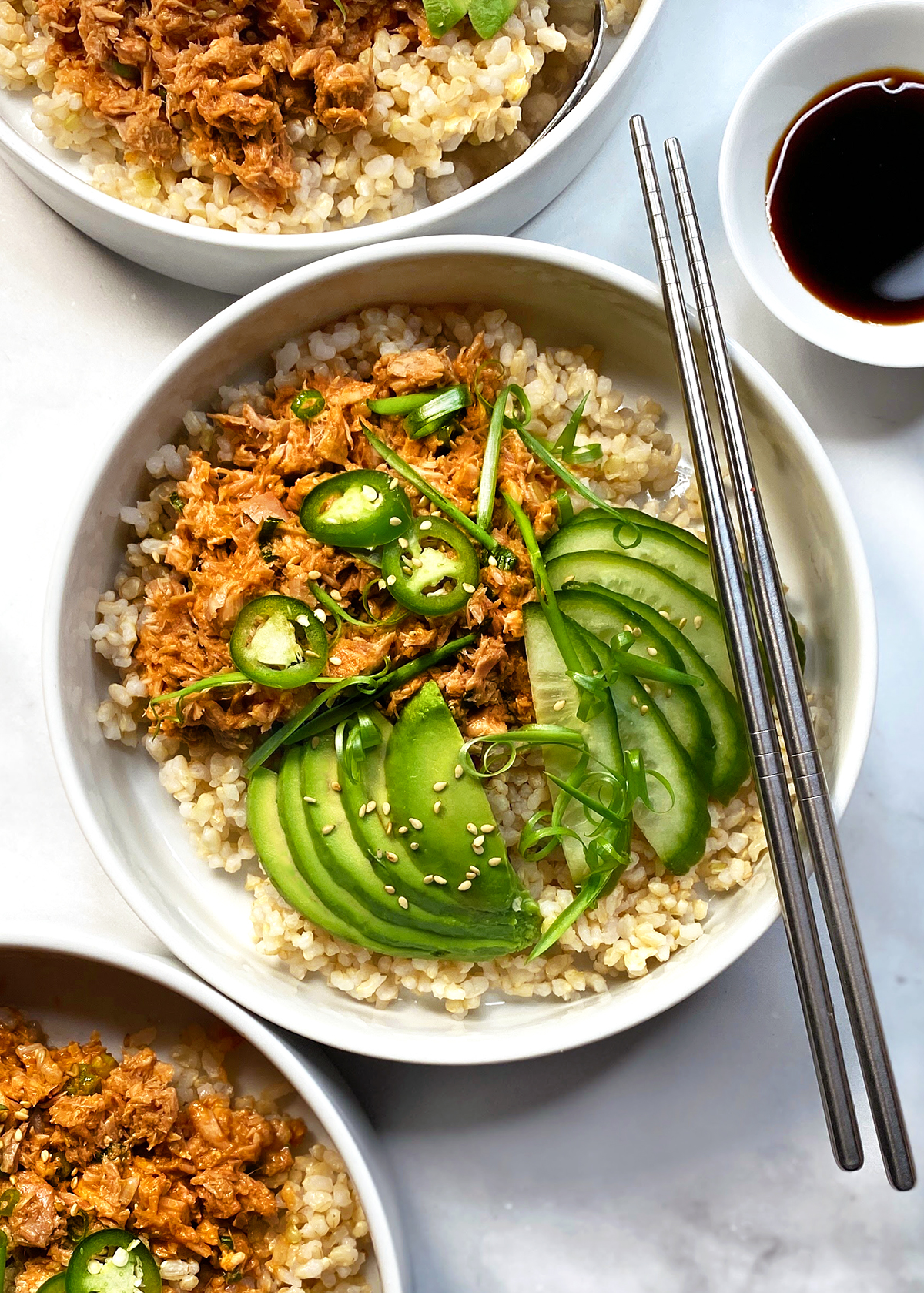 Substitutions and Variations
The recipe for the spicy tuna mixture, and the sushi rolling technique are open for interpretation and creativity. Here are some ideas for substitutions when certain ingredients may not be available, or there is a dietary concern with respect to Canned Tuna:
Fresh tuna. Instead of canned tuna, you can go back to the original and use very finely minced fresh (raw) sashimi-grade tuna. Make sure to buy fish labeled "sashimi-grade" or "sushi-grade" tuna (even though the terms are not actually officially authorized terms from the FDA, more on that later) and try to buy whole filets of tuna rather than anything in a container that's already chopped or minced for your own quality control. Start with only half the amount of mayonnaise in the recipe since fresh tuna already has a silky texture.
Canned salmon. If you prefer salmon to tuna for whatever reason—for taste, texture, or even salmon's lower mercury levels—use a very good wild sockeye salmon.
Firm tofu. You can absolutely make a version of "spicy tuna" with tofu to make the roll vegan/vegetarian. Use finely diced firm tofu so it holds its shape when mixing with other ingredients. Start the recipe with the ingredients in the same proportions, though you may need to add a little more soy sauce/salt because tofu has such a mild flavor.
If you don't have sriracha hot sauce, try gochujang, a Korean red pepper condiment. In fact, canned tuna gochujang combination is so common, there is a Korean canned tuna product that has gochujang already mixed in!
Pro Tips and Techniques for Spicy Tuna Roll
On canned tuna serving sizes: I generally allot 4 oz (quarter pound) of any fish for each serving, which equates to almost one whole can per serving.
Advance cooking. You can make the Spicy Tuna mixture in advance. It will keep in the refrigerator in a sealed container for up to two days. However, once rolled with rice and nori, Spicy Tuna Rolls do not keep, so make sure to roll just before serving.
Cutting Spicy Tuna Roll. Use the sharpest knife with the longest blade that you have. Start the cut closest to the handle, then in one single sweep, slice through the roll. Using one motion rather than sawing back and forth will keep the nori from tearing.
Shape as many rolls as you need for a meal before actually sitting down to eat and save them as full rolls on a plate with a loose cover. Then you can cut the rolls into individual pieces right before plating and serving.
Tools and Equipment
As I always say, you don't need any special equipment to make almost any recipe. However, in the case of sushi rolls, there are a couple of gadgets and tools that might make it a LOT easier to roll up your spicy tuna rolls.
Bamboo sushi rolling mat to roll the nori and rice.
Rice cooker. Rice cookers run the full gambit of types, features, and prices. I have two, this standard Japanese brand, and this fancy Korean brand, which the NYTimes loves. This is a smaller, affordable version of the Korean one.
All-purpose 7-inch chef's knife to cut rolls in a single long stroke, rather than sawing back and forth, which will tear the nori and smash the roll.
Large Cutting Board. A large size cutting board is stable, sturdy, and has enough surface area to prep multiple vegetables
Glass mixing bowls
Leftovers and Storage
Spicy Tuna Rolls once rolled, do not keep well as leftovers. However, you can keep the Spicy Tuna mixture by itself in an airtight container in the refrigerator for up to two days (the same as any tuna salad or other canned fish).
What to Serve with Spicy Tuna Roll
A generous serving of omega-3-rich tuna rolled up with healthy fat avocado and hydrating cucumber can be an entire meal! But if you like to have additional sides, here are some great suggestions to pair with:
Steamed edamame in their pods
Scallion salad
Miso soup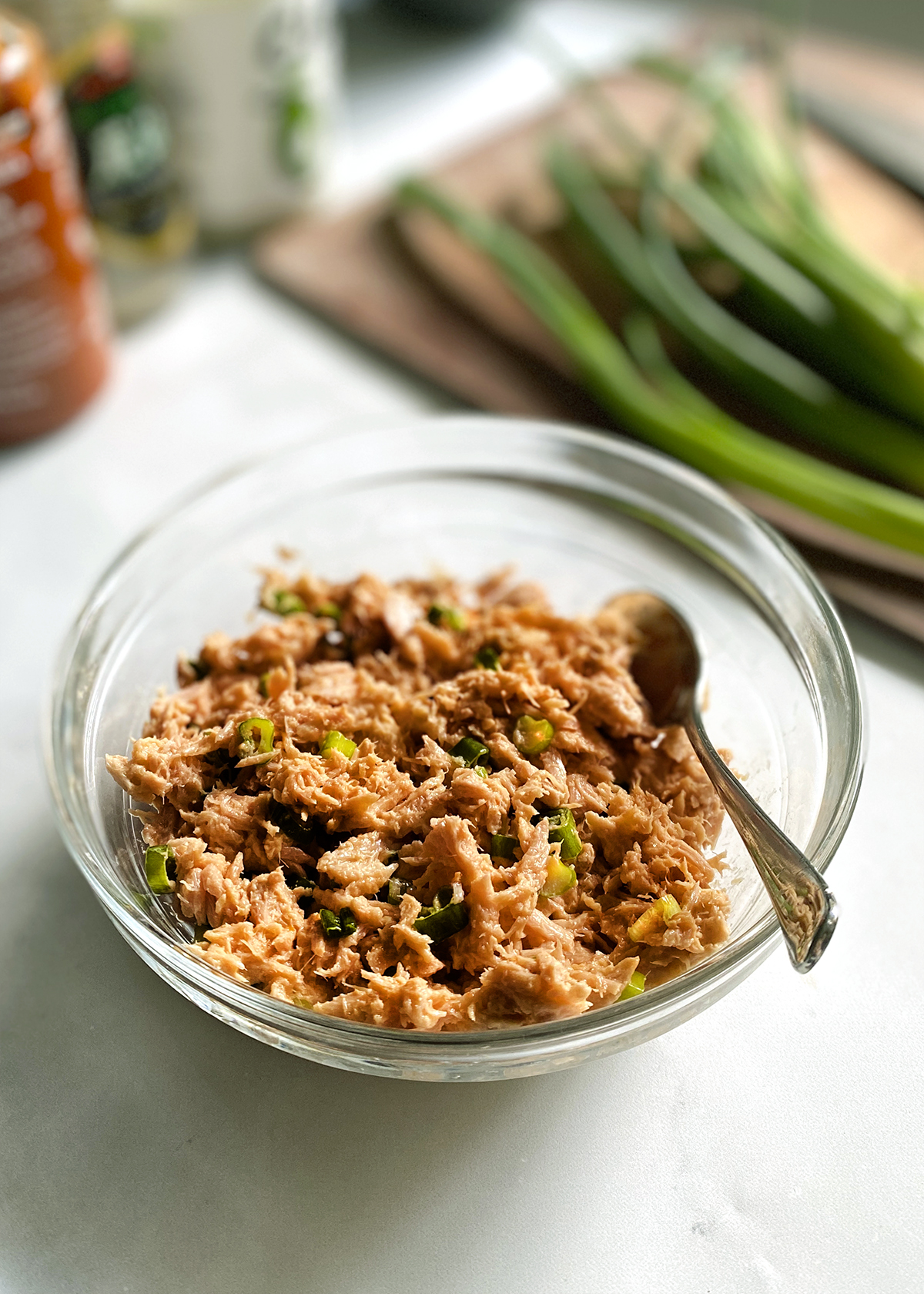 FAQ
What kind of canned tuna should I use for Spicy Tuna?
You can use any kind of canned tuna for this Spicy Tuna Roll recipe. The other ingredients are pretty strong in spice and flavor, so the whole recipe is fairly forgiving. That being said, use a sustainably-caught skipjack tuna packed in water.
Which brand of canned tuna is best?
For this recipe, I like Wild Planet brand, which is more sustainable than other brands.
Can you make Spicy Tuna in advance?
Yes, you can make the Spicy Tuna mixture in advance and store it in an airtight container in the refrigerator for up to two days. However, making the Spicy Tuna Rolls in advance is not recommended. Roll the Spicy Tuna Roll just before serving.
How long can you keep Spicy Tuna at room temperature?
You can leave Spicy Tuna at room temperature for one hour. Because this recipe for Spicy Tuna uses canned tuna which is cooked, it can last a little longer than fresh/raw tuna.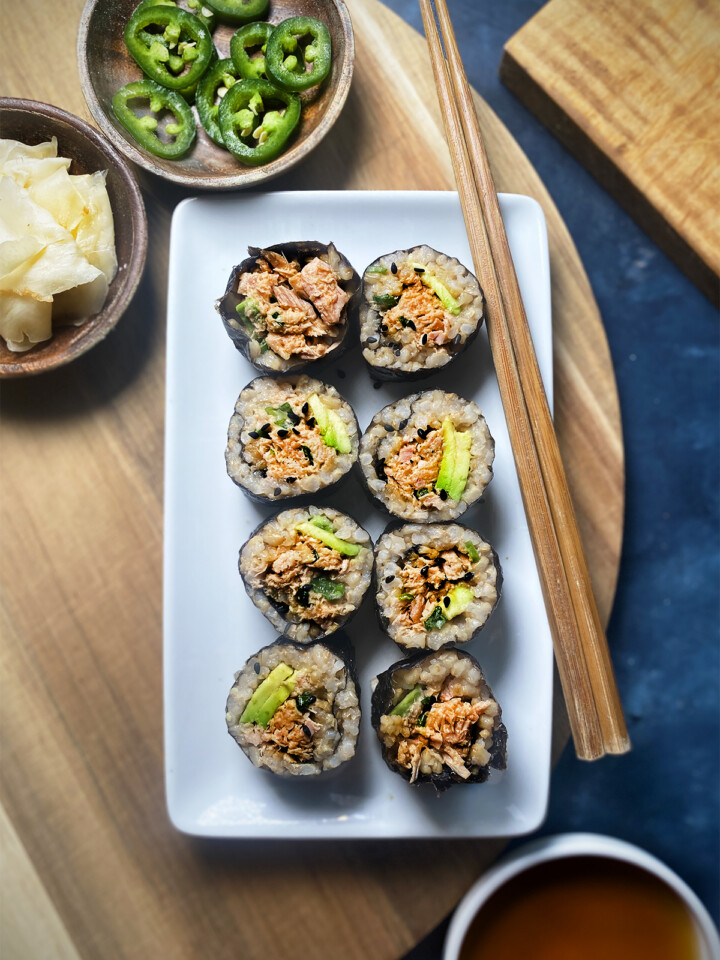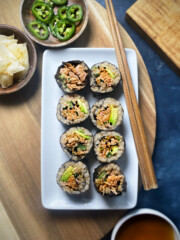 Print Recipe
Spicy Tuna Roll Recipe
A pantry-friendly version of the sushi restaurant favorite, Spicy Tuna Roll, made with canned tuna
Ingredients
Spicy Tuna
1

5-ounce can

tuna, drained and flaked

1

tablespoon

sriracha hot sauce

½

tablespoon

mayonnaise

2

tablespoons

thinly sliced scallions

½

teaspoon

tamari or soy sauce

½

teaspoon

toasted sesame oil

1

teaspoon

toasted sesame seeds (optional)
Spicy Tuna Rolls
2

sheets

sushi nori

1½

cups

cooked sushi rice

½

avocado, sliced length-wise

1

Persian cucumber, julienned

optional for serving: prepared wasabi, pickled ginger, light soy sauce
Instructions
Make Spicy Tuna
Mix canned tuna, sriracha hot sauce, mayonnaise, scallions, soy sauce, and toasted sesame oil in a mixing bowl. Stir until very well combined and tuna is broken down.
Make Spicy Tuna Roll
Place a nori seaweed sheet on bamboo rolling mat with shiny side down, and the longer side facing you.

Spread the thinnest layer of rice you can on the nori sheet, leaving an empty border on the sides, a ½-inch on each side and the edge closest to you, and a 1-inch border along the edge away from you.

Place sliced avocado, cucumber if using, and a stripe of spicy tuna in a line about ⅓ of the way away from the edge closest to you.

Using the bamboo rolling mat, roll the edge closest to you over the ingredients, then continue rolling, pulling the roll tight with the bamboo rolling mat and your hands.
To Cut Spicy Tuna Roll
Cut roll in half first, then cut each half into quarters to make uniform sized pieces.
Spicy Tuna Roll Afterthoughts
For the entire week preceding January 4, 2006, with the exception of the few hours I was cheering for the Badgers then the Buckeyes, I was a diehard Texas Longhorn. I donned burnt orange and white, threw up my 'horns without any given impetus, and exclaimed "Hook 'em 'Horns!" out my window out of sheer fanatical whim.
The strange thing is, I'm not a true Texas fan. I'm not a UT alum, not a Longhorn, didn't even have a divided heart because a boyfriend or a brother played football there. About the closest I get is the fact that I spent about 10 years of my early childhood in Texas. The Republic of Texas is a big place though, y'all, and I wasn't in Austin.
You see (UC), it's not that I am a Texas fan. I am a USC anti-fan.
There may be some folks out there who would pooh pooh me for not supporting the home team, for wishing ill-will on our own Pac-10 in the Rose Bowl, in the Championship Bowl, for Pete Carroll's sake! But in my little deliciously twisted fantasy football world, the only retribution for USC beating my teams, my Golden Bears (UC Berkeley) and my Bruins (UCLA) this past season, would be to see USC go down in flames in Pasadena. Down. In. Flames. Big, bright, burnt orange flames.
College Food Ball
Okay, before I try to squeeze into my old high school cheerleading uniform, get into formation and start spelling out "d-e-f-e-n-s-e" in some weird stroll down my high school cheerleading memory lane, I'll just say that in order to prepare for the big game, I planned to eat Texas Toast for breakfast, TexMex chili with Longhorn cheddar for lunch, but in the end only ended up on the evening of the big game eating that ever so Texan cuisine – sushi.
We had watched the previous bowl games first, in the leisurely comfort of our living rooms (three games on the same day? we need full control of the remote), then second in the relative quiet of a small, local bar with a good happy hour menu for Iron Chef Paterno vs. Bowden. But for the game, we decided that we had to be in it to win it. Let me tell you, when the wager is I-win-Lawry's (not that I like the national chain of prime-rib restaurants, but simply because that's where the two teams in the Rose Bowl eat every year before the game), or you-win-ramen, you definitely want to be in a public place so that you can humiliate your friends.
We ended up at a sushi bar to watch the Rose Bowl.
Sushi Bowl
There has been a sushi place in the same spot on Wilshire Boulevard squashed between the non-stop frat party at Q's and perpetual south-of-the-border Spring Break at Cabo Cantina for I don't know how long. It's been there at least as long as I've been lurking around the western parts of LA, so that's at least 10 years, and 10 years ago, the restaurant already looked like it had some pretty good mileage on it.
I ate there a few times when I first moved to the area, because how does one ignore a ginormous sign hovering over the place that screams out "SUSHI!" in a very strong Asian accent? The outside was rundown and the inside was, well, worse – dark, crusty, cracked vinyl booth decor from the 1980s, and had this strange unidentifiable odor lingering in the air. If I had to say something, I'd say dirty-dishrag-that's-been-forgotten-in-the-corner-for-seventeen-days. Yeah, I'm sensitive to smell like that.
Then one day, with no prior warning, the restaurant was boarded up with "Under Renovation" spray-painted across as if by some freeway underpass tagger.
Opening Day
When it re-opened, I hadn't been in more than 5 years, but decided to go back and try it. I was hopeful. If they renovated, surely they found that dirty dishrag hidden away now under the floorboards? Perhaps they had changed owners and would bring some quality sushi, even if it had to be between a keg stand and tequila shots. Then again, the fact that the sandwich board out front advertised a 4 to 7 pm Happy Hour was suspicious.
Two-for-one draft beers or two-for-one chips and salsa from either of its neighbors is normal.
Two-for-one sushi is...yikes.
Hana Sushi
Hana Sushi has definitely cleaned up, in both style and hygiene, but the overall decor and schizophrenic vibe still leaves a little to be desired. There are high bar-style tables and chairs on the front patio seating, presumably to ogle the gawk at the antics on the sidewalk in front on either side.
Inside, it's not quite as dark as it was before, but that's due mainly to the glow of about a half dozen TV screens scattered around the restaurant flickering with football and other sports. The biggest screen is over the sushi bar that's manned by unhappy, reluctant Japanese sushi chefs. The internal structure of the restaurant is the same, with the long sushi bar along the right wall and tables in the middle of the dining room floor that are served by Latino servers in bowties. They still kept a few of the booths along the left wall, with updated upholstery. I don't remember these existing prior to the re-model, but there is a small, full bar in the front tended by Bubblicious Academy girls, and in the back, a semi-private room labeled "The Office."
Duck and Roll
Hana Sushi has a regular menu of appetizers and Japanese-inspired entrees. As a breather from the sushi bar, I was interested in trying the duck spring roll, which yes, surprised even me, since I am not a huge fan of duck. I think I reasoned that if I'm going to learn to love duck, I may as well try it now, since pretty much anything will tastes good after two-for-one Rattlesnake rolls. The spring roll was flattened, so it looked more like an enclosed panini. Instead of simply deep-frying the spring roll skin, the roll had been unnecessarily dipped in a tempura batter then deep-fried, making for an extra crisp exterior. The ground duck filling inside wasn't bad. It was very heavily spiced, so it didn't taste much at all like duck – couldn't decide if that was a negative or positive thing.
Happetizers
Though the lure is the Happy Hour that starts at a very early 4 pm and ends at 7, the offering is less than desirable. The claim is that sushi is 2-for-1, but the Happy Hour menu is limited to just a few rolls, and the fine print at the bottom states that the special is on two of the same rolls. Two-for-one toilet paper at Ralph's is awesome. Even jeans that are two-for-one are a good deal, since we all know that in LA, you can never have enough jeans (some are "going-to-the-market" jeans and you certainly can't wear those as "going-out" jeans, duh).
But two-for-one of the exact same maki sushi is too much. The beauty of sushi is that one can eat a few pieces of many different kinds of sushi. Two-for-one at Hana Sushi means one is eating twelve pieces of a Rattlesnake Roll. That's a dozen pieces of too-thin unagi and imperceptible avocado loosely wrapped up in way too much rice and nori and drizzled with an overdose of sticky sweet unagi sauce.
Roll Tide
Salmon skin and spicy hamachi rolls are better, but the cut pieces were tossed onto the plate without much apparent care, and pieces of rice were left to the wayside on the ends of the roll. They didn't taste bad, and the salmon skin was wonderfully toasted, but sushi is one cuisine where looks very much matter. Then again, this is Happy Hour, and while some bargains truly are bargains, most of the time, you get what you pay for. Sushi is one of them. I'm not saying that extraordinary prices always mean extraordinary quality sushi, but more often than not, extraordinarily cheap prices reflect sub-decent quality sushi
Happy Hour has two-for-one sake, as well. The sake tasted somewhat of a fruity rubbing alcohol. Two-for-one, indeed.
Roll Tide
Very rarely do I order any of the specialty rolls in sushi bars. By creative, I am not referring to now-standard sushi menu items like the California roll or a Spider roll, or even that monstrosity of maki sushi, the Rainbow roll. I refer, instead, to those rolls that have decidedly un-sushi ingredients like mayonnaise or tomatoes or mangoes or the worst of all, cream cheese. The statement would have been "never," except that there was a time of utter ignorance in my youth when I did eat things like "Las Vegas Roll" and "Funshine Sunshine Roll." For some reason, it seems blasphemous to me, but for just one orange-martini-induced moment of Longhorn lunacy, I ordered a roll with cream cheese.
Don't get me wrong. I love cream cheese. On a bagel. Okay, and I have been known, every once in a blue moon, to take a straight shot of cream cheese from the package with a spoon. But cream cheese really has no place in sushi. Yet. At some point in the future, maybe 20 years from now, cream cheese in sushi will likely go the way of California rolls and just be so commonplace that I can't fight it anymore. But until then, I will hold to the opinion that cream cheese, even if it's combined with salmon, should stay on a bagel.
But I had to do it. I had to order the roll with cream cheese.
Exes in Texas
It was called the Texas Roll. I know, I know. My ability to make good, sensible decisions was gone. The blue Curacao in the orange martini had clouded my judgment. Vodka had turned me into a crazed football fanatic. My tastebuds had donned some very thick beer-goggles. Or sake goggles. You know what I mean.
Hana Sushi's Texas Roll is a Philadelphia Roll, which is made with salmon and cream cheese, but with the addition of fresh jalapenos to make it "Texan." *ugh* I am already kicking myself for calling out the "Philadelphia Roll" because I had previously refused to acknowledge that this thing has become a regular, standard item on sushi menus. Nonetheless, I did it for the game. My tastebuds took one for the team. I would like to think that lifting my personal ban on certain things in maki sushi and ordering the Texas Roll contributed to Texas' lovely 41-38 win over USC in the Rose Bowl/Championship Bowl. Because really, that was the only reason I ordered it. The Texas Roll wasn't even on the Happy Hour menu. I paid full price for cream cheese in my sushi.
And yet, the Texas Roll didn't taste horrible. I am thinking, though, that the Texas Roll only tasted okay in those moments that I watched Vince Young gracefully sashay across the field to make a TD. Graceful. Masterful. Absolutely incredible.
What is this? A sports blog? Food. Focus on the food, girl. Stop thinking about those tight ends.
Honor Roll
Anyway, I won't order the Texas Roll again, and I highly doubt that I'll go back to Hana Sushi on my own accord. Is it a sushi bar? Or a sports bar? Is it sophisticated afterwork hideaway for the office set, or a college hangout? Physically stuck between its younger, prettier, more outgoing neighbors, Hana Sushi must have had a mid-life identity crisis. But instead of improving itself by growing naturally into its best sushi self, Hana underwent an extreme makeover without knowing what it really wants to be, ending up trying, but sadly, failing, to be everything to everyone.
The sushi is sloppy and sub-tasty. Having two-for-one feels less like a half-price bargain and more like an unwanted overdose of bad sushi. The Rose Bowl evening experience was great fun with the company (somehow, my little good luck Pooh Bear in my purse escaped onto the bartop in a cocktail napkin diaper – that's how much silly fun we were having), but the owner's bad business is what sealed the sour deal for me.
The only reason I might ever go back there is to try the Bananagasm dessert.
But only after I cash in my prime rib dinner at Lawry's. :) 41 to 38.