There's nothing more seasonal than a Spicy Cucumber Salad with Avocados and Garlic Chili Vinaigrette.
What's my favorite food season?
First of all, how dare you.
There is no second of all.
As much as I love summer for all the berries and melons, as much as I welcome fall with its crisp apples, as much as I appreciate winter for the Holidays and bright citrus, there is nothing, and I mean absolutely nothing, like the fresh everythingness of spring, especially in California.
Teeny tiny baby roots.
The sweetest, red-all-the-way-through strawberries.
Bright green vegetables like asparagus, sugar snaps, and fresh peas.
All the blossoms that would be fruits and vegetables later in the summer.
The excitement and anxiety that leads up of brief fleeting window of certain produce like fava beans and green almonds.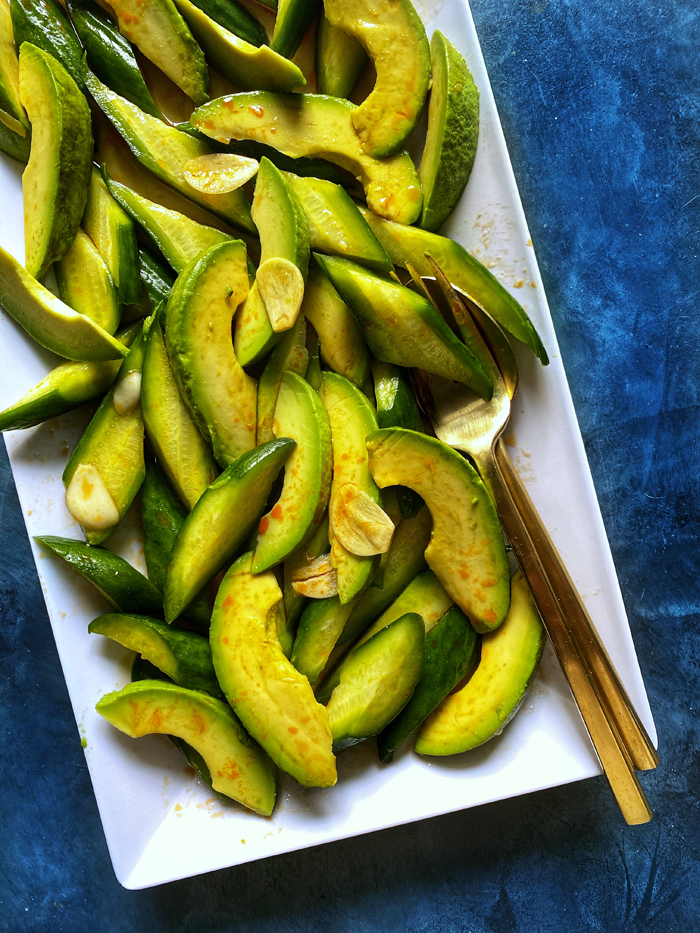 And of course, Spring is the official start of the season in California for avocados and cucumbers, which are featured in today's Spicy Cucumber Avocado Salad with Garlic Chili Vinaigrette. The recipe was inspired by the Spicy Cucumbers appetizer/side dish at everyone's favorite soup dumpling restaurant, Din Tai Fung, and adapted to California with the addition of avocado.
Din Tai Fung's Spicy Cucumber Salad version is sweeter and more subdued; the recipe below is a reflection of my taste preferences: much more more in-your-face with garlic, vinegar, and fire. The avocado is almost necessary at this point for extreme, wide-set balance.
Cucumbers and Avocados are SO California
Before getting to the recipe, let me share a quick note about California and California-grown produce.
Aside from the very obvious fact that I live here, I love California for its produce, both the variety across the seasons and the sheer volume. Because of its long, north-south geographical shape, and varied topography, the state of California has multitudes of growing climates that support not only different crops suited to different regions, but the same crop in different regions in different seasons.
For example, lettuces and leafy greens can grow in northern regions of California in the warmth of spring/summer, and continue to grow through the winter in southern California. Lettuces and leafy greens, along with all the brassicas, carrots, most citrus, and certain other crops are in season year-round in California. For a helpful visual guide seasonality of some key crops in California check out California Grown's Eat the Seasons chart. You can download and print it.
One thing you will ALWAYS REMEMBER that's in season year-round: wine.
California alone grows one-third of the vegetables and two-thirds of the fruit and nuts that we get here in the United States, making it the leading agricultural state in the country. California is also the sole producing state of almonds, walnuts, olives, artichokes, dates, raisin grapes, kiwifruit (who knew?!), clingstone peaches, pomegranates, and sweet rice. By the way, California is obviously the leading producer of wine in the country. Check out this article and accompanying recipe for more information and nerdy statistics on California-grown produce.
Ingredients Resources and Substitutions for Spicy Cucumber Salad
Cucumbers: Cucumbers are available in grocery stores year-round, but are officially in season in California from May through September. Small, sweet, tender Persian cucumbers are my all-time favorite, though any thin-skinned cucumber works for this recipe. If all else fails, to be honest, don't make this recipe. Wait until you find good cucumbers in season.
Avocado: California avocados are officially in season February through July, but I have seen California avocados in local farmers' markets in December and January. It all depends on how lucky you are.
Pickled onions: This salad doesn't really need pickled onions or scallions because there is an allium bite from the garlic in the vinaigrette. However, who would ever argue against pickled onions in anything? Here is a basic recipe for Pickled Onions. You can also use thinly sliced red onions that have been soaked in ice cold water for about as long as you salt the cucumbers.
Chili oil: I used la yu style chili oil, which is a red-orange hued oil that has been infused with chili, then strained, so it is only oil with no little pieces of dried chili or spices. This brand has only two ingredients, oil and chili, as opposed to some other brands that have added colors, etc. La yu chili oil is different from chili crisp, which is a chili oil that has pieces of dried chili, garlic, and other spices in it. You can use that too!
Sesame oil: Use toasted sesame oil, which is dark brown and adds a nutty, umami fragrance to the vinaigrette. I use a non-GMO toasted sesame oil from Whole Foods, but this one is organic!
Tamari: Tamari is a Japanese-style soy sauce that is brewed without the use of wheat so it is gluten-free. If you are not sensitive to wheat, the two are essentially interchangeable. I use this brand, which is organic. For most soy-based products (soy sauce, tofu, soy milk, etc), try to buy organic or non-GMO, since soy beans are one of the crops that are more often sprayed with harmful weed-killing chemicals.
Rice Vinegar: I use this brand organic brown rice vinegar. If you don't have rice vinegar, you can use any other light/mild vinegar or even lemon/lime juice. Do not use distilled white vinegar, which you should only ever use to de-scale your coffee-maker.
All other fresh herbs and produce from either the Santa Monica Farmers' Market on Wednesday, or Whole Foods Market when I can't find what I need at the farmers' market.
Tools and Equipment

How to Serve Spicy Cucumber Salad
This salad is a perfect accompaniment to an array of dumplings obviously, miso-marinated fish, simple seared salmon, roast chicken, or basically anything. I have made a giant bowl that serves 4 and eaten the whole thing by myself as a meal including all the slivers of garlic thank goodness I ate it alone.
Print Recipe
Spicy Cucumber Avocado Salad with Garlic Chili Vinaigrette Recipe
serves 4 as a side dish, can be doubled. or tripled.
Ingredients
for Salad
1

pound

Persian or other thin-skinned California-grown cucumbers

see Note below

2

teaspoons

Kosher salt

2

California-grown avocados

peeled and sliced lengthwise into wedges

optional: ¼ cup pickled onions or sliced scallions
for Garlic Chili Vinaigrette
1

garlic clove

peeled, green germ removed and sliced razor thin

1

tablespoon

la yu chili oil

1

teaspoon

toasted sesame oil

1

tablespoon

tamari or soy sauce

1

tablespoon

rice vinegar

1

tablespoon

cane sugar

plus more to taste (or other sweetener)

2-4

tablespoons

warm water
Instructions
Prepare Cucumbers
Slice cucumbers lengthwise in half, then crosswise on a slight bias, making pieces about ¾-inch wide. You can make blunt cuts so the cucumbers are half moons, but that basic b aesthetic up to you. Place the sliced cucumbers in a bowl, toss with salt, and let sit 2 hours to draw some of the water out of the cucumbers.
Make Vinaigrette
While the cucumbers are draining, make the vinaigrette. Combine sliced garlic, chili oil, and sesame oil in a small bowl. With a spoon, very gently press the garlic into the oil against the sides of the bowl to release some of its essence into the oil. Add the tamari (or soy sauce), rice vinegar, sugar, and 2 tablespoons warm water and stir until sugar dissolves. Taste. By itself, the vinaigrette should be saltier and sweeter than is comfortable for you. It will not taste as strong on the salad. If it tastes too salty or sweet, add more water, 1 tablespoon at a time.
Assemble Salad
Drain the cucumbers, discard the salted water, and rinse the cucumbers with fresh water. Toss cucumbers with about ⅔ of the vinaigrette. Transfer dressed cucumbers to shallow serving bowl or platter with high sides.

Add avocado wedges over cucumbers and pour the remaining vinaigrette over the avocados. Scatter pickled onions or scallions over avocados.

This salad prepared with the vinaigrette does not store well. The salted and dressed cucumbers by themselves will keep in air-tight container in the refrigerator for up to one day. The cucumbers will be pickled after a day.
This recipe and post are produced in partnership with California Wines in celebration of California's commitment to sustainable winemaking during April, Down to Earth Month.
You can see more of my fawning all over California and California-grown produce on these posts here.