From November to March, citrus is at the peak of its season, and Citrus Salad is the fast and freshest way to get an entire platter full of light, bright flavor in winter. Shall we?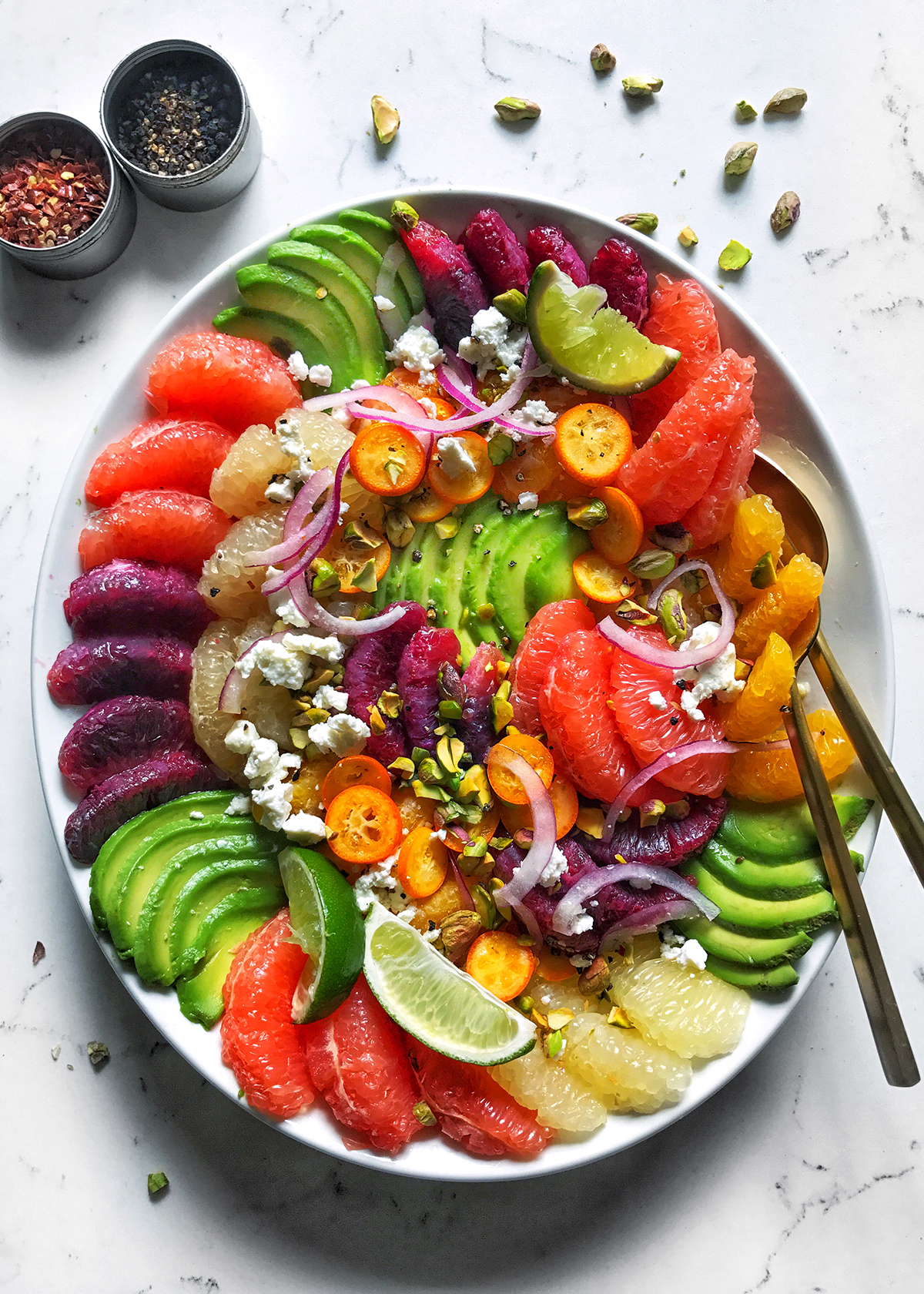 Jump to:
What is Citrus Salad
Citrus Salad
Health Benefits of Citrus
Ingredients You Need for Citrus Salad
citrus fruit, any mix of blood orange, cara cara orange, navel orange, oro blanco grapefruit, pink or red grapefruit, pomelo
avocados
extra-virgin olive oil
lemon
red onions
feta cheese
roasted pistachios
flaky sea salt and pepper
Instructions for How to Make Citrus Salad
Peel and segment citrus, and arrange on a platter with high sides or a shallow bowl.
Place sliced avocado on citrus.
Scatter red onions, pistachios, and crumbled feta.
Drizzle with olive oil, lemon juice, and season with salt.
Pro-tip: Drain off the mixed citrus juice that collect underneath the citrus segments on the platter and mix with olive oil and salt for a vinaigrette or dressing for a different green salad.
What Kind of Citrus to Use for Citrus Salad
There will be everything from deep dark red blood oranges to peachy pink Cara Cara oranges to bright white oro blanco grapefruits at the markets. You can use whatever variety of citrus you want, but try to find a mix of colors and at least one grapefruit to have something very tart, otherwise the salad might be a little too sweet.
Blood Oranges.
Cara Cara Oranges.
Navel and Valencia Oranges
Pink and Red Grapefruit
Oro Blanco Grapefruit
Pomelo
Tangerines, Clementines, Mandarin Oranges
Ingredients Notes and Resources

Avocado. You can use any form of garlic for Puttanesca: chopped, simply smashed (might need slightly longer cooking time), but I like slicing garlic cloves super thin so they "melt" with the anchovies into the tomatoes. If you use a razor and know that reference, well, we should have dinner some time.
Olive Oil. I used this olive oil that's pretty widely available, though it is not organic.
Lemon
F

eta Cheese

Pistachios
Salt. Th
All other fresh herbs and produce

from either the

Santa Monica Farmers' Market

on Wednesday, or Whole Foods Market when I can't find what I need at the farmers' market.
Substitutions and Variations
Oil - instead of ice berg lettuce, you can use romaine lettuce or spinach
Feta Cheese - use gluten free buns instead of white bread buns to make this gluten free
Nuts - the beef hamburger can be replaced with a plant-based burger to make this vegetarian
Pro Tips and Techniques for Citrus Salad
On salmon serving sizes: I generally allot 6-8 oz (half a pound) of salmon for each serving, which amounts to two pounds total for this recipe. Eight ounces is actually a pretty large serving, and most people will not eat that much because of all the other delicious little things on the table. However, leftover cooked salmon will keep for about three days in the refrigerator, or frozen for a few weeks, and is great for adding to your lunch and dinner grain bowls.
Advance Cooking. You can make the Puttanesca sauce in advance. It will keep in the refrigerator in a sealed container for about three days. However, the recipe comes together so quickly, there's no need to do anything too far in advance.
Parmesan. No. Do not put cheese of any kind on this dish. I will disown you. Cheese and fish do not belong together. Not only is the main ingredient salmon, there are anchovies in the sauce. No parmesan.
Tools and Equipment
Storage
Store the wet ingredients (lettuce, tomato, onion) separately from the dry ingredients (buns) in the fridge, and recombine when ready. Good for 2-3 days.
These ingredients do/don't stand up well to freezing for X days/weeks/months.
What Else to Serve with Citrus Salad with Avocado
A generous piece of omega-3-rich salmon in antioxidant-rich tomato sauce can be an entire meal! But if you like to have something either green or starchy as well, here are some great suggestions to pair with:
Caesar-ish tri-colore salad with an Anchovy Vinaigrette, staying right in the ocean theme
LOVE a roasted broccoli, or steamed if you want to keep all your cooking on the stovetop
boil some pasta and toss it right into the Puttanesca sauce, of course
garlic bread, or even just a darkly toasted slice of bread to dip in the salty, tangy, umami-y Puttanesca sauce
FAQ
Question 1
Visit the search results to see which questions come up under the People also ask section for your primary keyword, and answer them here
Try These Cool Season Salad Recipes, Too
And if you're here for the Citrus, check out these recipes:
Print Recipe
Citrus Salad with Avocado, Pistachios, and Feta Recipe
serves 4
Ingredients
6-8

citrus fruits

any kind: blood orange, cara cara orange, navel orange, oro blanco grapefruit, pink or red grapefruit, pomelo

4-5

kumquats

thinly sliced cross-wise, seeds removed

2

firm ripe avocados

peeled and sliced lengthwise

¼

cup

extra-virgin olive oil

juice from half a lemon

¼

cup

thinly sliced red onions

soaked in cold water for 10 minutes

½

cup

crumbled feta cheese

½

cup

roasted pistachios

roughly chopped

flaky sea salt and pepper
Instructions
Peel citrus, separate segments, and carefully remove the thin skin and white pith from each segment. It is time-consuming and very tedious, but sometimes you need an activity that lets your mind wander while keeping your hands away from your phone. You can of course, peel the citrus, and cut cross-wise into round slices that look like bright colorful suns.

Arrange the citrus segments and avocado slices on a serving plate with high sides (to keep the citrus juices). Add sliced kumquats.

Drizzle citrus and avocado with olive oil and lemon juice. Scatter red onions, feta cheese, and chopped pistachios over the citrus and avocado. Sprinkle with ground black pepper and a little bit flaky sea salt (will depend on how salty the feta cheese and pistachios are).

Citrus segments by themselves, i.e. without olive oil and additional salad ingredients, can be kept in an air-tight container in the refrigerator for two days. Avocados will not last, but why wouldn't you just eat them all.
Afterthoughts
If you take part in the LA nightlife, more specifically, the club scene, then you're probably familiar with club promoters. You may not know them personally, but you know what I'm talking about. They are the people who throw nightly parties at various venues around town. Club promoters are different from club owners, who are the people who actually own the venue. Club owners have thrown down the fat cash for the real estate. Promoters, however, are the ones who come in at 6 pm on Friday night with their crew – sound, lighting, visual effects, dj, go-go dancers, etc. etc. They don't pay the rent for the place, but likely they share revenues from the cover charge and the bar with the club owner. The promoter doesn't own the place, but when the bass starts to boom, well, really, the promoter owns the place.
As greasy, slimy, pale-skinned, fat with cash but gaunt with drugs as promoters are, sometimes I wish I could be a club promoter. For what better career in the world is there than to cruise from lush club to plush club with your entourage and throw the best damned parties that anyone has ever experienced? I love the music, I love the dancing, but what I would love the most is seeing everyone enjoying themselves. What a rush. Throwing parties gives me a rush.
Spanish Tapas Party
When it really comes down to the shiny disco balls, though, I know I'd never make it as club promoter, so I stick with entertaining at home. I love throwing dinner parties.
We started with sangria for a Spanish-themed dinner party.
Though everything else on the menu was heavily influenced by Spain, the Citrus Salad with Avocado could not have been more California. Actually, that's not true because the salad could have been more California if left the citrus off and though the nuts were toasted, they were way too fat to be from California.
There is a reason that there are oranges, lemons, and limes in sangria. Citrus fruits grow in Spain. Yes! It's incredible! Let me impress you with my knowledge of global-economics. Spain is a leading world producer of oranges, lemons, and limes, and is number one for those citrus fruits in the European region. Okay, so that's just my ability to google on demand. However, I don't recall ever seeing avocadoes on a menu in a Spanish restaurant. I couldn't help the avocadoes though because everyone f--king loves avocadoes. Is it enough to say that the Spaniards had a very strong influence on California's history? *eh* It's good enough for me. At least I didn't try to serve guacamole.