Make these Perfect Pickled Onions with only a couple of ingredients and you will put them on everything—tacos, avocado toast, eggs—like I said, everything.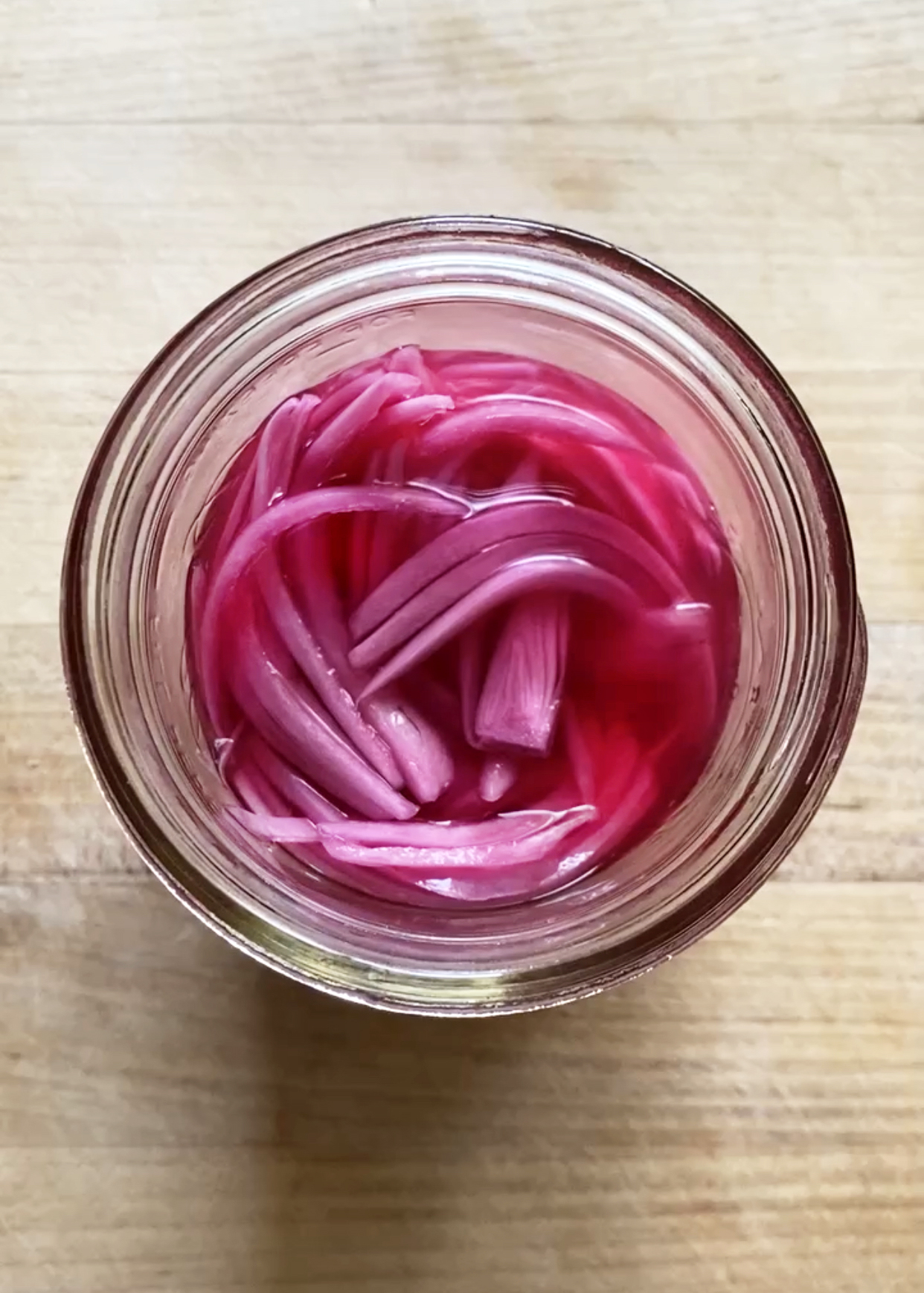 Like some relationships, there is nothing you can actively do to really F up Pickled Onions. You set it up, and you just let it happen naturally. If it works, it works.
If it doesn't work out, it still works out. You'll see.
Jump to:
Ingredients You Need for Pickled Onions
This Perfect Pickled Onions recipe has 4 ingredients, and one of them is optional! You will need:
Red onions
Rice vinegar, though any vinegar except plain white distilled vinegar, will do
Salt
Sugar, which is optional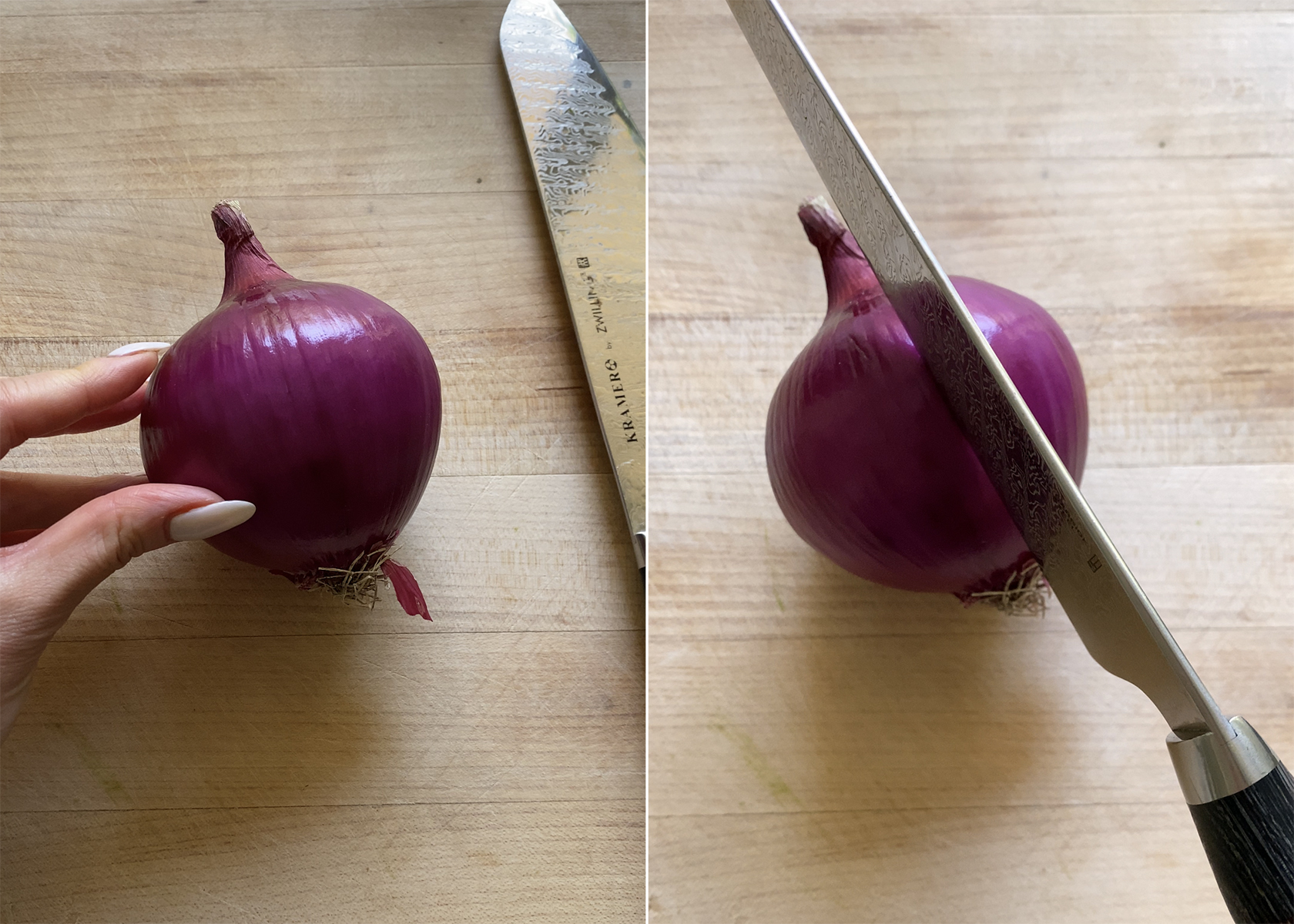 How to Make Pickled Onions
Perfect Pickled Onions are basically a "set it and forget it" recipe with a few simple steps:
Slice onions length-wise, and yes, how you slice matters! See photo above and read information below.
Combine with pickling brine
Place in glass jar, cover, and let it pickle!
The most difficult step is the waiting. Pickled onions can be ready in as little as 15 minutes for something "fresh," and overnight for that real pickled flavor.
Ingredients Notes and Resources
Red Onions. I use organic red onions, but you can use any kind of onion, yellow, white, or even sweet. They will taste a little different, and they definitely won't have the same bright pink color, but they are still pickled onions!
Rice Vinegar. I use this organic rice vinegar. You can use any vinegar that suits your taste, even citrus juice. Just do not use straight-up white distilled vinegar. I have used this apple cider vinegar, this red wine vinegar, and this Champagne vinegar. They all render slightly different tastes, and they all taste great. Red wine vinegar creates the most dramatic color for pickled red onions.
Sugar. I make my Perfect Pickled Onions with ZERO SUGAR, but the recipe allows for up to 3 tablespoons of sugar. Pickling brine recipes range in sugar amounts from none to almost half the brine. I have made pickled onions with a lot of sugar and don't get me wrong, the sweet pickled onions taste SO GOOD, but it's almost too good from all that added sugar that honestly, you just don't need. Remember, onions already have natural sweetness to them.
Salt. I have a very large box of this Kosher salt, which I use for cooking. If you only have table salt, start with half the amount in the recipe, since table salt tastes saltier than kosher salt. Taste the brine and add more from there.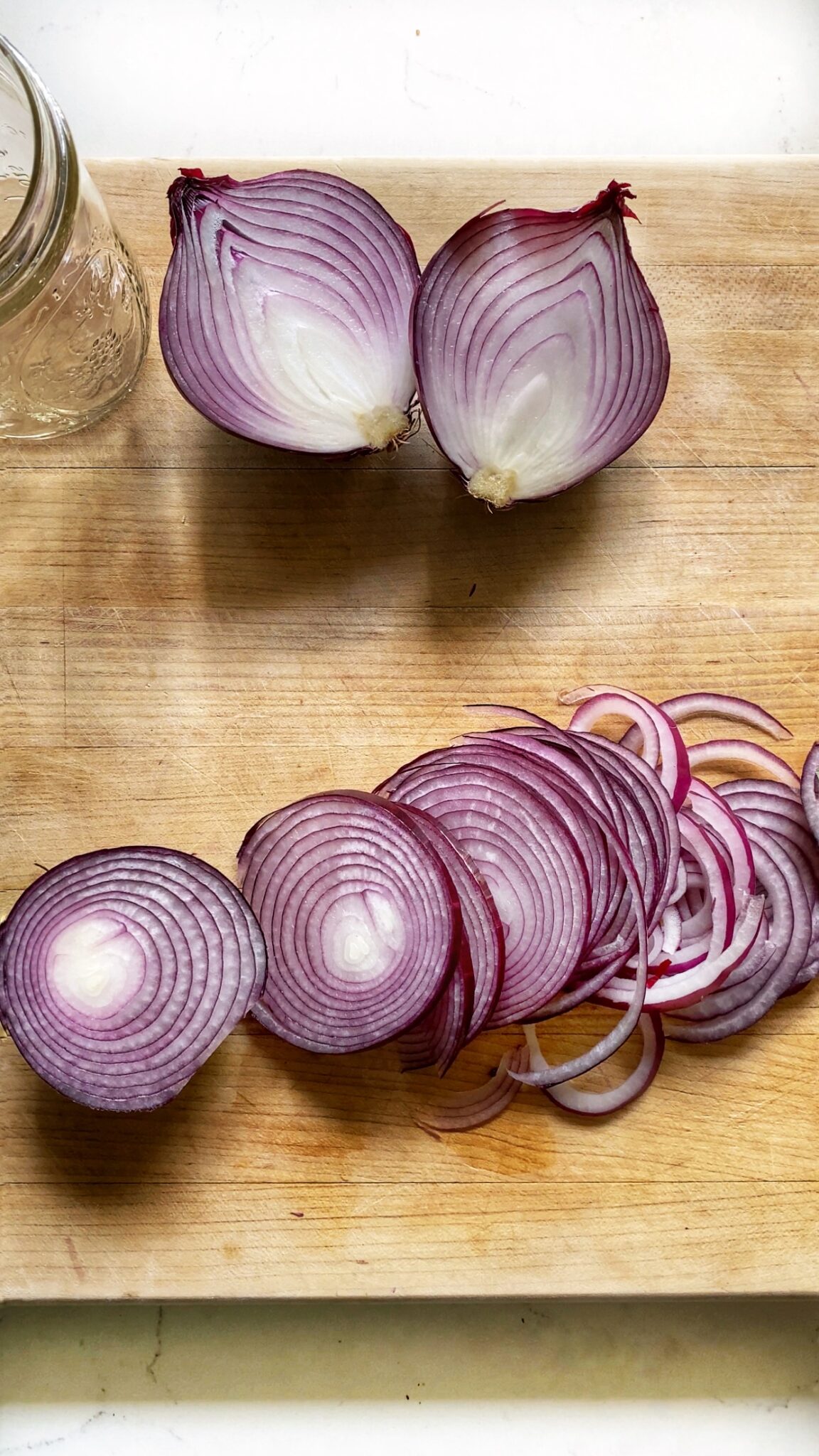 How to Cut Onions
There are more than one way to skin a cat, but there is only one way to slice an onion for Perfect Pickled Onions for me, and that is length-wise, or vertically from top to bottom. If you think of an onion as planet Earth, with the stem as the top or "North Pole, and the roots at the bottom as the "South Pole," then cut the onion longitudinally, aka "pole-to-pole." I could defend a PhD thesis on cutting onions here, but I don't want to impress your pants off, so let me just say that you should trust me on this.
If you cut the onions cross-wise, or horizontally, around the equator if we're still using the planet Earth analogy, you will have rings, which is nice and will make grabbing the little rings out of the jar easier. However, there are two considerations. If you slice onions with a knife, it's difficult to hold the onion steady as you cut, so you may end up with slices that vary widely in width. You can get around this by using a mandoline of course.
Additionally, cutting onions cross-wise, makes the onions taste stronger due to disrupting something in their internal cell structures. Like I said, PhD thesis.
Just trust me. Cut the onions vertically.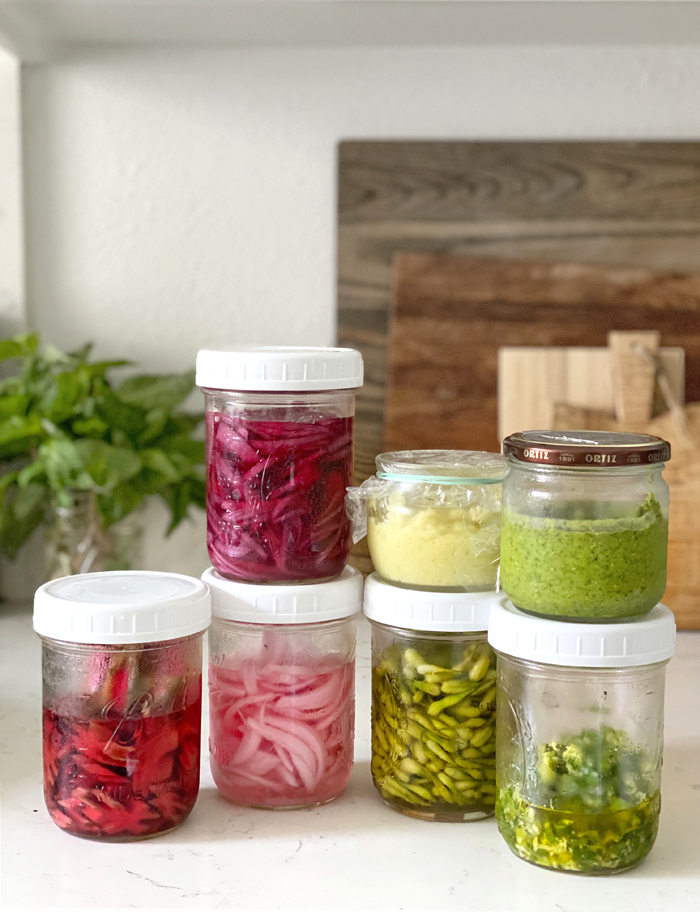 Flavor Variations
Use this recipe as a starter for Pickled Onions, then experiment with different vinegars, herbs, and spices to, well, "spice it up."
5-10 black peppercorns add a layer of spice
Serrano pepper, whole or sliced, will add fiery heat
1-2 garlic cloves
Bay leaves, oregano, rosemary and thyme for a more herbal flavor
Lemon, lime, or orange zest will add that bright citrus element
Try different vinegars like apple cider vinegar or red wine vinegar!
Yes, you can absolutely use this exact same brine to pickle other vegetables. I have pickled: julienned carrots, julienned daikon radish, whole baby carrots, baby squash, beets, chard stems, and of course, cucumbers.
Tools and Equipment

FAQs
Q: How long does it take until the pickled onions are ready?
A: Pickled onions can be eaten as early as 15 minutes after you add the brine. They will taste more raw and fresh. They will taste good after pickling overnight, and great after that.
Q: How long do pickled onions last?
A: Pickled onions will taste good for up to two weeks in the refrigerator in a tightly sealed container.
Q: Do you have to sterilize your jars?
A: No you do not have to sterilize your jars as if you were pickling or fermenting to preserve for a long time. These are "quick pickles" aka "refrigerator pickles." Just make sure the jars are clean!
Q: Are pickled onions healthy?
A: Yes! Pickled onions are healthy for certain diets and lifestyles! Onions, like all of its cousins in the allium family, are good sources of vitamin C, vitamin B6, potassium and folate, essential compounds. They are also rich in sulphur, which helps the body synthesize the antioxidant glutathione. They are packed with additional antioxidants like quercetin, which helps boost the immune system, fight inflammation, and overall fight certain types of cancers. Red onions in particular contain anthocyanins, the phytochemicals that give them their color. Anthocyanins has been shown to lower blood pressure, reduce the risk of heart disease, improve brain function, and like all antioxidant, slow cancer growth. For most people, onions contain prebiotics, making them great for gut health.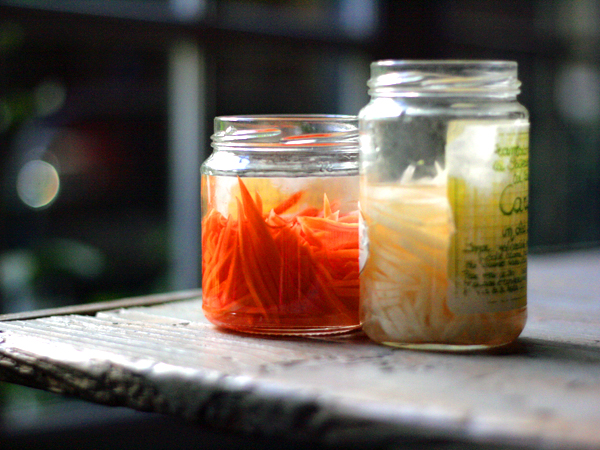 More Delicious Little Pickled Things
Salsa Criolla, pickled onions made with lime juice instead of vinegar, and a few other flavor enhancers
Pickled Pearl Onions, perfect on charcuterie board, or to garnish a martini!
Spiced Pickled Onions recipe from Chef Govid Armstrong
More Onion and Garlic Features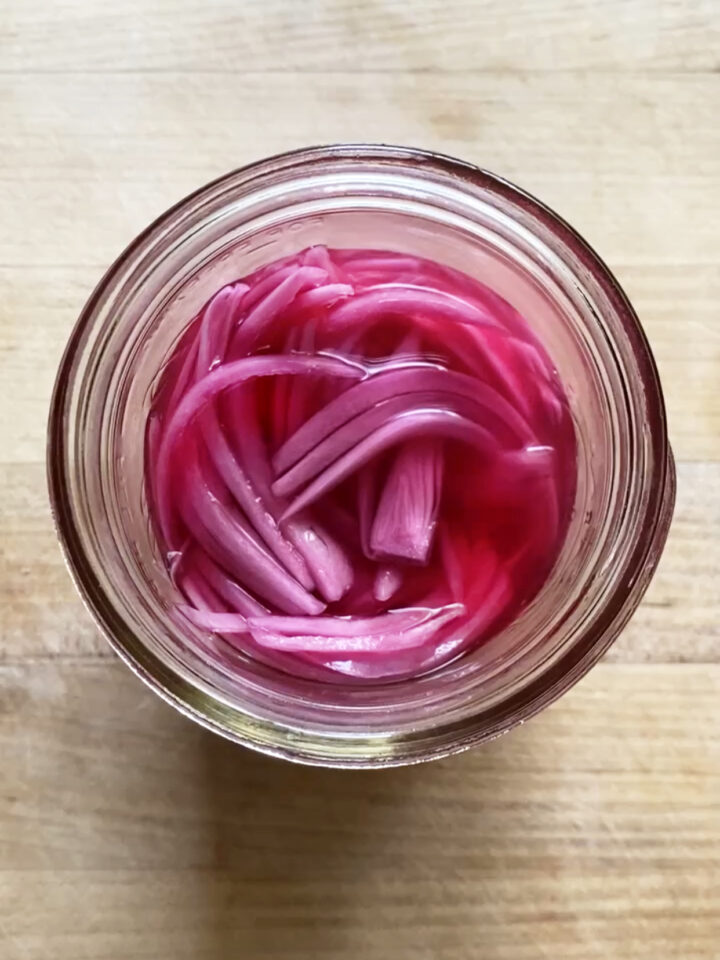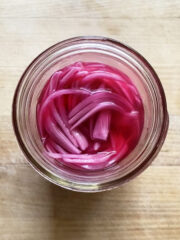 Print Recipe
Perfect Pickled Onions
Ingredients
1

red onion

cut length-wise, aka longitudinally, aka pole-to-pole, and sliced into ¼-inch wide strips
for the Vinegar Pickling Brine:
1

cup

water

piping hot (from the tap if you trust your tap water, or filtered/bottled water that's microwaved or boiled and slightly cooled)

½

cup

rice vinegar

use more vinegar if you prefer a stronger, tarter taste

0-3

tablespoons

sugar

depending on your tolerance for sweet

2

teaspoons

kosher salt
Instructions
Combine water, vinegar, sugar and salt in a mixing bowl and stir until sugar dissolves.

Pack sliced red onions into glass jars. Pour the warm brine over the red onions and allow to cool slightly with the lid off. Cover and refrigerate.

After 1 day, the Pickled Onions will be good. After two days, the Pickled Onions will be perfect. They'll keep for up to 2 weeks after that.