This Fall Harvest Salad with Apples and Walnuts features all the crisp and crunch of first-of-the-season apples and will take you from the first day of Fall, onto the Thanksgiving table, and all the way through the gray days of winter when you want something clean and refreshing.
Elegantly style this salad on a large platter and it's pretty enough for a Holiday or Thanksgiving dinner table. Chop the ingredients up, add some quinoa and toss with the dressing in a bowl and you can shovel the salad with a spoon standing over the sink in your kitchen by yourself five nights in a row.
Not that I've been doing that.
Not that I haven't, either, though.
Jump to: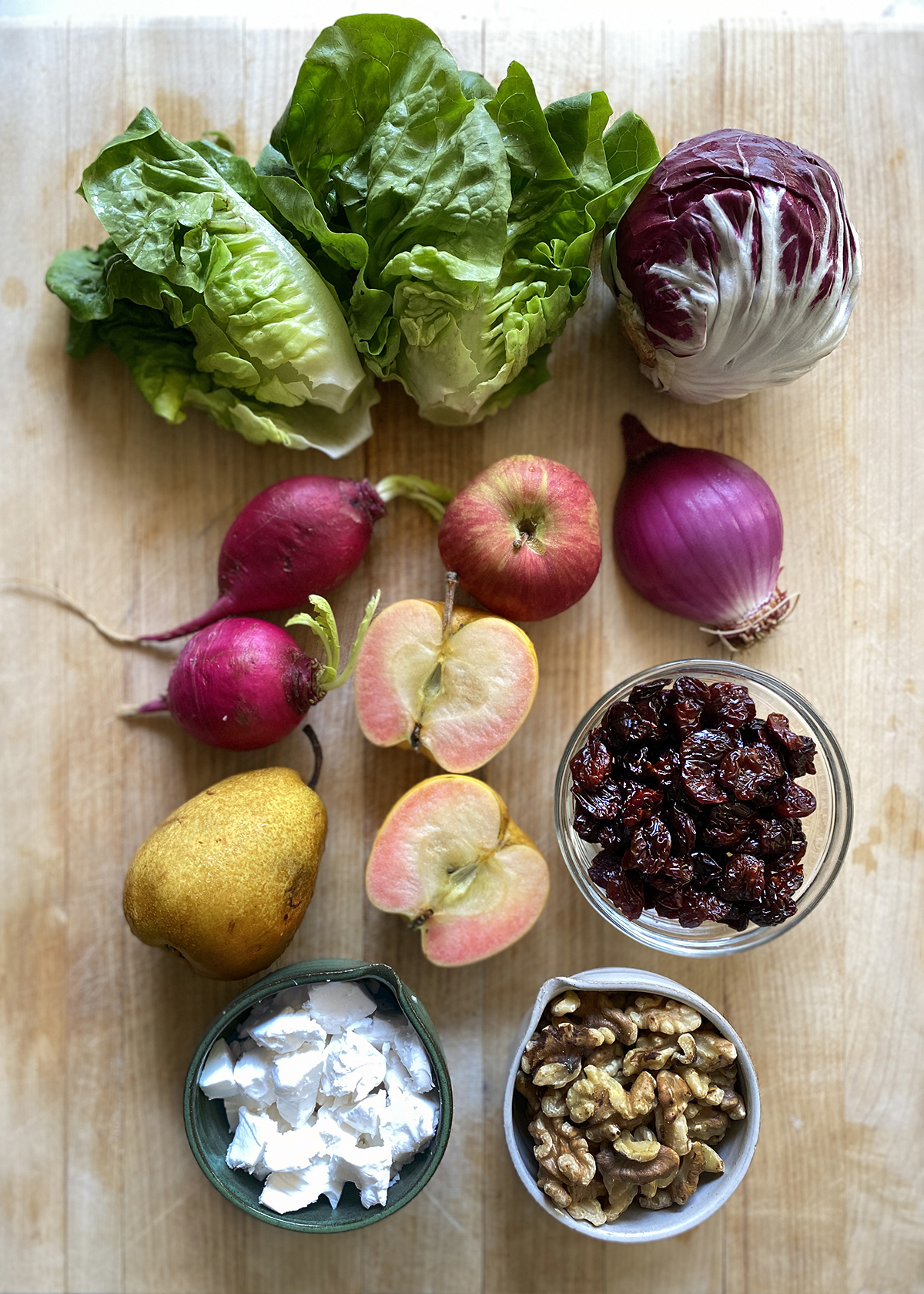 What You Need for Fall Harvest Salad with Apples and Walnuts
Little Gem lettuces
radicchio
apples, your favorite variety
radishes
red onions
walnuts
feta cheese
dried cherries
my Apple Cider Vinaigrette with my personal favorite ingredient ratios
The best part about this salad is the flexibility! Use the list above as a template and make substitutions as you and the seasons see fit.
Health Benefits and Dietary Considerations
This Fall Harvest Salad with Apples and Walnuts is:
vegetarian
vegan/100% plant-based adaptable, if you use plant-based feta (see Notes for plant-based feta recommendations!)
gluten-free
refined sugar-free
Apples support gut health with both soluble and insoluble fiber, as well as hydration. The walnuts provide omega-3s which are heart healthy and anti-inflammatory. Dried unsweetened tart cherries are a surprisingly good source of vitamin A and have been shown to reduce inflammation. The feta and dressing make you WANT TO EAT the salad, because all the nutrients in a salad are only good for you if you actually eat it.
Ingredient Resources and Substitutions
Little Gem Lettuces aka Sweet Gems, look like baby Romaine lettuces, but are their own different variety. I get mine from the local farmers' market. If Little Gems are not available to you, go with heavy Romaine heads, and use mostly the inner tender hearts.
Radicchio looks like a small purple cabbage, but radicchio is in the chicory family. If you have trouble finding radicchio, substitute with endive, which will be off in color, but has that bitter edge. Treviso is the closest substitute, but is generally less common than radicchio. Purple cabbage is not a good substitute except for the color.
Apples. I like Fuji apples which are sweeter and Honeycrisps which are tarter. Use whatever apple tastes good to you.
Radishes add an extra layer of crunch to the salad, and some heat as well. Round red radishes are available year-round, but if your market has different color radishes (watermelon, purple ninja, black) use those for added visual interest. You can substitute radishes out with the same kind of crunch like more apples, fennel, or even kohlrabi.
Red Onions should be sliced paper-thin length-wise, through the root end. Soak the onions in ice water for 10 minutes. This takes that onion-y sting out of them.
Walnuts. I buy organic California-grown walnuts. Fun fact: almost all walnuts grown in the US are grown in California's Central Valley!
Feta is Greek fresh-style cheese traditionally made from sheep's milk and one of my all-time favorite cheeses because it's salty and funky. I use this plant-based feta that has a coconut oil base (no nuts, no soy).
Dried Cherries. I buy unsweetened dried tart cherries in bulk. Substitute with unsweetened dried cranberries, which are available everywhere.
Apple Cider Vinaigrette is something you should start making weekly with this recipe.
Apples are available year-round in most grocery stores, but that doesn't necessarily mean they're actually in season in say, April. Those of us from "apple places" (Hi, I'm from Michigan!) know that apples are the absolute crispest, sweetest, tartest when they're plucked right from the trees, starting in September.
Tools and Equipment

You don't technically need any special equipment to make this Fall Harvest Salad. You can simply use a large knife and cutting board to chop all vegetables. However, that doesn't mean there are a couple of gadgets and tools that might make this salad even easier to throw together than it already is.
Salad spinner - this has saved my sanity because wet, soggy greens are the worst
Chef's knife - my daily workhorse knife
Cutting board - large and sturdy so you have enough surface area for all the fluffy greens, and doesn't move around on the countertop
Japanese-style mandoline - to make lightning fast work of slicing the firmer vegetables. When you start eating a LOT of vegetables, this will be a lifesaver.
For the Apple Cider Vinaigrette, these tools are also helpful
More Fall Salads You Must Try
If, by some absolutely bizarre chance you get sick of eating this Fall Harvest Salad with Apples, try one of these salads that also feature super seasonal fall shit. (But tbh I don't think you'll ever not want this salad.)
Variations and Modifications
Add cooked quinoa to give the salad a plant-based protein boost!
Add 2 cups shredded cooked chicken breast to make it a hearty main dish salad
Swap out the dried cherries, radishes, and feta for raisins, sliced celery, and blue cheese, and you have a lighter, brighter take on a Waldorf Salad!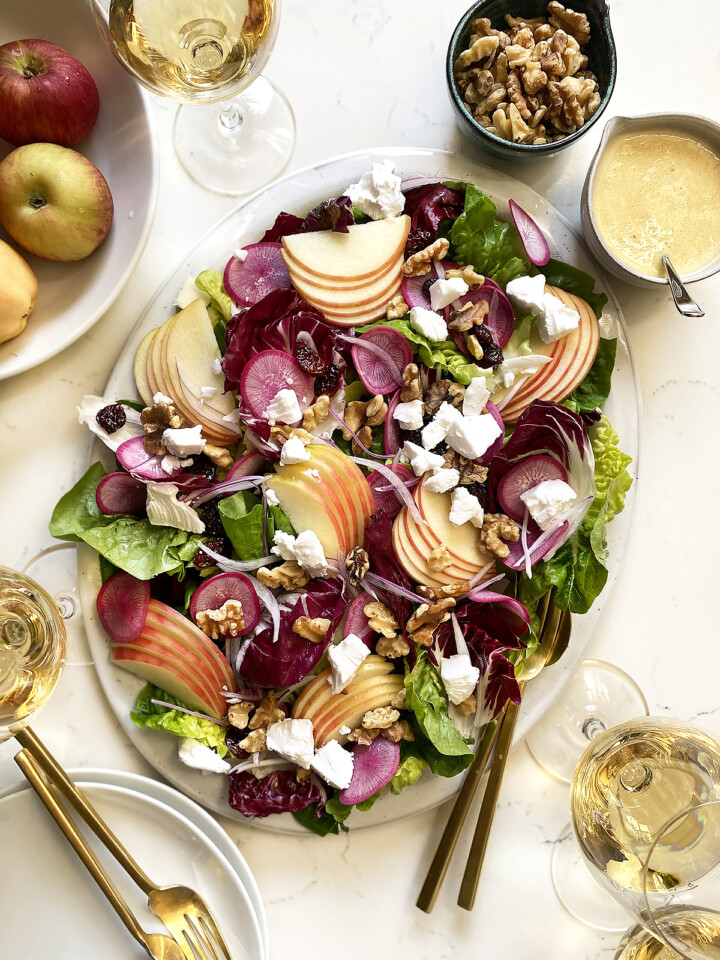 Print Recipe
Fall Harvest Salad with Apples and Walnuts
This is the perfect fall salad when you want to keep it fresh with refreshing greens, crisp apples, and crunchy toasted walnuts, all dressed with a tart Apple Cider Vinaigrette
Ingredients
4

heads

Little Gem lettuces or 1 head Romaine lettuce, leaves separated

1

head

radicchio, leaves separated

2

apples, cored, quartered length-wise, and sliced ¼-inch thick

1

bunch

radishes, sliced ¼-inch thick

½

red onion

sliced length-wise paper thin, and soaked in ice water for 10 minutes

1

cup

toasted walnut halves

4

ounces

feta, crumbled or diced

½

cup

dried tart cherries

1

cup

Apple Cider Vinaigrette

optional: fresh cracked black pepper
Instructions
For a Styled Salad
Place the Little Gem or Romaine lettuce leaves in a wide, shallow bowl. Interpserse radicchio among the Little Gems.

Scatter the remaining apples, radishes, red onions, toasted walnuts, feta, and dried cherries over the lettuces.

Drizzle the styled salad with ½ the Apple Cider Vinaigrette, and serve the rest of the vinaigrette in a small bowl on the side.
For a Chopped Salad
Finely chop Little Gem or Romaine lettuce, and the radicchio, Place the chopped lettuces in the bottom of a large salad bowl.

Arrange the remaining apples, radishes, red onions, toasted walnuts, feta, and dried cherries over the lettuces.

Drizzle the chopped salad with ½ the Apple Cider Vinaigrette, then toss until all of the ingredients are well combined and coated with the Vinaigrette. Serve the rest of the vinaigrette in a small bowl on the side.
Notes
Leftover salad ingredients, undressed, will keep in an air-tight container in the refrigerator for two days. Salad that has been dressed with Apple Cider Vinaigrette will not keep; it will get soggy.