We spent the last two weekends, and quite obviously, the week in between, in and around the San Francisco Bay area. We didn't intend to be away from home for that long, but after the first few days, we were enjoying the complete and utter newness of every meal, every restaurant, every neighborhood, everything, that we extended our stay up to the very last minute that the sitter could keep Daisy...
I didn't drink any more irresponsibly than I do at home (which would be impossible, actually), but I did eat so much more frequently and with so much more abandon that I tweeted about impending "detox" before we even hit the I-5 south back to Los Angeles. When I stepped on the bathroom scale the morning after we returned, I stepped right back off of it, flipped it over and adjusted the batteries because I thought it was broken. I held my breath as I stepped back on the scale.
It wasn't broken.
And I hadn't gained a single pound eating my ass on in San Francisco for nine straight days.
So I guess the five hours on the road back home mentally preparing myself for a month of punishing detox was unfounded.
Rather, the half of detox that is related to weight was unfounded. The other half, which is about nutrition, and the other half that is related to adding fractions after, oh, you know, 2½ bottles of wine, still needs to eat a bowl of raw, fresh, cider vinegar-based kaleslaw and drink ginger-spiked green juice for a few weeks.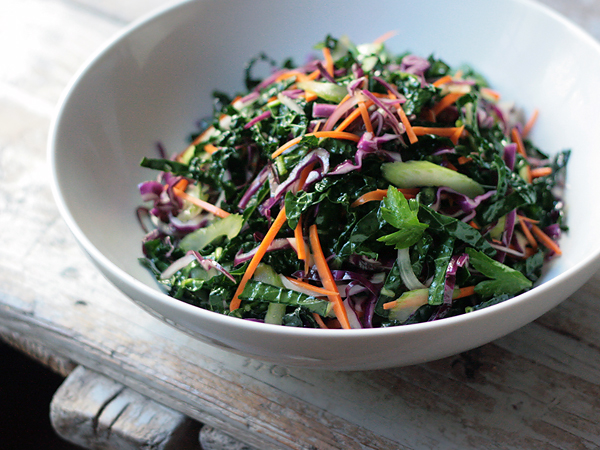 Print Recipe
Kale Slaw Recipe
A refreshing, crunchy mix of kale, cabbage and carrots tossed with a tart, mouth-watering apple cider vinaigrette
Ingredients
for Dressing
¼

cup

apple cider vinegar

¼

cup

olive oil

1

teaspoon

Dijon mustard

1

teaspoon

honey

¼

teaspoon

Kosher salt
For Kale Slaw
1

bunch lacinato dinosaur, black or any of the "flat leaf" kales, stems removed and leaves julienned

quarter head red cabbage

shredded

1

carrot

julienned

1

stalk celery

thinly sliced on bias, plus the leaves

½

small red onion

very thinly sliced

tight handful of parsley leaves

optional: fresh cracked black pepper
Instructions
Whisk together apple cider vinegar, olive oil, Dijon mustard, honey, and salt in the bottom of a large mixing bowl to make a "vinaigrette."

Toss vegetables into the large bowl over the dressing, and toss to coat. Taste and season with additional salt if needed, and pepper.

Kale slaw can be served immediately.
Notes
Leftover Kale Slaw will keep in the refrigerator, covered, for about a day, after which, it takes on the taste and texture of fresh sauerkraut.