For a salad with the highest crunch factor, you've got to make this Kale Slaw that's filled with your favorite kind of kale, plus a rainbow of super crisp and crunchy vegetables, and drizzled with a bright and tart vinaigrette! Shall we?
What is Kale Slaw?
Is Kale Slaw Healthy?
What Ingredients You Need for Kale Slaw
Kale
Red cabbage
Carrot
Celery
Red onion
Parsley leaves
For the bright, tart Apple Cider Vinaigrette, you will need:
Apple cider vinegar, ¼ cup
Olive oil
1Dijon mustard
Honey
Salt
See recipe card for quantities.
Instructions for How to Make Kale Slaw
Use this section for process shots, alternating between the step and image showing the step. Users don't like seeing process shots cluttering up the recipe card, so include your process shots here.
Combine all spices into a large bowl and mix thoroughly into lean ground beef
Form into ball shape with your hands
Press into patties on the tray
Place into oven at 350 fahrenheit
Pro-tip: Prep double or triple the amount of the ingredients for the Kale Slaw and the dressing at the beginning of the week, store them separately, and use them throughout the week as Meal Prep, or what we call around here, "Refrigerator Salad Bar."
Best Kind of Kale for Salad
Additional Ingredients Notes and Resources

Red Cabbage You can use any form of garlic for Puttanesca: chopped, simply smashed (might need slightly longer cooking time), but I like slicing garlic cloves super thin so they "melt" with the anchovies into the tomatoes. If you use a razor and know that reference, well, we should have dinner some time.
Red Onion.
Parsley Leaves.
Apple cider vinegar, ¼ cup
Olive Oil. I used this olive oil that's pretty widely available, though it is not organic.
Dijon mustard
Honey
Salt
All other fresh herbs and produce from either the Santa Monica Farmers' Market on Wednesday, or Whole Foods Market when I can't find what I need at the farmers' market.
Substitutions
If you know how to make the recipe fit a certain diet, let the reader know here. Don't fake it - only provide guidance on topics you have actual experience with.
Lettuce - instead of ice berg lettuce, you can use romaine lettuce or spinach
Bun - use gluten free buns instead of white bread buns to make this gluten free
Vegetarian - the beef hamburger can be replaced with a plant-based burger to make this vegetarian
Even if your reader doesn't follow a specific diet (eg. gluten free), they may have friends or family that they're cooking for that could use this. This is also a great idea to link out to another blogger with a similar recipe that fits a different diet.
Variations
Tools and Equipment
As I always say, you don't need any special equipment to make almost any recipe. However, that's not to say there are a couple of gadgets and tools that might make it a LOT easier to get Bibimbap Sauce from your pantry to plate—.
** Pro-tip: Save your sriracha hot sauce bottles after you're done! When you make Bibimbap Sauce, pour it into an empty, clean sriracha bottle and you can squeeze the sauce directly over your bibimbap bowls just like they do at OG Korean restaurants!
One thing to note though is that you may not be able to use a sriracha squeeze bottle if you add the optional garlic to the Bibimbap Sauce recipe because the garlic will get stuck in the squeeze-top!
Advance Prep, Leftovers, and Storage
Store the wet ingredients (lettuce, tomato, onion) separately from the dry ingredients (buns) in the fridge, and recombine when ready. Good for 2-3 days.
These ingredients do/don't stand up well to freezing for X days/weeks/months.
What Else to Serve with
A generous piece of omega-3-rich salmon in antioxidant-rich tomato sauce can be an entire meal! But if you like to have something either green or starchy as well, here are some great suggestions to pair with:
Caesar-ish tri-colore salad with an Anchovy Vinaigrette, staying right in the ocean theme
LOVE a roasted broccoli, or steamed if you want to keep all your cooking on the stovetop
boil some pasta and toss it right into the Puttanesca sauce, of course
garlic bread, or even just a darkly toasted slice of bread to dip in the salty, tangy, umami-y Puttanesca sauce
Pairing
These are my favorite dishes to serve with [this recipe]:
Wine Pairing for
You have a couple of directions you can follow for wine pairing with Salmon Puttanesca. Either take the lead of the salmon, or follow the briny, umami-rich flavors of the puttanesca sauce.
Fish almost always calls for a high-acid white wine, but salmon is rich so it can handle a light- to medium-bodied red. My favorite Italian red grape, Sangiovese, which is used in familiar Chianti and Rosso di Montalcino, is a great example of a medium-bodied red wine that works well with food. And certain, lighter, fruitier wines made from sangiovese are perfect with spicy saucy tomato-based dishes like a Puttanesca. I love this Rosso di Montalcino, shockingly affordable.
For something a little more fun, this wine is made from California-grown sangiovese, and fermented as whole clusters in a process called carbonic maceration so the wine has a slight natural fizz.
For more tips on pairing wine with food, check out this post about wines from Paso Robles, California, and this post about wines from Santa Barbara, California.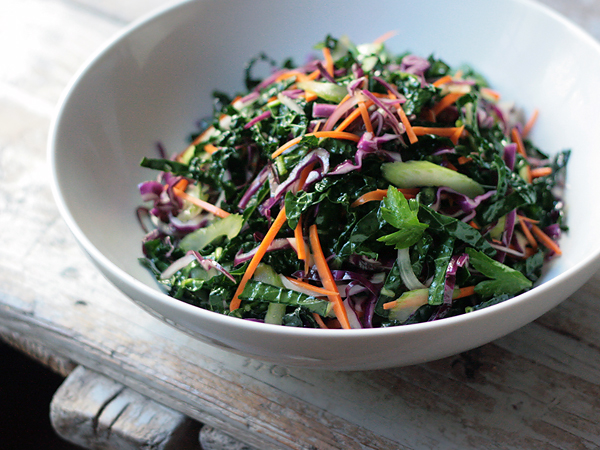 Print Recipe
Kale Slaw Recipe
A refreshing, crunchy mix of kale, cabbage and carrots tossed with a tart, mouth-watering apple cider vinaigrette
Ingredients
for Dressing
¼

cup

apple cider vinegar

¼

cup

olive oil

1

teaspoon

Dijon mustard

1

teaspoon

honey

¼

teaspoon

Kosher salt
For Kale Slaw
1

bunch lacinato dinosaur, black or any of the "flat leaf" kales, stems removed and leaves julienned

quarter head red cabbage

shredded

1

carrot

julienned

1

stalk celery

thinly sliced on bias, plus the leaves

½

small red onion

very thinly sliced

tight handful of parsley leaves

optional: fresh cracked black pepper
Instructions
Whisk together apple cider vinegar, olive oil, Dijon mustard, honey, and salt in the bottom of a large mixing bowl to make a "vinaigrette."

Toss vegetables into the large bowl over the dressing, and toss to coat. Taste and season with additional salt if needed, and pepper.

Kale slaw can be served immediately.
Notes
Leftover Kale Slaw will keep in the refrigerator, covered, for about a day, after which, it takes on the taste and texture of fresh sauerkraut.
Afterthoughts
We spent the last two weekends, and quite obviously, the week in between, in and around the San Francisco Bay area. We didn't intend to be away from home for that long, but after the first few days, we were enjoying the complete and utter newness of every meal, every restaurant, every neighborhood, everything, that we extended our stay up to the very last minute that the sitter could keep Daisy...
I didn't drink any more irresponsibly than I do at home (which would be impossible, actually), but I did eat so much more frequently and with so much more abandon that I tweeted about impending "detox" before we even hit the I-5 south back to Los Angeles. When I stepped on the bathroom scale the morning after we returned, I stepped right back off of it, flipped it over and adjusted the batteries because I thought it was broken. I held my breath as I stepped back on the scale.
It wasn't broken.
And I hadn't gained a single pound eating my ass on in San Francisco for nine straight days.
So I guess the five hours on the road back home mentally preparing myself for a month of punishing detox was unfounded.
Rather, the half of detox that is related to weight was unfounded. The other half, which is about nutrition, and the other half that is related to adding fractions after, oh, you know, 2½ bottles of wine, still needs to eat a bowl of raw, fresh, cider vinegar-based kaleslaw and drink ginger-spiked green juice for a few weeks.