It's officially Wine and Cheese season! And to help you eat and drink your way through it, I'm sharing the best wine and cheese pairings, from classic pairings to the unexpected!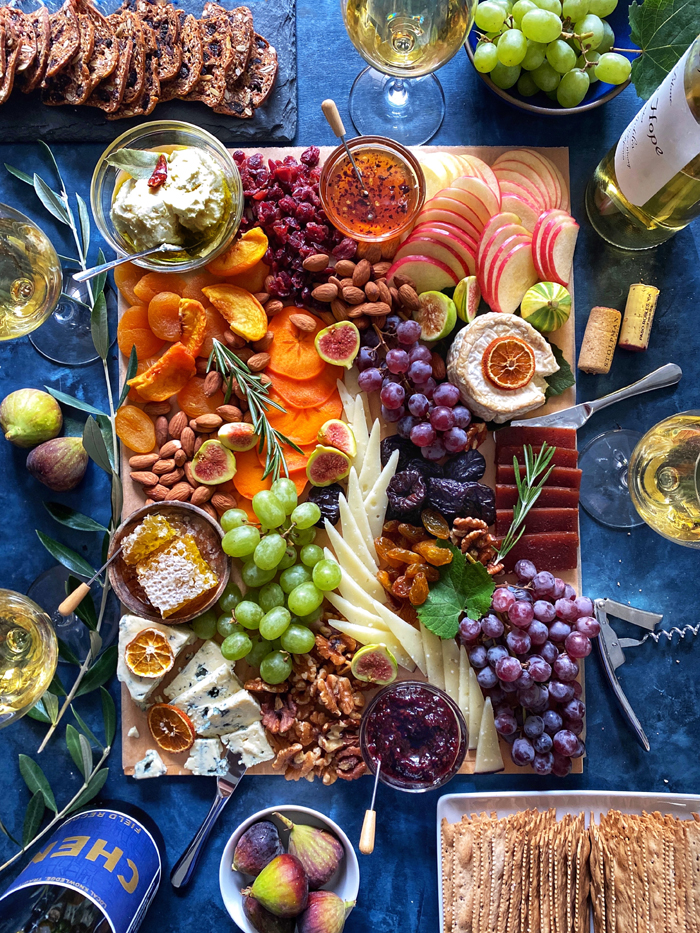 It's Wine and Cheese Season
We'll start with some basic guidelines for How to Pair Wine and Cheese, go through some classic pairings, then share specific pairing examples using the wines and cheeses I tasted and picked up on my exploration of the Central Coast with California Wines during California Wine Month.
I know what you're saying. "Every season is Wine and Cheese..." I know. Just like "every month is California Wine Month!" which if you've spent even 12 seconds around here, you know is absolutely true.
Ok, so hear me out.
In This Guide
Use this Table of Contents to skip ahead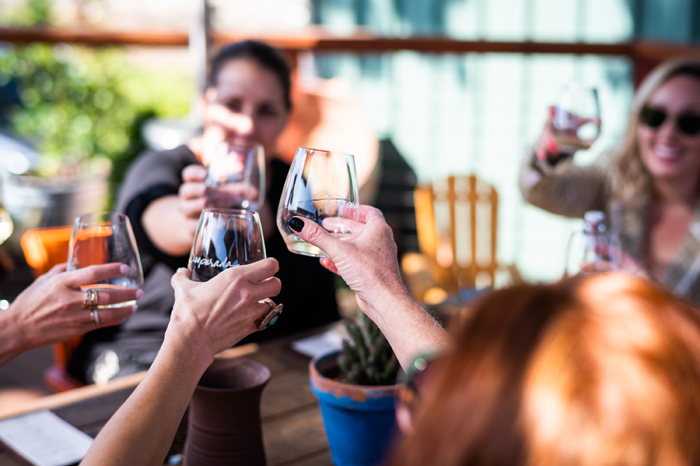 Just like September is officially California Wine Month, Fall, when we have back-to-back-to-back gatherings with friends and family for any and every reason, is officially-ish Wine and Cheese season. Whether we're back to school and work with friends, tailgating on the weekends, celebrating holidays, or as we've come to appreciate in the last two years, just being physically present with other people, a bottle or two or three of wine with a cheese board is the fastest, easiest, and cleanest way to setup, feed people, and keep conversation (and people!) buzzing.
Keep reading for some Basic Guidelines for How to Pair Wine and Cheese, because you can't just pop just any old bottle of wine and throw a couple random chunks of cheese on a plate.
Or can you???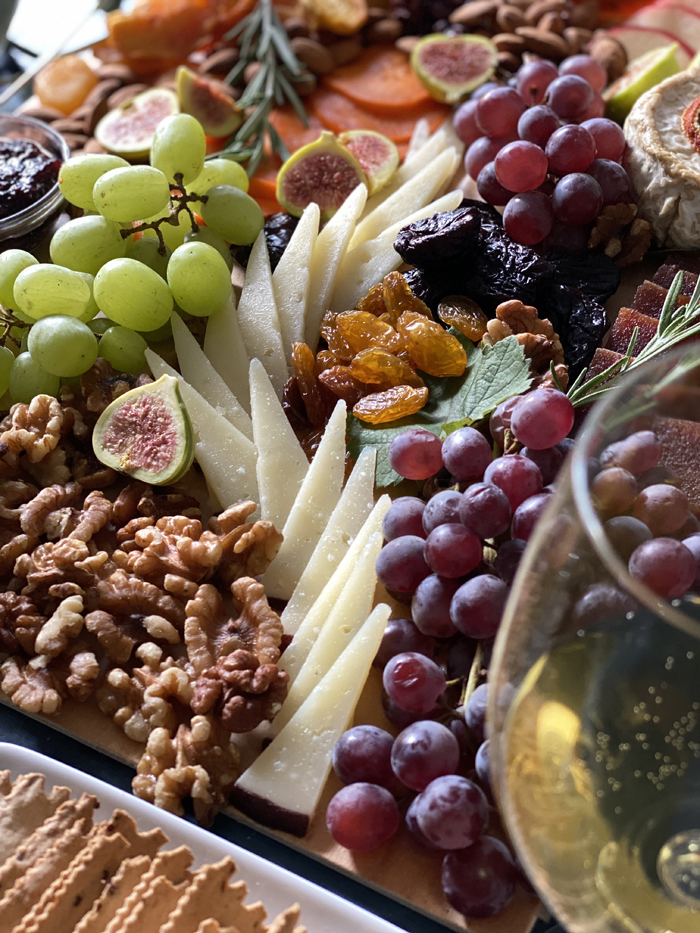 ** If you're planning a trip to Paso Robles, The Delicious Life Paso Robles Winery Guide has a list of wineries, as well as recommended restaurants, places to stay, and other things to do besides wine tasting (as if there were anything else). If you have dogs, you should bring them; I found the best pet nanny in Paso! If you're just here for the best Paso wine and cheese pairings, read on...
How to Pair Wine and Cheese, Basic Guidelines
Wine and cheese pairings are not as formulaic as grouping all cheeses into a few broad categories then pairing one variety of wine to each category. There are many variables to take into consideration on both sides of the equation. Within categories of cheese, there are factors like type of milk, region because yes cheese can express terroir like wine!, added cultures, aging process, length of aging, and more that affect the cheeses' flavors, fragrances, and textures.
The same is true for wines. There are hundreds of types of grapes (varietals), and wines can vary across an enormously broad spectrum of alcohol content, dryness vs. sweetness, aromas, tannins and so much more.
Does it seem like a lot to consider? It is! But before we address all those factors, you can get away with just some general guidelines you can apply to most wine and cheese pairing situations without having to get into all the nuances.
Choose a star, either wine or cheese
Sparkling wine and light, acidic whites pair with almost everything
Very oaked, low-acid, and highly tannic wines are harder to pair
Match intensity, balance flavors
What grows together, goes together
Wine and Cheese Pairing Guideline #1: Choose a Star, Either Wine or Cheese
Choose the star of the show, either the cheese or the wine, and let the other be the supporting cast. As we know in other types of situations, having two or more elements competing for attention can end up in a dramatic clash, and this definitely applies to cheese vs wine. If you and your crowd are more cheese/food people, then choose interesting cheeses first, and pick subtle whites or one white and one light-bodied red wine that won't steal the spotlight from the cheese. If your guests are more interested in the wines, build a cheeseboard around a few mild- to medium-flavored cheeses that won't overpower any of the wines. Save very strong washed-rind and blue cheeses for another time when you know you will be serving a very specific wine made for those cheeses.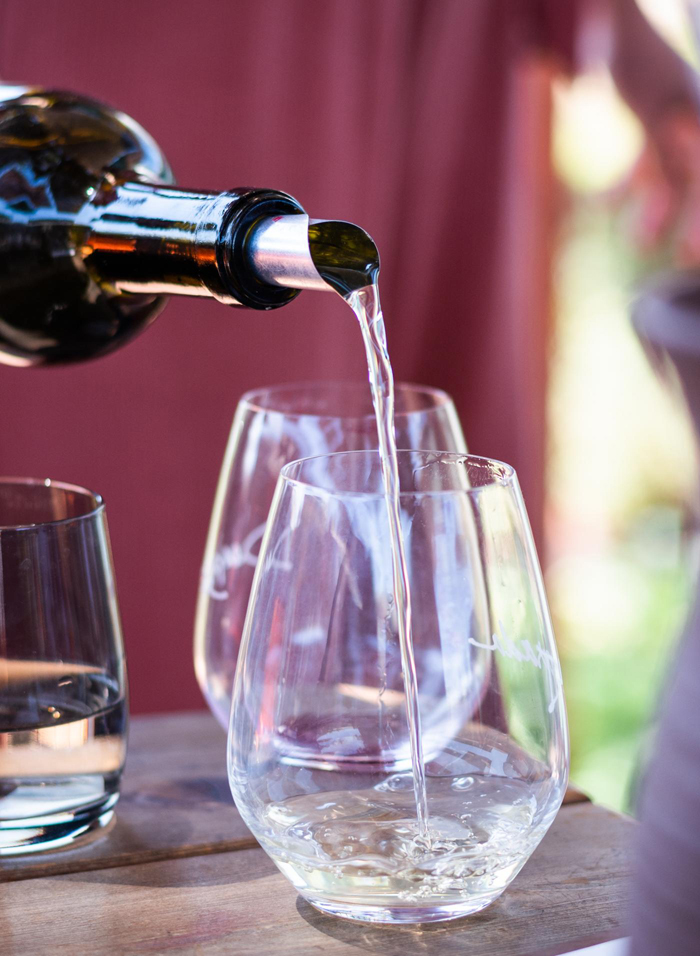 Wine and Cheese Pairing Guideline #2: Sparkling Wine and Light, Acidic Whites Pair with Almost Everything
Sparkling wine, sauvignon blanc, light-bodied unoaked chardonnay, or other light bright wine is always a good go-to choice for any cheese. Though you wouldn't immediately think of cheese as "acidic" because it's usually rich and creamy, cheese does in fact have an intrinsic acidity derived from the milk and the fermentation process. What you're looking for in the wine is some degree of acidity to cut through the richness of the cheese, as well as match the acidity. So based on the two previous guidelines, if you are building a big, beautiful cheeseboard and will be serving only one type of wine, go with a white wine. My default, never fail California option thus far has been California sauvignon blanc that leans more toward France in style rather than New Zealand.
Wine and Cheese Pairing Guideline #3: Very Oaked, Low-Acid, and Highly Tannic Wines are Harder to Pair
Oak, low-acid, and high tannins describe a lot of red wines that we like to drink in the right food situations like cabernet sauvignon, syrah, and zinfandel, so choose reds with a little more care. The buttery, fatty, richness of cheese really brings out tannins making wines taste even more tannic in a not-so-pleasant way. So a big, powerful Cab might be a better choice for a different night, or maybe with cheese board that features a lot of cured meats and other charcuterie as well. That being said, if a big powerful wine is the star of the table, a more subdued cheese board with mellow cheeses and crackers might be the best way to let the wine have its moment.
Wine and Cheese Pairing Guideline #4: Think of How You Balance Flavors in Food to Help Guide Choices
It helps to think about what else you would want to eat with the cheese to help guide you toward the best wine to pair with the cheese. For example, blue cheese is always perfectly offset with a rich, intense honey, and likewise, pairs well with a rich, sweet dessert wine like port or a late harvest semillon. Match intensity, balance flavors.
Wine and Cheese Pairing Guideline #5: What Grows Together Goes Together
"What grows together goes together" is a classic adage that highlights the idea that literally, wine and cheese (or other foods) grown and made in the same place will express similar qualities of the soil, sun, and culture of the locale. Given they fall within basic guidelines above, the wine and cheese will perfectly match each other when it comes to nuances in flavor.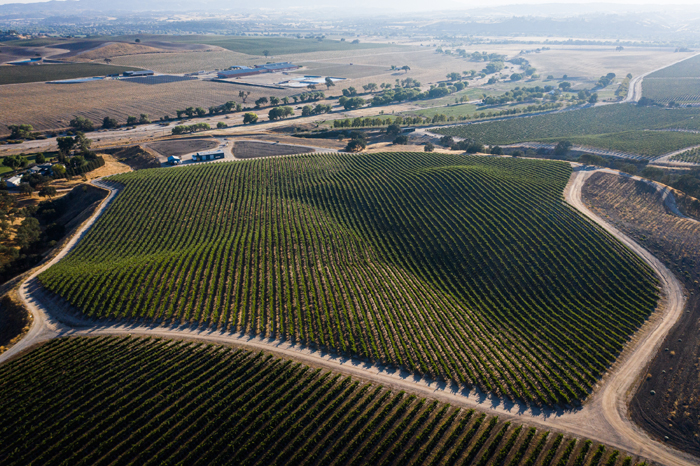 What Grows Together in Paso Robles, Goes Together
Home to one of the largest wine-producing AVAs in California as well as local farms, ranches, dairies, artisan food producers, and of course gourmet cheesemakers, Paso Robles is the perfect place to showcase just how true "what grows together goes together" is. Paso Robles was one of the stops on my exploration of the Central Coast with California Wines to celebrate California Wine Month. Favorite wines from our tastings are what I'm using as guide posts for the Best Wine and Cheese Pairings.
Where and What Exactly is Paso Robles?
Paso Robles itself is a town located about halfway between Los Angeles and San Francisco, sitting comfortably at the intersection of the US-101 and I-46, just over the hills 25 miles from the Pacific Ocean. Paso Robles wine country, is the warm, variegated region within the larger Central Coast AVA (American Viticultural Area). It comprises all the vineyards and wineries of 11 sub-AVAs in the surrounding area. Paso, as we in the know like to call it, is a must-stop off a Highway 1 road trip along the coast, and definitely worthy of being the final destination in its own right.
** If you're driving to Paso Robles from Los Angeles, stop in Santa Barbara, which is on the way if you're taking the coastal route. Santa Barbara was just named Wine Enthusiast's Wine Region of the Year for 2022 and has some amazing wine tasting experiences! Use my Santa Barbara Wineries Tasting Guide here.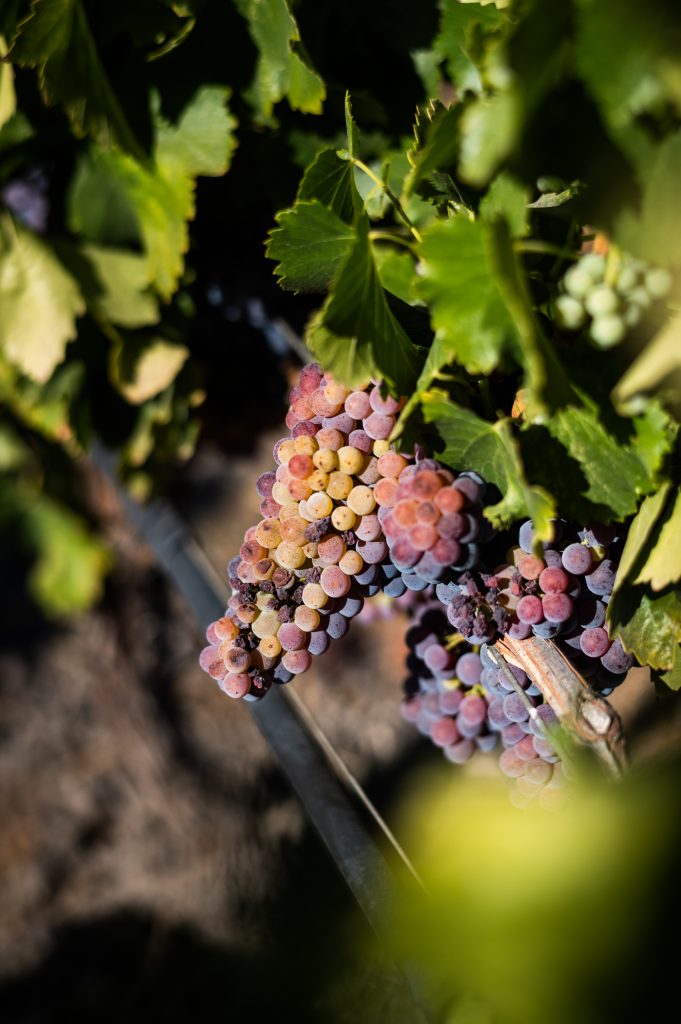 Paso Robles Wine Types
Paso Robles is well-known for growing red wine grapes that have origins in France's Rhône Valley like grenache, syrah, and mourvèdre. In France, these red blends are known by their regions like Châteauneuf-du-Pape, Côte-Rôtie, and Hermitage; in California, Paso winemakers have dubbed these "GSM," the acronym for Grenache, Syrah, Mourvèdre. It is no wonder I have a special kinship with the wines of Paso; even though Rhône Valley and Paso wines taste very different, my life-changing wine many years ago was a Côte-Rôtie!
However, Paso's wine identity is more complex than a single style. Encompassing the largest geographical AVA in California, Paso makes a variety of other wines that reflect the wide range in elevation, soil type, and climate. Cabernet sauvignon and other Bordeaux varieties, pinot noir, zinfandel, chardonnay, and Italian varietals are just some of the other grapes that grow in Paso Robles.
Best Wineries in Paso Robles
There are almost 300 wineries in Paso Robles that make wine from over 40 different varietals, so there's no single defining style for all Paso Robles wine. During this visit with California Wines, I tasted wines from six Paso Robles wineries — one very well-known, most under the radar, some easy to buy in a local wine store, some totally obscure — all of them unique and interesting. From these wineries, I picked the specific bottles for the Wine and Cheese Pairing Guide.
** These are the highlights about the wines; check out this post for a detailed Guide to tastings and planning a trip to Paso **
DESPARADA WINES, TIN CITY, PASO ROBLES
"Desparada" is the female form of the word "desperado" and Vailia From is the embodiment of a free-spirited, bold outlaw on the Paso Robles wine frontier as the proprietor and winemaker of Desparada Wines. The wines are mostly Bordeaux and Italian-based, but all free from traditions and stylistic constraints. Vailia sources grapes from around the Central Coast as well as from her own vineyard and ages wines in a variety of barrels and terra cotta amphora.
Vailia describes her Desparada 2019 Shell Creek Chenin Blanc as "barely bloomed jasmine, kayaking at sunrise, alpaca knit sweater, sandy boat deck, open walkways." You can see why this wine was a favorite from the tasting, and one of my picks for the Wine and Cheese Pairing below.
We walked just across a small foot-bridge from Desparada to taste at Sans Liege Wines. Both wineries are located in Tin City, an industrial warehouse "park" just outside downtown Paso Robles that is home to over 30 small-production wineries, craft breweries, distilleries, artisan food makers, and the newly Michelin-starred restaurant Six Test Kitchen.
It was so cool to be tasting through elegant, sophisticated wines in a tasting room, and also seeing forklifts with huge half-ton containers of grapes just trundle right by. It really captures the spirit of Paso Robles.
SANS LIEGE WINES at TIN CITY, PASO ROBLES
Winemaker Curt Schalchlin focuses on Rhône varietals like grenache, syrah, and mourvèdre for his wine label Sans Liege and interesting, lesser known grapes in single varietal expressions for his label Groundwork. "Sans liege" translates to English in a number of ways, one of which is "without allegiance." It is a fitting description of how Curt approaches winemaking: informed by the traditions of wine from the Rhône Valley, but untethered to any single style.
He is serious about expressing the true essence of a wine by going as far as capturing native yeasts in the vineyards for fermentation rather than relying on commercial yeasts for a wine like Sans Liege The Offering, but also has fun with force carbonation to create a playful fizz in the refreshing Groundwork Muscat Frizzante.
Curt's Groundwork 2020 Counoise, which starts native fermentation in the vineyard then finishes with 100% carbonic maceration (whole grapes, rather than crushed) is one of my picks for the Best Paso Robles Wine and Cheese Pairing below.
Sans Liege Wines, Tin City, Paso Robles
2995 Limestone Way, Paso Robles, CA 93446
Sans Liege has a second tasting room in Pismo Beach
www.sansliege.com | @SansLiege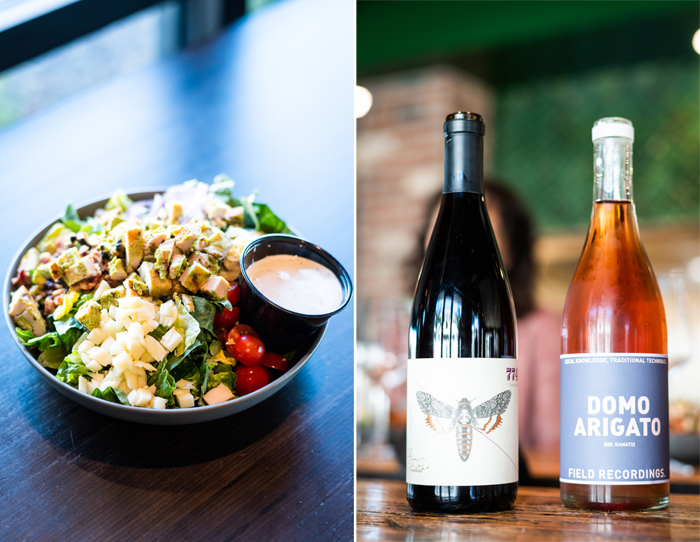 The Fableist, Tin City Paso Robles
As a true testament of spirit of collaboration in Paso Robles, The Fableist wines are a partnership between Sans Liege's Curt Schalchlin and Andrew Jones, a grapevine nurseryman who plants and tends vineyards for farmers all over California and has touched the soil in almost every vineyard in not just Paso Robles, but all over the broader Central Coast. Like Aesop's Fables, on which the wines are based, each bottle is meant to tell a story.
The Fableist 2020 Pinot Noir we tried was highly drinkable and is one of my picks for the Best Wine and Cheese Pairing below.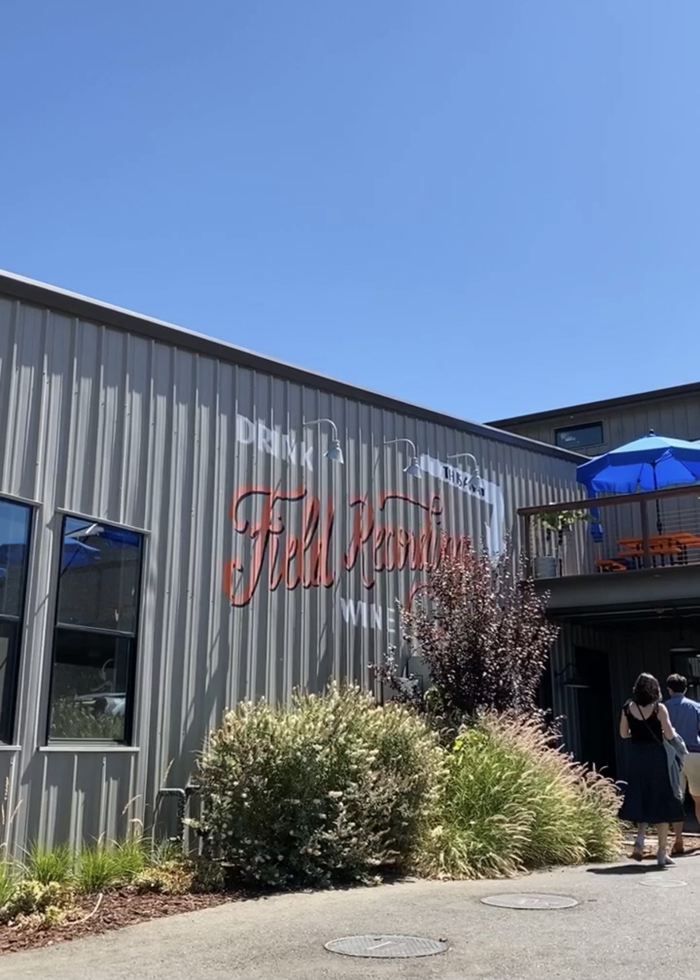 FIELD RECORDINGS WINE at TIN CITY, PASO ROBLES
Of course, Andrew Jones makes his own wine! Under the label Field Recordings, Andrew produces small quantities of very unique wine from small lots of the best fruit from farmers whose vineyards he's planted. I knew about Field Recordings before I went to Paso Robles, having tried the sparkling Pét Nat, Chenin, and Fiction Red.
Field Recordings' Domo Arigato is ramato style orange-slash-rosé wine (Mr. Ramato, get it?). Ramato is an Italian winemaking technique of allowing white pinot gris grapes to remain in contact with pinkish gray skins, similar to the way rose wine is made by letting red grapes sit with their dark red skins to create the pink color. Ramato's color is somewhere between orange and pink Domo Arigato is one of my picks for the Wine and Cheese Pairing.
J. LOHR WINES
Way back when I started my website -- get ready for this -- almost 15 years ago, J. Lohr Riverstone Chardonnay was one of the first wines I reviewed. I took an embarrassingly dark, blurry photo of the bottle's label, and with my totally new and novice palate at the time, literally noted "citrus" in my post and that was about it . There were some other choice words that did not refer to the J. Lohr, but I shan't repeat here.
Fast forward 15 years to my Paso Robles trip when I had the unbelievable privilege of having dinner with none other than a second generation Lohr, Steve Lohr! He, along with J. Lohr Head Winemaker, also named Steve (Peck), tasted us through a few standouts from their impressive portfolio of award-winning wines:
2020 J. Lohr Gean Vineyard Grenache Rosé
J. Lohr Arroyo Vista Chardonnay
J. Lohr Cabernet Sauvignon
J. Lohr Pure Paso Red Blend of cabernet sauvignon, petite sirah, syrah and malbec
the wine I picked for the Wine and Cheese pairing, J. Lohr Hilltop Cabernet Sauvignon
J. Lohr Wines
6169 Airport Road, Paso Robles, CA
(the Paso Robles Tasting Center is temporarily closed for renovations, to re-open at the end of the year)
(805) 239-8900
www.jlohr.com | @JLohrWines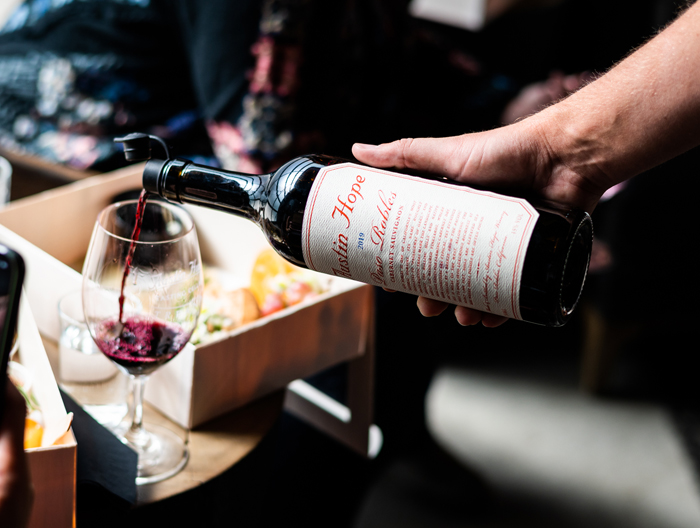 AUSTIN HOPE WINES, part of Hope Family Wines
Austin Hope is one of the labels within the larger portfolio of Hope Family Wines, named for the winemaker himself. The Austin Hope wines are primarily Rhône varietals—grenache, syrah, mourvèdre—and includes critically-acclaimed cabernet sauvignons. Samantha Taylor, assistant winemaker to Austin Hope, led the tasting, which included a cheese pairing from local Stepladder Ranch and Creamery in the neighboring town of Cambria. If wine and cheese are a perfect pairing, then a winemaker and a cheesemaker are even more so! Samantha's husband Robin Proffitt is the cheesemaker at Stepladder! awwwww...
On the wine side, we tasted:
Austin Hope Sauvignon Blanc
Austin Hope Grenache
Austin Hope Mourvedre
Austin Hope Cabernet Sauvignon, the 2018 was ranked number 7 in the Top 100 Wines by Wine Enthusiast
Austin Hope Reserve Cabernet Sauvignon,2017 earned a 96 point rating)
The Stepladder Creamery cheeses included Marinated Fromage Blanc, Cabrillo, Paso Vino, Moonstone, and Ragged Point.
I think it's pretty clear now where the inspiration for a Paso Robles-focused Wine and Cheese Pairing Guide came from.
Wine and Cheese Pairing Cheat Sheat
We're finally going to go through How to Pair Wine and Cheese with seven different categories of cheeses. The wines are from Paso Robles and are paired with cheeses from neighboring Stepladder Creamery, as well as a few cheeses from other producers in California that work well with the wines.
Putting seven cheese on one cheese board would have been a little too ambitious, so they are shown across two boards. All of the Stepladder Creamery are on the cheese board in the first photo, and additional cheeses on the cheese board pictured here! But hey, if you want to go h.a.m. and put all seven cheeses on one epic board, please invite me over.
TL;DR here first. Full frontal follows. Click any of the cheese categories in this short list to jump to the details!
1. What Wine Pairs Best with Fresh Cheeses
Fresh Cheeses are any of the cheeses like goat chèvre, fromage blanc, and ricotta, which are made with little to no pressing/shaping nor aging. They are generally eaten within a few days. Fresh cheeses are soft and spreadable, and are often stored in containers with lids, as opposed to wrapped in plastic or paper. Cheeses that hold their own shape like burrata, mozzaralla, and feta are considered fresh cheeses as well. Because fresh cheeses are not aged, they are mild in flavor, though not necessarily in saltiness. Feta, one of my all-time favorite cheeses for just about anything, is an example of a fresh cheese that can be salty.
Though the type of milk (cow's, goat's, sheep's, or any combination) and where the cheese is from/made will affect the flavor and specific pairing, in general, fresh cheeses fall into the "pair similar with similar" guideline. Pair mild, fresh cheeses with light-bodied, bright, crisp, fresh wines like sparkling wines, rosé, sauvignon blanc, chenin blanc, and other white wines with summer, tropical, melon, and citrus fruit flavors. Goat cheese and sauvignon blanc is an unshakeable classic pairing.
Paso Robles Wine Pairing: Desparada Wines 2019 Shell Creek Chenin Blanc
Central Coast Cheese Pairing: Stepladder Creamery Fromage Blanc or their goat chèvre
Marinated Fromage Blanc from Stepladder Creamery floats in locally sourced Central Coast olive oil with black peppercorns, a bay leaf, and a chili pepper, giving a normally "blank slate" cheese a little extra color. Desparada Shell Creek Chenin Blanc is a crisp, bright white wine with good acidity to cut through the soft, creamy texture of the fromage blanc. Aromas of green fruit and faint floral notes complement the fromage blanc, especially when tart apple and honey are added to the bite of cheese.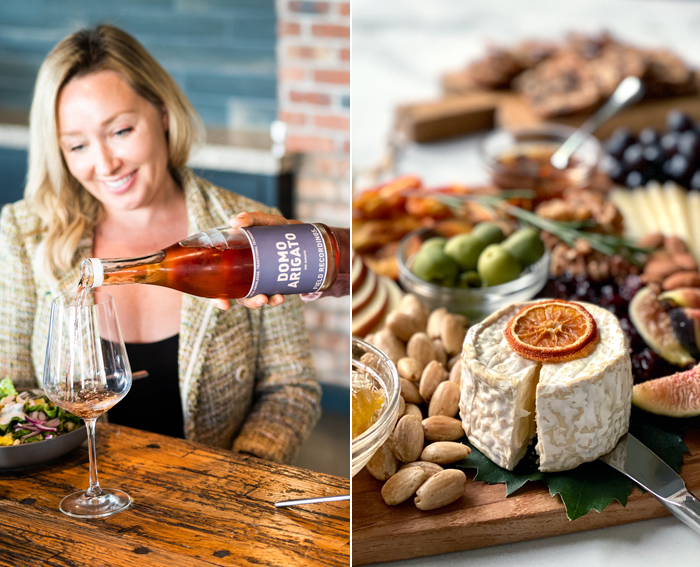 What Wine Pairs Best with Soft, Bloomy Rind Cheeses
Bloomy Rind Cheeses include all of the cheeses that look like Brie and Camembert, which are usually round, and contained within a fluffy white edible rind. The cheese holds its shape when whole with its rind, but without its rind, can be soft and spreadable on bread or crackers. They are described as buttery, creamy, rich, and mild in flavor, unless they are aged for lengthy periods of time. One of the all-around favorite bloomy-rind cheeses from California is Cowgirl Creamery's Mt. Tam, which has an earthy, almost faint mushroom fragrance.
Wine Pairing for Bloomy-Rind Cheeses is similar to the guidance for fresh cheeses. Light bodied, whites are a good place to start, but as some cheeses in this category age for longer they become more pungent, so acidic, fruit-leaning Chardonnays, marsanne, rousanne, and vioginier become interesting. Some bloomy-rind cheeses can stand up to light-bodied reds like Pinot Noir and Gamay. Sparkling wine is my personal favorite pairing with this category of cheeses.
Paso Robles Wine Pairing: Field Recordings Domo Arigato (Mr. Ramato)
Central Coast Cheese Pairing: Stepladder Creamery 'Ragged Point'
Field Recordings Domo Arigato (Mr. Ramato) is so named for the Italian "ramato" technique in which pinot gris grapes are macerated with their pinkish-gray skins, resulting in a color somewhere between a rosé and an orange wine that professionals call a "copper" colored wine, but I call "rose gold."
Winemaker Andrew Jones sources pinot gris grapes from vineyards in Paso Robles, Santa Barbara, and the Edna Valley, all on the Central Coast of California. The wine is bright and a little funky with fresh pear, apricot preserves, and a hint of white pepper. It's that hint of white pepper int he wine that picks up the subtle peppery characteristic in Stepladder Creamery's Ragged Point, which an award-winning small format bloomy rind triple crème cow's milk cheese named for the gateway to Big Sur just North of the Stepladder Creamery farmstead in Cambria on the Central Coast of California. The cheese is semi-soft and has a thin cream line just beneath the rind.
What Wine Pairs Best with Semi-Firm Cheeses
Semi-firm cheeses are made with any milk, and aged to the point that texturally they are firm enough to cut into slices that are pliable and hold their shape rather than crumble or break apart into shards. Examples of cheeses in the semi-firm category are Havarti, young Gouda, mild (young) Cheddar, and Monterey Jack, all of which we know as good "melting" cheeses as well.
Wine Pairing for Semi-Firm Cheese: These cheeses have a firmer texture and can have stronger flavors. They need sparkling wine, medium-bodied whites like higher acid chardonnay, and lighter-bodied fruity reds like gamay and pinot noir.
Paso Robles Wine Pairing: Sans Liege 2020 Counoise
California Cheese Pairing: Stuyt Dairy Diamond Reserve, Gouda-style cheese
Counoise is a dark-skinned grape that is most often blended into red wines rather than made into its own wine, which is probably why you don't actually hear "counoise" very much. But adventurous California winemakers are exploring counoise for its own merits. Sans Liege's Groundwork label has a 100% counoise wine that is made by carbonic maceration, a process in which grapes are left whole and on their clusters during fermentation so that actual fermentation occurs inside each individual grape.
Carbonic maceration gives wine a bright, fresh, and fruity drinkability. In France, gamay grapes undergo the same treatment to make Beaujolais Nouveau. Groundwork Counoise tastes like it looks: bright, vibrant pinkish-red cranberry, hibiscus, rhubarb, with subtle pepper. Counoise is naturally high in acid, which makes it a great wine to pair with food, and particularly cheese. Stuyt Dairy's Diamond Reserve is a raw cow's milk gouda-style cheese that is aged nine months. The aging gives the cheese a caramel, butterscotch flavor, and some texture with crystals.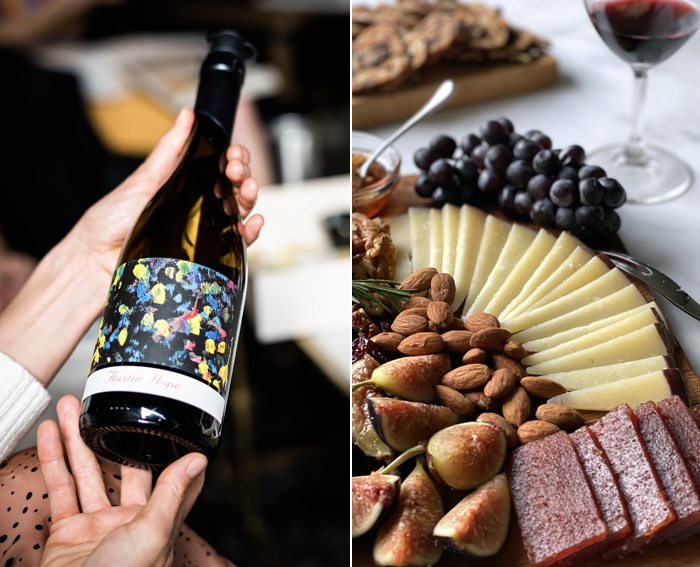 What Wine Pairs Best with Firm Cheeses
Paso Robles Wine Pairing: Austin Hope 2018 Grenache
Central Coast Cheese Pairing: StepLadder Creamery Paso Vino
Stepladder Creamery Paso Vino is a cow's milk cheese that is soaked in a bath of aromatic syrah. The syrah is made by Austin Hope so it only makes sense to pair a wine by Austin Hope! An actual Central Coast syrah might be a little too big and bold for this particular cheese, but the Austin Hope 2018 Grenache is lighter, with cherry, strawberries and rhubarb.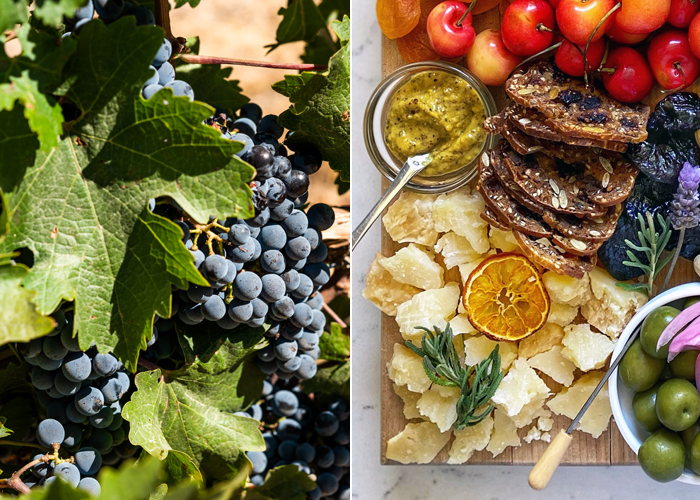 What Wine Pairs Best with Hard, Aged Cheeses
Hard, aged cheeses include vintage Cheddar, aged Gouda, aged Manchego, and Parmigiano Reggiano. When cut or sliced, hard cheeses crumble or break apart in shards and have crunchy crystals as part of their texture. As they age, their flavors concentrate and usually lean toward nuttier and saltier. Same, cheese, same.
Wine Pairing for Firm Cheese: If you have a full-bodied white wine or a tannic red wine to showcase, hard, aged cheese is the way to go. Chardonnay, chenin blanc, white Rhône varietals like marsanne, roussane and viognier are great examples of full-bodied white wines that are grown in Paso Robles. Bold reds like cabernet sauvignon, petite sirah, red Rhône varietals that Paso is famous for, and zinfandel all work for reds.
Paso Robles Wine Pairing: J Lohr 2019 Hilltop Cabernet Sauvignon, Paso Robles
California Cheese Pairing: Fiscalini Farmstead San Joaquin Gold
J Lohr's Hilltop Cabernet Sauvginon Blanc is dense and soft on the palate, with wispy layers of dark berries like currants and blackberries. The finish is bright, which makes it possible to pair this Cab with cheese. Fiscalini Farmstead San Joaquin Gold is made with raw cow's milk that's aged 12-16 months into a parmesan-meets-Cheddar cheese. It has all the good things you want in a firm, aged cheese, like crystals, a crumbly texture, but with ever so slightly less intensity so it doesn't overpower the wine. The characteristic nutty, browned butter flavor brings out the "toasted pastry crust" element of the J Lohr Hilltop Cab.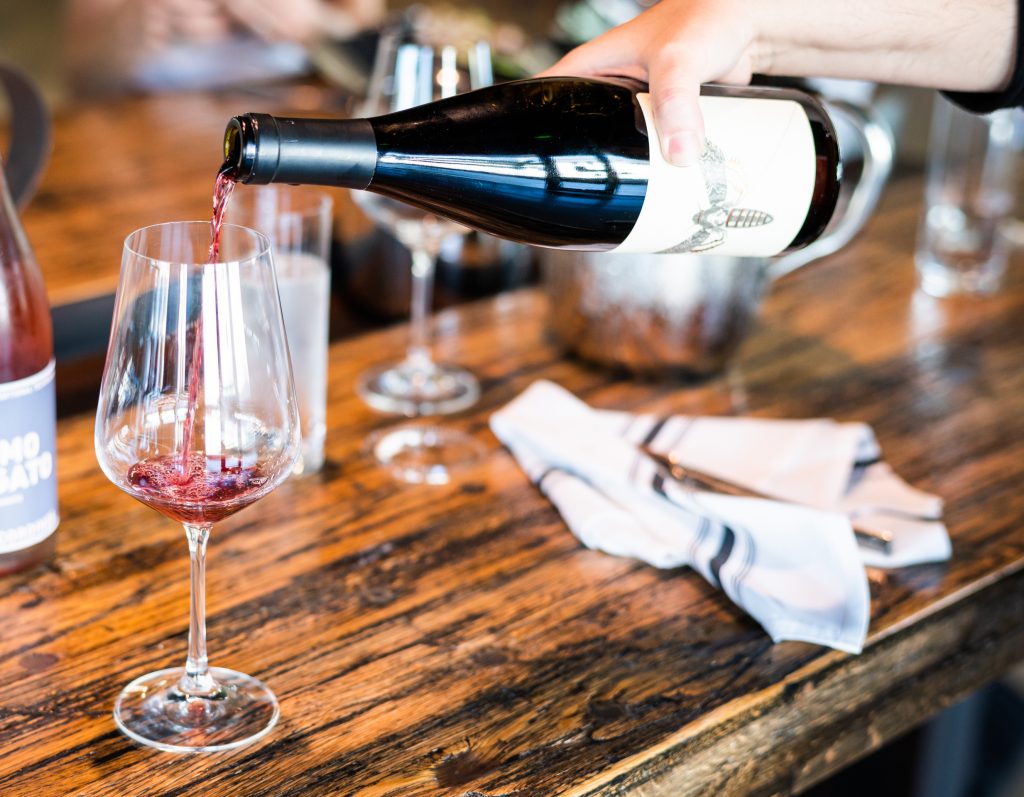 What Wine Pairs Best with Strong, Washed-Rind Cheeses
Washed-rind cheeses may look similar to soft, bloomy-rind cheeses, but their rinds, instead of fluffy white, are wrinkled, sometimes slippery, and pink or orange in color, a result of the washing process. The more important difference is that washed-rind cheeses are stronger, more pungent, and intensely funky. People use words like "barnyard," "feet," and "game-y," but with the most pleasant intention possible. Some examples of washed -rind cheeses that you might know are Epoisses from the Burgundy region of France and the square-shaped Taleggio from Italy. In California Cowgirl Creamery and Marin French are some examples of cheesemakers who produce washed rind cheeses.
Wine Pairing for Washed-Rind Cheeses: While in many cases the best wine and cheese pairing is one that pairs similar strengths/textures/aromas with each other, strong, full-fragranced cheeses do best with wines that are opposite for balance. Light-bodied wines, whether white or red, with subtle honeyed or floral aromatics work well as a complement to the power of washed rind cheeses. Pairing a washed rind cheese with a wine that is equally full in flavor and funk would be overpowering to the senses, and might even make the cheese and wine taste truly "off," rather than its intended pleasantly funky. Off-dry white wines, sparkling wine, chardonnay, and pinot noir are good places to start for the best pairings.
Paso Robles Wine Pairing: The Fableist 2020 Pinot Noir
California Cheese Pairing: Cowgirl Creamery Red Hawk
Cowgirl Creamery's Red Hawk is an award-winning organic triple creme cow's milk washed rind cheese that is aged for six weeks. It recalls charcuterie and roasted nuts with its pungent, but pleasant funk, and has a savory, salty umami to it. The Fableist 2020 Pinot Noir is light, but earthy, with a hint of mushroom that's lifted out by the Red Hawk's umami.
What Wine Pairs Best with Blue Cheeses
Blue Cheeses are cheeses made from any milk, then injected with cultures to create the literal blue or blue-green veining during the aging process. Blue cheeses have a distinctive "bite," and are pretty pungent in terms of aroma. Even the blue cheeses that are considered "mild" blue cheeses are still pretty strong. Stilton, Gorgonzola, Roquefort, and Cambozola are all types of blue cheeses from Europe. Point Reyes Bay Blue and Central Coast Creamery Big Rock Blue are examples of some of the best blue cheeses from California.
Wine Pairings for Blue Cheese: Traditionally, blue cheese needs wine with both bite and sweetness to balance their bold flavors and usually very salty, savory body. Any wine labeled "late harvest" will be sweet and appropriate to pair with blue cheese. Late harvest semillon or sauvignon blanc, riesling, and moscato immediately come to mind here as do fortified wines like Port and Port-style wines. However, it is possible to pair white wines like chenin blanc that have intense honey aromas that can play at sweetness. And if you're really bucking tradition, try bold red wines like cabernet and zinfandel, as long as they have more fruit or chocolate flavors.
Paso Robles Wine Pairing: J. Lohr 2018 Late Harvest Riesling
California Cheese Pairing: Point Reyes Bay Blue
Point Reyes Bay Blue is a rustic-style cow's milk blue cheese. Aged for 90 days, the cheese develops a rich, creamy fudge-like texture in a natural rind. Bay Blue is mild, mellow, earthy with notes of toasted grains and has a sweet, salted caramel finish. The J. Lohr 2018 Late Harvest Riesling is a perfect, sweet, honey-scented complement that has hints of stone fruit that will make the Bay Blue cheese taste a little bit like a funked up peach pie. The wine is made with botrytis-affected grapes grown in Arroyo Seco, Monterey County, which is part of the Central Coast, about an hour north of Paso.
Botrytis, aka "noble rot," on grapes dehydrates the fruit, concentrating both the flavor and the sweetness. If you've ever stacked a sliver of blue cheese on a dried blenheim apricot with a toasted walnut and a drizzle of local honey, you know exactly why this particular late harvest wine and blue cheese pairing is dead-on.
The Last Word on How to Pair Wine and Cheese
So there you have it.
Five thousand words later and does it seem like there are a LOT of things to consider on both sides of the wine and cheese equation?
There are. And it might be tempting at this point to just throw your hands in the air with a big FU and just drink wines you like with cheeses you like. To this kind of attitude I say... f yeah!
If there's one moral of the Paso Robles story that I learned from all the winemakers, it's this: it's important to know the rules, but when you bend them a little, try something new, follow your instincts, that's when the real magic happens.
One of the best things about building a cheese board with several different cheeses, different kinds of fresh and dried fruits, nuts, olives, pickled things, and condiments, and a couple of bottles of wine is that you can experiment with pairings. Not only can you try different combinations of wine and cheese, but you can use the accompanying fruits and nuts to help you "find" certain flavors, tastes, and aromas in the cheese and the wine.
Wine and Cheese Pairings How-to, Paso Robles Edition
How-to pair wine with the seven major categories of cheeses, with specific wines from Paso Robles, California as examples
Materials
Wines
1

bottle

Desparada Wines 2019 Shell Creek Chenin Blanc

1

bottle

Field Recordings 2020 Domo Arigato, Mr. Ramato

1

bottle

Sans Liege Groundwork 2020 Counoise

1

bottle

Austin Hope 2018 Grenache

1

bottle

J Lohr 2019 Hilltop Cabernet Sauvignon

1

bottle

The Fableist 2020 Pinot Noir Fable 774 The Silkworm and the Spider

bottle

J. Lohr 2018 Arroyo Seco Late Harvest Riesling
Cheeses
8

ounces

Fresh cheese: Stepladder Creamery Fromage Blanc

1

4 ounce wheel

Bloomy-rind cheese: Stepladder Creamery Ragged Point Triple Creme

1

wedge

Semi-firm cheese: Stuyt Dairy Farmstead Gouda-style Cheese

1

4 ounce wedge

Firm cheese: Stepladder Creamery Paso Vino

1

wedge

Hard, aged cheese: Fiscalini Farmstead San Joaquin Gold

1

wheel

Washed-rind cheese: Cowgirl Creamery Red Hawk

1

wedge

Blue cheese: Point Reyes Farmstead Bay Blue
Instructions
Build cheese board around selected cheeses

Pair wine to cheeses according to Guide
Make some wine and cheese magic! If you try any of these pairings, or stumble upon a new or remarkable pairing that I must try, let us know in the comments or on the socials by tagging @TheDelicious and #thedeliciousmademedoit
---
Check out California Wine Month celebrations from my friend's unique perpectives, too!
This post was created in partnership with California Wines and California Grown to celebrate California Wine Month. Thank you for supporting our sponsors!
---
And now that you've got the Wine and Cheese pairing part down, check out these posts for recipes, and helpful tips and tricks for building a beautiful board
---