Celebrate something every day using this complete list of official April Food Holidays, in a handy bulleted list as well as google calendar that you can copy to your own personal calendar!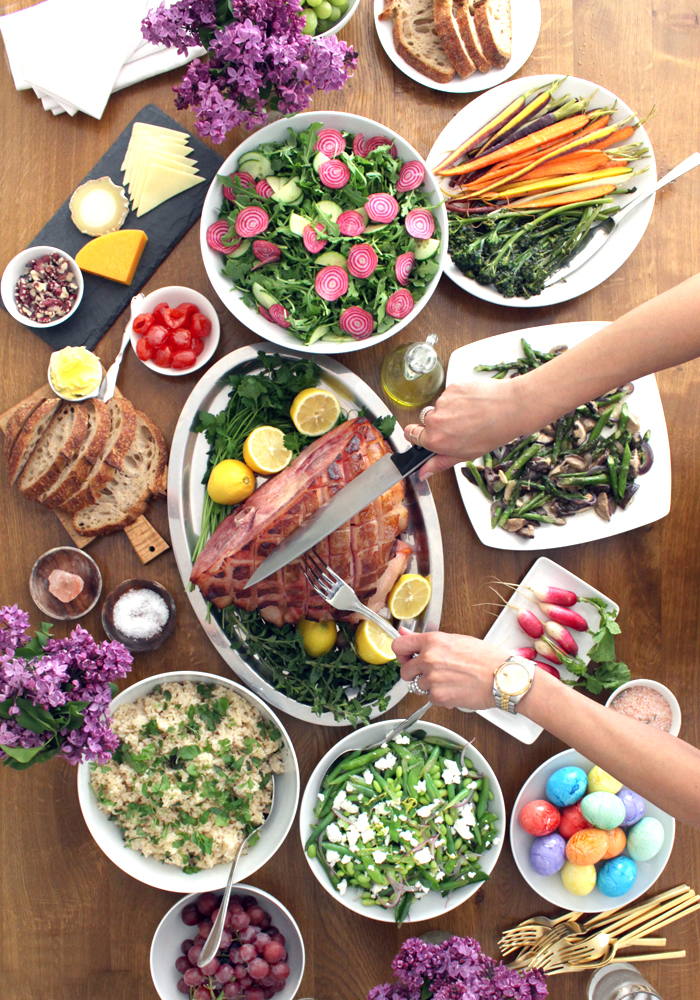 Jump to:
Check out the "holidays" below, calendar format first, list after. Some fun recipes included to help you celebr-eat!
Happy April!
And when you're ready and set, go plan ahead with the May Food Holidays calendar!
April Food Holidays Google Calendar
I made this a PUBLIC calendar, so you can add it to your own google calendar!
Use the blue arrows < > on the calendar to click month-to-month for more.
Month-long Celebrations in April
National BLT Sandwich Month
National Celery Month
National Florida Tomato Month
National Garlic Month
National Grilled Cheese Month
National Soft Pretzel Month
National Soy Foods Month
Week-long Celebrations in April
First Monday of April: starts National Bake Week
Second Week of April: National Egg Salad Week
April Holidays, Day-by-Day
Easter is a Sunday in late March or early April. This year Easter Sunday is April 9, 2023.
First Thursday in April: National Burrito Day
Third Saturday in April: Raw Milk Cheese Appreciation Day
Good Friday: National Hot Cross Bun Day
Easter Sunday (March or April): National Baked Ham with Pineapple Day
April 1: National Burrito Day
April 1: National Sourdough Bread Day
April 2: National Peanut Butter And Jelly Day
April 3: National Chocolate Mousse Day
April 4: National Carrot Day
April 4: National Cordon Bleu Day
April 4: National Ramen Noodle Day
April 5: National Caramel Day
April 5: National Deep Dish Pizza Day
April 5: National Raisin and Spice Bar Day
April 6: Fresh Tomato Day
April 6: International Carbonara Day
April 6: National Caramel Popcorn Day
April 6: Tartan Day
April 7: National Coffee Cake Day
April 7: National Beer Day
April 7: World Health Day
April 8: National Empanada Day
April 9: Easter Sunday, which is National Baked Ham with Pineapple Day
April 9: National Chinese Almond Cookie Day
April 9: National Gin & Tonic Day
April 9: National Pimento Cheese Day
April 10: National Cinnamon Crescent Day
April 11: National Cheese Fondue Day
April 12: National Grilled Cheese Sandwich Day
April 12: National Licorice Day
April 13: National Peach Cobbler Day
April 14: National Grits Day
April 14: National Pecan Day
April 15: National Glazed Spiral Ham Day
April 16: National Eggs Benedict Day
April 16: Day Of The Mushroom
April 17: National Cheese Ball Day
April 17: Healthy Kids Day
April 17: Malbec World Day
April 18: National Animal Cracker Day / Animal Crackers Birthday
April 18: Raw Milk Appreciation Day
April 19: National Amaretto Day
April 19: National Garlic Day
April 19: National Rice Ball Day
April 20: Lima Bean Respect Day
April 20: National Cheddar Fries Day
April 20: National Pineapple Upside-Down Cake Day
April 21: Banana Day
April 21: National Chickpea Day
April 21: National Chocolate-Covered Cashews Day
April 21: National Tea Day (in the United Kingdom)
April 22: Earth Day
April 22: National Jelly Bean Day
April 23: National Cherry Cheesecake Day
April 23: National English Muffin Day
April 23: National Picnic Day
April 24: National Pigs-In-A-Blanket Day
April 24: National Sauvignon Blanc Day
April 24: National Steak Day
April 25: National Zucchini Bread Day
April 26: National Pretzel Day
April 27: National Prime Rib Day
April 28: National Blueberry Pie Day
April 29: National Rugalach Day
April 29: National Shrimp Scampi Day
April 30: National Bubble Tea Day
April 30: National Oatmeal Cookie Day
April 30: National Raisin Day
Food Holiday Calendars for the Entire Year