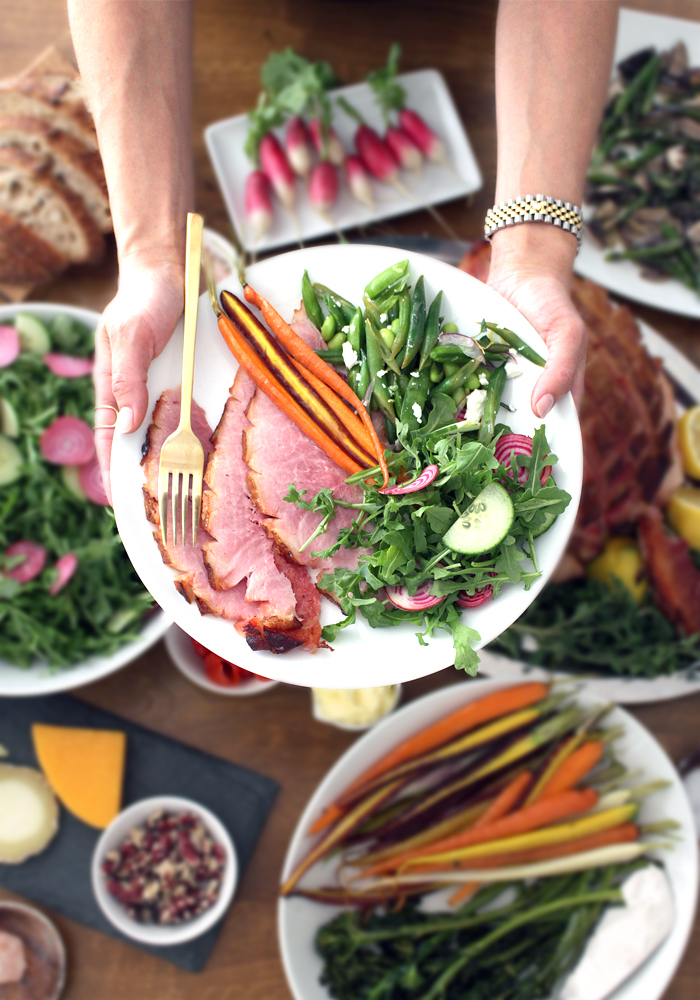 Bourbon Maple-Glazed Ham {recipe}
makes 1 ham, about 8-10 servings
Ingredients
for Ham:
1 8-10 pound bone-in ham
Bourbon Maple Glaze (see just below)
for Bourbon Maple Glaze:
½ cup brown sugar
½ cup maple syrup
½ cup Bourbon
2 tablespoons Dijon mustard
juice from half a lemon, approximately 2-4 tablespoons
1 teaspoon finely grated lemon zest
Directions
Start Roasting Ham:
Preheat oven to 350°F.
Trim outer layer of fat on ham down to about ¼-inch thick. Using a sharp paring knife, make shallow criss-cross cuts across the surface of the ham creating a "diamond" pattern.
Place the ham in a roasting pan with sides high enough to catch juices and drippings. Cover with foil and place in oven. Roast for about 1½ to 2 hours before adding glaze. The ham will roast in total for about 2 to 2½ hours, or until the internal temperature of the ham is 140°F.
While Ham is Roasting, Make Bourbon Maple Glaze:
Whisk all of the ingredients for the Bourbon Maple Glaze in a bowl until the brown sugar is mostly dissolved (it may not dissolve all the way).
Complete Roasting the Ham:
Remove ham from oven, remove foil and save it, and brush the ham with all but about 2 tablespoons of the glaze. If you do not have a brush (I don't), use a spoon and carefully drizzle the glaze and spread over the ham.
Continue roasting, uncovered, for another 30 minutes to an hour, or until the internal temperature of the ham is 140°F. If the glaze on the ham starts to turn too dark, cover with foil.
Remove ham from oven and let rest uncovered about 15 minutes.
RESOURCES and NOTES