Forget that over-priced, under-delicious commercial honey glazed baked ham and make your own Bourbon Maple Glazed Baked Ham with rich, complex notes of Bourbon and the natural sweetness of maple syrup.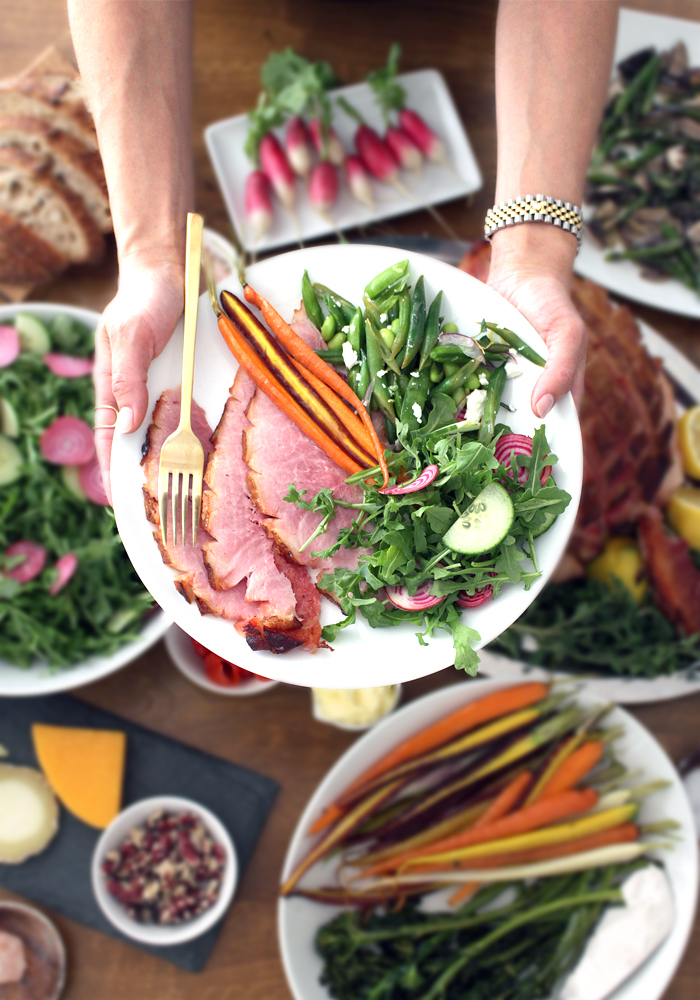 Jump to:
What is Bourbon Maple-Glazed Baked Ham
Ham is a large cut of pork from the thigh, the meaty part, of a pig's leg. Hams are usually cured, sometimes smoked, and almost always sold fully cooked. So technically, you could buy a ham from the grocery store and it's ready to eat as is.
But just because a ham is fully cooked so you can, doesn't mean you should eat it as is. A ham is a glorious opportunity for a homemade Bourbon Maple Glaze that will caramelize in the oven as the ham bakes.
Bourbon is a barrel-aged, corn-based whiskey that is only made in America, originally in Kentucky. The barrel-aging give Bourbon, and in turn this Bourbon Maple glaze, a distinctive earthy, smoky quality with hints of vanilla.
What Ingredients You Need for Bourbon Maple-Glazed Baked Ham
You will need:
1 8-10 pound bone-in ham
½ cup brown sugar
½ cup maple syrup
½ cup Bourbon
2 tablespoons Dijon mustard
lemon juice and zest
Ingredients Resources, Notes, and Substitutions
Ham. The ham in the photo is a Farmer John bone-in ham, available at major grocery stores. For something more luxurious, try a Kurobota pork ham. Buy the best ham you can afford, just make sure it's cured, smoked and/or fully cooked.
Maple syrup. I use an organic maple syrup that is amber in color and more robust in flavor than lighter colored maple syrups. You can substitute with honey, though the dressing will no longer be vegan and will also be the usual Honey Mustard! or other sweetener of choice.
Bourbon. Use a Bourbon that 1) you would drink 2) you already have, and 3) won't break the bank if you have to buy a new bottle. The Bourbon in these photos Basil Hayden's Kentucky Straight Bourbon Whiskey, about $40 per bottle.
Dijon Mustard. This Dijon mustard brand has never failed me. Because the amount is fairly small, use whatever mustard you have. The mustard is obviously one of the predominant flavors, but more importantly, emulsifies the rest of the ingredients into one homogenous mixture.
Any and all produce, organic, from local farmers' markets or Whole Foods Market
Instructions for How to Make Bourbon Maple Glazed Baked Ham
Because your ham, like most hams, is already fully cooked, you're really just heating it up in the oven, not truly baking it. That means there isn't much to this recipe other than whisking together the glaze ingredients!
1.Trim the ham of excess fat and score the outside in a criss-cross pattern. Place ham on a rack in roasting pan or baking sheet with high sides.
2. Pour about 1-inch of water in bottom of pan and cover ham with foil to keep it from drying out while baking. Bake at 325°F for 2 hours.
3. While ham is baking, whisk together ingredients for Bourbon Maple Glaze.
4. Remove ham from oven and uncover. Brush or drizzle ham with Bourbon Maple Glaze. Return glazed ham, uncovered, to oven and bake until center temperature reaches 140°F, about 30-60 minutes.
Pro-tip: If the glaze starts to get too dark, cover the ham with foil after adding the glaze. Remove the foil at the very end to caramelize the glaze.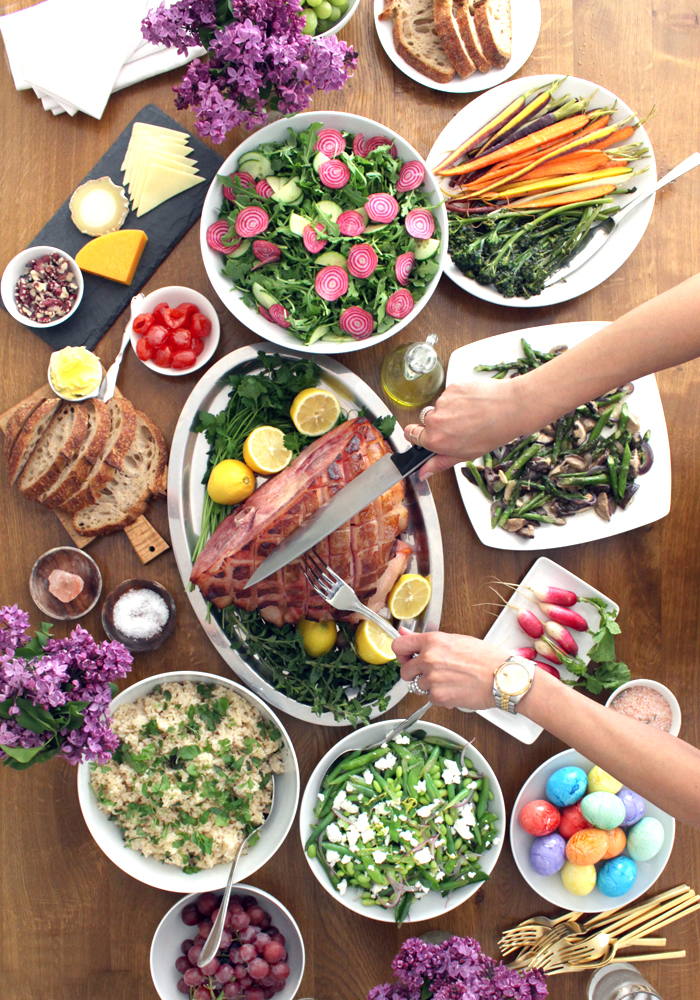 How Much Ham Per Person
You will need about ¾-pound of ham per person for a bone-in ham. If you want to make sure you have leftovers, and you do want to have leftovers for Split Pea Soup and Kimchi Fried Rice, up the estimate to 1 pound per person.
Tools and Equipment

As I always say, you don't need any special equipment to make Bourbon Maple Glazed Baked Ham. However, that doesn't mean there are a couple of gadgets and tools that might make this recipe even easier than it already is.
Roasting pan with rack.
Heavy duty aluminum foil to cover ham
Instant Read Thermometer
Glass mixing bowls
Measuring cup
Liquid Measuring Cup
Whisk
Silicone brush for glaze
Citrus Juicer
Citrus Zester
Storage/Leftovers
FIRST OF ALL, remove the ham in slices from the bone, and DO NOT throw away the bone. Save or freeze the bone to make stock or Split Pea Soup.
Leftover Bourbon Maple Glazed Baked Ham can be stored in an air-tight container or plastic zipper bag in the refrigerator for three days.
To freeze leftover Bourbon Maple Glazed Baked Ham, separate slices from the bone, and place enough slices for two servings per plastic zipper bag. Squeeze out the air, sip, and freeze flat. Frozen leftover ham will keep for two months.
What to Serve with Bourbon Maple Glazed Baked Ham
Bourbon Maple Glazed Baked Ham is the perfect centerpiece on a Holiday tablewhether it's Easter in the Spring or Thanksgiving and Christmas in the winter. These are some great side dishes in spring:
For a Thanksgiving or Christmas dinner:
Wine for Bourbon Maple Glazed Baked Ham
Ham almost always calls for a high-acid white wine, but the Bourbon maple glaze is rich so it can handle a light- to medium-bodied red. My favorite Italian red grape, Sangiovese, which is used in familiar Chianti and Rosso di Montalcino, is a great example of a medium-bodied red wine that works well with food. I love this Rosso di Montalcino, shockingly affordable.
For something a little more fun, this wine is made from California-grown sangiovese, and fermented as whole clusters in a process called carbonic maceration so the wine has a slight natural fizz.
For more tips on pairing wine with food, check out this post about wines from Paso Robles, California, and this post about wines from Santa Barbara, California.
FAQ
How much ham should you buy?
Calculate about ¾ pound of ham per person for a bone-in ham.
How long do you cook a pre-cooked ham?
Estimate cooking time of 10 minutes per pound at 325°F degrees, until the ham reaches an internal temperature of 140°F degrees.
How do you know if a ham is fully cooked?
Almost all ham in the U.S. is sold cured and pre-cooked. However, if you are unsure, read the label on the package, or ask the butcher.
Should you bake a ham covered or uncovered?
Bake the ham covered with foil, and if you want to develop caramelization from the glaze, uncover for the last few minutes. Because a ham is already fully-cooked, there is a chance that it will dry out when re-heating it, so keeping it covered while baking ensures it will not dry out.
Print Recipe
Bourbon Maple Glazed Ham Recipe
Ingredients
For Bourbon Maple Glaze
½

cup

brown sugar

½

cup

maple syrup

½

cup

Bourbon

2

tablespoons

Dijon mustard

juice from half a lemon

approximately 2-4 tablespoons

1

teaspoon

finely grated lemon zest
Instructions
Start Roasting Ham:
Preheat oven to 350°F.

Trim outer layer of fat on ham down to about ¼-inch thick. Using a sharp paring knife, make shallow criss-cross cuts across the surface of the ham creating a "diamond" pattern.

Place the ham in a roasting pan with sides high enough to catch juices and drippings. Cover with foil and place in oven. Roast for about 1½ to 2 hours before removing and adding glaze.
While Ham is Roasting, Make Bourbon Maple Glaze:
Whisk all of the ingredients for the Bourbon Maple Glaze in a bowl until the brown sugar is mostly dissolved. It may not dissolve all the way, which is okay.
Complete Roasting the Ham:
Remove ham from oven, remove foil and save it, and brush the ham with all but about 2 tablespoons of the glaze. If you do not have a brush (I don't), use a spoon and carefully drizzle the glaze and spread over the ham.

Continue roasting, uncovered, for another 30 minutes to an hour, total for about 2 to 2½ hours, or until the internal temperature of the ham is 140°F. If the glaze on the ham starts to turn too dark, cover with foil.

Remove ham from oven and let rest uncovered about 15 minutes.
Afterthoughts
Ggori gook, Korean oxtail soup, is one of Dad's and my favorite soups. Not only is ggori gook a food preference that Dad and I share, but I've come up with a philosophy surrounding ggori gook and how it represents a characteristic about both of us. The soup is made from the ox's tail. If you've ever seen an oxtail still attached to its ox, then you know that it is long, hairy, skinny, and does not look like it has any edible meat on it. It's the tail of an ox, for crying out loud, and even when the tail is on store shelves in neat styrofoam trays and shrinkwrap, i.e. not on the ox, it still looks like it is all bone.
Therefore, if you make oxtail soup, you are very resourcefully using up every bit of that animal from tip to tail. If you are eating ggori gook, you are not wasting a thing. I love that, so I eat ggori gook with complete, wild-eyed gusto, knowing I am one hundred and ten percent getting my money's worth. It would be a much more compelling if ggori gook didn't actually taste good and our poverty-stricken tasebuds had to suffer for nourishment, but truth be told, oxtails make a pretty damn good soup.
The point is, oxtail soup is the paradigm of parsimony.
No Waste Management
Mom and the Twins would probably see this as a flaw and call Dad and me "painfully cheap penny pinchers." Oh yeah, wastrels? Don't come crying to us when you're down to your last three pennies and we have two dollars in the bank, okay? We'll have two dollars! Dad and I are budget-conscious. We are thrifty. We are wise with our money.
I'm highly sensitive to waste. I like getting my money's worth. I like to squeeze every last drop of value out of everything, which means after roasting a turkey after Thanksgiving, I boil that big shaggy turkey carcass until the bones are well, bone dry and all that's left behind is a gorgeous turkey after-stock, aka beautifully bronze bone broth made from whatever bones are left after a big meal.
Investing in Stock
And when we have a lean, healthy ham on Christmas day, I taste the ham during our meal. But afterwards, tear away at the salty pink flesh, pack it into sensible little single serving size portions for the freezer, then boil down that ham bone to make ham stock. If I could, I'd do something with that barenaked bone, too.
I make after-stock with intentions of using it for something because the stock will taste extraordinarily deep and flavorful and far richer than any canned "broth." Perhaps even more importantly, I can save the thirty-three cents it would cost me to buy those inferior cans of Swanson at the market. Though I will have to admit here that I have never looked for ham stock, nor have I ever seen it.
The funny thing is, I put the milky white ham stock into the freezer, and I am quite sure that it will stay there for a very long time until I suddenly stumble across it as I'm looking for that "IswearIhadatleasthalfabottleleft" bottle of Stoli, and by the time the giant white, block of ice that is misshapen because the zipper lock gallon-size storage bag took on the shape of the feezer shelf and the containers around it thaws and I realize that it is ham stock from December '05, I will wonder whether ham stock actually expires, and will end up pouring the cloudy white ham stock slurpee down the kitchen sink.
Or maybe my ham stock will become split pea soup next week.