You'd never guess a simple bowl of Split Pea Soup would be so therapeutic both physically and mentally, but it absolutely is! Split green peas in case you didn't know, are fiber-rich and protein-packed, and when cooked down, transform into an ultra cozy bowl of comfort. Shall we?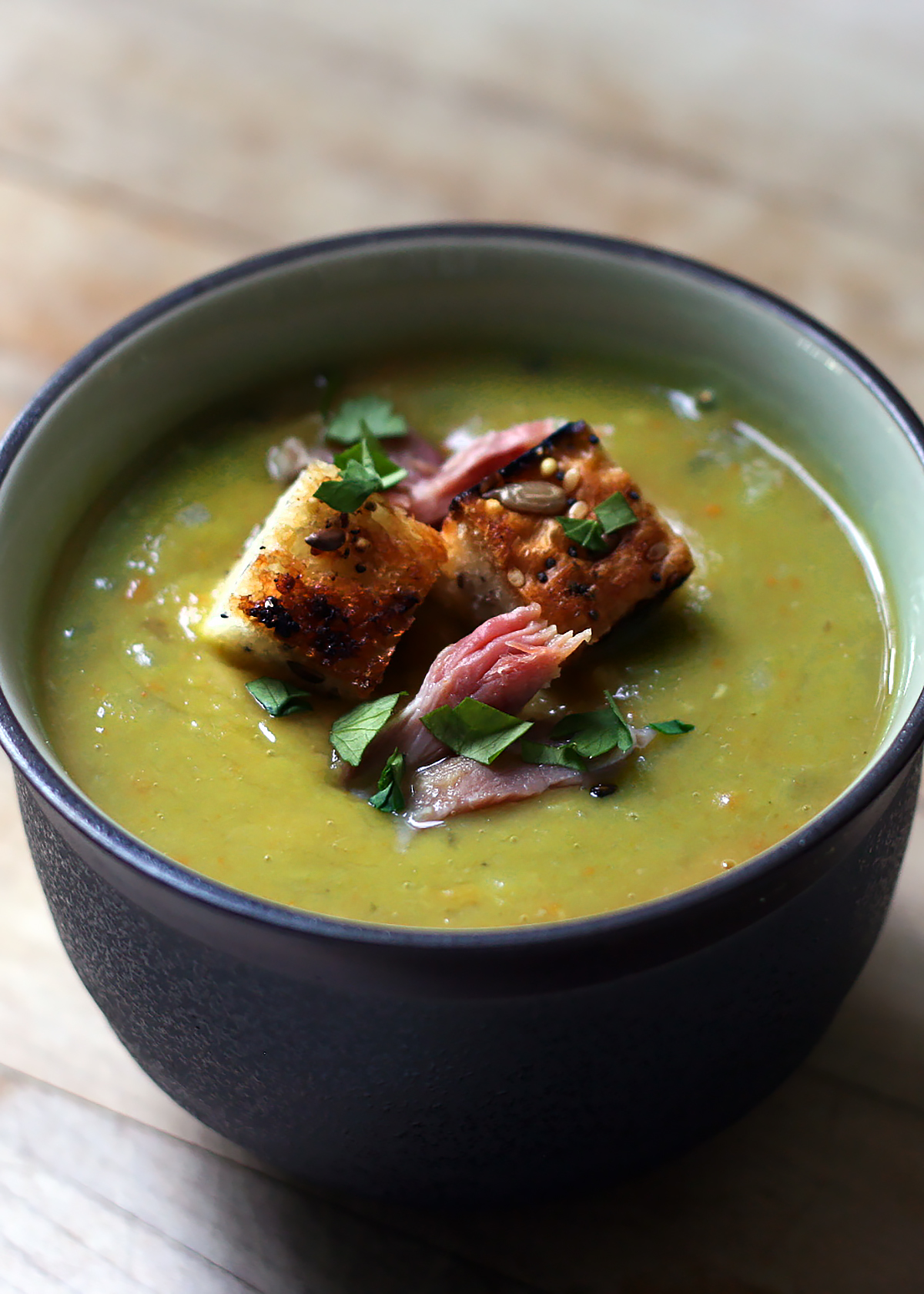 Jump to:
What is Split Pea Soup?
Split Pea Soup is a hearty soup made from dried split green peas that are cooked with flavorful liquid or broth for a couple of hours until they break down into a thick soup. Traditionally, the split peas are cooked with a ham bone or ham hocks which add salt and savory umami to the final soup.
In this house, we use a ham bone that's been leftover from a Holiday dinner to make Split Pea Soup.
What are Split Peas?
Split peas are dried green peas, so yes, they are the same thing as those bright green peas you usually get frozen or fresh in the Spring time. Split peas are peeled of their thin seed coating, "split" into their two halves, hence their name, and dried.
Just as a note of definition, split peas and green peas are part of the legume family, which also includes beans and lentils.
Split Pea Soup Health Benefits
Depending on your health and dietary needs, Split Pea Soup is healthy. Split peas themselves are rich in fiber and packed with protein. One serving of split peas, which is about ¼ cup dried, or ½ cup cooked, has:
a whopping 8.3 grams fiber
8.3 grams of protein
Ingredients You Need for Split Pea Soup
There are a little more than a few ingredients in this list, but the actual cooking is pretty minimal. Here's what you need:
1 ham hock or ham bone
2 cups green split peas
8 cups cold water
1 large carrot
1 large celery rib
1 medium onion
2-4 garlic cloves
1 bouquet garni: 3-4 sprigs parley, 1 bay leaf, 2 sprigs thyme, 1 leek white part only, 2 cloves
salt and black pepper
optional garnish: toasted croutons, shredded cooked ham, fresh peas, chopped fresh parsley and chives
Ingredients Notes and Resources
Ham hock or ham bone. In this house, we only ever make Split Pea Soup when we actually have a leftover ham bone from a Holiday dinner. However, you can absolutely buy ham hocks to make this soup on any given day. Ham hocks are the lower portion of a pork leg that's not part of the ham. If you cannot find a ham bone or ham hock, or want to make this Split Pea Soup vegetarian, use a rich vegetable stock in place of the water.
Green split peas are dried green peas that have been peeled and split down their natural seam into two halves, which shortens their cooking time. You can find them in the same grocery store section as other dried beans and lentils.
Bouquet garni is a cluster of herbs that are tied together with a string and cooked along with a soup or stew to flavor it. The entire bouquet is removed from the soup once cooking in complete. A bouquet garni can be made from any type of herbs. In this case, use parsley, bay leaf, thyme, and leek.
Salt. Salt is an obvious and ubiquitous ingredient. I use this Kosher salt.
All other vegetables, herbs and produce I get from the the regular grocery store.
How to Make Split Pea Soup
Split Pea Soup is one of the least complicated soups to make. Here is how you make Split Pea Soup:
Simmer ham bone, split peas, water for 1 hour, or until the peas have broken down.
Add remaining vegetables and simmer for another 30 minutes to 1 hour.
Remove and discard the ham bone/hock.
Ladle finished soup into bowls, garnish, and enjoy.
If you prefer a soup with a smoother texture, you can puree the cooked split peas with an immersion blender, in a food processor, or in a blender before adding the remaining chopped vegetables.
Tools and Equipment

As I always say, you don't need any special equipment to make Split Pea Soup. You can simply use a knife and cutting board to mince the garlic and chop the vegetables. However, that doesn't mean there are a couple of gadgets and tools that might make Split Pea Soup even easier than it already is.
Stock Pot: I use a very large stock pot by this cookware company. It has a heavy bottom and easy-to-hold handles. Any large pot that fits the ingredients will do. A large Dutch oven is great for this.
Slow Cooker: I have this 6-quart programmable slow cooker. If you are going to use a slow-cooker, I highly recommend getting/using a slow-cooker that has a timer or auto-shut-off so you can truly "set it, and forget it," which is kind of the point of a slow-cooker, imho.
Vegetable Peeler. Current favorite all-purpose vegetable peeler to use for the carrots.
Chef's Knife. This is my workhorse chef's knife, slightly more pricey than others, but definitely worth it. I have had it for more than 10 years and use it every day.
Immersion Blender. Great for pureed soups with a little more texture.
Food Processor. I have been using an older model of this mini food processor for 15, maybe 20, years.
Blender. You don't need a high-power blender, but this one works well for soup because of it's large pitcher.
Stainless steel tongs
What Else to Serve with Split Pea Soup
I am an executive member of the "Soup is a Meal" club, so I generally would serve the soup perfect as-is, with nothing more than the suggested shredded ham and toasted crouton garnishes. However, if Split Pea Soup is a starter at your table, here are a few additional dishes that work particularly well with Split Pea Soup:
Wine for Split Pea Soup
I'm not saying you should open a bottle of wine to pair with a bowl of soup you're eating standing at the kitchen counter for dinner on a Tuesday night, but I'm not not saying that either. Let's just say this is a lesson in food and wine pairing.
Gruner Veltliner. Something green and vegetal like split peas naturally call for a white wine. Gruner Veltliner is perfectly light and herbal, like a slightly more interesting Sauvignon Blanc.
Chardonnay. Though it's green and made mostly with vegetables, Split Pea Soup is rich, thick, and hearty. Medium-bodied, lightly oaked Chardonnay would be able to stand up to the texture, especially if you're serving the soup and wine when it's cold outside.
Spanish Red Wine Like Rioja. Because the background notes on the soup come from the simmered ham hock or bone which is salty and smoky, a light-bodied red from the Rioja region of Spain, which is usually made with the Tempranillo grape, would be a solid bet.
FAQ
Do you have to soak split peas?
No, you do not have to soak split peas before cooking like you have to do for dried beans. Split peas will cook until soft and broken down in about two hours. You can soak split peas overnight to shorten cooking time to about 40 minutes.
How long can you store leftover Split Pea Soup?
You can store leftover Split Pea Soup in an airtight container in the refrigerator for three days, or in the freezer for two months.
Can you freeze Split Pea Soup?
Yes! You can freeze Split Pea Soup in an airtight container or plastic zipper bags for two months.
Is Split Pea Soup healthy?
Yes! Split Pea Soup can support health, specifically because it is both fiber- and protein-rich. One cup of dried split peas has 8-10 grams of fiber and 8 grams of protein. Split peas are also a good source of vitamins B and K and the mineral magnesium.
Are split peas the same as regular green peas?
Yes, green split peas and regular green peas are the same things, the seed of the Pisum Sativum plant. Split peas are peeled of their thin seed coating, "split" hence their name, and dried. Both split peas and green peas have the same nutritional content, though their taste and texture differ when cooked.
What's the difference between Split Pea Soup and Pea Soup?
Split peas and regular peas are the same thing, they are prepared differently, so the soups they make are different as well. Split Pea Soup is made with dried split peas, which break down naturally as they cook. The final soup has a yellowish-green color which results from the split peas being dried. Regular pea soup is made from cooking and pureeing fresh green peas. The resulting soup is bright green, smoother because it is pureed with a blender, and has a fresher, "greener" taste.
More
If you want to go H.A.M. and um, start with a ham, try this Bourbon Maple Ham recipe, then:
save the "leftover" center ham bone as well as a few slices of the ham for this Split Pea Soup recipe below
make Split Pea Soup's cousin, Lentil Soup
you can also use the ham bone to make a basic ham stock to freeze
Print Recipe
Split Pea Soup Recipe
You'd never know you could get so much health-supporting fiber from a bowl of soup! Split Pea Soup inspired by Joy of Cooking, 75th Anniversary edition, page 134
Ingredients
1

small ham hock or ham bone

2

cups

green split peas

rinsed and picked over

8

cups

cold water

1

large carrot

diced

1

large celery rib

diced

1

medium onion

diced

2

garlic cloves

minced (I used 4!)

1

bouquet garni

3-4 sprigs parley, ⅓ to ½ bay leaf, 2 sprigs thyme, 1 leek white white part only, 2 cloves

salt and black pepper to taste

optional garnish: toasted croutons, shredded cooked ham, fresh peas, chopped fresh parsley and chives
Instructions
Combine ham bone, 2 cups green split peas, and cold water in soup pot. Bring to a boil, reduce the heat, and simmer for 1 hour.

Stir in diced carrots, diced celery, diced onions, minced garlic, and bouquet garni. Simmer until the ham bone (or ham hock) and peas are tender, about 1 hour more.

Season with salt and pepper to taste.

Remove from heat and remove the ham bone or ham hock. Discard the bone, skin, and fat. Dice the meat and return it to the soup. For a thicker soup, simmer to the desired consistency. Stir to blend before serving.

Garnish with soup croutons, shredded ham, fresh peas, or fresh chopped herbs if using.
Notes
Store leftover Split Pea Soup in an airtight container in the refrigerator for up to three days or freezer for two months. Re-heat on stovetop.
Story Time
After justifying behaviors, after reconciling little differences, after earnest efforts to work things out, you just get to a certain point where the only mature solution is...divorce.
Can I divorce my entire family?
They don't know anything about it and really, if I were to go through with the whole thing without even telling them, they won't even notice.
You see, in the last few years, by no conscious effort of my own, I have become virtually invisible in my family, a gradual process that initiated a few years ago when my father declared that "there is no hope for" me. Dad made the decree after the first of my two younger siblings had the first baby/child/grandchild of our family and he meant, of course, that there was no hope of marriage for me. I was too overripe to be plucked by a prince from the family tree, instead destined to plummet a dried, wrinkled sweatpants-clad fruit to the ground and rot through her thirties and beyond with eleven cats to which she is allergic and an internet connection.
It's no one's fault, really. Though if I had to, I'd be inclined to blame my parents. Even with all the cruel and unusual, but so very real, traditions of an Immigrant-American family, there was one that my parents made the mistake of never instituting: the Birth Order Marriage rule (BOM).
B.O.M. Not Calm
BOM states that "children will be married in the order in which they are conceived."
Had BOM been rule in The Delicious family, then as the first-born, I'd have to be first-married, even if my two younger sisters were in 10 year long relationships and were bursting at the seams of the wedding gowns that they've been designing in their imaginations since they were toddlers.
In an extreme singles situation like, oh, I don't know, mine several years ago, my family could drop the BOM on me, directly pressuring me to expedite for the sake of my younger sisters.
Obviously, that didn't happen. My sisters married years ago and you know what state I'm currently in.
(California.)
Once my married younger sisters began reproduction — Dad actually uses words like "reproduction," but that's not surprising since he relates everything to either the military or the animal kingdom — there really was nothing left for my parents to use as leverage. Mine was a lost cause that faded into the background, and when my nieces and nephews, rather my parents' omgrandchildren, screamed onto the scene, my family didn't just give up hope for my getting married; they just sort of forgot about me entirely.
Out of the Balks
I'm bitter about many things, but all of that, oddly enough, was not the grounds for divorcing my family. They are all part of the backdrop for one brief, tragic scene within the comedy that was the Delicious Christmas Holiday that finally put me over the edge.
As I usually do, I kicked off the usual Delicious Holiday Dinner deliberations by calling Mom. Or so I thought I was "kicking it off." Little did I know that the rest of my family had failed to include me in dinner planning that had taken place several days before. It wasn't a big deal, as I have said, to be forgotten in that way. It was, however, a big deal when Mom told me what the plan was.
Sister's house, as per yoozh. Early evening, no surprise.
No cooking because Mom had already bought an entire pre-cooked, all you can heat-n-eat, Holiday Ham dinner out of a box.
I was speechless.
I was going through every stage of PTSD and shock on silent, turbo speed while my Mom continued to explain with words like "so much easier," "no clean up," and, the one that haunts me even now years later...
"Microwave."
We were going to microwave our holiday dinner for 12.
The dead silence on my end of the line must have been a hint to Mom that something was Not. O. K.
At that point, it was so ridiculous I didn't know if Ashton Kutcher was going to come crashing through my door with my Mom laughing, if I should laugh or cry, if I was really biologically related to these people who share my same last name. Even if I were adopted, after thirty-*cough*something*cough* years, don't these people know me?
It wasn't a joke.
Throw Me a Forking Bone
On Christmas Day, we really did eat a fully cooked meal that we heated, for the most part, in the microwave oven.
Strangely enough, with four little nieces and nephews crawling all over me, my tiny dog terrorizing Mom and my sisters in the kitchen, and indirectly listening to my Dad giving the lectures I've heard a hundred times before to his new victims students, my brothers-in-law, I didn't even notice that the ham, potato salad, creamed corn, and other assorted side dishes actually came in three bags, not a box.
And two years later, during the cleanup after almost exactly the same Delicious Family Holiday Ham Dinner with all the Korean fixin's, my Dad pointed to a tightly twist-tied crumpled plastic bag shoved into a corner on the kitchen countertop and asked if it was trash.
"No," my Mom replied. "That's the ham bone for Sarah. So she can make soup for her blog."
I've never felt so seen in my life.