How to cook salmon in the oven, whether you call it "roasted salmon" or "baked!"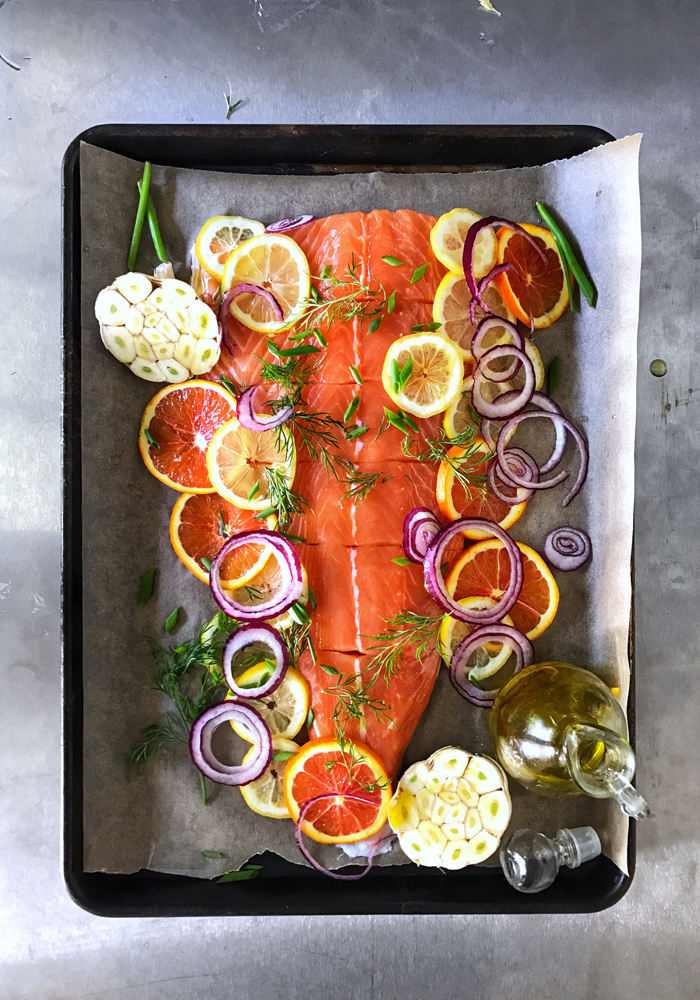 As impressive as this Citrus Roasted Salmon with Herbs looks on a sheet pan with all those vibrant green herbs and colorful citrus, an enormous whole side of salmon on a baking sheet is actually one of the easiest dishes to prepare. There's nothing more to it than rubbing the salmon with olive oil, seasoning with salt, and sliding the whole thing into the oven.
The recipe is so good, the Food Network even asked me to cook it on camera for their recipe series!
And because the salmon is roasted on a sheet of parchment paper that you can just throw away, the clean-up is almost too easy compared to the splattery oil of cooking it in a pan on the stovetop. The hardest part of the recipe is sourcing the best salmon you can.
Baked vs Roasted Salmon
My sister asks me this all the time: Is baking the same as roasting? In a word, yes, baking and roasting are the same because both methods use a hot, dry oven to cook a dish. For example, for both baking and roasting, you might put something in a 350F oven for 45 minutes, but when it's bread it's baked, and when it's chicken it's roasted. Confusing!
The difference between baking and roasting comes from what you're actually making. Technically and traditionally, baking is done inside an oven, and the dish that's baking is usually something that goes from liquid to solid, like liquid cake batter baking into a solid cake.
Roasting, on the other hand, was done over or in an open-fire, though we do it these days in the oven. (And foods cooked over an open fire now are considered grilled, just to add to the confusion!) The dish that's roasting is something that doesn't change too much in its solid state. For example, this side of salmon goes in as one piece, and comes out of the oven cooked, and mostly in the same solid state. It is considered roasted.
Because the difference between baking and roasting is super technical, we don't need to worry about it. The confusion mostly comes about when a modern smart oven has one setting for "bake" and one for "roast" even though both settings cook at the same heat. Some oven manufacturers do say that the the heat might come from a different part of the oven, but that's like, pretty specific. My oven doesn't distinguish and only has temperature settings, and that's good enough.
Final word: the most accurate term for cooking salmon in the oven is roasting, but you can call it "baked." Whatever you call it, they will both produce the same perfect dish!
I wouldn't say you roasted a cake though. That's just weird.
What You Need for Roasted Salmon with Citrus and Herbs
This recipe only requires a few ingredients (so make sure they're the highest quality you can afford!)
Salmon. The salmon I cooked and served was from Alaska. Literally. Someone's in-laws (not mine) went on that same Alaskan cruise that every retired couple goes on wearing North Face fleece and Moncler puffers, and sent back a ton of vacuum-packed literal Alaskan salmon for everyone in the entire extended family. If I weren't so lucky, then I would have gone to one of my favorite fishmongers, Santa Monica Seafood.
Citrus is at peak season in southern California from about November until April. During this time you can find interesting citrus varieties beyond the standard navel oranges, like blood oranges, cara cara oranges, a wide variety of the small mandarins, and white grapefruits. There is citrus available at the farmers' markets and regular grocery stores year-round, though. These are from JJ's Lone Daughter Ranch, at the Santa Monica Farmers' Market on Wednesday and Saturday, and at Hollywood on Sunday.
All other fresh herbs and produce from either the Santa Monica Farmers' Market on Wednesday, or Whole Foods Market when I can't find it at the farmers' market.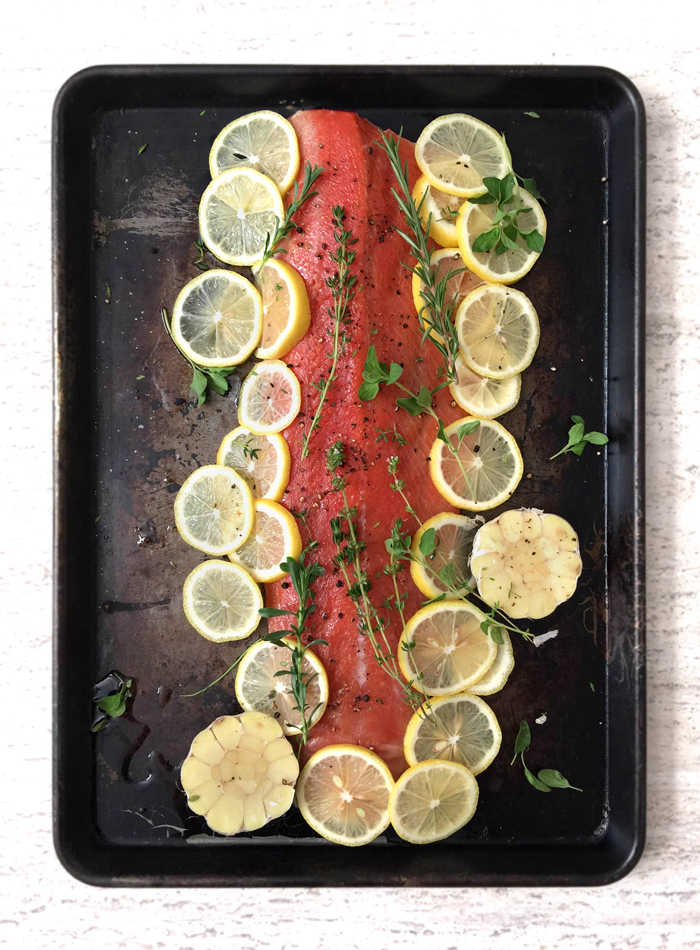 Wild or Farmed? King or Sockeye? What Kind of Salmon You Should Get
How to Avoid that White Stuff on the Salmon (and What Even is It?)
Additional Tips and Notes for Roasted Salmon
On salmon serving sizes: I generally allot 8 oz (half a pound) of salmon for each serving, which amounts to two pounds total for this recipe. Eight ounces in actually a pretty large serving. Most people will not eat that much because of all the other delicious little things on the table. However, leftover cooked salmon will keep for about three days in the refrigerator, or frozen for a few weeks. It might even be worthwhile to cook extra on purpose because leftover salmon is great for adding to your lunch and dinner grain bowls.
What to serve with Roasted Salmon: I like to serve this salmon with a green salad dressed with a strong vinaigrette like anchovy or roasted garlic, simple roasted vegetables, which can be roasted on the second rack in the oven while the salmon is roasting, and maybe herbed brown rice or quinoa tossed with salsa verde or herb pesto.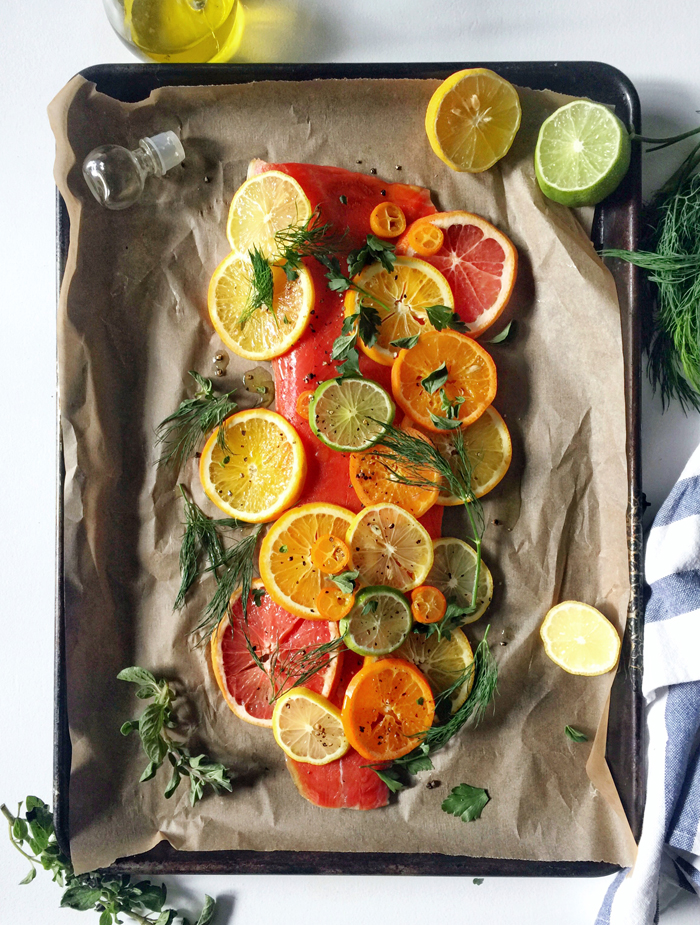 If you're as into salmon as I am, especially for the omega-3s!, try these main dish salmon recipes, too, to change up your weekly menu:
Grilled Salmon with Cherry Salsa Recipe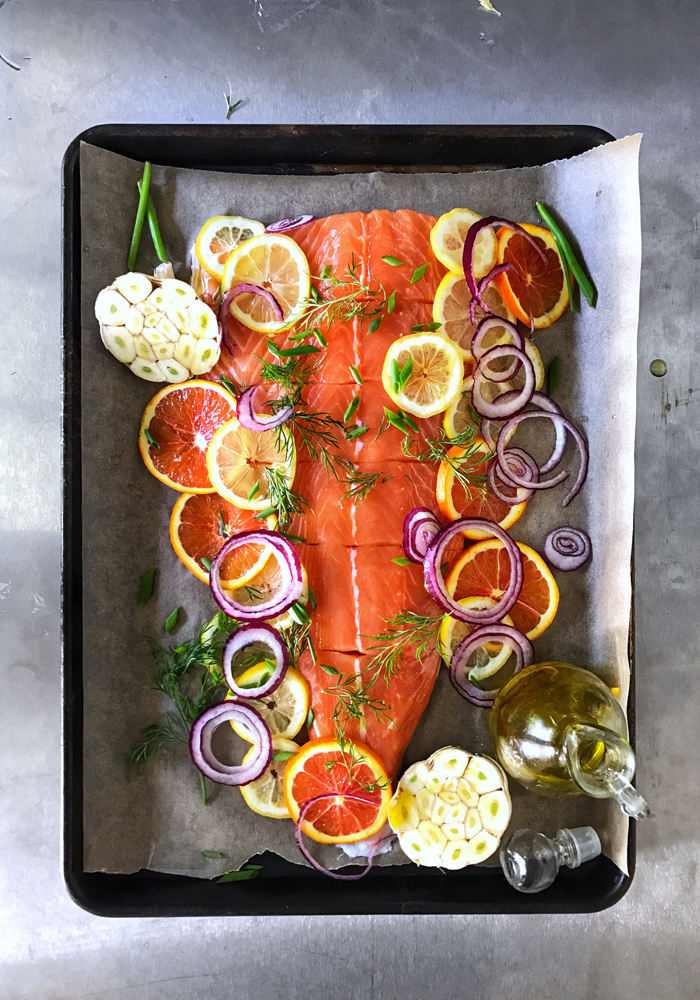 Print Recipe
Salmon with Citrus and Herbs Recipe
makes enough for 4-6 people
Ingredients
1

2 pound

side of salmon with the skin on

2

tablespoons

+ 2 tablespoons grapeseed oil

½

large red onion

thinly sliced cross-wise

1

blood orange

very thinly sliced

1

orange or tangerine

very thinly sliced

1

Meyer lemon

very thinly sliced, seeds removed

1

red grapefruit

very thinly sliced, seeds removed

handful of sprigs of fresh dill

chives, oregano, and parsley

kosher salt and coarsely ground black pepper
Instructions
Heat oven to 325°.

Cut a piece of parchment paper to fit a large baking sheet that will hold the salmon. The parchment paper will make it easier to lift the salmon in one piece from the baking sheet to a serving plate.

Drizzle 2 tablespoons grapeseed oil onto the parchment paper. Scatter sliced onions and half the citrus slices over oil and toss with oil to coat the onions lightly.

Place the salmon skin side down over the onions on the parchment paper. Using a very sharp knife, make deep scores across the salmon into serving portions, making sure to leave about ¼-inch at the bottom including the skin, intact. This will make it easier to serve at the table.

Arrange the remaining half of the citrus slices around the salmon. Drizzle the salmon and citrus with oil, including into the cuts of the salmon. Season with salt and cracked black pepper. Place herb sprigs on top, pressing into the salmon to coat the sprigs with a little bit of the oil.

Roast the salmon until it is barely cooked through — when you poke the center of the fillet with the tip of a sharp, narrow knife and twist it, it is just opaque. Because thickness of salmon filet will determine cooking time, check the salmon with a knife after 20 minutes, then every few minutes until it's done. The salmon will take anywhere from 30 to 40 minutes.

Transfer salmon, onions, and citrus to a serving platter. Season with salt and pepper and garnish with fresh herbs.

To store leftovers, remove citrus and discard, place salmon in air-tight container or plastic bag/wrap, and keep in refrigerator up to two days.