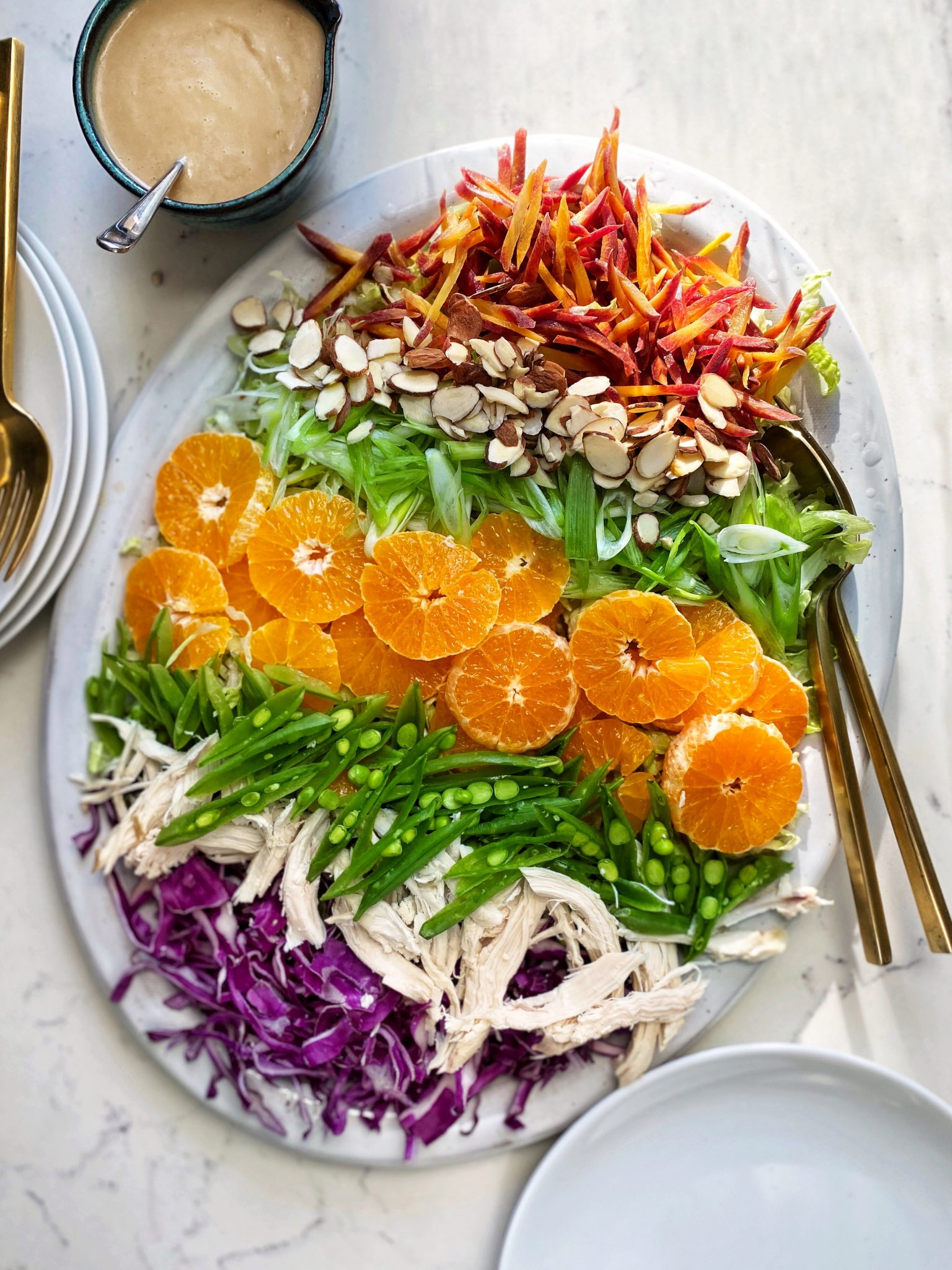 If you're here for Chinese Chicken Salad, hit that "jump" button. Otherwise, I have a story, ok?
My family is not Chinese.
However, you might never guess that based on the fiercely possessive national pride my Dad has for China. If you ask my Dad where something comes from, where it originates, the history of anything, I am willing to bet my kingdom's inheritance that he will say "China." Test him with something. He will find a way to trace its roots back to China. Just like "kimono."
Firecrackers? China
Ice cream? China.
Spaghetti? My Dad LOVES this one.
"It is a common misconception that spaghetti comes from Italy, when in fact, it was Marco Polo's travels through China…" Dad will be smiling, as he gets to prove himself, yet again, the Great Enlightener.
With the exception of potatoes, which my Dad has conceded to origins in the mountains of Peru, everything comes from China.
Chinese Chicken Salad is... American?
But one of these days, I am going to ask my Dad about Chinese Chicken Salad. He will have to think about that one. Dad is going to lean back in his Captain's chair with his fingers interlaced behind his head and think hard because there is no way in hell he will be able to trace Chinese Chicken Salad back to China. Not even Asia. I bet Chinese Chicken Salad doesn't even come from anywhere near the northern hemisphere.
See, Chinese Chicken Salad is just about the most American food there is. Like many foods, the true origin of Chinese Chicken Salad is debatable, but it is commonly attributed to Wolfgang Puck, who created it somewhere within his Asian fusion empire.
Imagine that. An Austrian chef who does Asian Fusion in America invents Chinese Chicken Salad. How confusing. And I wonder about my identity crisis.
However, regardless of the uncertainty of it origins and the fact that its being overpriced, overdone, and just plain oh-ver, I still love a good Chinese Chicken Salad and consider it an American Classic.
I've tried my fair share of Chinese Chicken Salads in Los Angeles—Chin Chin, Feast from the East, Joan's on Third—and each one is different, from the type of greens used as a base to the flavors in the dressing, from the preparation of the chicken to "garnishes." All of the salads are good, but nothing beats making it at home exactly the way *I* want it, pulling the best elements from all the other salads out there. My Chinese Chicken Salad is VERY AUTHENTIC to me.
(btw, if you have a recommendation for a good Chinese Chicken Salad in a restaurant, let me know. I am always researching.)
What You Need for Chinese Chicken Salad
Most Chinese Chicken Salads have some combination of lettuce, nappa cabbage and/or other greens that might suggest "Asian," mandarin oranges, nuts, some form of pasta like fried wonton strips, "chow mein" noodles, or rice vermicelli, nuts, scallions, and a dressing that involves soy sauce, sesame oil, and ginger.
The following ingredients are specifically what you need for THIS Chinese Chicken Salad, though the recipe is endlessly flexible and the ingredients can be substituted to suit your preferences and what's locally and seasonally available to you:
nappa cabbage
purple cabbage
carrots
tangerines (fresh! not canned!)
snap peas
almonds
shredded chicken breast
Ginger Miso Dressing or sesame soy vinaigrette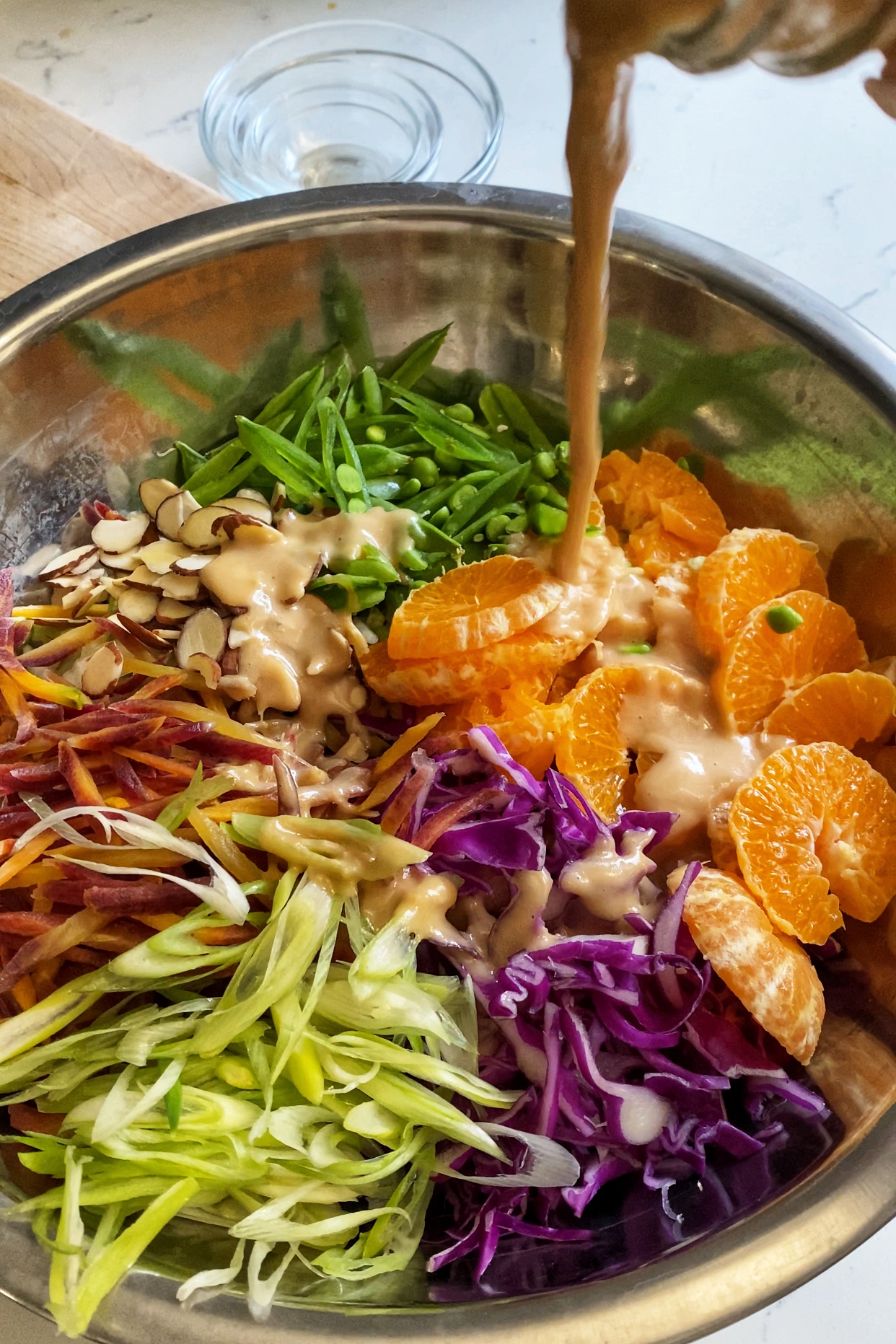 Chinese Chicken Salad Ingredients Notes and Resources
Napa cabbage is the oblong-shaped cabbage that is used often in Asian cultures, e.g. in kimchi. If you can't find napa cabbage, use any green cabbage. To be honest, you can use romaine lettuce as the base, too. You just want 6 cups of shredded, green and crunchy-crisp.
Purple cabbage adds color, which is a visual aesthetic thing, but also an indicator of nutrient density. Purple cabbage is available in every grocery store.
Carrots. I used red carrots for nothing else than their color.
Tangerines. Fresh citrus is generally in season in winter, but the small tangerines and mandarin oranges are almost always available year-round in grocery stores. Use any small tangerine or mandarin orange for this. Don't use the canned mandarin oranges. Not only are the canned oranges usually soaked in sugar syrup, but why? Why wouldn't you use fresh mandarins that still retain all their nutrients?
Snap Peas are the sweet, "puffy" peas in their pods. You can also use their flat cousins, snow peas, or even shelled edamame.
Almonds. Sliced almonds are easier to eat with a fork or spoon in a salad. However, if you have whole roasted almonds, just chop them and use those.
Chicken. I have never actually cooked chicken with the express intent of making this salad. I have always only ever used leftover roast chicken or a store-bought rotisserie chicken.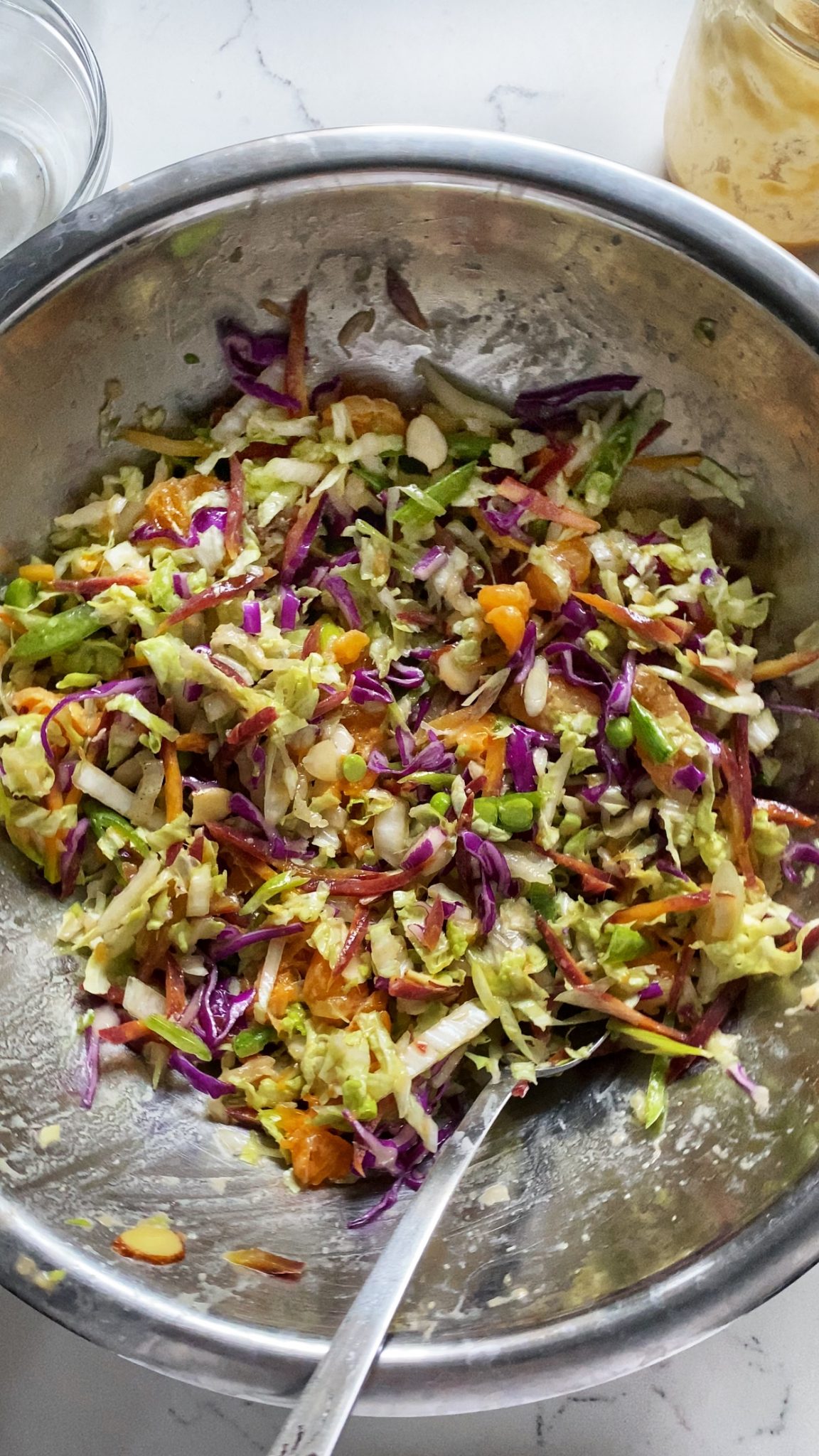 Substitutions and Optional Ingredients for Chinese Chicken Salad
Add any or all of the ingredients below in addition to or to substitute for ingredients in the main recipe.
Cucumbers, chopped
Radish, any kind, julienned
Snow Peas.
Edamame.
Red onions, sliced and soaked in cold water for 10 minutes, or pickled red onions
Water chestnuts
Tofu. To make this salad vegetarian/vegan, substitute pan-sauteed or air fried tofu.
Fried rice vermicelli
Chopped fresh cilantro
Toasted whole sesame seeds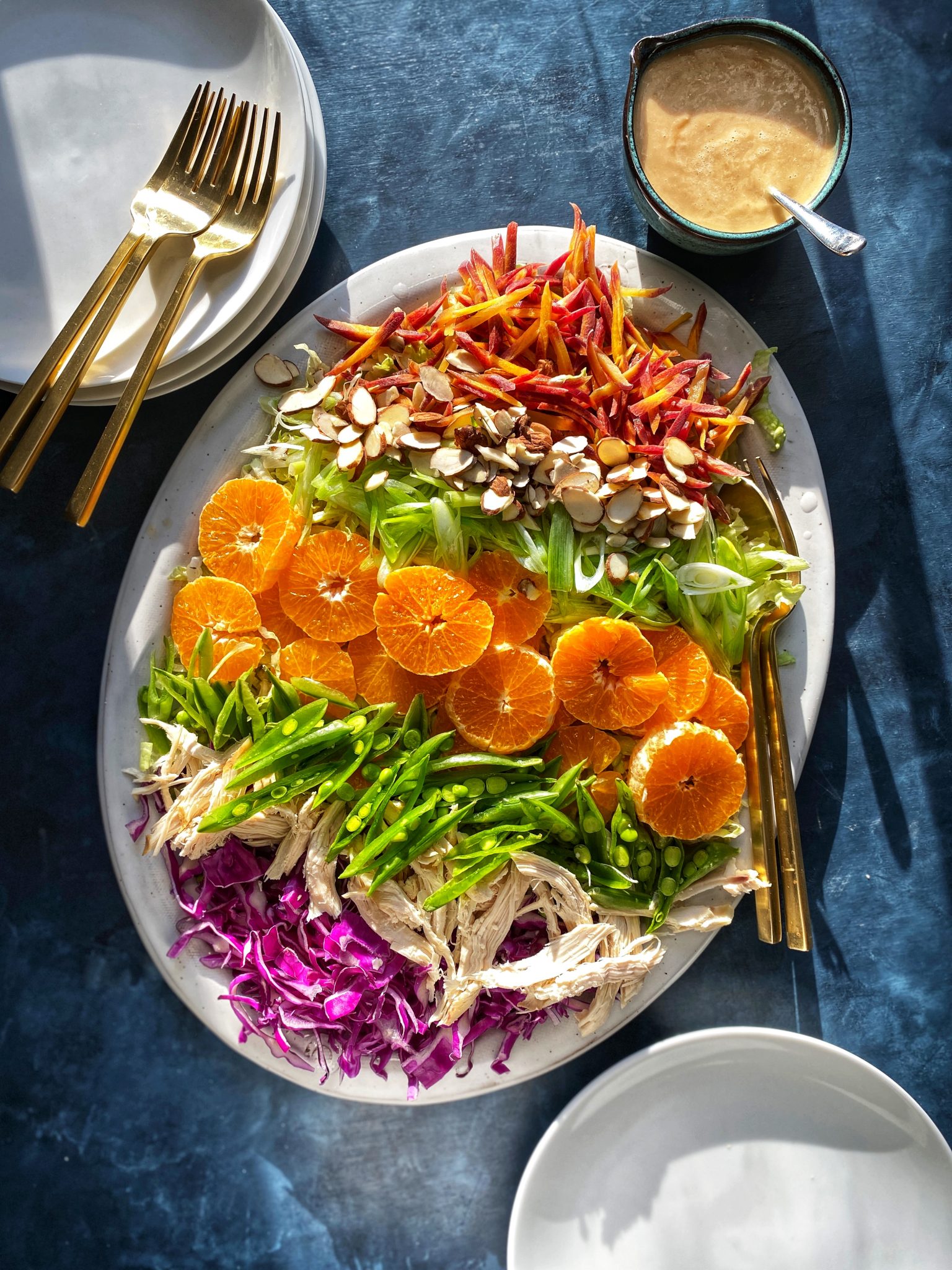 Print Recipe
Chinese Chicken Salad Recipe
This salad is full of antioxidants and anti-inflammatory ingredients from the two kinds of brassicas, vitamin A in the carrots, vitamin C in the fresh tangerines, and if you rely only on the natural sweetness of the tangerines instead of adding sugar to the dressing, even better.
Ingredients
½

head

napa cabbage, finely shredded

(about 6 cups)

¼

head

red cabbage, finely shredded

(about 2 cups)

2

large carrots, peeled and julienned

4

tangerines, peeled and sliced or separated into segments

2

cups

snap peas, finely sliced

2

green onions, sliced

½

cup

sliced almonds

2

cooked chicken breast halves, cooked and shredded

1

cup

Ginger Miso Dressing

or simple Classic Chinese Chicken Salad Dressing below
Classic Chinese Chicken Salad Dressing
2

tablespoons

sesame oil

2

tablesoons

rice vinegar

1

teaspoon

sugar or honey

1

clove

garlic, green stem removed and very finely minced

½

teaspoon

fresh ginger, grated
Instructions
For Composed Salad Platter:
In a large mixing bowl, toss shredded napa cabage with about ¼ cup of dressing, and spread out on platter. Toss shredded purple cabbage with about 2 tablespoons of dressing and place on one section over napa cabbage. Place the remaining ingredients in sections over the napa cabbage. Drizzle entire platter with dressing, or serve dressing in small bowl on the side.
For Chopped Salad Bowl:
Combine all ingredients in a large mixing bowl, including dressing. To make the salad easier to eat, use kitchen shears to further chop the ingredients in the bowl.
Make Classic Chinese Chicken Salad Dressing
Combine all the ingredients in a small bowl and whisk together, or pour into a mason jar and shake vigorously.
This recipe originally published March 2006, updated March 2022.