Omega-3-rich salmon gets the classic treatment of lemon and capers for a dish that comes together in minutes. Salmon Piccata is easy enough for a weeknight, and dressed up with a bottle of wine it's special enough for the weekend!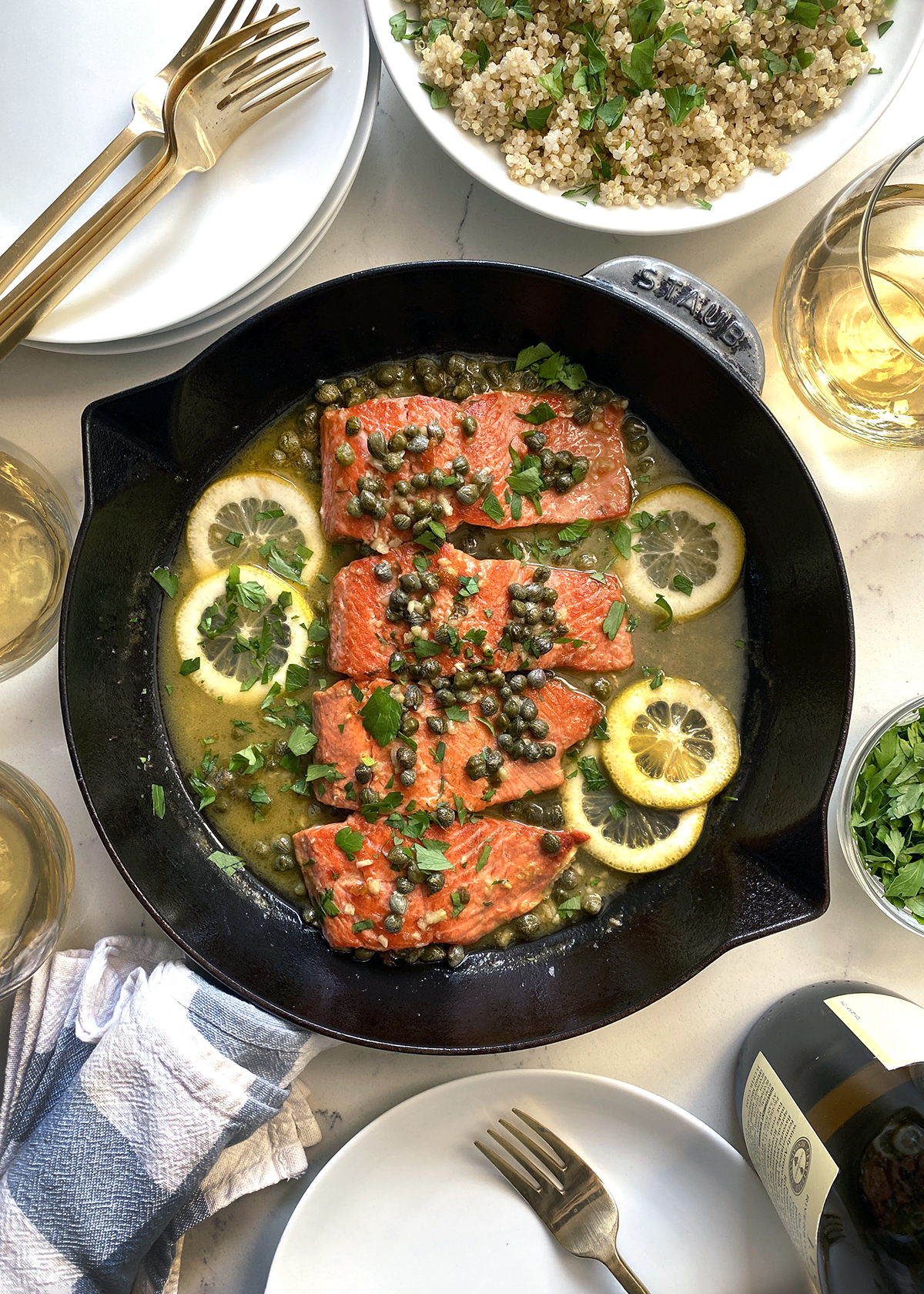 Currently obsessed with all things Piccata, whether it's this Salmon Piccata, traditional Chicken Piccata, Cauliflower Piccata, Piccata sauce tossed with pasta, spread onto flatbread, massaged into my neck and shoulders... you know, all the good things.
Jump to:
What is Piccata
Classic "piccata" is made with chicken breasts or veal cutlets that have been pounded into thin flat cutlets that get dredged in flour, fried, and served with a lemon caper sauce.
Piccata's origin story of how it became a weeknight dinner hero is mostly unknown because Chicken Piccata, the version we know in the United States, doesn't seem to exist in Italy. There is something similar, made with veal. Most likely, the piccata we know is an Italian-American dish, and Salmon Piccata? Non-traditional, but totally delicious.
In the Salmon Piccata version, we're swapping out chicken for omega-3-rich salmon, and leaving out the flour dredging step. That flour coating normally serves two purposes for chicken/veal. It protects the meat from overcooking and drying out and also thickens the sauce. In our salmon version, we don't have to worry about overcooking the salmon because oh my god we would never. Also,. we don't mind a light, bright, thin pan sauce.
This Salmon Piccata recipe is:
dairy-free (if using plant-based butter, see below for the brand I use)
gluten-free
anti-inflammatory
What You Need for Any Piccata (the Basics)
Garlic. You can use any form of garlic for Piccata: sliced, chopped, minced. Because this dish is meant to be fast and easy, I use a garlic press, then scrape the garlic directly from the press into the pan.
Olive Oil. I used this olive oil that's pretty widely available, though it is not organic.
Butter. I use this plant-based butter when cooking dairy-free. If you can tolerate dairy, use any regular butter. It doesn't matter if it's salted or unsalted, the sauce will be very salty from the capers either way.
Lemons: You will use both the zest and juice from lemons, so try to find organic lemons with generally clean looking skins.
Capers. Use the small, non-pareil capers in liquid brine, which gets drained off. If you use capers in dry salt, soak the capers in plain water for about 15 minutes. This store brand is organic.
White Wine. To de-glaze the pan after cooking the salmon, I use whatever white wine I have open and am drinking while cooking. A citrus-forward Sauvignon Blanc or unoaked Chardonnay are great choices here.
Chicken Stock. I have frozen homemade chicken bone broth, but use any low-sodium chicken stock. This is a solid brand I keep in the pantry for emergencies. If you're pescatarian, which means you eat salmon, but not chicken, this brand has a "no chicken" broth, made with kombu so it's even vegan.
Parsley. Use Italian flat-leaf parsley, not the curly leaf parsley (unless that's the only kind you can find).
All other fresh herbs and produce from either the Santa Monica Farmers' Market on Wednesday, or Whole Foods Market when I can't find what I need at the farmers' market.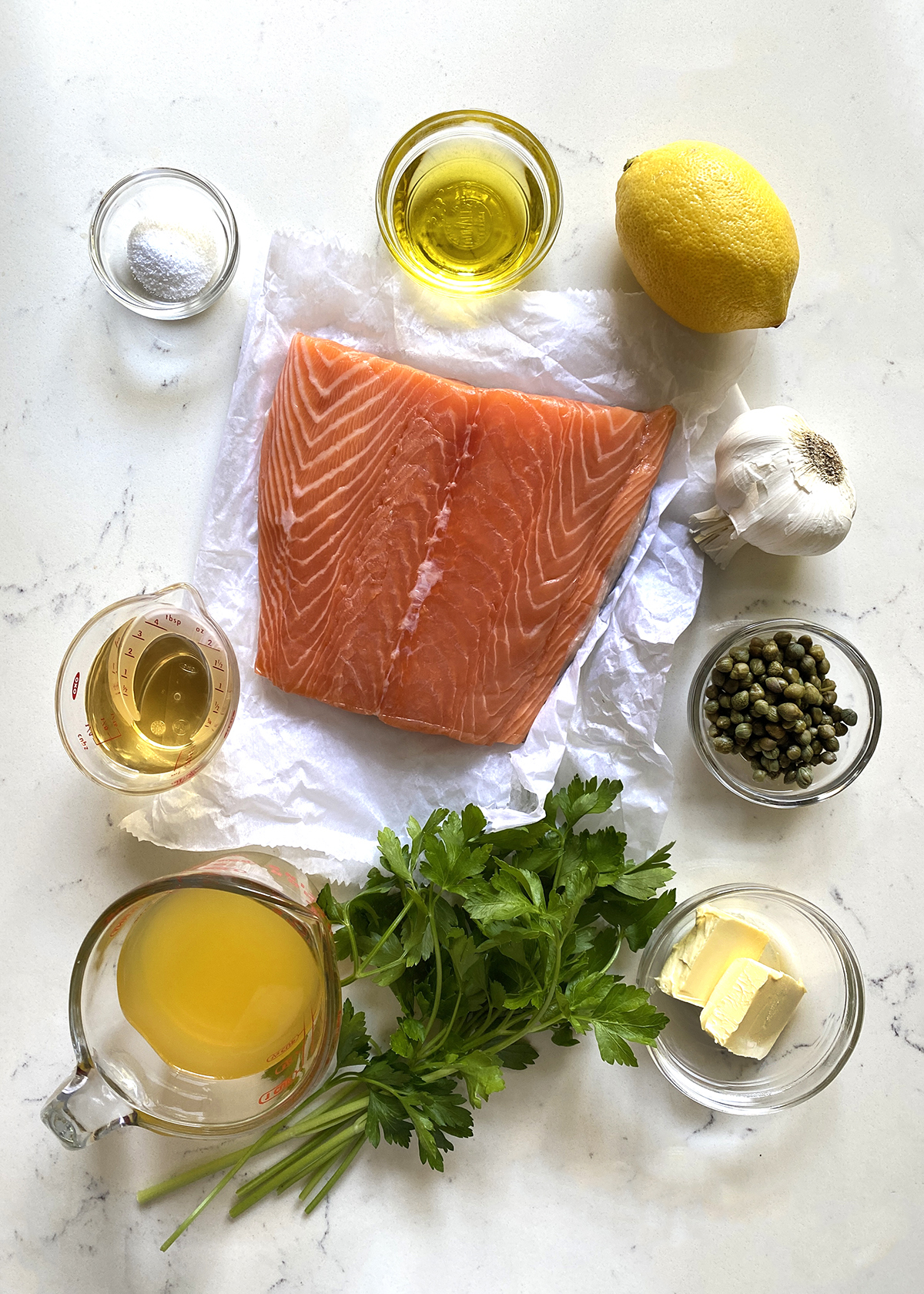 What Salmon to Use for Piccata
First Choice: King Salmon
Wild king salmon has historically been my favorite, and is generally in season May-September. King salmon is richer in texture but slightly lighter in flavor than other varieties of salmon like coho and sockeye. In Los Angeles, I get my seafood from Santa Monica Seafood. As of publication of this post, Whole Foods seafood department has fresh (not previously frozen) wild King salmon for $26.99/pound.
Great Alternative: Sockeye Salmon
If wild king salmon is not available, try sockeye salmon, which is becoming the new house favorite. Sockeye has a more robust color and flavor than king salmon, which is great for those of us who love other more intensely flavored things like anchovies and sardines. It is also leaner than other varieties of salmon, which is great because Piccata has a lot of sauce for it to swim in. Sockeye salmon is a smaller fish, so the fillets will be thinner, which means it cooks faster too, making it even better for a busy weeknight.
You can substitute almost any other fish for salmon, even thin delicate fish like petrale sole. Simply adjust the cooking time on the fish to account for thinner fillets.
FAQs, Tips and Techniques for Salmon Piccata
Q: How much salmon should I buy?
A: Allot 4-6 oz of salmon for each serving, which amounts to 1-1½ pounds total for this recipe. Cooked salmon will keep in the refrigerator for up to three days, so go ahead and make the bigger portion. You will be happy to flake the leftovers into pasta or a bowl of whole grains and drizzle with leftover lemony, caper-y piccata sauce the next day.
Q: What type of skillet or pan should I use to sear salmon?
A: I use a cast iron skillet, which has naturally become "non-stick" over the years. If you are new to pan-searing salmon, use a non-stick pan.
Q: Can you double the recipe? Can you make half the recipe?
A: You can very easily ratio the recipe up or down! In fact, if you double just the sauce ingredients, you can use it as a sauce for pasta to serve with the salmon!
Q: Cook in advance?
A: Yes! You can make the Piccata sauce in advance. The sauce will keep in the refrigerator in a sealed container for about three days. However, the recipe comes together so quickly, there's no need to do anything too far in advance.
Q: Adding grated Parmesan at the end?
A: NO. For some reason, people always want to put grated Parmesan on any dish that sounds even vaguely Italian. Don't do it. Cheese and fish absolutely do not belong together. Do not put cheese of any kind on this dish. No parmesan. If you feel the need for flair to "finish" a dish, rain down more chopped fresh parsley. Fresh cracked black pepper. Heck, even buttered toasted breadcrumbs. But no parm.
Tools and Equipment

You don't need any special equipment to make Salmon Piccata. You can simply use a knife and cutting board to prep the salmon and vegetables. However, that doesn't mean there are a couple of gadgets and tools that might make it even easier than it already is.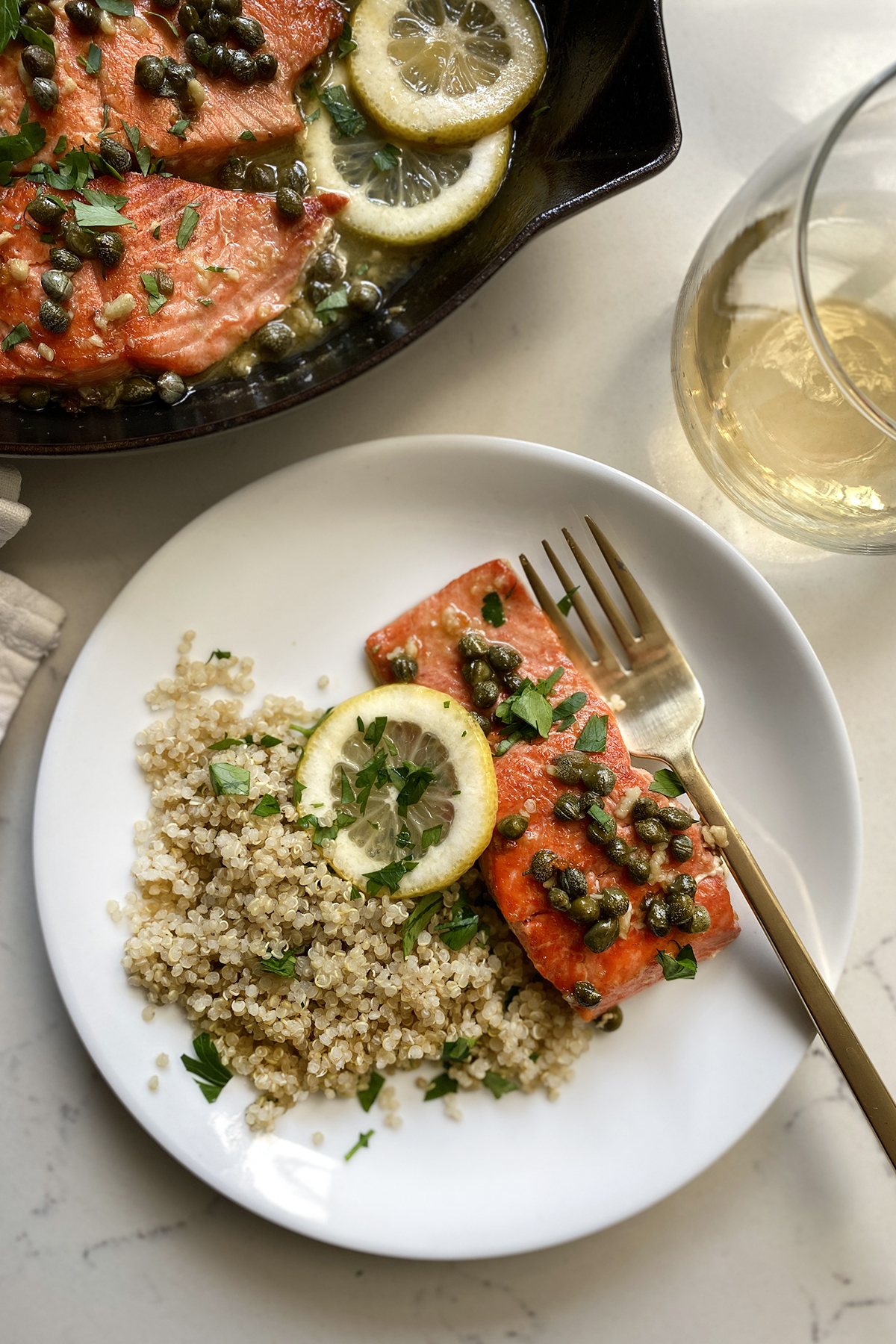 What Side Dish to Serve with Salmon Piccata
For a generous piece of omega-3-laden salmon with a bright, lemony sauce, all you need is a simple vegetable or light starch or both on the side. Here are some great suggestions to pair with Salmon Piccata:
Tri-colore Salad with Anchovy Vinaigrette, a colorful take on Caesar Salad
LOVE roasted broccoli, or steamed if you want to keep all your cooking on the stovetop
garlic-sautéed baby spinach
quick pan-roasted asparagus
boil pasta and toss it right into the Piccata sauce at the end
steamed brown rice or quinoa
Really go for it with the lemon theme, and finish your meal with this dairy-free Lemon Olive Oil Cake.
Wine for Salmon Piccata
Fish almost always calls for a crisp, white wine, and salmon is no different, especially in this preparation with light, bright sauce with a bit of butter. An unoaked Chardonnay that leans a little citrus is a great pairing. If you're "not a Chardonnay person," that's cool (and we'll change that later). Try a Sauvignon Blanc that's citrusy, with only a hint of herbs.
For more tips and ideas on pairing wine with salmon, check out this post.
More Salmon Recipes
Print Recipe
Salmon Piccata Recipe
A quick, light recipe for Salmon Piccata, that also happens to be dairy-free and gluten-free!
Ingredients
1½

pounds

salmon

cut into 4 pieces

2

teaspoons

salt

2

tablesoons

olive oil

4

cloves

garlic

very finely sliced

½

cup

dry white wine

1

cup

chicken stock

½

cup

lemon juice

from about 3 large lemons

½

teaspoon

lemon zest

¼

cup

capers

drained and rinsed

2

tablespoons

plant-based butter

12

paper thin slices of lemon

4

tablespoons

chopped fresh parsley
Instructions
Pat salmon dry with paper towel. Season both sides of each piece of salmon with salt, and black pepper if you're using it.

Heat a cast iron skillet over medium heat. When hot, add olive oil. Place salmon pieces in skillet with skin side down. Press down gently on the salmon pieces to make sure the surfaces of the fish have good contact with the pan, but do not move the fish around in the pan. Allow the fish to cook for about 3 minutes until the skin is crisp, then flip the fish over and cook the second side 2-3 minutes, depending on thickness of fish pieces. Remove the cooked fish to a plate.

Add white wine to the skillet. With a wooden spoon, scrape the bottom of the pan to loosen any browned bits. Simmer wine until reduced by half, about 2 minutes.

Add garlic and cook until garlic is translucent and the mixture is fragrant.

Stir in chicken stock, lemon zest, lemon juice, and capers and cook until the sauce has thickened, 4 to 6 minutes.

Add butter to pan, whisk vigorously until sauce has thickened, about 1 minute.

Return the salmon to the skillet, flipping gently a few times to coat the pieces on all sides with the sauce. Spoon the sauce along with capers on top of each piece of salmon. The salmon is cooked when a thermometer inserted into the middle of the thickest fillet should register 120 to 130°F for medium-rare, or 135 to 145°F for medium-well.

Transfer cooked salmon to plates, along with some of the sauce and capers. Garnish with lemon slices and chopped parsley.
Notes
Leftover Salmon Piccata will keep in an air-tight container in the refrigerator for three days, or in the freezer for 2 weeks.