If you're popping a bottle of white wine to pair with salmon for dinner, you're doing it right! But did you know that pairing wine with salmon is actually open to a broad range of pairings, including red wine?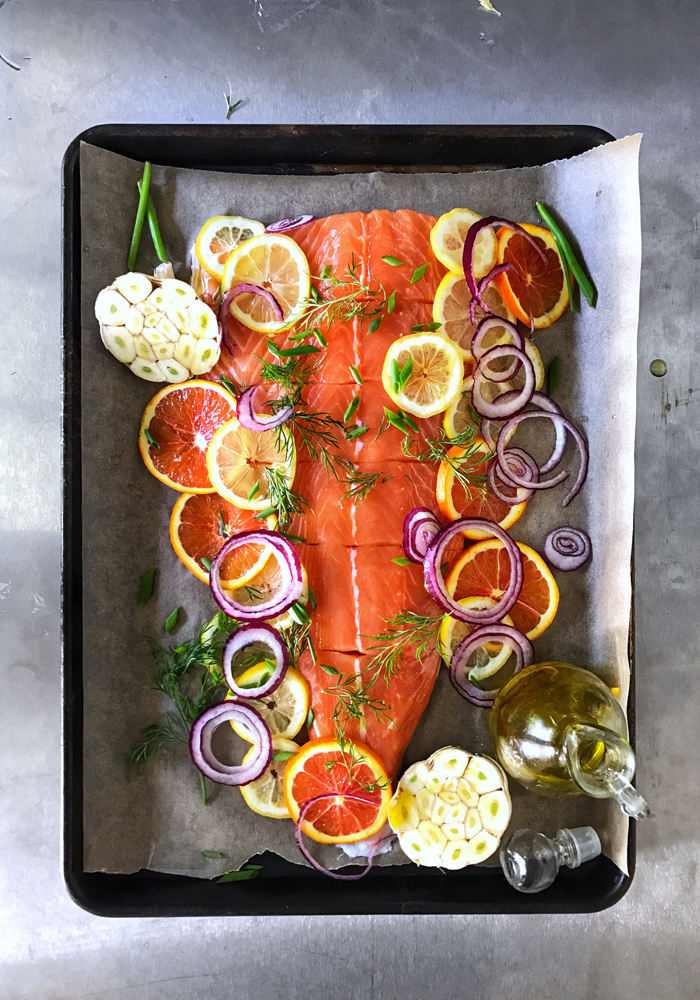 Yes, you absolutely can, and should, drink red wine with salmon!
(But we'll get to that in a moment.)
Jump to:
Start with Salmon's Basic Flavor Profile
Salmon is one of the most versatile fish in the kitchen. The higher fat content in salmon means not only is the fish fairly forgiving in terms of under- or over-cooking, but it's also richer and more flavorful on its own than other fish.
The versatility of salmon in the kitchen is also what makes it open to interpretation at the table for wine pairings. A basic preparation of salmon prepped with nothing but salt, pepper, maybe a few dried herbs, and seared in a hot skillet, is pretty much a blank canvas for any wine. The key is to pair wine to salmon's preparation, considering first any marinade, then the finishing sauce or condiment, and lastly the actual cooking method e.g. searing, grilling, poaching.
This Guide will walk you through the most popular types of salmon dishes and their best wine pairings, along with specific bottle recommendations. A recipe for a simple Seared Salmon that can be paired with virtually any wine, except full-bodied tannic reds, follows.
Of course, don't limit yourself. Use the general pairing principles, e.g. white, high-acid, citrus notes, for each type of salmon dish to pick different bottles of similar wine styles. And if you're feeling really adventurous, try something totally new. And definitely come back here and let us know about it!
Best Wines with Salmon - A Cheat Sheet
tl;dr Here is the wine with salmon pairing cheat sheet, which lists what types of wine pair with salmon the best:
full-bodied white wines
aromatic white wines
sparkling wine
rosé wine
light-bodied, low-tannin red wines like Gamay and Pinot Noir
Full-bodied white wines like Chardonnay, Chenin Blanc, Marsanne, Rousanne, and Viognier have weight and texture that are natural matches with flavor-rich fatty salmon straight out of the pan. Lighter bodied white wines like Pinot Gris, Pinot Blanc, and Sauvignon Blanc, as well as aromatic white wines like Riesling and Gewürztraminer, work as complements to salmon with their light, bright, citrus characteristics that can balance and cut through salmon's fat.
However, if the salmon's preparation method is robust, and any accompanying sauce is richer and heavier, you can seamlessly pair rosé and light-bodied, low-tannin red wines like Gamay, Grenache, and Pinot Noir, and of course, juicy fruity rosé that's characteristic of California, too.
To some extent, the specific type of salmon e.g. king, coho, sockeye, can even further fine-tune a pairing, but that's a graduate-level class that you can take after this.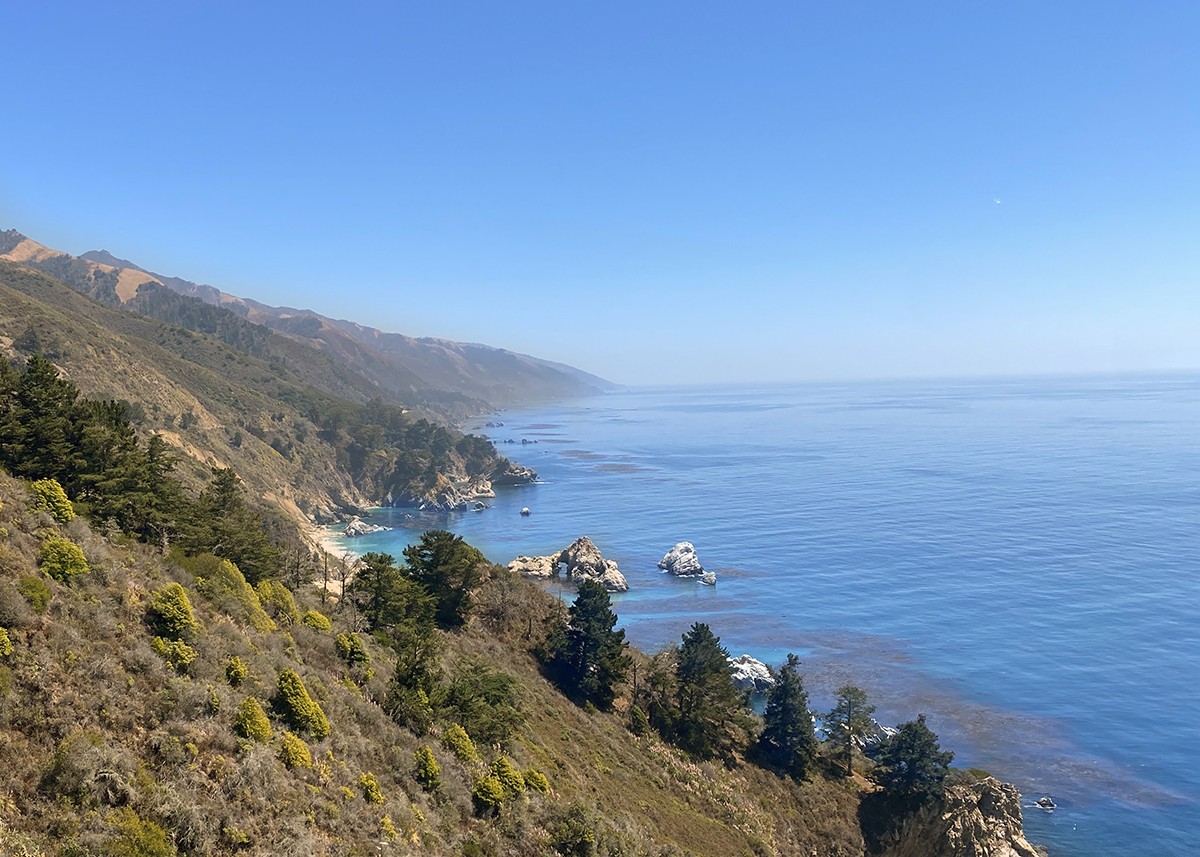 The Wines - Monterey
The specific wines I'm choosing for this Guide all hail from Monterey, California. Yes, that Monterey!
Though it may be better known as a world-renowned travel destination and home to the enormous Monterey Bay Aquarium, historic Cannery Row, luxurious Pebble Beach golf courses, and breathtaking ocean cliffs of Big Sur, Monterey is also one of the oldest wine regions in California. Just inland of all the seaside tourist attractions and over the Santa Lucia Mountains, the largest part of Monterey is planted with 46,000 acres of vineyards. As a comparison, Monterey's more famous cousin to the north, Napa Valley, is planted with 45,000 acres of vineyards!
This past September, I learned about wines from Monterey by physically walking vineyards in one of the more well-known AVAs the Santa Lucia Highlands, touring wineries with harvest about to go into full-swing, and tasting world-class wines with the winemakers themselves. It was on this tasting trip with the California Wine Institute that I experienced first-hand how the Pacific Ocean's cool coastal air that rolls over the mountains and into the agricultural and viticultural valley influences the grapes, which in turn, extends to how well many of the wines pair with fish and seafood right out of the Monterey Bay, including everyone's favorite, salmon!
Monterey is located toward the southern end of the West Coast region, where wild salmon is abundant, so it makes sense that many wines from the region pair well with salmon!
Let's get into some specific pairings, shall we?
Wine with Seared Salmon
Seared salmon is one of food-life's greatest pleasures. It has salty, shatteringly crisp skin. It has barely opaque medium-rare center. And it has the impossible combination of feeling both light and clean and tasting luxuriously rich.
Seared salmon dishes are:
soft and flaky
but also meaty
dependent on seasoning, sauce, and side dishes
and really shine with wines that are:
acidic
dry, medium-bodied for white wine
earthy, light-bodied for red wine
At dinner at Cella restaurant in old town Monterey (highly recommend!), I ordered a seared local salmon from the Monterey Bay. The restaurant's sommelier came through with a recommendation of an Albariño produced right there in Monterey, really embodying the spirit of the age-old adage "What grows together goes together."
Albariño is a light- to medium-bodied, high acid white wine and exhibits citrus and stone fruit aromas. The albariño grape originates from Spain and Portugal, and can grow in the cooler microclimates along the Central Coast of California.
Best wines with seared salmon:
Wine with Salmon in Briny, Lemony Sauce
My latest obsession is Salmon Piccata, the salmon version of lemon- and caper-laced chicken or veal piccata that many of us are more familiar with. The salmon itself is seared simply in a pan, but it's the high-toned acid and salt from the sauce that dictate the wine pairing. The butter in the Piccata sauce is there more for texture than taste.
Salmon Piccata and other briny, lemony sauces are:
aggressive acid and salt
strong lemon flavor
light butter
and calls for wine that is
equally high in acidity
citrus-y to match the lemon
Best wines with Salmon Piccata and other Briny Lemony Sauces
Make these Salmon Recipes with Briny, Lemony Sauces
Wine with Poached Salmon
Poaching is one of the gentlest ways to cook salmon and naturally produces a final dish that is soft and delicate in both taste and texture. Recipes for poached salmon often call for white wine and citrus components as part of the poaching liquid, so it makes sense to use the same white wine for both poaching and drinking. If the poached salmon has minimal sauce or additional flavors, opt for a light, crisp wine that has a citrus element to it like a Sauvignon Blanc.
To explore and expand your palate, try Grüner Veltliner, a crisp, lemon/lime scented high acid wine originating from Austria, but now grown in cool-climate pockets around the world, including California. Grüner Veltliner is similar to Sauvignon Blanc, but definitely retains its own identity.
Poached salmon by itself is somewhat of a blank canvas, so it begs for an interesting, flavorful sauce. Most of the time, these sauces are buttery, creamy, spiked with lemon and sometimes herbs. A classic example is Hollandaise sauce with a base of butter and eggs, and a generous note of lemon. Yogurt-based sauces with herbs like fresh dill and cucumber also accompany poached salmon dishes.
You can use the same pairing recommendations for Salmon Piccata above. Also try a classic California Chardonnay that has a buttery profile and some citrus notes.
Best wines with poached salmon:
Wine with Grilled Salmon
Grilled Salmon is where Pinot Noir can truly shine as a pairing. When grilling, we tend to treat salmon like it's a more substantial type of meat, especially if the salmon is one of the fattier species like Chinook or responsibly farmed Atlantic salmon. We start with larger cuts like whole sides or thick, cross-cut steaks, and use more robust marinades and accompanying sauces. Salmon that is grilled on a wooden plank is particularly well-suited to the earthiness of Pinot Noir.
Grilled salmon is:
and pairs with wines that are:
earthy
balanced in acidity
medium-bodied for whites, can have some oak
Best wines with Grilled Salmon
Try these Grilled Salmon recipes
Grilled Salmon with Cherry Salsa
Peruvian-style Salmon "a la Brasa"
Wine with Miso Salmon or Teriyaki Salmon
Miso salmon and teriyaki salmon are two different preparations, but they share a common flavor that dictates the wine pairing: prominent sweetness. Miso itself can be naturally sweet, and most recipes for the marinade are at least 25% sugar. Teriyaki sauce includes sugar and mirin, which is a Japanese sweetened rice wine.
Miso and teriyaki salmon dishes are:
sweet
sweet
did I say sweet already
sometimes salty and/or spicy
and do best with:
medium-bodied
high acid
low tannin
Best wine with Miso Salmon or Teriyaki Salmon
These wine pairings will more than likely work for salmon glazed or coated with any type of sweetness including brown sugar, maple syrup, honey, reduced fruit juice, etc.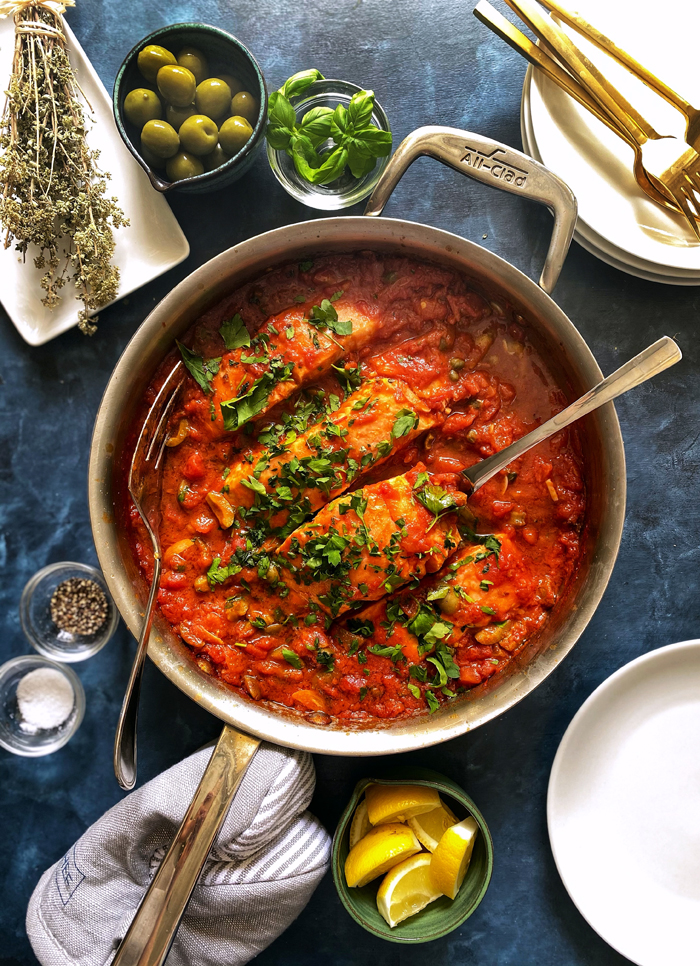 Wine with Salmon in Tomato Sauce
Salmon with any form of tomatoes—whether that's covered with fresh tomato salsa, flaked into a simple marinara for pasta, or braised with a briny spicy tomato sauce like my favorite Salmon Puttanesca—hits all the taste senses for a perfectly balanced dish on its own. Salmon is oily and umami-rich. Tomatoes themselves are acidic and sweet, and whatever preparation will provide saltiness.
Salmon Puttanesca and other tomato sauces have:
aggressive acid
natural sweetness
garlic and spice undertones
so it's no surprise that the perfect wine pairings are:
sparkling wine with an ever so slight bitter edge
dry rosé
medium-bodied red that still has high acid
My go-to wine for Mediterranean-style tomato-based dishes is Sangiovese, a medium-bodied, high acid red wine which might be familiar to you in its Italian expressions as Chianti, Rosso di Montalcino, and Brunello di Montalcino. The Sangiovese grape grows most abundantly in Italy, but is expanding to pockets in South America and of, course California. I love this grape and the various expressions of it in different wines and I LOVE that Sangiovese from California is, obviously, fun and fruity.
Best wine with Salmon Puttanesca and other tomato sauces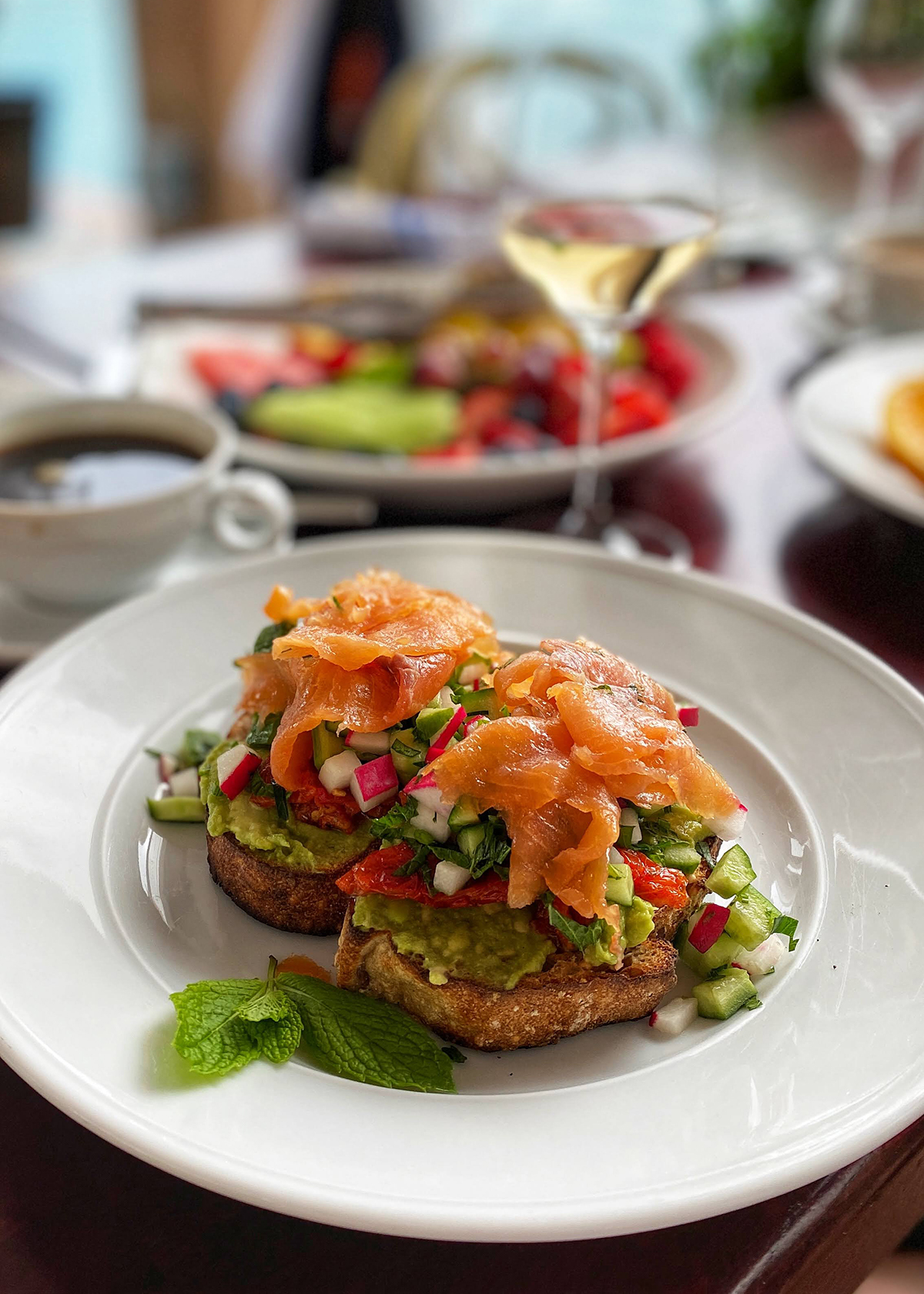 Wine with Smoked Salmon
Say "smoked salmon" and try not to think immediately of brunch, especially when the smoked salmon is the silky, thinly sliced cold-smoked variety served with classic accompaniments like capers, red onions, and if you're lucky, caviar. Those briny, robustly flavored components, combined with the automatic brunch association make it impossible for rosé, sparkling wine, or best of both, sparkling rosé, to come to mind as a pairing.
Hot smoked salmon, the kind that looks like a flaky fillet of cooked fish rather than transparent slices, has an earthier, smokier aroma. The same wine pairings work for both kinds of smoked salmon
If you're not a "sparkling wine person," first of all how dare you, and second of all, you have options for still wines. Look to bright, acidic, fuller bodied white wines and light-bodied Pinot Noirs with soft earth undertones.
Smoked salmon is:
salty
smoky
rich with natural oils in the salmon
and therefore pairs best with:
crisp sparkling to match the salt and smoke
high-acid, subtle citrus white wines to cut through the fat
full-bodied, dry rosé for balance
Winemaker Scott Caraccioli of boutique sparkling wine house Caraccioli Cellars poured his Brut Cuvée and Brut Rosé, both made with a combination of Chardonnay and Pinot Noir, and both of which paired perfectly with a Smoked Salmon toast I had for brunch literally over the waves of the Pacific Ocean on the terrace of the Monterey Plaza Hotel. The crisp bay breeze and the salinity of the ocean air as a backdrop for crisp sparkling wine paired with salty smoky salmon is a total vibe that I will be chasing forever.
Best wines with smoked salmon:
Smoked salmon recipes
Recreate that ocean-view brunch vibe yourself with these Smoked Salmon recipes:
Wine with Salmon Sushi, Crudo, Ceviche, or Poké
Though they are all different styles from different cultural cuisines, sushi, crudo, ceviche and poké are all fresh, mostly raw, preparations of fish. Raw fish dishes often includes some form of acid whether that's a squeeze of citrus directly on the fish, vinegar in the sushi rice or shoyu in the marinade for poké.
These raw salmon preparations are:
and call for:
light- to medium-bodied, high-acid white wines
bright, dry rosé
of course, sparkling.
For Ceviche Tostadas with Salsa Brava that I had at Passionfish restaurant in Monterey, winemaker Casey di Cesare of Sunny with a Chance of Flowers poured a bright rosé to match the fish ceviche. It was, naturally, perfect! He also poured Scheid Vineyards Grenache Blanc, a medium-bodied white wine that tempered the heat from the spicy Salsa Brava.
Best wines with salmon sushi, crudo, ceviche, and poké
Wine Pairing FAQ
Q: Ok, one shot only, what is the ONE best type of wine for salmon?
A: Full-bodied white wine. You will almost never go wrong with a medium- to full-bodied white wine with any salmon. Examples of full-bodied whites are Chardonnay, Chenin Blanc, Grenache Blanc, Marsanne, Rousanne, and Viognier. Lighter bodied white wines like Pinot Gris, Pinot Blanc, and Sauvignon Blanc are also natural complements to salmon that is served with a lighter, brighter, citrus-laced sauce or side dish. Sparkling wine always works, too, unless the salmon dish is spicy to the point of fire. The effervescence of sparkling wine can make spicy things taste even spicier!
Q: I only drink red wine. Is there a red wine I can drink with salmon?
A: Yes! You can drink light-bodied, low-tannin red wines with salmon. This class of red wines includes Gamay, Grenache, and of course, all-around favorite Pinot Noir. In fact, Pinot Noir with salmon is generally considered a "classic pairing" for the New World. The specific bottle pairing depends on the preparation method of the salmon, any accompanying sauce, and to some extent, the type of salmon e.g. king, coho, sockeye. Salmon that is cut into meatier "steaks," grilled over charcoal or wood, or flavored with robust seasonings are best for red wine pairings.
Q: What wine should I use to poach or cook salmon?
A: Whatever dry white wine you like to drink, use that to cook salmon. The only exception here would be a very oaked Chardonnay, which doesn't really work for cooking anything. When I'm making a sauce for salmon that includes lemon and garlic, I will almost always reach for a bottle of dry, citrusy, not too grassy Sauvignon Blanc or Pinot Grigio/Pinot Gris.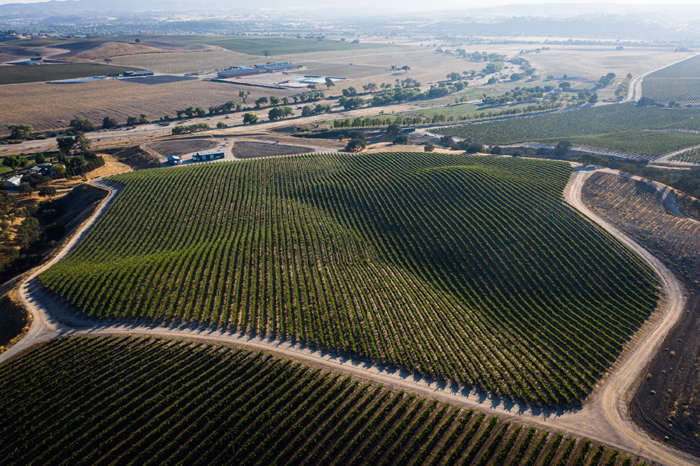 Explore More California Wine Regions
More Perfect Food and Wine Pairings
Print Recipe
The Best Salmon and Wine Pairings
Fast, easy, and most importantly healthiest, the BEST Baked Salmon recipe has only two ingredients and almost no cleanup!
Ingredients
4

6-ounce pieces

salmon

your favorite variety, mine is wild King salmon

1

tablespoon

sea salt

black pepper, optional

chopped fresh Italian flat-leaf parsley for garnish
Instructions
Heat oven to 375°F and make sure there is a rack just below middle. Line a rimmed baking sheet with foil and make sure the foil reaches up and over the edges.

Pat salmon dry with paper towels. Sprinkle salmon pieces on top and bottom with salt and pepper if using. Place salmon on foil-lined baking sheet, skin side down.

Bake in oven for about 10 minutes. Then check with a fork for flakiness, or with a thermometer to reach internal temperature of 145°. The baking time depends on how thick the salmon pieces are.

Using a very thin spatula carefully remove salmon from baking sheet to plates. Garnish with shopped fresh parsley if using. If you did it right, you can just lift the foil off the baking sheet and throw it away.
Notes
Pro-Tip: Remove salmon from the refrigerator 10-15 minutes before cooking to take some of the chill off.
Leftover Baked Salmon can be kept in an airtight container in the refrigerator for three days, or in the freezer for one month. 
Monterey County Wines
When you're ready to explore Monterey's 10 AVAs and their wines, either literally by going on a trip or figuratively by opening a few bottles at home, check out the following producers mentioned throughout this Pairing Guide. All of the wineries have tasting rooms in and around Monterey that are open to the public.
Caraccioli Cellars
Carmel Tasting Room on Dolores between Ocean and 7th
Carmel-by-the-Sea, CA 93921
www.caracciolicellars.com/
wines: Sparkling Brut Cuvée, Sparkling Brut Rosé made in the traditional method of making French Champagne (méthode champenoise).
Carmel Road
www.carmelroad.com
wines: Santa Lucia Highlands Monterey Pinot Noir and Chardonnay, limited production Cabernet Sauvignon
La Crema
wines: Monterey grown Chardonnay, Pinot Gris, Rosé, and Pinot Noir
Scheid Vineyards
Carmel Tasting Room at San Carlos & 7th
Carmel, CA 93923
(831) 626-9463
Tasting Room at the Winery
1972 Hobson Avenue
Greenfield, CA 93927
(831) 455-9990
www.scheidvineyards.com
wines: Chardonnay, Pinot Noir, Grenache Blanc, Sauvignon Blanc, Rosé, Albariño, Riesling, Gewürztraminer, Grüner Veltliner
Sunny with a Chance of Flowers
www.sunnywines.com
wines: zero added sugar, low-calorie, and low-alcohol Sauvignon Blanc, Chardonnay, Rosé, Pinot Noir, and Cabernet Sauvignon
Talbott Vineyards
Tasting Room on Lincoln Street
between 5th and 6th Avenues
Carmel-by-the-Sea, CA 93921
www.talbottvineyards.com
wines: estate-grown Chardonnay and Pinot Noir from world renowned vineyards including Sleepy Hollow Vineyard in the Santa Lucia Highlands AVA
This post was created in partnership with California Wines and California Grown to celebrate California Wine Month, which is every September. All opinions and recipe adaptations are my own. Your and our sponsors' support is what helps us live The Delicious Life so thank you!
---
Why Trust The Delicious Life?
Sarah is a professional recipe developer, writer, and digital content creator with almost 20 years of experience cooking dishes to pair with wines and vice versa, selecting wines to pair with food on the table. She has traveled to and tasted wine in Burgundy, France and throughout the many diverse wine regions of California.