For all the (chosen) peeps and your adjacents, latkes, smoked salmon, and caviar on an epic Hanukkah Board to celebrate the holiday. Shall we?
Jump to:
What You Need for Your Hanukkah Board with Latkes and Smoked Salmon
The foundation of the Hanukkah Board is of course, golden fried latkes. Apple sauce and sour cream are traditional toppings for latkes, and after that, the options for accompaniments and garnishes are endless. If it were up to me, the entire board or platter would just be Latkes topped with smoked salmon and caviar, but what's the fun in that?
Here are the general categories of things you need to make it a big fun colorful board:
latkes, of course, and other fried things to serve as bases
apple sauce and/or sour cream, the traditional toppings
smoked salmon, smoked whitefish and other smoked fish and spreads
caviar and the usual accompaniments if you're going luxe
herbs, chopped fresh
pickled things
fresh fresh fruit and vegetables to round out flavors and textures
You can use a large wooden board to serve the Latkes and Smoked Salmon as a true board. However, when I serve hot/warm foods like latkes, and seafood like smoked salmon, I usually serve on a ceramic, stone or porcelain platter, which keeps foods at their serving temperature a little longer than wood.
Links to boards and platters I use in the Tools and Equipment section below.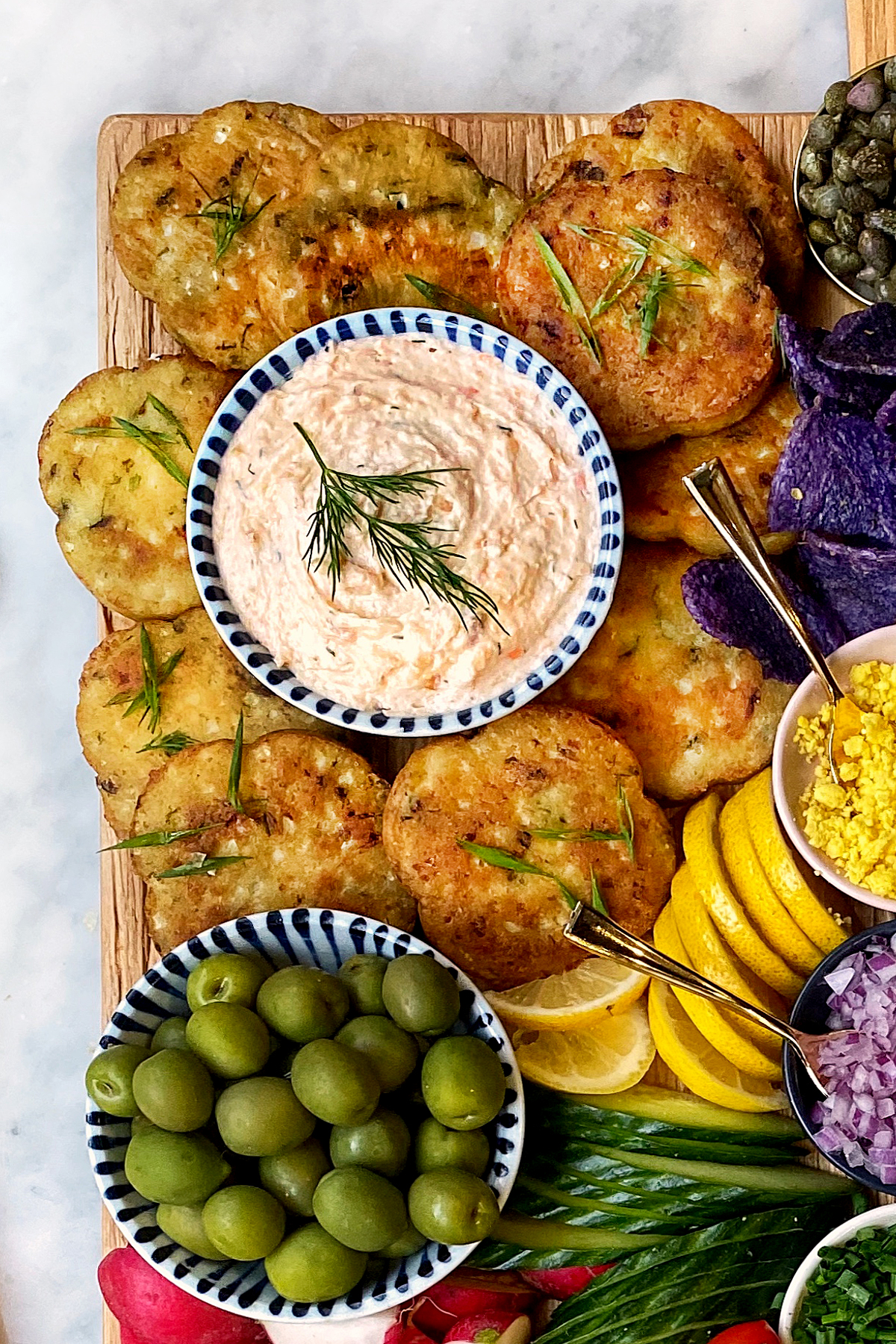 Can I Use Something Other than Potato for Latkes?
YES! Though we most often associate latkes with regular white potatoes, there are latkes made with other vegetables, usually a starchy root vegetable that can be shredded. So if your health and dietary restrictions exclude regular white potatoes, you can try latkes made from:
sweet potatoes, which are not related to potatoes at all, try this recipe
beets, this recipe includes the beet greens, too so it's no waste!
carrots
zucchini latkes, recipe here at Taste of Home
cauliflower!
We found cauliflower latkes, pictured above, and in the lower right corner of the board, shaped like what else? Flowers.
(These are actually sold in the store as cauliflower "pancakes," not cauliflower latkes. Minor technicality.)
And we included sweet potato waffle "fries" as well as various potato chips, which are all in keeping with the Hanukkah tradition of fried foods.
Ingredients Notes and Resources for Latkes and Smoked Salmon
Latkes and Accompaniments
Smoked Salmon and Smoked Fish
Smoked Salmon. For special occasions, and Hanukkah is most definitely a special occasion, I use Petrossian smoked salmon, which is the same brand as the caviar. Use any smoked salmon you like, which can usually be found in the seafood section of a grocery store. Just make sure to look for cold smoked salmon.
Smoked Whitefish Dip. Delis and some grocery stores will have smoked whitefish dip made with a combination of cream cheese and other dairy ingredients like sour cream, yogurt, or cheese. You can also make this Smoked Whitefish "pate" made with butter and creme fraiche.
Smoked Salmon Dip. You can buy smoked salmon dip, which can be made with anything as a base from cream cheese to yogurt. This is Claude Monet's recipe (yes, that Claude Monet, the artist) for Smoked Salmon spread with goat cheese.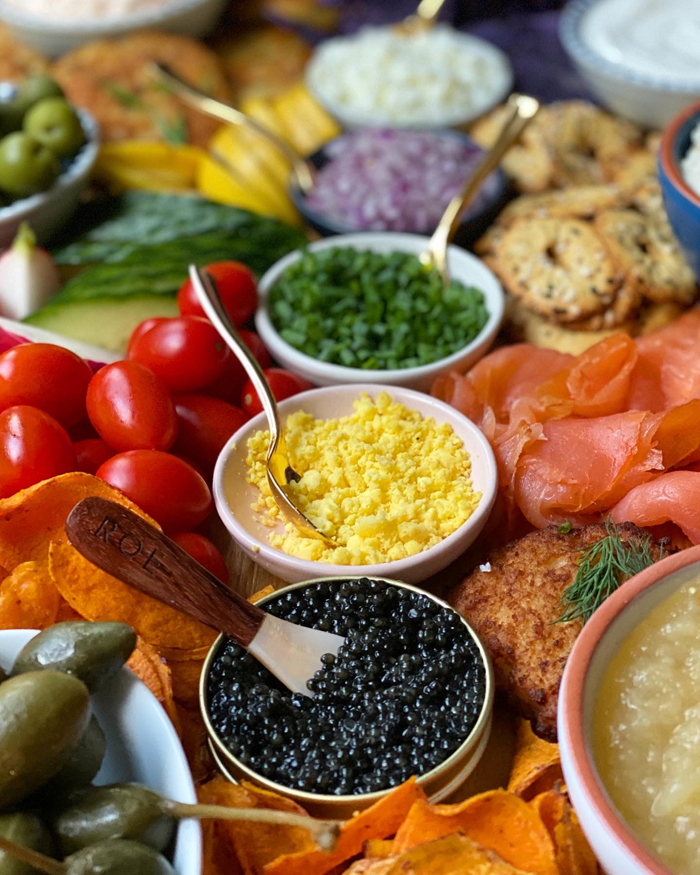 Caviar and Accompaniments
Caviar. I almost always get my caviar from Petrossian Caviar, which is available online, or in their boutiques in West Hollywood and New York City. The caviar pictured in the photo is a more affordable brand, ROE, which is a single source American white sturgeon caviar grown in Northern California.
Caviar Accompaniments. Some common, traditional accompaniments for sturgeon caviar are crème fraîche, chopped egg whites and yolks separated, chopped fresh chives, and chopped red onions. The sour cream that accompanies the latkes can do double duty here and stand in for the crème fraîche (or vice versa!).
Fresh Fruit and Vegetables to Add Color to Your Hanukkah Board
Apple Slices. For most of my conscious adult life, Fuji apples were my all-time favorite because they are crisp and sweet, but I have since become OBSESSED with Honeycrisp apples, which are even crisper and more tart than sweet. Tart apples work especially well for a Hanukkah Board because they balance out the somewhat rich flavors and textures of the fried latkes. Use whatever apples you like. I get most fresh fruit and vegetables from the Santa Monica Farmers Market (Los Angeles) or Whole Foods Market
Persian Cucumber Slices. These are small "mini" cucumbers available year-round with a thin skin (not Kirby/pickling cucumbers). I get most fresh fruit and vegetables from the Santa Monica Farmers Market (Los Angeles) or Whole Foods Market
Lemons. Farmers Market or parents' trees in the late fall and winter when citrus is in season otherwise, year round at Whole Foods Market
Tomatoes. Tomatoes are not in season in locally in the late fall/winter, so these are organic from Whole Foods Market
Radishes. I get most fresh fruit and vegetables from the Santa Monica Farmers Market (Los Angeles) or Whole Foods Market
Hanukkah Board Extras
Sweet Potato Chips. This brand is the one I almost always buy for sweet potato chips.
Purple Potato Chips. This brand has a bag of all blue potato chips, but also has bags that include blue potato chips with mixes of other root vegetables so you can get more color bang for your buck.
Everything Bagel Chips. These are not actually made of any part of bagel, they are more like pretzels crisps, crunchy and flat. But they are round and have a hole in the middle so they look like tiny bagels and that's the most important part.
Watch How to Put Together Latkes and Smoked Salmon Platter
Tools and Equipment
These are the best tools and equipment you need to make a Latkes and Smoked Salmon Platter. More than likely you already have everything because the platter doesn't require anything fancy, but in case you need...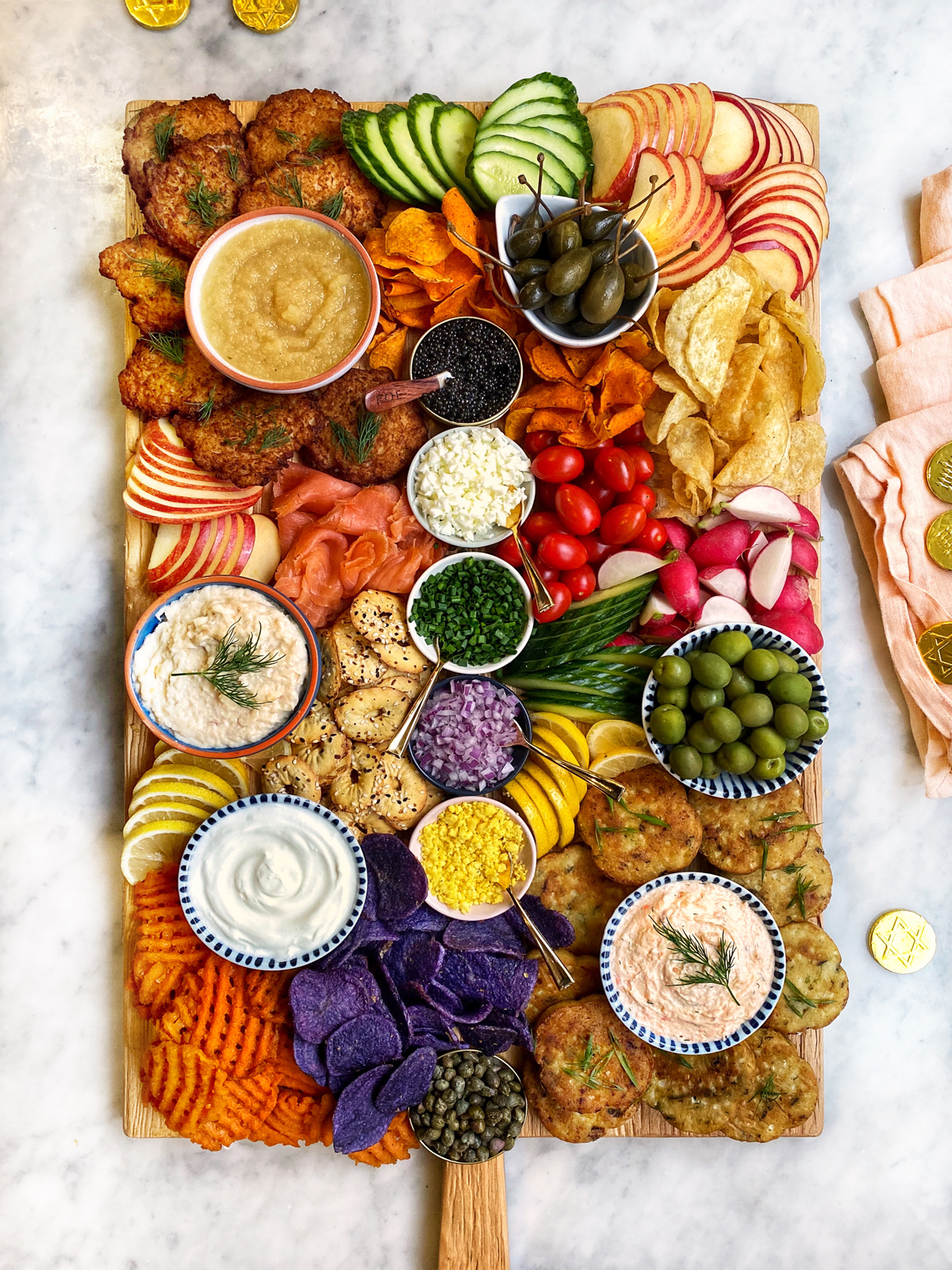 Print Recipe
Latkes and Smoked Salmon Platter Recipe
for an extra large board that measures 28 x 16 inches
Ingredients
Latkes
8-10

potato latkes

8-10

cauliflower latkes

8-10

sweet potato waffle fries
Toppings for Latkes
½

cup

sour cream (or creme fraiche)

½

cup

applesauce
Smoked Salmon and Fish
4

ounces

smoked salmon

8

ounces

smoked salmon dip

8

ounces

smoked whitefish salad
Caviar Service
50

grams

caviar

3

hard boiled eggs

—whites and yolks separated and chopped

¼

cup

chopped chives

¼

cup

chopped red onion

1

large apple, thinly sliced
Bases for Smoked Salmon and Caviar
kettle potato chips

sweet potato chips

purple potato chips

mini bagel chips

Persian cucumbers, sliced
Accompaniments
1

cup

tomatoes

1

cup

radishes

¼

cup

capers and caperberries

1

cup

olives
Garnishes
1

lemon

—sliced or cut into wedges

4

sprigs

fresh dill

—and other green herbs like chives, parsley, and scallions
Instructions
Using small bowls as placeholders, create space on a very large board or platter for the latkes, smoked salmon and smoked fish, and caviar. This will let you keep your latkes warm and the smoked salmon, fish, and caviar refrigerated while you assemble the rest of the platter.

Place the accompaniments for caviar—egg whites and yolks, chives, red onions—in small condiment bowls and place on the platter. You can place them in the center of the platter as shown, or anywhere else, though keeping them all together is ideal.

Position bowls of capers and/or caperberries, olives (and other pickled/brined ingredients) on the platter.

Arrange sliced apples and cucumbers in fans on platter, then add radishes and tomatoes.

Layer smoked salmon ribbons on the platter, then spoon smoked whitefish and smoked salmon dips into their bowls (placeholders).

Add warm potato latkes, cauliflower latkes, and sweet potato waffle fries to the platter.

Fill in the rest of the platter with sweet potato chips, kettle-style potato chips, purple potato chips, and bagel chips.