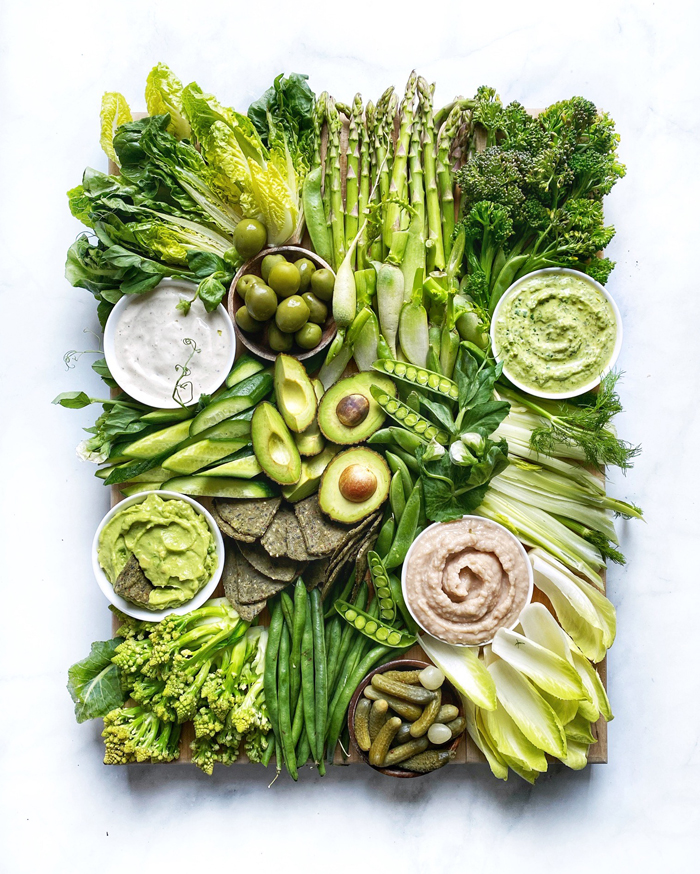 It took me a long time to post this Green Goddess Crudites board because the Castelveltrano olives are in a spot that doesn't balance the board. The olives should sit diagonal and across from the other green, pickled things on the board, the cornichons on the bottom, just right of center.
It bothers me so much I was going to re-do the board, but then we were all sent into quarantine and could only eat canned beans and sourdough bread.
Anyway.
This isn't so much a recipe, as it is a list of ingredients with resources, and links to recipes for dips if they're needed. The recipe for the Green Goddess Dip is included here.
What is Green Goddess?
So what exactly is Green Goddess? Can you just make a dish all green and call it "green goddess?" As I've been doing with everything ever since I made a Green Goddess Grilled Cheese Sandwich 10 years ago...?
Not exactly. Green Goddess actually IS its own thing, notably a thick, sour cream- and mayonnaise-based salad dressing that can double as a dip because of its consistency. The classic ingredients include chervil (a type of parsley), chives, scallions, and tarragon, a soft summer herbs that has a light licorice flavor.
Legend has it that a chef at San Francisco's Palace Hotel created the dressing in 1923 to pay tribute to a play titled The Green Goddess. Since then, the name has been appropriated by any and everyone to label a creamy, green mixture that can include anything from avocado to spinach.
In my version, I leave out the tarragon for two reasons. Tarragon is specifically a summer herb, and is not as easy to find as, say, basil. And though I personally LOVE the flavor of black licorice, the licorice flavor of tarragon can be a little intense or too unfamiliar in a vegetable dip.
My guiding philosophy is always: make it easy and delicious for people to eat fresh vegetables!
What You Need for Green Goddess Crudites
Essentially, you will get all the green vegetables you can, cut them into dippable size, and serve with a variety of dips. Here is a list of high-level categories of things you need for Green Goddess Crudites:
Green Vegetables: All the standard dippable green vegetables like broccoli, celery, cucumber, green beans, and snap peas. Some slightly more interesting vegetables are mini heads of Romaine lettuce, endive, romanesco, green cauliflower, and fennel.
Dips like obviously Green Goddess, other creamy dips, and hummus. The dips on this board are Yogurt-based Ranch, Green Goddess, Guacamole (this shouldn't require a recipe), and White Bean Hummus. Also suggested, Whipped Feta, but I hadn't made Whipped Feta back when I assembled this board.
Some unexpected nuts and other salty, briny, pickled, and even chip-like things
Use this Comprehensive Guide for How to Prep Crudites, beyond just washing and peeling. The Guide explains which vegetables are better with a "flash-blanch" and how to do that, how to really clean certain types of vegetables, and the different ways you can slice and present them on a platter.
More Ways to Get Into Green Goddess
Can you tell I'm a little obsessed with Green Goddess? Try these recipes:
Ingredients Notes and Shopping Resources for Green Goddess Crudites
Little Gem Lettuce: Little Gem Lettuces are their own variety of romaine-like lettuce; they are not baby romaine. I get my Little Gems from The Garden Of farm at the Santa Monica Farmers Market, but have seen them at smaller grocery stores like Bristol Farms and Erewhon (Los Angeles). Little Gems are not super easy to find, so you can use the smaller, inside leaves of the heart of regular Romaine lettuce.
Endive: Endive is a spear-shaped chicory. They are available at Whole Foods, and I have seen them in packages of red and white (yellow) combined in a package at other grocery stores. Yellow/white endive turns green when it sits out in sunshine! They are fine to eat, obviously, they just naturally turn green and if you're really going for the all-green vibe here, absolutely yes you should let your endive green out!
Persian Cucumbers: Organic Persian cucumbers in packages are available year-round in grocery stores. They are available at farmers markets mid- through late summer.
Green Honeydew Radish: I have only seen these green-tinged radishes from Weiser Farms at Santa Monica Farmers Market. If you can't find them, use white regular round radishes with the greens attached.
Small Avocados: In the summer, I get the teeny tiny avocados from JJ's Lone Daughter Ranch. In the off-season, small avocados are available at Whole Foods.
Snap Peas: Organic, in plastic packages at Whole Foods year-round, but through the spring, you can find them at the farmers' market with their little green blossom and stems attached, sometimes with their shoots.
Green Tortilla Chips: This organic brand is naturally green because they're made from spinach and kale. No, they do not taste as crisp or crunchy as regular tortilla chips. They taste like spinach and kale tortilla chips.
Castelveltrano Olives are medium-sized, bright green olives that are mild in taste. They are sold bulk in the Olive Bar, where we're never going again after this pandemic or in jars in the same aisle where regular olives and other pickled vegetables are. Substitute any favorite green olive.
Ingredients Notes and Shopping Resources for Green Goddess DIP
Anchovies: This is my favorite brand of anchovies for almost everything. However, they are kind of expensive for a tiny jar. I ALWAYS RECOMMEND anchovies in jars rather than in tins so you can close with a lid and store in the refrigerator. Because the anchovies are going into the Green Goddess Dip that has a lot of other strong flavors, you can get away with more affordable anchovies, like these (which I use in cases like this). When making Anchovy Vinaigrette, though, the anchovies are the star ingredients, so splurge on the better anchovies.
Mild Olive Oil: If you have one olive oil in your house, by all means use it. However, if you have a choice, use the olive oil with the mildest flavor. You can look for one that is labeled "light." Extra-virgin olive oil might be too expensive to use in a salad in which it will be competing with other strong flavors (fresh garlic, raw onions, vinegar pickled vegetables, hot and spicy peppers). I use this $10-$15 grocery store olive oil as my everyday olive oil. I use Brightland as my "special" i.e. served by itself with bread or drizzled over a caprese.
Greek Yogurt: traditionally, Green Goddess includes sour cream as the creamy component in the recipe, but I prefer yogurt. Greek yogurt has a similar texture and tang to sour cream, with the added benefit of gut-health support. I buy whatever yogurt is organic and affordable.
All fresh herbs and produce from either the Santa Monica Farmers' Market on Wednesday, or Whole Foods Market when I can't find what I need at the farmers' market.
TOOLS and EQUIPMENT
Green Goddess Crudites Platter/Board Recipe
serves 4 to 8 depending
Ingredients
Dips
1

cup

Yogurt Ranch

1

cup

Green Goddess Dip [see below]

1

cup

Whipped Guacamole

1

cup

White Bean Hummus
Fresh Vegetables
2

heavy Little Gem lettuce heads cut lengthwise into sixths

or about a dozen romaine heart leaves

2

endive heads

leaves separated

2

Persian cucumbers

cut into 3-inch long spears

4

green honeydew radish

cut lengthwise into quarters

4

small avocados cut length-wise into eighths

1

cup

sugar snap peas

1

fennel bulb

sliced into ¼-inch wide sticks, or celery
Cooked Vegetables
8-10

asparagus spears

flash-blanched, cooled, and cut into 3-inch length

1

bunch baby broccoli

flash blanched and trimmed of tough ends

1

dozen green beans

flash blanched

small head Romanesco or green cauliflower

broken into florets
Pickled Vegetables and Other Things to Dip
½

cup

Castelveltrano olives

½

cup

cornichons

handful of green tortilla chips
for the Green Goddess Dip
1

clove

garlic

very finely minced and smashed with ¼ teaspoon salt

2

anchovies

smashed into a paste

1

tablespoon

fresh lemon juice

¾

teaspoon

kosher salt

plus more to taste

¼

cup

mild olive oil

¼

cup

Greek yogurt

(or sour cream)

¼

cup

chopped parsley

2

tablespoons

chopped basil

2

tablespoons

chopped chives

or green onions
Instructions
Make the Green Goddess Dip:
In a food processor, combine the garlic, anchovy, lemon juice, and salt. Slowly add in olive oil a few drops at a time to emulsify. You are essentially making a type of aioli (mayonnaise without raw egg). Add yogurt, and chopped herbs and process until smooth. Taste for seasoning, and adjust salt, pepper and lemon juice as needed.

Cover and chill in refrigerator while you prep the remaining ingredients for the Platter.

You can keep prepared Green Goddess Dip in a tightly sealed container in the refrigerator for three days.
Assemble the Board:
Place small bowls with dips on the platter or board near the edges or corners.

Arrange lettuce wedges, endive leaves, cucumbers, radish, avocados, sugar snap peas, fennel, olives, cornichons, tortilla chips, asparagus spears, broccoli, green beans on a large cutting board, cheeseboard, tray, or platter.

Garnish with oregano, fresh basil, and chopped fresh parsley if using.