Supposedly, Green Goddess, an invention of San Francisco's Palace Hotel in the 1930s, is a salad dressing.
The reality is, Green Goddess is a state of mind.
After (re)discovering Green Goddess several years ago, we've been obsessed with the bright, fresh combination of green herbs, garlic, and lemon that make up the dressing, and have been inspired to add it to just about everything, to the point that we even took Green Goddess and herbs and rolled them up in rice paper to make Summer Rolls. Spring rolls. Grain bowls. Zucchini noodle pasta.
Sandwiches.
Specifically, a grilled cheese sandwich.
We made a fresh herb pesto with the standard Green Goddess herbs, plus a sneaky handful of kale, and now keep this Green Goddess Pesto as a staple in our refrigerator. We spread the pesto onto slices of La Brea Bakery's Whole Grain Gluten-free Bread, added Monterey Jack cheese, feta cheese for some tang, baby spinach for added greens, and of course, this wouldn't be The Delicious Life if there weren't avocado.
Make this Green Goddess Grilled Cheese. Hell, make any grilled cheese because April is National Grilled Cheese Month, so we have almost two more weeks to celebrate.
And if you happen to live in Los Angeles, go to the La Brea Bakery Café on Thursday nights during the month of April for their world-reknown weekly Grilled Cheese Nights. I went last week; check out my mini-review for deets.
Ingredients You Need For Green Goddess Grilled Cheese
sturdy bread
Green Goddess Pesto or any green herb-y pesto
Monterey Jack or other melty white cheese
feta cheese
avocado
baby spinach
Ingredients Resources and Notes
La Brea Bakery bread is available in most major supermarkets and even Costco!
Monterey Jack cheese is by Tillamook, available in regular grocery stores
feta cheese from Bristol Farms
avocados from JJ's Lone Daughter Ranch, available at Santa Monica and Hollywood Farmers' Markets
any and all other produce, organic, from local farmers' markets or Whole Foods Market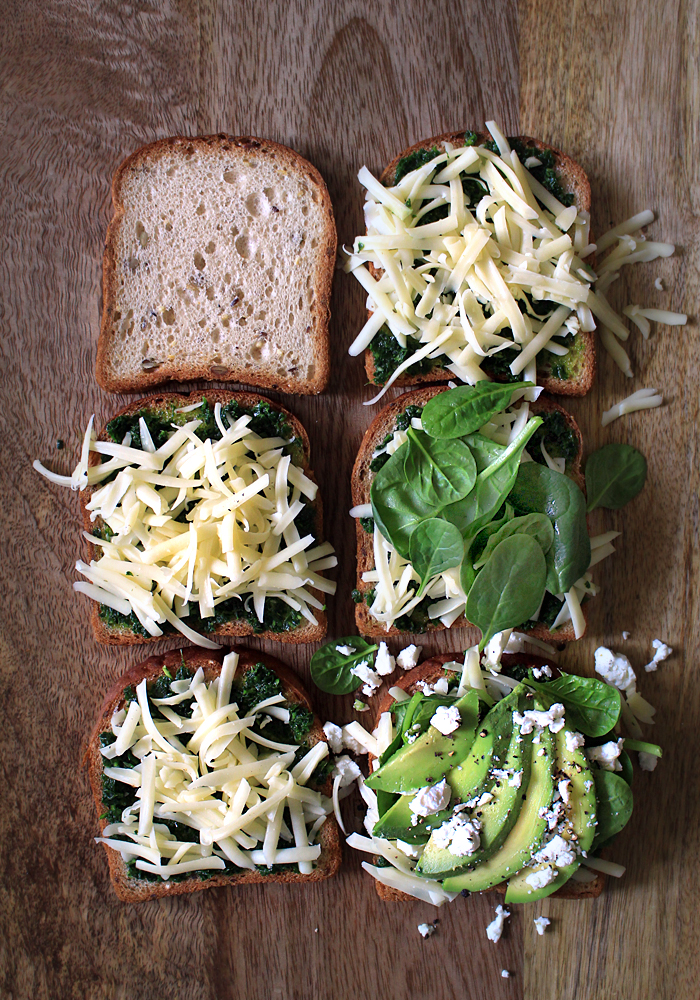 More Green Goddess-Inspired Recipes
Obsessed with the herb-y, savory umami of Green Goddess? Try these recipes: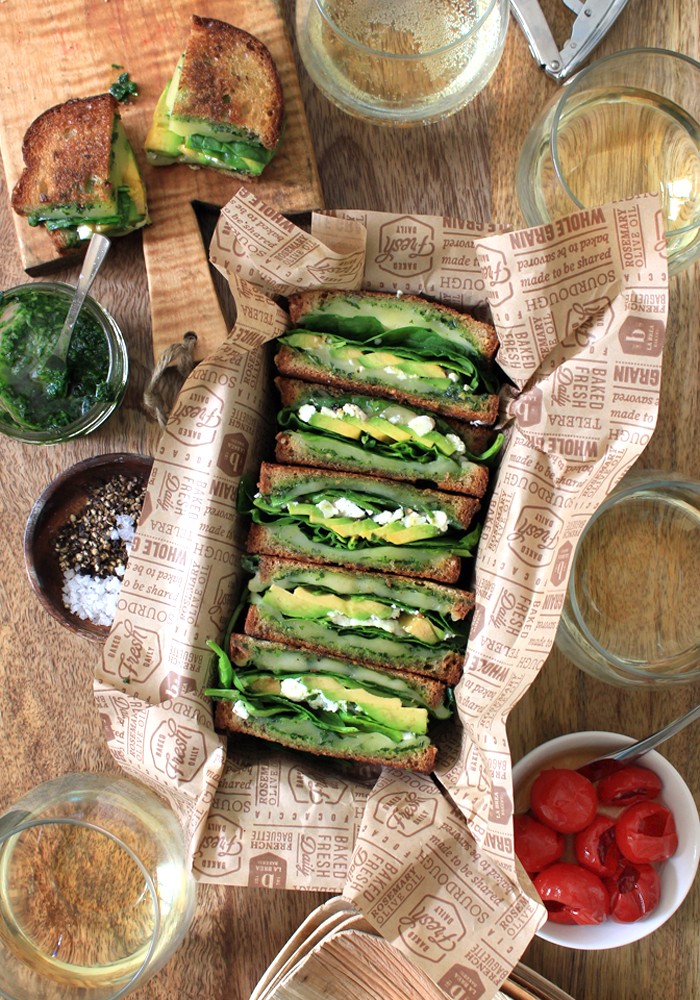 Print Recipe
Green Goddess Grilled Cheese Recipe
We have been making versions of Green Goddess Grilled Cheese Sandwiches for years now, and have made them on many different types of bread — everything from basic white sandwich bread to super whole grain-y, seed-y rustic loaves.
Ingredients
2

slices

sturdy bread

2-3

tablespoons

Green Goddess Herb Pesto

½

cup

shredded Monterey Jack cheese

2

tablespoons

feta cheese

crumbled

handful fresh baby spinach

¼

avocado

sliced

salt and pepper

grapeseed oil

or other neutral oil for cooking

butter

if you're so inclined
Instructions
Spread about 1 tablespoon of Green Goddess Herb Pesto onto each slice of bread. The pesto is strong, so if you're sensitive to garlic or the slightly bitter taste of fresh kale, go light on the pesto.

On one slice of bread, add ¼ cup of shredded Monterey Jack cheese, baby spinach, sliced avocado, crumbled feta cheese, dashes of salt and pepper, the remaining ¼ cup of shredded Monterey Jack cheese, then top it with second slice of bread. Press together gently.

Heat 1 tablespoon grapeseed oil in a frying pan over medium low heat. If you want to use butter, add it to the oil and let it melt.

Add the sandwich to the oil and cook until bread is golden brown, about three minutes. Press down on the sandwich lightly, then flip the sandwich over and cook until second side is golden brown, another three minutes.

Remove Grilled Cheese Sandwich to plate, let cool, cut into halves, and serve. Hot sauce and little pickled things like onions, cherry peppers, or other hot peppers alongside the sandwich are great!
This recipe originally created for La Brea Bakery in 2016