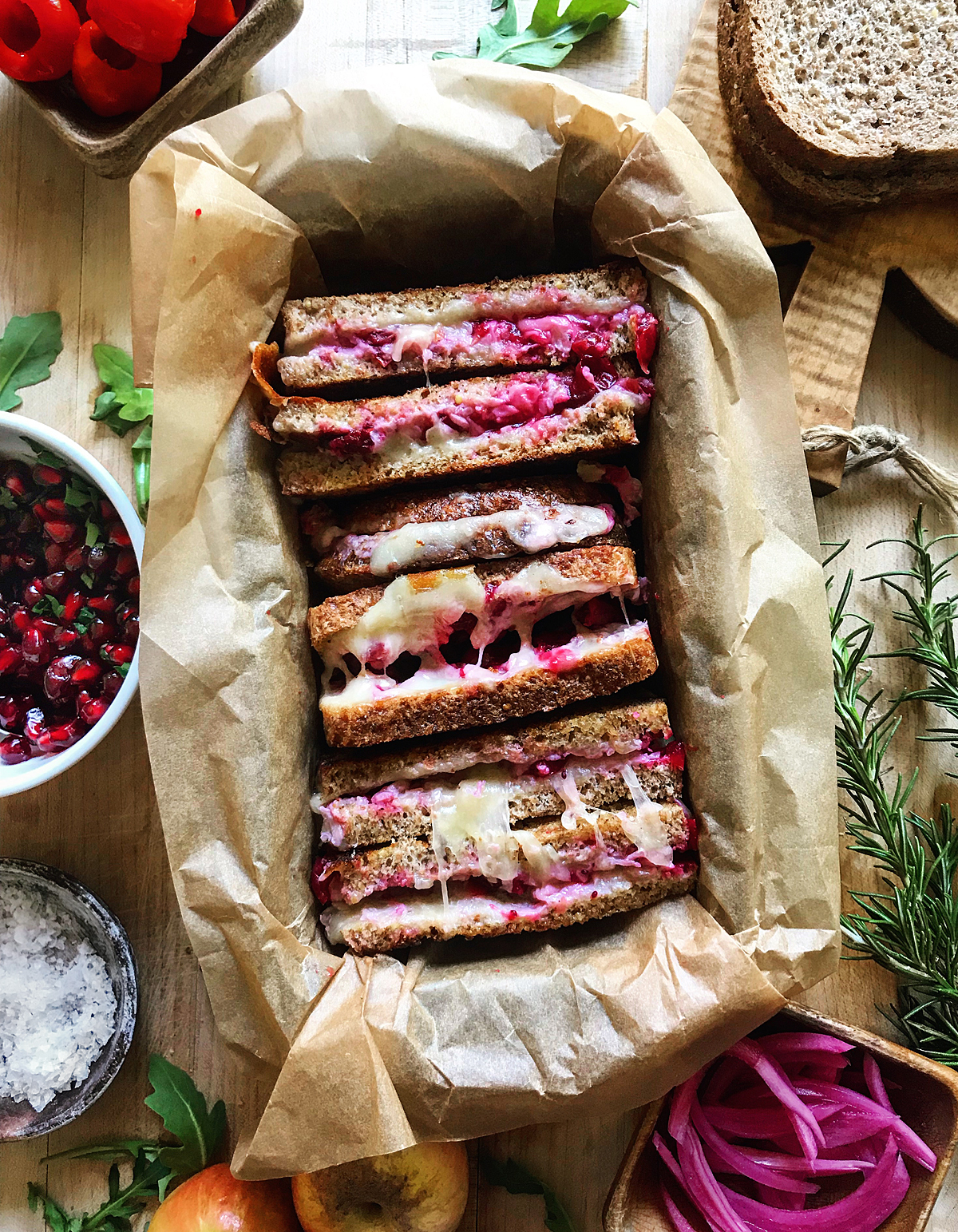 If you have leftover cranberry sauce from Thanksgiving or your Holiday dinner, let me tell you how to use a few tablespoons of it in a Cranberry White Cheddar Brie Grilled Cheese.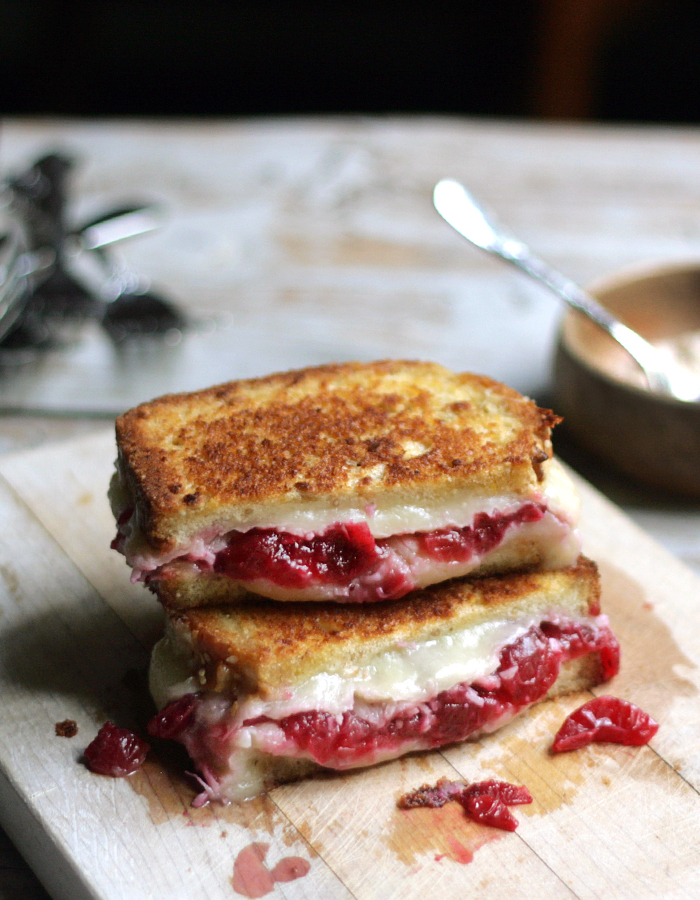 A long time ago, I dated a sweet, reliable accountant from Wisconsin who told me that cranberries in cheddar cheese made it fancy and special. I was like, "What? NO you do not put fruit in cheese! OMG we have nothing in common you are a Midwest cheddar guy and I'm a sophisticated California Brie girl!"
And then we broke up and now he's rich and married to a hot, young wife and has two kids.
And I'm in my kitchen making Cranberry, White Cheddar, Brie Grilled Cheese sandwiches, belting out Taylor's version of everything, with my two backup chihuahua dancers.
Also, I'm from Detroit.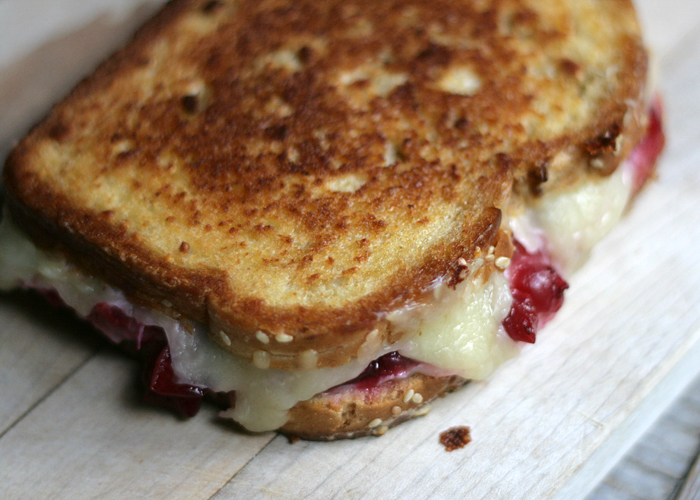 This Cranberry Grilled Cheese Sandwich uses 2-3 tablespoons of cranberry sauce, so if you have a lot of leftover cranberry sauce and need more ways to use it up, or you don't already have leftover cheese as well, try these recipes and ideas. They are listed with the amount of cranberry sauce you need:
And if you're wondering if you can freeze leftover cranberry sauce, the answer is absolutely a resounding YES, you can freeze leftover cranberry sauce! Reserve a couple tablespoons for this sandwich, and freeze the rest either directly in zipper-top plastic bags, or in ice cube trays first to make smaller thawable portions.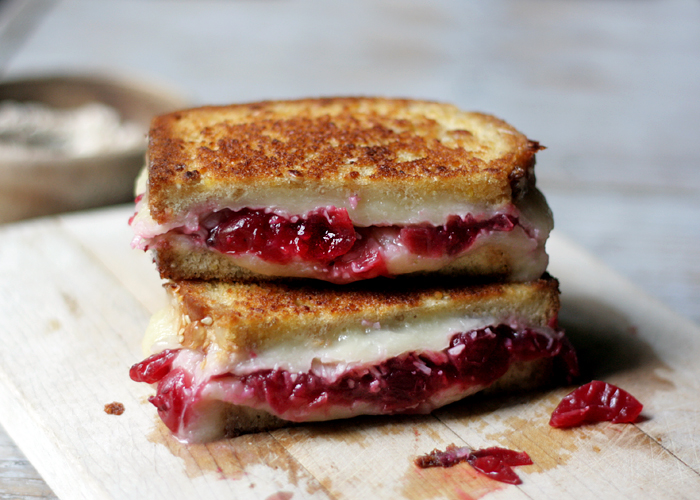 NOTES and RESOURCES
I use whatever sturdy bread is available/leftover/in the freezer. I have even made this Grilled Cheese sandwich with a raisin-studded cinnamon swirl bread (see photo below), which is shocking because dried fruit and nuts should NEVER appear in bread. This coming from someone who now eats cranberry sauce with cheddar cheese. Ugh.
This is the very simple classic cranberry sauce we have every year at Thanksgiving.
Adding something spicy to this grilled cheese helps round out the flavors already in the sandwich. Flavor-wise, wild arugula, which is a peppery green, and fresh sliced jalapeños balance the sweet and sour of the cranberries. Because they're fresh, they also counterbalance the creaminess of the cheese. I wouldn't go out and buy spicy ingredients just for a grilled cheese sandwich that's meant to use up leftovers; use only if you already have them.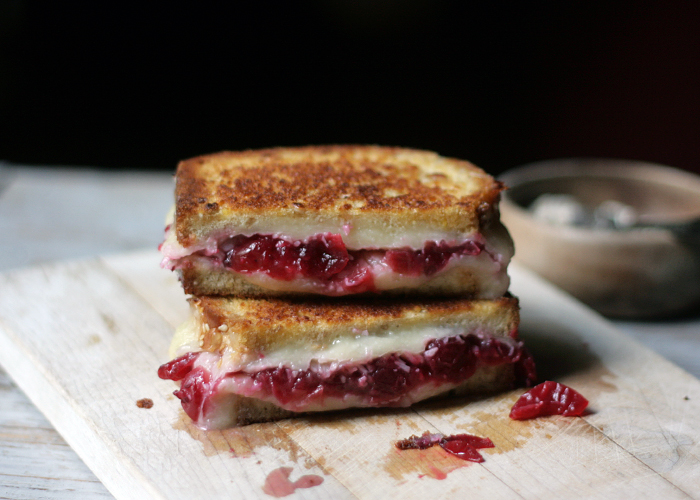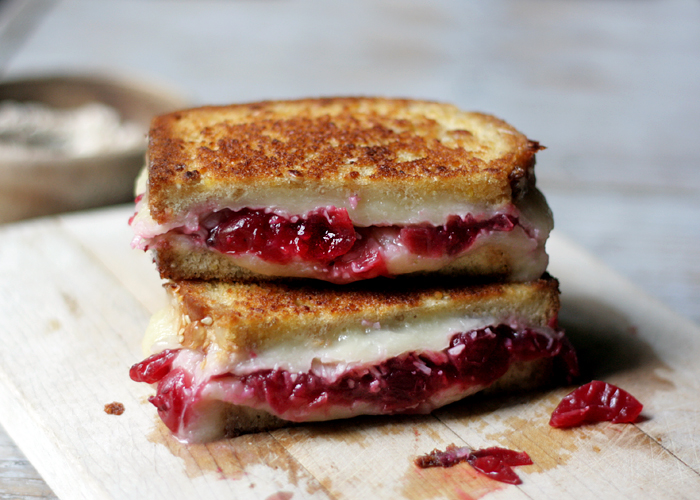 Print Recipe
Cranberry White Cheddar Brie Grilled Cheese Sandwich Recipe
makes 1 sandwich
Ingredients
2

slices

sturdy bread

1

tablespoon

butter

at room temperature or at least spreadably soft

2-3

tablespoons

cranberry sauce

¼

cup

shredded mild melty cheese like white Cheddar

Jack, or Mozzarella

a few slices of soft cheese like Brie

Camembert, or goat chevre

grapeseed oil for frying

about 2 tablespoons

optional extras: fresh arugula

sliced jalapeños, sriracha hot sauce
Instructions
Spread about ½ tablespoon of butter onto both sides of each slice of bread.

Heat 1 tablespoon of grapeseed oil in a frying pan over medium-low heat. Place both slices of bread in pan and lightly fry. Turn both slices over in the pan.

Pile shredded Cheddar (melty) cheese on one slice. Drop spoonfuls of cranberry sauce over the cheese, add any optional extras if you're using, then carefully lay slices of Brie (soft) cheese on top.

"Cover" with the other slice of bread, toasted side to the inside. Press down on the sandwich and fry until golden, about 3 minutes.

With a flat spatula, lift the sandwich out of the pan and add more oil if needed. Carefully turn the sandwich over in the pan and fry the second side until dark golden brown.

Remove sandwich from pan, cut in half, and eat immediately.