If you want to know what to do with leftover cranberry sauce from Thanksgiving or Holiday dinner, Cranberry Grilled Cheese with white cheddar or Brie or both is the superior way to use a few tablespoons of it. Shall we?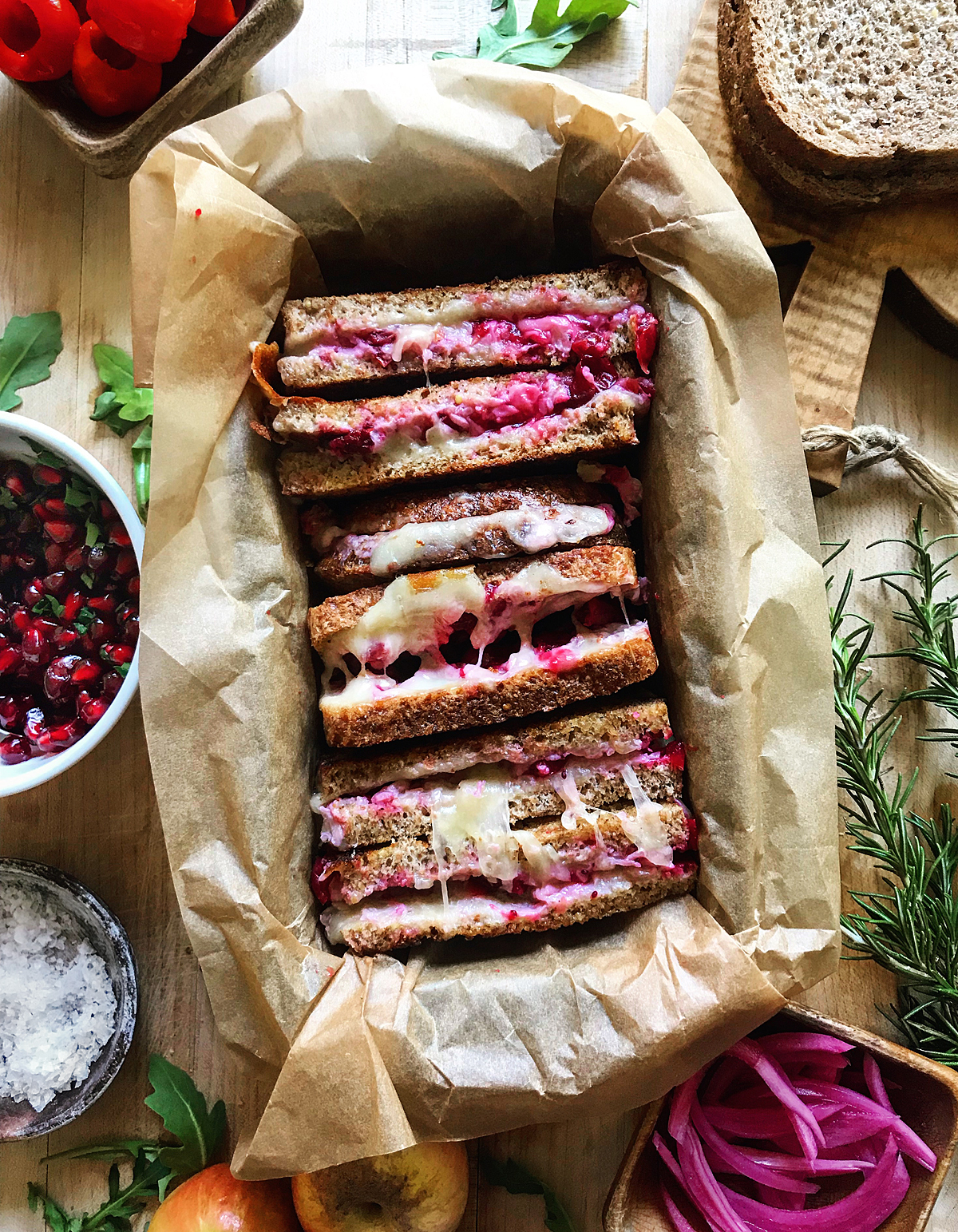 Jump to: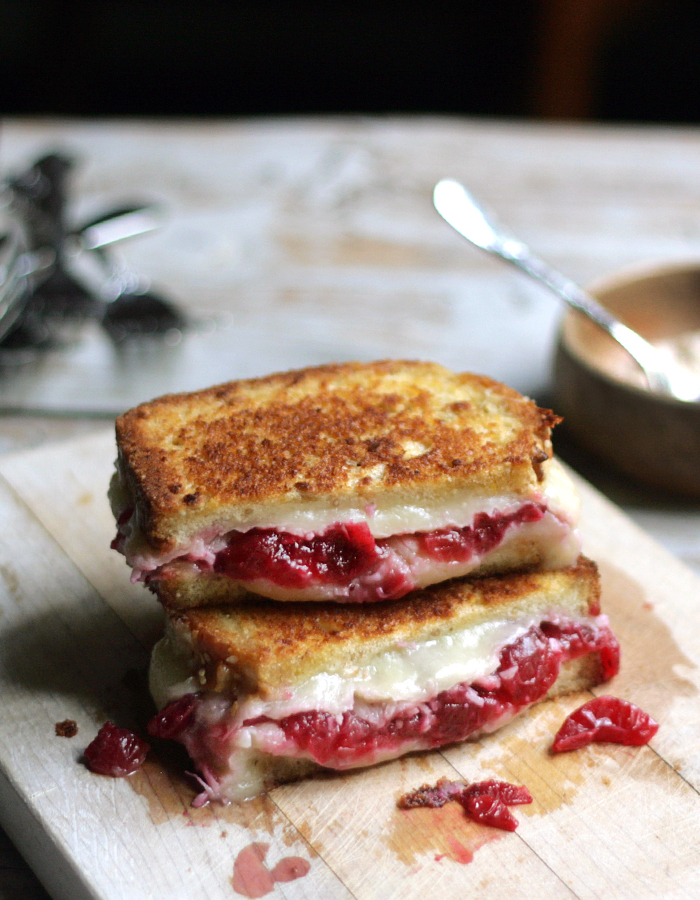 A long time ago, I dated a sweet, reliable accountant from Wisconsin who told me that cranberries in cheddar cheese made it fancy and special. I was like, "What? NO you do not put fruit in cheese! OMG we have nothing in common you are a Midwest cheddar guy and I'm a sophisticated California Brie girl!"
And then we broke up and now he's rich and married to a hot, young wife and has two kids.
And I'm in my kitchen making Cranberry, White Cheddar, Brie Grilled Cheese sandwiches, belting out Taylor's version of everything, with my two backup chihuahua dancers.
Also, I'm from Detroit.
What Ingredients You Need for Cranberry Grilled Cheese
All you need are the basics for a grilled cheese, plus some leftover cranberry sauce. Here are the ingredients you need:
sturdy bread
shredded cheese
avocado oil or other neutral cooking oil
Best Bread for Grilled Cheese Sandwiches
The best bread for this, and any Grilled Cheese Sandwich, is a sturdy bread sliced about ½- to ¾-inch thick. I personally like an artisan-style fermented a.k.a. sourdough loaf that I slice myself. However, use whatever is available to you.
I have even made this Grilled Cheese sandwich with a raisin-studded cinnamon swirl bread (see photo below), which is shocking because dried fruit and nuts should NEVER appear in bread. This coming from someone who now eats cranberry sauce with cheddar cheese. Karma is my ex-boyfriend's ex-girlfriend, hi, it's me.
Unless for a special dietary concern, avoid soft, all-white flour sandwich beads, which won't hold up to the amount of cheese and sauce in the sandwich.
Additional Ingredients Notes and Resources
Cranberry Sauce. This is the very simple classic cranberry sauce we have every year at Thanksgiving, but use whatever you have leftover, even if it has additional seasoning or flavoring in it.
Cheese. A strong, salty melty cheese like an aged Cheddar works best in this grilled cheese because it works to balance the very sweet tart cranberry sauce. However, use whatever cheese you like, as long as it's melty. Make sure to grate the cheese for maximum meltability. If you, like me, serve a cheese board before, during, and/or after a holiday dinner feast, you will likely have some Brie, which you can just slice because it's already so soft.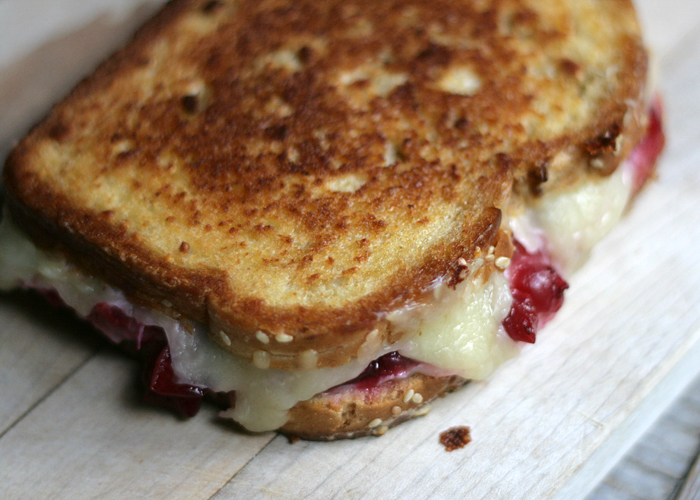 What Else to Do with Leftover Cranberry Sauce
This Cranberry Grilled Cheese Sandwich uses 2-3 tablespoons of cranberry sauce, so if you have a lot of leftover cranberry sauce and need more ways to use it up, or you don't already have leftover cheese as well, peep this post for all the details.
Here is a short list of recipes and ideas, with the amount of cranberry sauce you need:
And if you're wondering if you can freeze leftover cranberry sauce, the answer is absolutely a resounding YES, you can freeze leftover cranberry sauce! Reserve a couple tablespoons for this sandwich, and freeze the rest either directly in zipper-top plastic bags, or in ice cube trays first to make smaller thawable portions.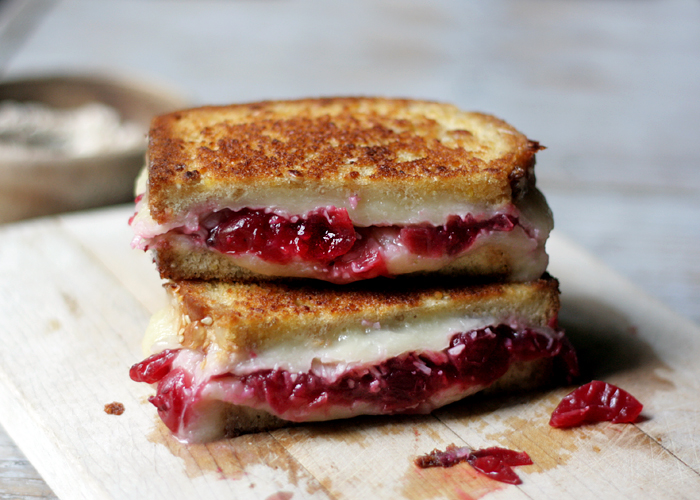 Grilled Cheese Pro-Tips and Tricks
Look, you can make grilled cheese as low-effort as microwaving a slice of cheese between two pieces of dark toast while hungover (I might have done that) to scientifically testing every possible variable from bread density to frying pan type. I fall somewhere in the middle, mostly with the goal of getting to highest flavor return on lowest investment of effort. Here are a few fast and easy tips to make an ever-so-slightly better Grilled Cheese:
Shredded Cheese. Always always always make sure your cheese is shredded to make sure it melts before the bread burns. Unless you're using a very soft cheese like Brie or camembert.
Salt. Hit the cranberry sauce with a solid pinch of salt right before you close the sandwich. More than likely, your cranberry sauce is very sweet, and as far as I've seen, most recipes for Cranberry Sauce very criminally don't include salt (my recipe does!). Bread is neutral. And unless you're using a very strong salty cheese, you need to add more. Be mindful of your taste receptors and add salt.
Spice/Heat. Adding something spicy to this grilled cheese helps round out the flavors already in the sandwich. Flavor-wise, wild arugula, which is a peppery green, and fresh sliced jalapeños balance the sweet and sour of the cranberries. Because they're fresh, they also counterbalance the creaminess of the cheese. I wouldn't go out and buy spicy ingredients just for a grilled cheese sandwich that's meant to use up leftovers; use only if you already have them.
Fry both sides of each slice of bread. A quarter of the joy of a grilled cheese sandwich comes from the crackly crunch of the fried bread when you bite into it before you get to the melty cheese inside. When people don't fry the "inside" side of the bread, it is a shameful missed opportunity for double the textural crunch. Fry both sides.
Don't fall for the mayo trick. Some people sweat by using mayonnaise as the spread in the pan to fry the bread. Don't do this. I don't have a good reason other than it's mayo.
DIAGONAL SLICE. Slice your finished grilled sandwich diagonally, on the bias, into triangles (depending on the initial shape of your bead). I don't know how to explain the science behind it, but it just tastes better. I cannot abide rectangular cuts, even though I had to do it for these photos for the best photo sizing. Sorry. Cut your grilled cheese diagonally.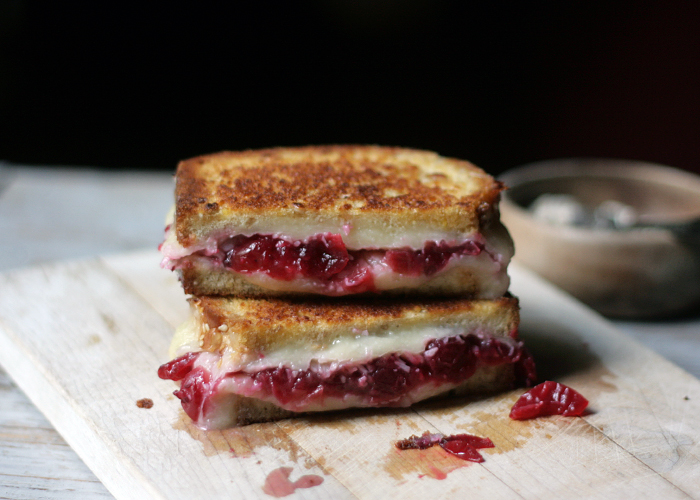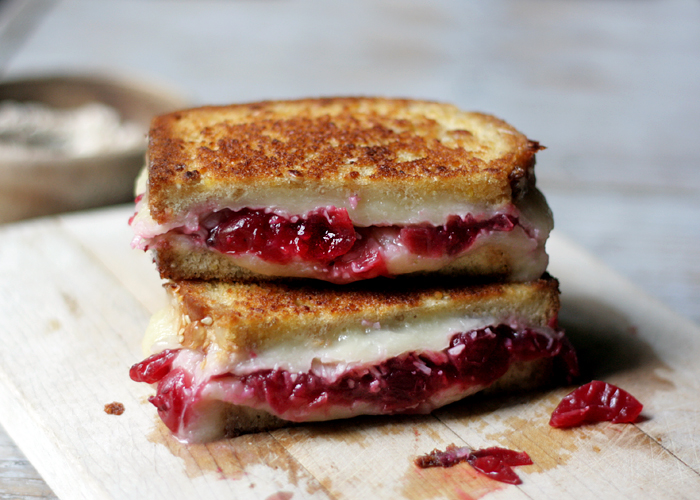 Print Recipe
Cranberry White Cheddar Brie Grilled Cheese Sandwich Recipe
makes 1 sandwich
Ingredients
2

slices

sturdy bread

1

tablespoon

butter

at room temperature or at least spreadably soft

2-3

tablespoons

cranberry sauce

¼

cup

shredded mild melty cheese like white Cheddar

Jack, or Mozzarella

a few slices of soft cheese like Brie

Camembert, or goat chevre

grapeseed oil for frying

about 2 tablespoons

optional extras: fresh arugula

sliced jalapeños, sriracha hot sauce
Instructions
Spread about ½ tablespoon of butter onto both sides of each slice of bread.

Heat 1 tablespoon of grapeseed oil in a frying pan over medium-low heat. Place both slices of bread in pan and lightly fry. Turn both slices over in the pan.

Pile shredded Cheddar (melty) cheese on one slice. Drop spoonfuls of cranberry sauce over the cheese, add any optional extras if you're using, then carefully lay slices of Brie (soft) cheese on top.

"Cover" with the other slice of bread, toasted side to the inside. Press down on the sandwich and fry until golden, about 3 minutes.

With a flat spatula, lift the sandwich out of the pan and add more oil if needed. Carefully turn the sandwich over in the pan and fry the second side until dark golden brown.

Remove sandwich from pan, cut in half, and eat immediately.