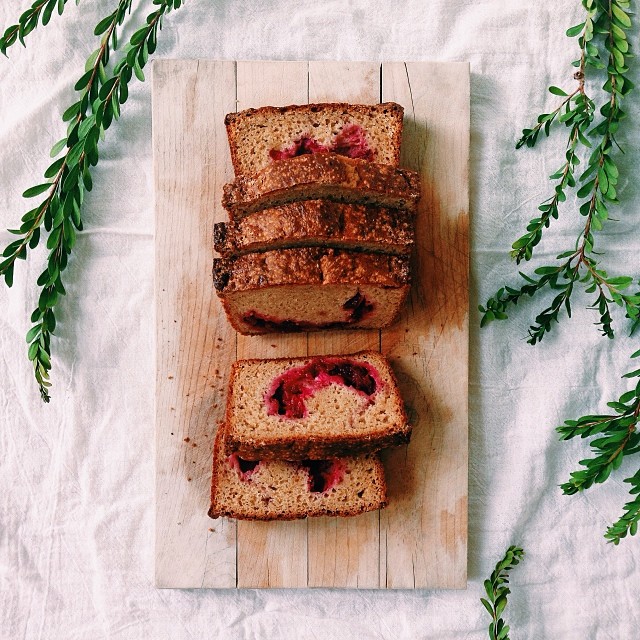 If you've got about ½ a cup of leftover cranberry sauce from your Thanksgiving or Holiday dinner, use it in this recipe! Cranberry Bread with a swirl of leftover cranberry sauce is based on a classic quick bread style so it's easy and endlessly flexible.
How Much Leftover Cranberry Sauce You Need
You need ½ a cup of leftover cranberry sauce for the Cranberry Bread. If you have a little less or a little more, try making one these recipes:
Cranberry Bread Recipe Substitutions
Your cranberry sauce can be a very classic homemade cranberry sauce, or it can have fancy extras like spices, citrus, or other flavors, which will do nothing but add dimension to the bread. Honestly though, it doesn't even have to be cranberry, but whatever fruit jam or preserves you might have leftover. You can use a thick yogurt instead of sour cream. If your system could use a break from all the butter you consumed on Thanksgiving, substitute with the equivalent amount of olive oil.
What to do with Leftover...Leftovers?
Who finishes an entire loaf of quick bread in one sitting? (Don't answer that.) Whatever you don't eat the same day, wrap tightly in plastic wrap and keep in the refrigerator for up to two days. If you think you won't finish the bread within two days, slice and freeze. (Slicing before freezing makes it easier to take out individual portions to eat later.)
I like to pop slices into the toaster oven until hot and the cranberry sauce is bubbly. This works straight from the freezer, too.
Cranberry Bread with Leftover Cranberry Sauce Recipe
You can substitute any type of fruit jam/preserves, or even use whole fresh fruit in place of the cranberry sauce. But then that defeats the purpose of using leftover cranberry sauce. serves 6 to 8
Ingredients
1½

cups

all-purpose flour

I actually used half whole wheat flour

1

teaspoon

baking powder

¼

teaspoon

baking soda

⅛

teaspoon

salt

¾

cup

sugar

¼

cup

butter

softened

1

teaspoon

vanilla extract

2

large eggs

1

cup

cup sour cream

½

cup

cranberry sauce

or other fruit jam/preserves
Instructions
Preheat oven to 350°F.

Lightly spray an 8x4-inch loaf pan with baking spray.

Whisk together flour, baking powder, baking soda, and salt in a bowl. Beat sugar, butter, vanilla, and eggs in a large bowl. Add flour mixture and sour cream alternately to sugar mixture, beginning and ending with flour mixture.

Spread half the batter into prepared loaf pan. Spoon cranberry sauce over top, leaving a ¼-inch border. Spread remaining batter over cranberry sauce mixture.

Bake at 350° for 50 minutes or until wooden stick inserted in center comes out clean.

Cool in pan 10 minutes, then remove loaf from pan and cool completely on wire rack.