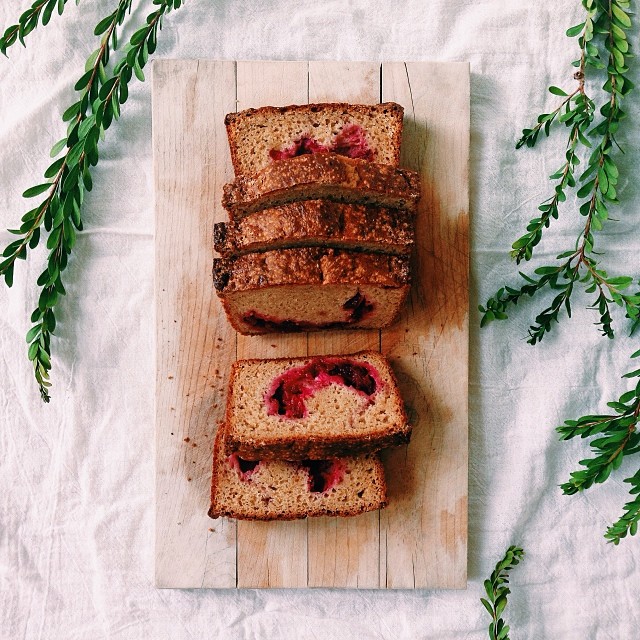 Jump to Recipe
If you've got about ½ a cup of leftover cranberry sauce from your Thanksgiving or Holiday dinner, this Cranberry Bread is the perfect way to use it. And the bread works even if your cranberry sauce has a lot of fancy extras. I should know.
See, one Thanksgiving, I got creative with and tried to make a fancy cranberry sauce.
My sister was first to taste it. With her brow crinkled, she looked across the table at me and asked, "You didn't put cinnamon in this did you?"
It wasn't like "Oh! Wow! This tastes great! Did you put cinnamon in it?" It was more like, "This tastes like ass because you put cinnamon in it, huh? Don't ever f'ing do that again."
Ok, maybe it wasn't like that last part. Needless to say, we had a lot of leftover cranberry sauce that year.
I now make the same simple classic cranberry sauce every year. No cinnamon. No nuts. Not even citrus juice as the liquid in stead of water for extra flavor. And hell to the naw on raw "relish," salsa, or chutney.
But since no one in my family actually eats cranberry sauce anyway...
I am essentially making a cranberry compote that decorates the table for one night, then becomes an ingredient in all the other things I'll be baking and making during the rest of the Holidays.
Cranberry Cream Cheese Stuffed French Toast with Cornflake Crunch Topping.
And now this Cranberry Bread with leftover cranberry sauce.
Thanksgiving with my family is so weird.
Can I Make Substitutions in Cranberry Bread?
This recipe for Cranberry Bread is flexible enough that it works even if your sauce isn't even cranberry, but some other fruit jam or preserves. But I'd be shocked if you didn't have leftover cranberry sauce to use! Hell, this Cranberry Bread recipe is so flexible, you can use a thick yogurt instead of sour cream. If you don't have butter, use olive oil.
Cranberry Sour Cream Bread Recipe
You can substitute any type of fruit jam/preserves, or even use whole fresh fruit in place of the cranberry sauce. But then that defeats the purpose of using leftover cranberry sauce. serves 6 to 8
Ingredients
1½

cups

all-purpose flour

I actually used half whole wheat flour

1

teaspoon

baking powder

¼

teaspoon

baking soda

⅛

teaspoon

salt

¾

cup

sugar

¼

cup

butter

softened

1

teaspoon

vanilla extract

2

large eggs

1

cup

cup sour cream

½

cup

cranberry sauce

or other fruit jam/preserves
Instructions
Preheat oven to 350°F.

Lightly spray an 8x4-inch loaf pan with baking spray.

Whisk together flour, baking powder, baking soda, and salt in a bowl. Beat sugar, butter, vanilla, and eggs in a large bowl. Add flour mixture and sour cream alternately to sugar mixture, beginning and ending with flour mixture.

Spread half the batter into prepared loaf pan. Spoon cranberry sauce over top, leaving a ¼-inch border. Spread remaining batter over cranberry sauce mixture.

Bake at 350° for 50 minutes or until wooden stick inserted in center comes out clean.

Cool in pan 10 minutes, then remove loaf from pan and cool completely on wire rack.