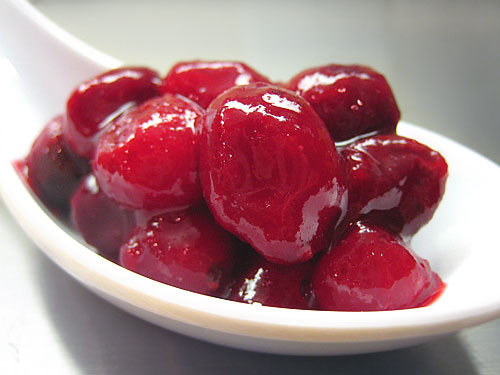 One Thanksgiving, I got creative with homemade cranberry sauce and tried to make it fancy.
My sister was first to taste it. With her brow crinkled, she looked across the table at me and asked, "You didn't put cinnamon in this did you?"
It wasn't like "Oh! Wow! This tastes great! Did you put cinnamon in it?" It was more like, "This tastes like ass because you put cinnamon in it, huh? Don't ever f'ing do that again."
Ok, maybe it wasn't like that last part. Needless to say, we had a lot of leftover cranberry sauce that year.
I now make this same simple classic All-American homemade cranberry sauce every year. No cinnamon. No nuts. Not even citrus juice as the liquid instead of water for extra flavor. And hell to the naw on raw "relish," salsa, or chutney.
But since no one in my family actually eats cranberry sauce anyway...
Essentially, I am making a cranberry compote that decorates the dinner table for one night, then becomes an ingredient in all the other things I'll be baking and making during the rest of the Holidays.
Thanksgiving with my family is so weird.
Cranberry Sauce Flavor Ideas
This Classic Homemade Cranberry Sauce is the perfect base to which you can make additions that fit your and your family's taste preferences. Here are some tried and true additions:
orange, lemon or lime zest + juice
fresh chopped apples, pears, pomegranate or other available fruit
chopped toasted nuts (I would never do this. I hate nuts in food)
dried cranberries, tart cherries, golden raisins or other dried fruit
spices like cinnamon, ginger, cloves, allspice
fresh ginger or other sweet herbs like thyme
Natural Sweetener and Sugar-Free Cranberry Sauce Options
Homemade Cranberry Sauce Recipe
Ingredients
12

ounces

fresh cranberries

1 bag, about 3 cups

¾

cup

sugar

¾

water

pinch

of salt
Instructions
Wash cranberries and remove any wayward stems and mushy, brown/bruised berries.

In a medium saucepan, heat water and sugar over low heat until sugar dissolves. Add cranberries, increase heat, and bring to a boil. Turn down heat to low and simmer cranberries until most of them have cracked or burst, about 10 minutes.

Remove from heat and allow to cool completely. Cranberry sauce "gels" more as it cools.

Serve room temperature or chilled.
How to Store /Freeze Leftover Cranberry Sauce
Cranberry Sauce is essentially a refrigerator/freezer jam, so it will be good for up to five days in an air-tight container in the refrigerator.
Beyond a few days, you can absolutely freeze cranberry sauce. In fact, you can actually freeze whole fresh cranberries! If you plan to use frozen cranberry sauce a little at a time, freeze the sauce into individual portion sizes. You can do this by freezing the cranberry sauce in ice cube trays, then storing the frozen cranberry cubes in a freezer safe sealable bag or container.
Another way to make smaller size frozen portions is to put the cranberry sauce in a zipper top bag with at least some "wiggle room." Squeeze out as much of the air from the bag, seal, then press indentations into the bag with the side of your hand or handle of a spatula to create smaller portions. Freeze the bag flat this way. When you need a small amount from the bag you can easily "break off" a square of frozen cranberry sauce from inside the bag.
What to Make with Leftover Cranberry Sauce
Cranberry Sorbet Recipe
Ingredients
leftover basic cranberry sauce

make sure it's at least 1 cup, otherwise the sorbet is not worth it

water

half the amount of cranberry sauce

sugar

half the amount of cranberry sauce
Instructions
Measure leftover cranberry sauce. Measure half that amount of each of water and sugar.

In a saucepan, over low heat, bring leftover cranberry sauce, water, and sugar. Stir until sugar is dissolved.

Remove from heat. Allow to cool so that at the very least, it's not steaming. Puree cooled mixture in blender, then allow to fully cool.

Churn in ice cream/sorbet maker according to manufacturer's instructions. Harden in freezer overnight.
Basic Cranberry Sauces Around the Web: