This is hands-down the best homemade whole berry cranberry sauce, with big beautiful berries that look like jewels, and no refined sugar. If you're not already making your cranberry sauce like this, it will be your new go-to recipe every year.
Jump to:
What is Cranberry Sauce
I don't think anyone needs to be told what Cranberry Sauce is. However, I will tell you what this specific recipe for Cranberry sauce is.
Health Benefits and Dietary Considerations
This Homemade Whole Berry Cranberry Sauce recipe is:
100% vegan and vegetarian
dairy-free
gluten-free
refined sugar-free
keto- and paleo-compliant
Ingredients You Need for This Cranberry Sauce
As unbelievable as it sounds, this recipe really does only have three ingredients (plus water, of course):
fresh cranberries
maple syrup
pinch of salt
Instructions for How to Make this Cranberry Sauce
This recipe is so quick and easy, it'll be done before you find that can opener to open a can of store-bought cranberry sauce. Literally, two steps, and that's only if doing nothing but waiting can even be considered a step. In the words of the Barefoot Contessa, "How easy is that?" Here are the steps:
simmer cranberries, water, maple syrup, and salt
allow to cool and gel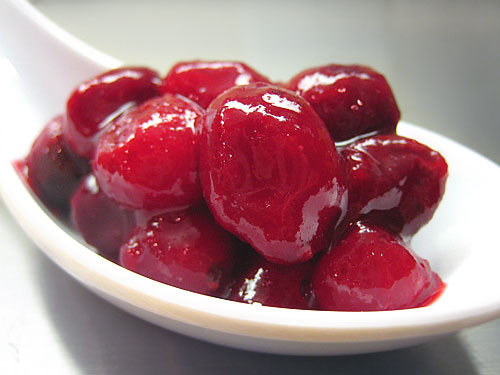 Ingredients Notes and Resources
Cranberries. Fresh cranberries start to appear in grocery stores right around the time that Halloween items start to hit the shelves. They are most commonly sold in 12-ounce bags, so this recipe is based on that. I buy organic fresh cranberries.
Maple Syrup. This is a pure organic maple syrup.
Salt. This is the salt I use for every day cooking.
Natural Sweetener and Sugar-Free Cranberry Sauce Options
The most traditional recipes for cranberry sauce have a huge amount—what I would deem way too much—of plain white granulated sugar. Cranberries are extremely tart, so all that sugar was a way to balance out the tartness. However, the traditional amounts of sugar almost cancel out the tartness of the cranberries, which is kind of . My hope is that our collective taste preference has evolved over time away from something less saccharine sweet and toward something that highlights the natural sour of the berries.
Cranberry Sauce Variations
This Classic Homemade Cranberry Sauce is the perfect base to which you can make additions that fit your and your family's taste preferences. Here are some tried and true additions:
orange, lemon or lime zest + juice
fresh chopped apples, pears, pomegranate or other available fruit
chopped toasted nuts (I would never do this. I hate nuts in food)
dried cranberries, tart cherries, golden raisins or other dried fruit
spices like cinnamon, ginger, cloves, allspice
fresh ginger or other sweet herbs like thyme
One Thanksgiving, I got creative with homemade cranberry sauce and tried to make it fancy.
My sister was first to taste it. With her brow crinkled, she looked across the table at me and asked, "You didn't put cinnamon in this did you?"
It wasn't like "Oh! Wow! This tastes great! Did you put cinnamon in it?" It was more like, "This tastes like ass because you put cinnamon in it, huh? Don't ever f'ing do that again."
Ok, maybe it wasn't like that last part. Needless to say, we had a lot of leftover cranberry sauce that year.
I now make this same simple classic All-American homemade cranberry sauce every year. No cinnamon. No nuts. Not even citrus juice as the liquid instead of water for extra flavor. And hell to the naw on raw "relish," salsa, or chutney.
But since no one in my family actually eats cranberry sauce anyway...
Essentially, I am making a cranberry compote that decorates the dinner table for one night, then becomes an ingredient in all the other things I'll be baking and making during the rest of the Holidays.
Thanksgiving with my family is so weird.
Tools and Equipment
As I always say, there is nothing in the kitchen you NEED to make a certain dish, as a solid cutting board and a sharp knife will almost always be enough, and in the case of Cranberry Sauce, you don't even need those. However, that doesn't mean there aren't a few tools and gadgets that you may WANT to make it infinitely easier, as easy as it already is, of course:
Salad Spinner/Colander. a salad spinner is great for the colander inside!
Heavy saucepot for cooking the cranberry sauce
Wooden spoon
Cute serving bowls for sauces and condiments
All-time favorite workhorse chef's knife
Cutting board that's huge for stability and surface area
Vegetable Wash to remove the outer wax and residues on the skins. I have been using this organic brand for YEARS.
How to Store /Freeze Leftover Cranberry Sauce
Cranberry Sauce is essentially a refrigerator/freezer jam, so it will be good for up to five days in an air-tight container in the refrigerator.
Beyond a few days, you can absolutely freeze cranberry sauce. In fact, you can actually freeze whole fresh cranberries! If you plan to use frozen cranberry sauce a little at a time, freeze the sauce into individual portion sizes. You can do this by freezing the cranberry sauce in ice cube trays, then storing the frozen cranberry cubes in a freezer safe sealable bag or container.
Another way to make smaller size frozen portions is to put the cranberry sauce in a zipper top bag with at least some "wiggle room." Squeeze out as much of the air from the bag, seal, then press indentations into the bag with the side of your hand or handle of a spatula to create smaller portions. Freeze the bag flat this way. When you need a small amount from the bag you can easily "break off" a square of frozen cranberry sauce from inside the bag.
What to Make with Leftover Cranberry Sauce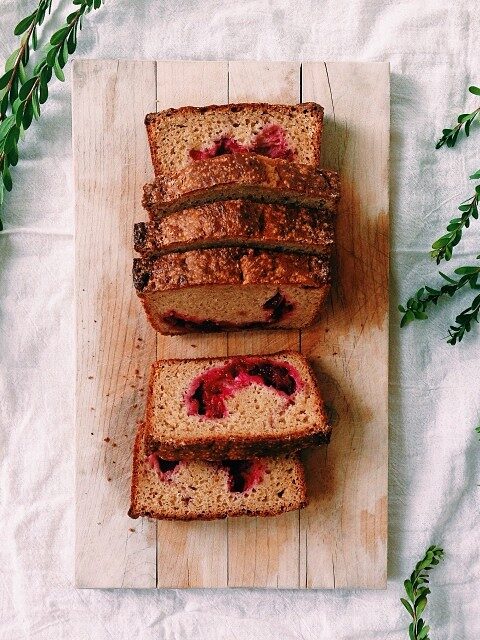 FAQ
What is the difference between whole berry cranberry sauce and jellied cranberry sauce?
Jellied cranberry sauce is the result of cooking cranberries for longer so they break down. They sauce may be pureed and passed through a strainer to give it a smoother texture. Jellied cranberry sauce is often the one that is sold in cans in grocery stores that comes out of the can and holds its shape.
Is cranberry sauce healthy?
Cranberry sauce can support good health, especially when made with low to no refined sugar. Cranberries are high in antioxidants, provide vitamin C, and fiber.
Are you supposed to heat cranberry sauce?
It is not required to heat cranberry sauce to serve it. Cranberry sauce can be served anywhere from straight out of the refrigerator to room temperature.
How long does cranberry sauce last in the refrigerator?
Cranberry sauce is essentially a quick/refrigerator jam, so it will be good for up to five days in an air-tight container in the refrigerator.
Can you freeze cranberry sauce?
Yes! You can freeze cranberry sauce. The texture may change ever so slightly depending on how broken down your cranberries are in the original sauce.
How long does frozen cranberry sauce last?
Frozen cranberry sauce will last for a month in the freezer. You can just throw a container with all your leftover sauce in the freezer, but here are a few helpful hacks to make the thawing process easier.
Print Recipe
Homemade Whole Cranberry Sauce Recipe
Whole berry cranberry sauce that has no refined white sugar to really let the tart flavor and health benefits of cranberries shine
Ingredients
12

ounces

fresh cranberries

1 bag, about 3 cups

½

cup

pure maple syrup

½

water

pinch

of salt
Instructions
Wash cranberries and remove any wayward stems and mushy, brown/bruised berries.

In a medium saucepan, heat water and maple syrup over low heat. Add cranberries, increase heat, and bring to a boil. Turn down heat to low and simmer cranberries until most of them have cracked or burst, about 10 minutes.

Remove from heat and allow to cool completely. Cranberry sauce "gels" more as it cools.

Serve room temperature or chilled.