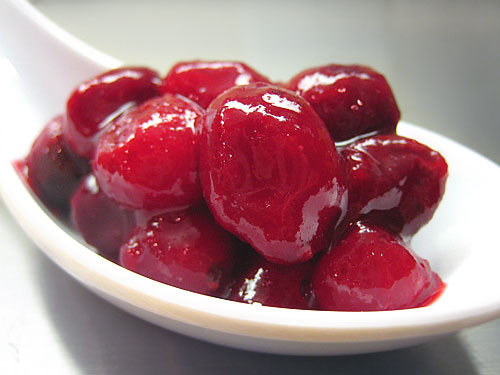 Basic Cranberry Sauce Recipe
Basic Cranberry Sauce Ingredients:
1 12 oz. bag of fresh cranberries (about 3 cups)
¾ cup sugar
¾ water
pinch of salt
Basic Cranberry Sauce Directions:
Wash cranberries and remove any wayward stems and mushy, brown/bruised berries.
In a medium saucepan, heat water and sugar over low heat until sugar dissolves. Add cranberries, increase heat, and bring to a boil. Turn down heat to low and simmer cranberries until most of them have cracked or burst, about 10 minutes.
Remove from heat and allow to cool completely. Cranberry sauce "gels" more as it cools.
This cranberry sauce recipe can now serve as a base to which you can make additions (with the exception of lime juice/zest or a pinch of spice, I don't add anything. Obviously.):
orange, lemon or lime zest + juice
fresh chopped apples, pears, pomegranate or other available fruit
chopped toasted nuts (I would never do this. I hate nuts in food)
dried cranberries, tart cherries, golden raisins or other dried fruit
spices like cinnamon, ginger, cloves, allspice
fresh ginger or other sweet herbs like thyme
Cranberry Sorbet from Leftover Basic Cranberry Sauce
Cranberry Sorbet Ingredients
leftover basic cranberry sauce (make sure it's at least 1 cup, otherwise the sorbet is not worth it)
water
sugar
Cranberry Sorbet Directions
Measure leftover cranberry sauce. Measure half that amount of each of water and sugar.
In a saucepan, over low heat, bring leftover cranberry sauce, water, and sugar. Stir until sugar is dissolved.
Remove from heat. Allow to cool so that at the very least, it's not steaming. Puree cooled mixture in blender, then allow to fully cool.
Churn in ice cream/sorbet maker according to manufacturer's instructions. Harden in freezer overnight.
Basic Cranberry Sauces Around the Web:
~ Epicurious's basic sauce also includes grated orange peel
~ Martha Stewart and Suite 101 both make theirs slightly sweeter with more sugar + water
~ CookingLight calls thers "basic," but it adds honey and spices