Happy National Sandwich Day.
Here's a Spinach and Artichoke Grilled Cheese Sandwich. The sandwich is so awesomely delicious with marinated artichoke hearts, garlic sautéed baby spinach, and two kinds of cheese. But hey, if you make a version by spreading some actual spinach and artichoke dip between two slices of bread and grilling it in gobs of melted butter, that'd pretty awesomely delicious, too.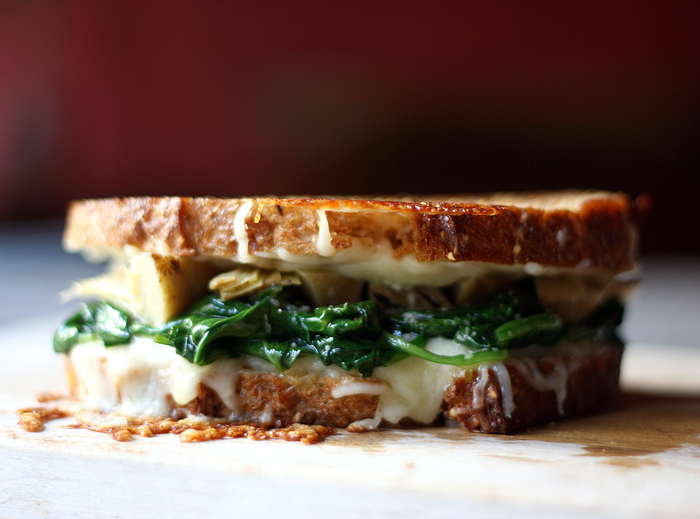 Spinach and Artichoke Grilled Cheese
Pro tip: always use shredded cheese rather than slices of cheese for grilled cheese sandwiches. The shreds fell off the sides of the bread, giving the sandwich the same effect as the actual dip when broiled in a small crock or mini cast iron skillet - crispy, crunchy, toasted cheese bits attached to the bread.
makes 1 sandwich
Ingredients
1 tablespoon softened butter
1 tablespoon olive oil
2 slices whole grain and seed bread
2 tablespoons garlic aioli or mayonnaise or softened cream cheese or all of it
½ cup shredded mozzarella cheese (or jack)
2 handfuls spinach sautéed in about 1 teaspoon butter with half clove finely minced garlic
chopped marinated artichokes
2 tablespoons grated Parmesan cheese
salt and pepper to taste
Directions
Heat 1 tablespoon olive oil and 1 tablespoon butter in a frying pan over medium low heat. Slather one side of each of the slices of bread with garlic aioli/mayonnaise or cream cheese, or both.
Place the slices of bread in the heated pan, aioli side up, then pile half of shredded cheese on one slice and half of shredded cheese on the other slices. Cook the bread until golden brown and the cheese is melted.
Remove the grilled bread from the pan. Place sautéed spinach on melted cheese on one slice of bread. Sprinkle with Parmesan cheese. Arrange marinated artichokes on top, then season with a pinch of salt and pepper. Close/cover the sandwich with the other slice of grilled bread.