Avocado Hummus takes guacamole and hummus and combines the best parts of each into a, single luxuriously rich and creamy dip or spread. Avocado Hummus is perfect as a snack or appetizer dip with fluffy pita bread, crunchy pita chips or crisp vegetable crudités. Shall we?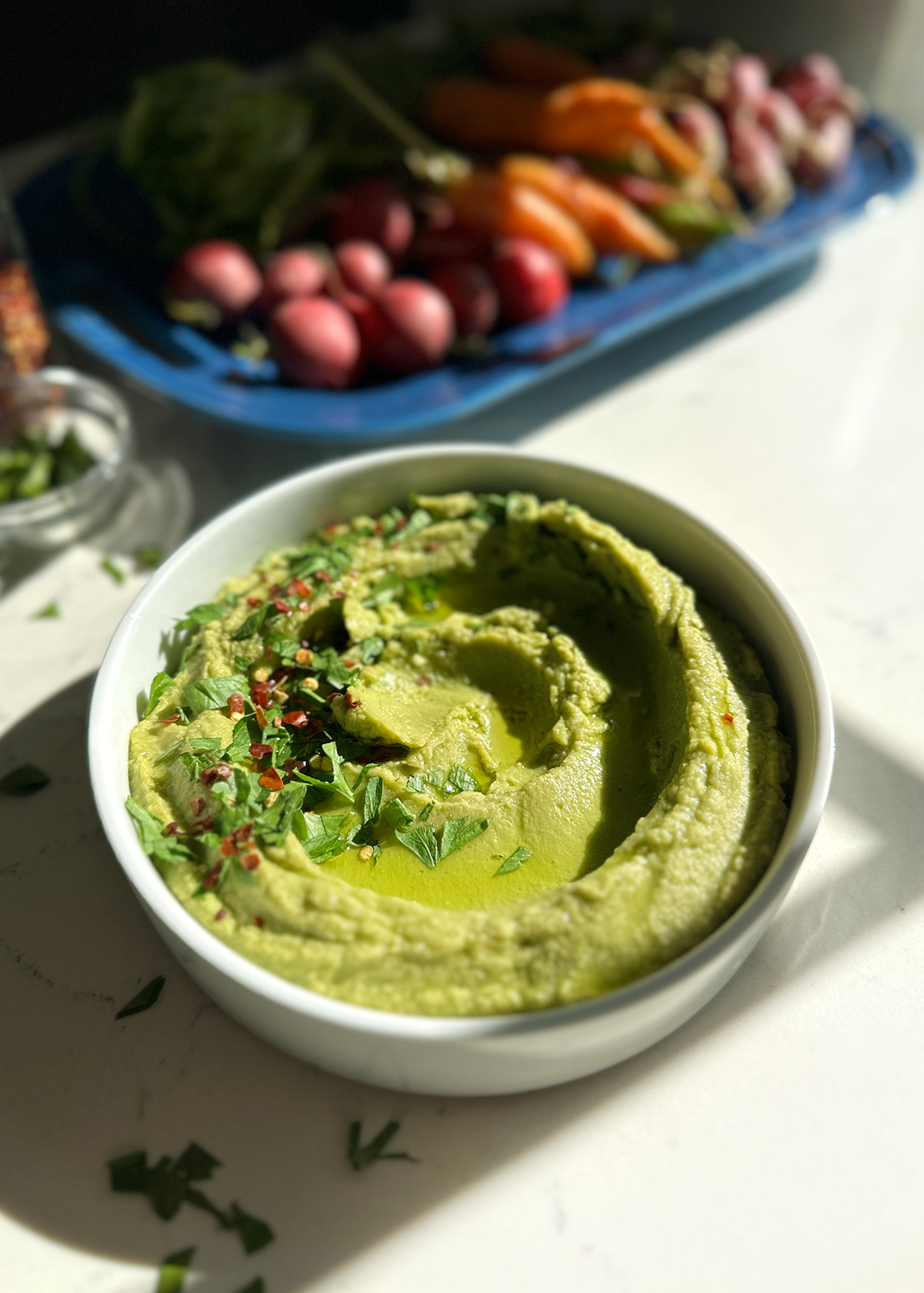 Jump to:
What is Avocado Hummus?
Avocado Hummus is a smoothy, creamy dip made of avocados and chickpeas blended together, along with garlic, lemon juice and salt for flavor. It's more fiber- and protein-packed than just guacamole, and a creamier California twist on plain old hummus.
The best part is, Avocado Hummus is so quick and so easy to make!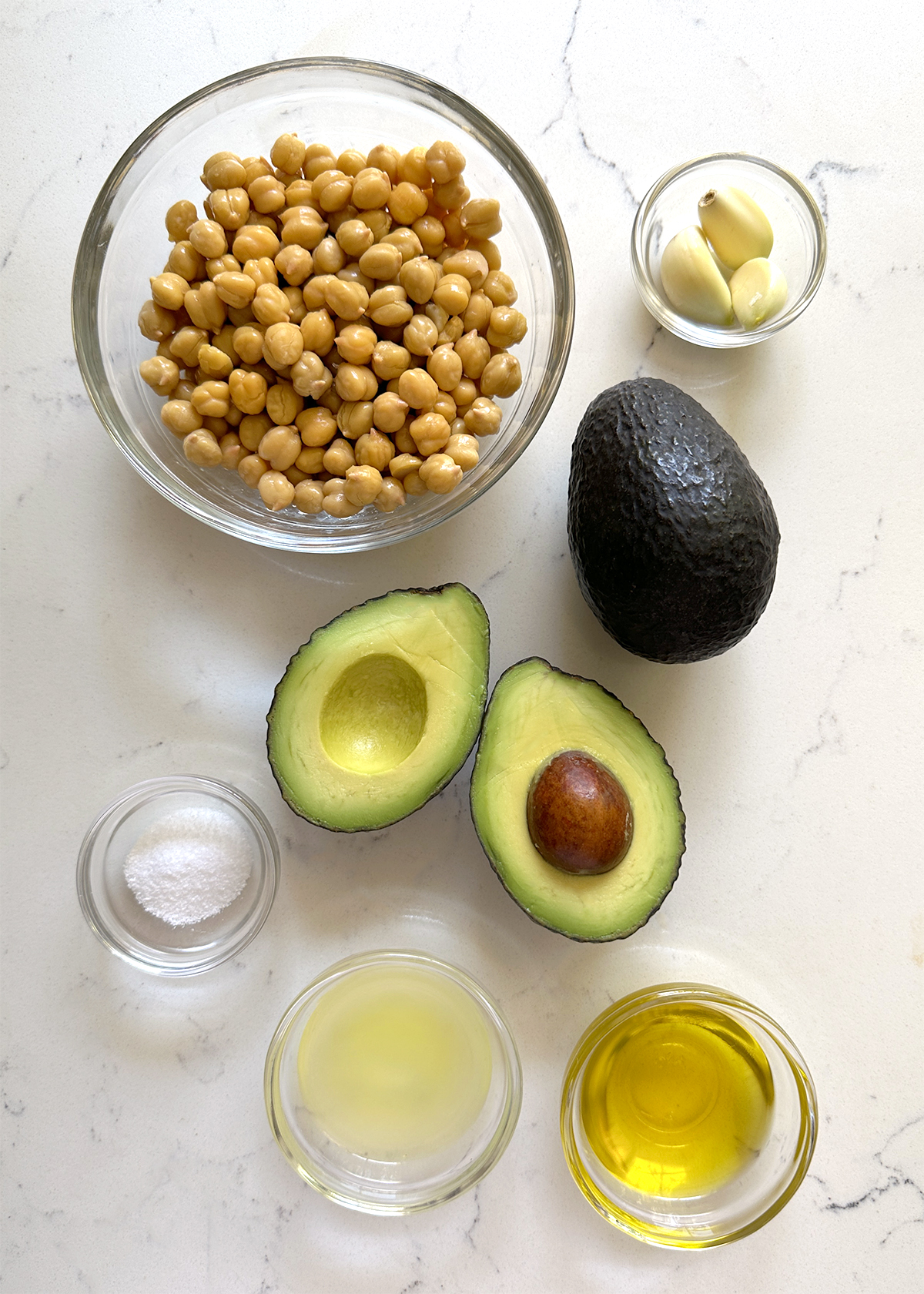 Ingredients You Need for Avocado Hummus
This Avocado Hummus recipe requires only a few ingredients, most of which you probably already have. In fact, even though this recipe is a type of hummus, you don't even need the addition of traditional tahini because avocado is essentially a substitute for it here. Of course, if you already have tahini, adding a couple of tablespoons is a welcome umami addition!
Here are the ingredients you need:
Avocados
Chickpeas, canned for convenience
Garlic
Salt
Lemon juice
Olive oil
These are optional ingredients for mixing into or topping the hummus:
Chopped fresh parsley
Paprika or cayenne pepper
Roasted chickpeas
What Kind of Avocados? California Avocados, of course!
We all know California for its sun, sand, and Hollywood stars, but did you know that California is also the leading state for agriculture in the United States? California grows one-third of the vegetables and two-thirds of the fruit and nuts that we get in the country. And among those fruits and vegetables? Avocado!
Fun Fact: Though the USDA classifies an avocado as a vegetable because of the way it's most commonly used and eaten, avocados are technically a fruit, specifically a berry, of all things!
California-grown avocados are the best avocados and the Hass variety, which is the pear-shaped, dark greenish-black, pebbled skin variety most commonly available in grocery stores, happens to be born and bred right outside Los Angeles!
Yes, I will be making a pilgrimage to the site of the original tree at some point in my life, though the actual tree that is the mother of all Hass avocados has since passed.
The varieties of avocados number in the hundreds—yes, hundreds of types of avocados! And who knows, maybe even more. However, including Hass, there are seven main varieties that are produced commercially in California, and a couple of new ones!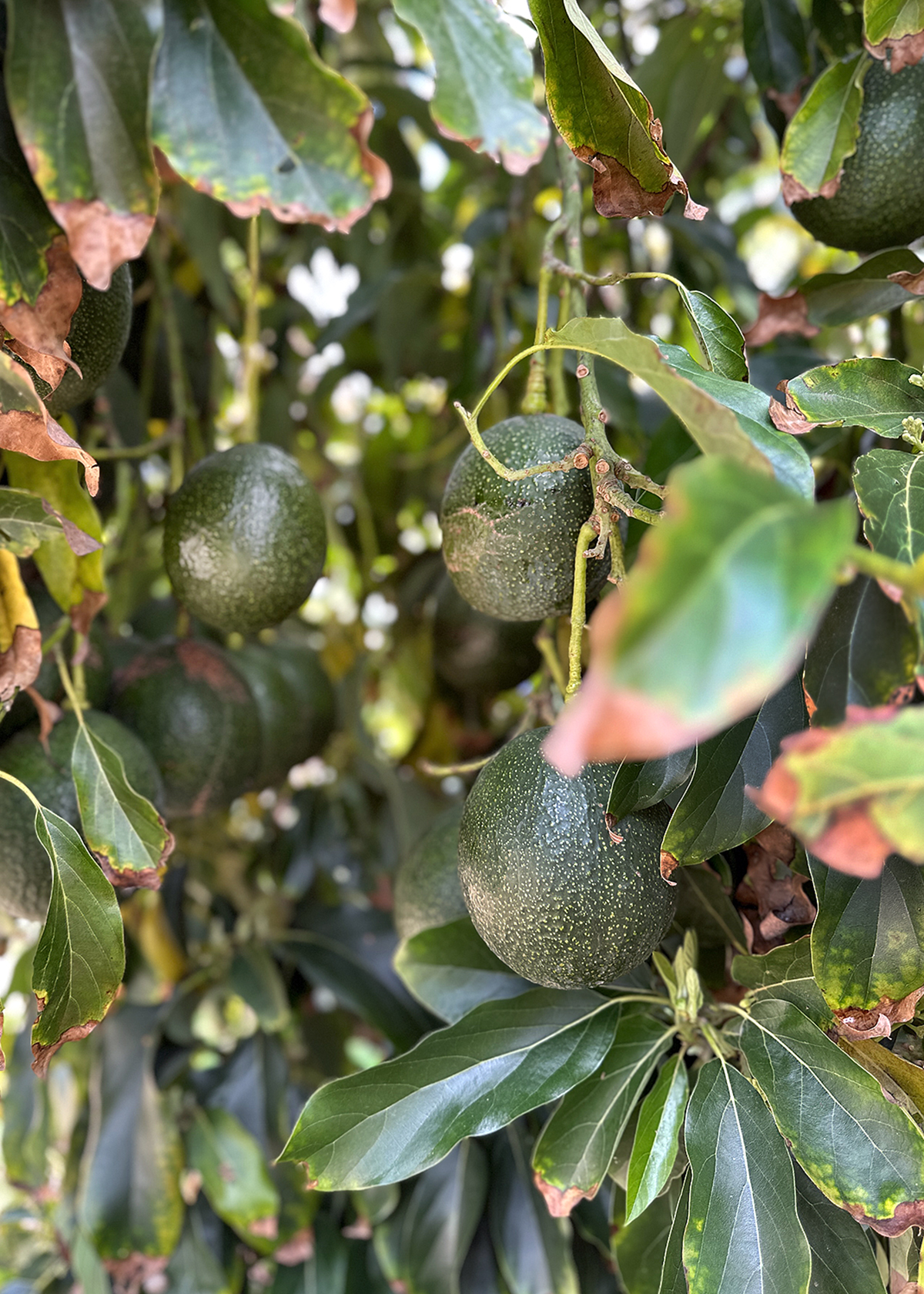 Reed Avocados
Recently I traveled to Temecula, California for an agri-tour of the region with my friends at California Grown. We visited a few farms including Fairfield Farms, which grows blueberries and avocadoes in Pauma Valley, and learned about a few of these different varieties of California avocados while riding through the orchards on the back of a tractor!
If you've ever marveled at a big, round, softball-sized avocado, you've probably seen a Reed avocado. Reed avocados have bright green skin that doesn't necessarily darken when it ripens. Because the skin is thicker and sturdier, it's easier to scoop the avocado out with a spoon rather than try to peel it. I love Reeds for for their buttery, creamy texture and subtly nuttier flavor.
If you see Reed avocados at the market, in season later summer and into Fall, they are worth a taste! And Reeds work particularly well for this Avocado Hummus recipe because their texture and taste is an even better dupe for tahini.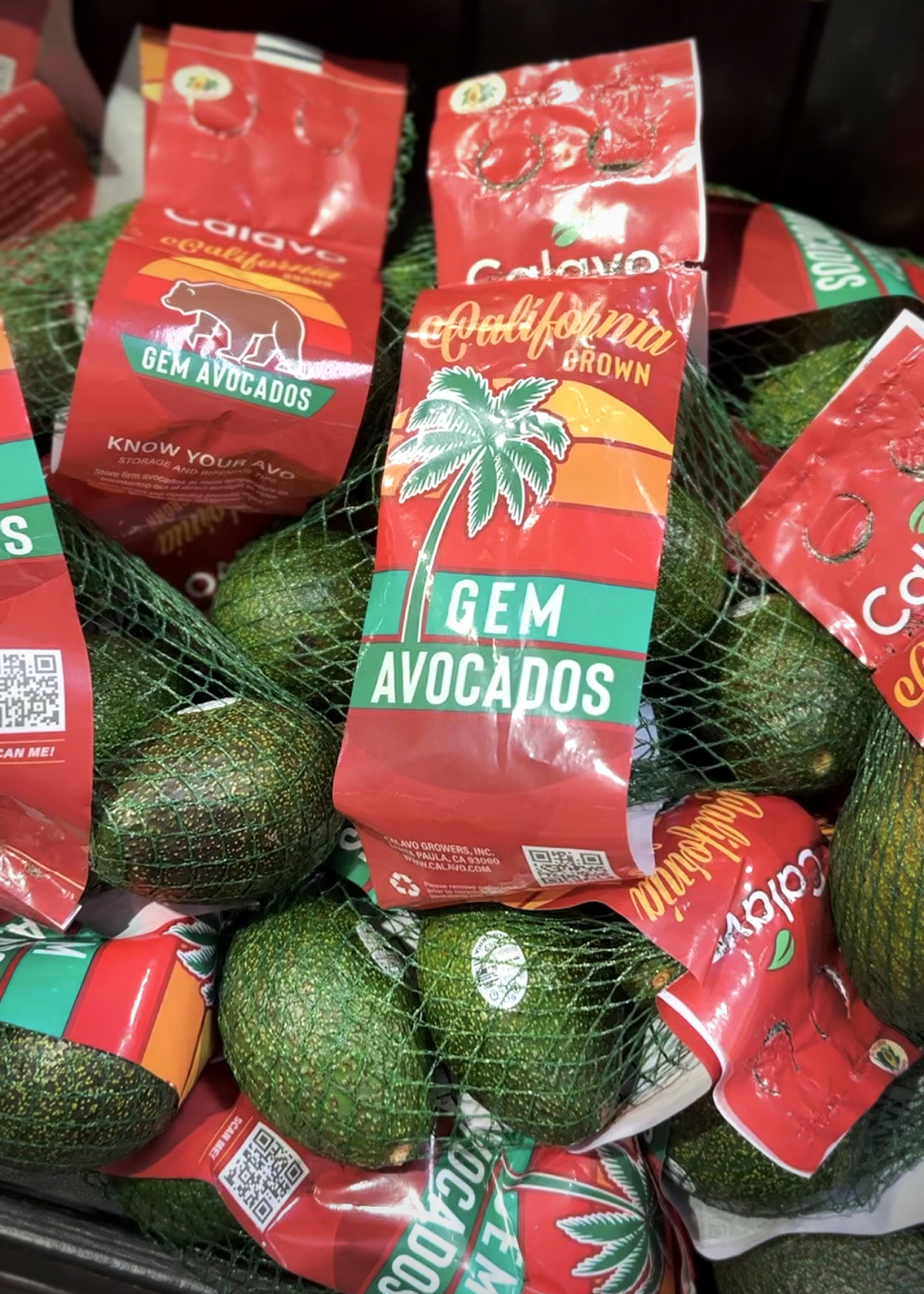 GEM Avocados
A "new"-ish variety, GEM avocados were bred and originally planted in California in the mid-1980s. They look similar to Hass avocados, with a similar pear shape, but have a lighter colored, slightly smoother skin with gold flecks. I personally haven't done a side-by-side taste test of a GEM against a Hass avocado, but apparently GEM avocados are creamier and have a slightly more robust nuttiness.
Buying California avocados is not only purely for their taste, though. Buying California avocados is a great way to support California farmers who work year-round to provide one-third of the vegetables and two-thirds of the fruit and nuts that we get here in the United States!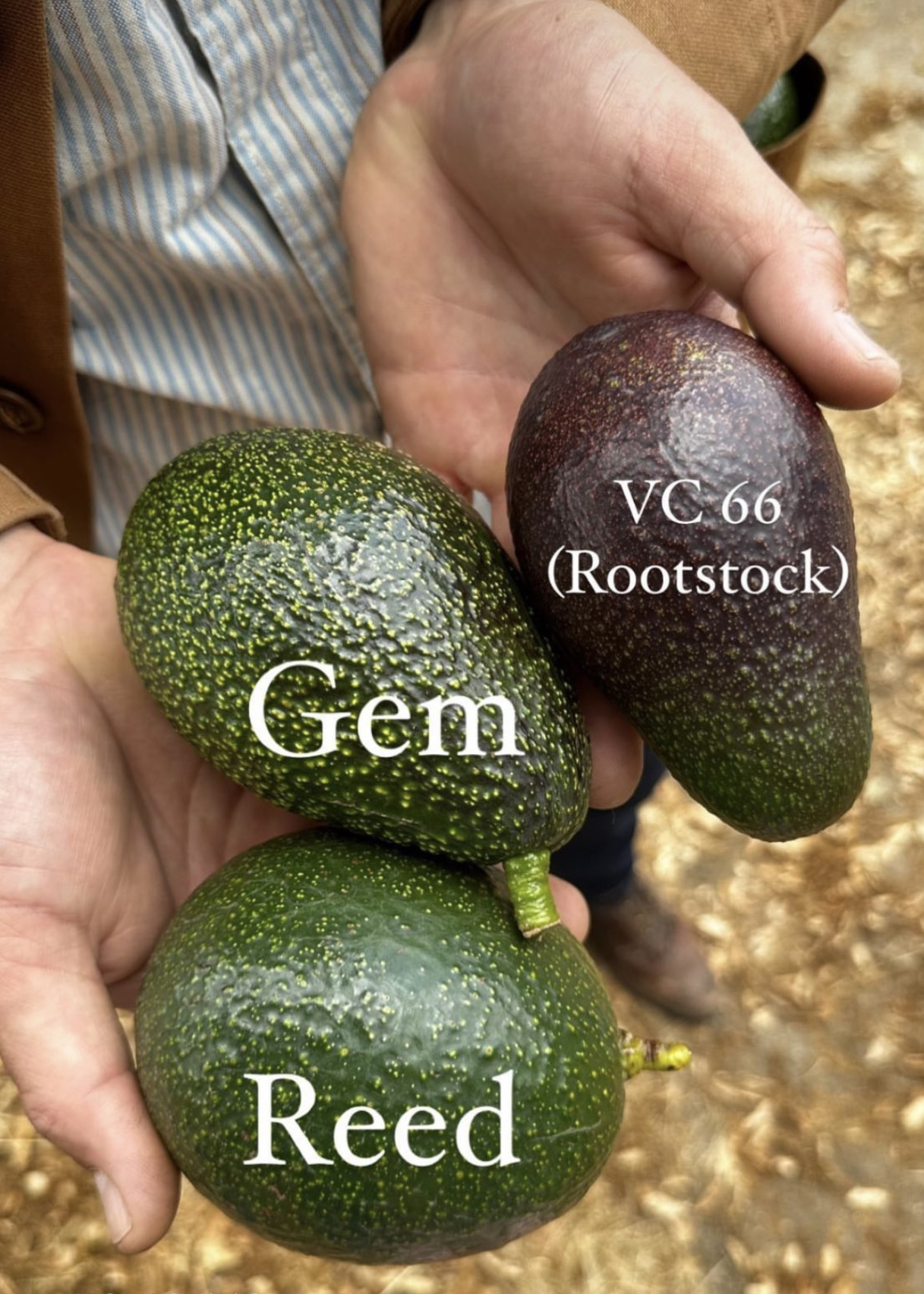 Where to get California Avocados
I am an enthusiastic supporter of local farmers' markets, so I highly recommend that if you live in California, you drop by your closest farmers' market and look for locally grown avocados when they're in season!
But not all of us are lucky enough to live in the Golden State, and even if we do live in California, near a farmers' market. Grocery stores carry California-grown avocados. Just look for signs on avocado display tables or stickers on individual avocados that say "Grown in California." If your grocery store doesn't carry California avocados, ask someone!
This guide shows all the ways you can look out for California grown avocados and all produce, including shopping online, which is helpful in this new world we live in.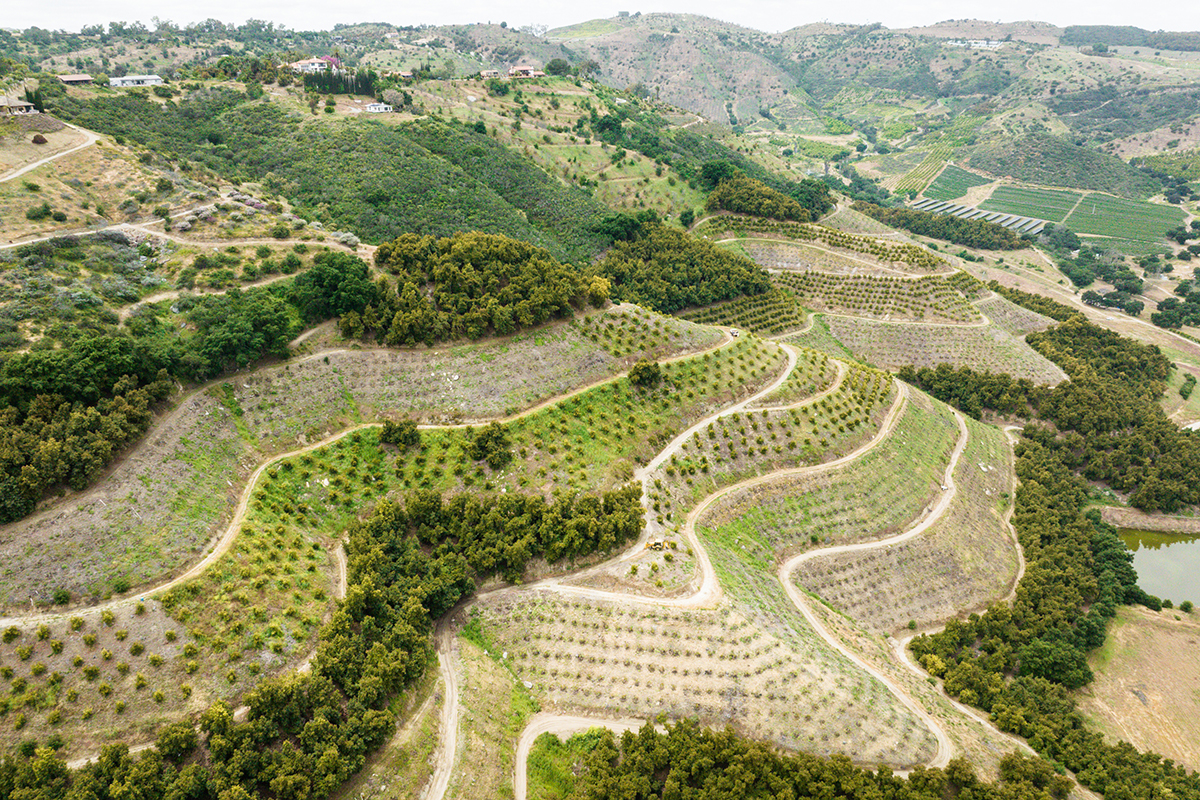 Curious About What Grows in California?
I am a member of the content creator team for California Grown, and have gone on several trips to visit agriculture and wine regions throughout the state. Peep below to learn more about the Central Valley, Monterey, the San Joaquin Valley, and SAnta Barbara:
California Agri-tours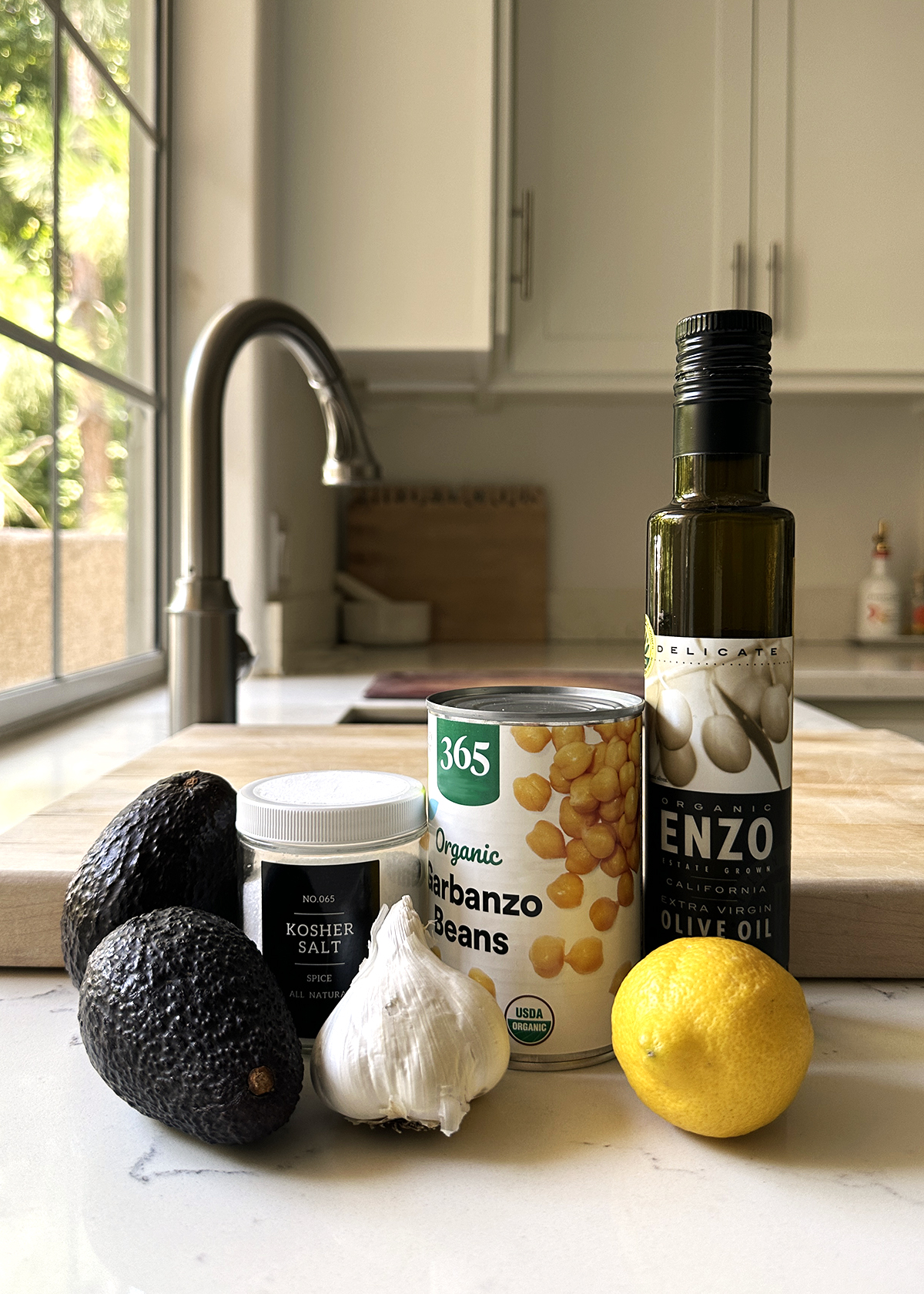 Additional Ingredients Notes and Resources for Avocado Hummus
Chickpeas. Use good quality canned chickpeas/garbanzo beans, organic if you have access. If you want to start with dried chickpeas, this producer grows chickpeas in California!
Garlic. Use fresh garlic. You do not have to mince the garlic before adding to the food processor.
Lemons. One medium size lemon will render about 2 tablespoons of lemon juice, so start with two lemons, though you might need three.
Olive Oil. California grows olives and produces olive oil! I use this California-grown olive oil as a finishing oil, i.e. an oil for drizzling at the end.
Salt. I use this brand of salt as my everyday cooking salt.
How to Make Avocado Hummus
Technically, you could throw everything into a blender or food processor all at once and just let 'er rip; what you end up will be pretty good! But there are a few tiny tips and tricks that can take your Avocado Hummus from good to great.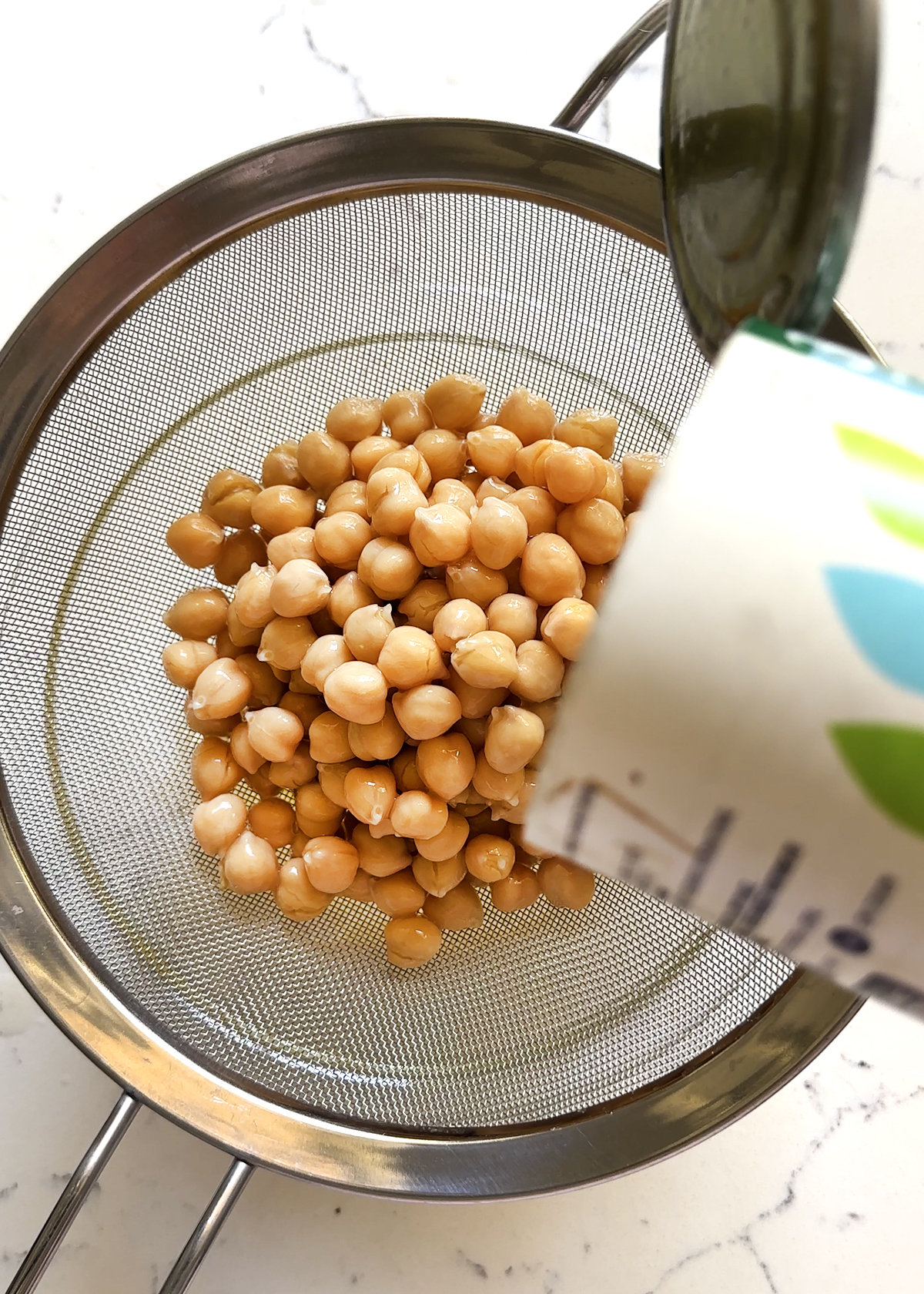 Drain chickpeas, reserving about ½ cup of the "juice" from the can, which is known as "aquafaba." Place the aquafaba in the freezer to chill it down.
Optional step to level up: Remove thin inner skins from individual chickpeas either by rubbing them between two clean kitchen towels, or just gently squeezing each individual chickpea by hand to slip it out of the skin. You can leave the skins on, the hummus just won't be quite as smooth.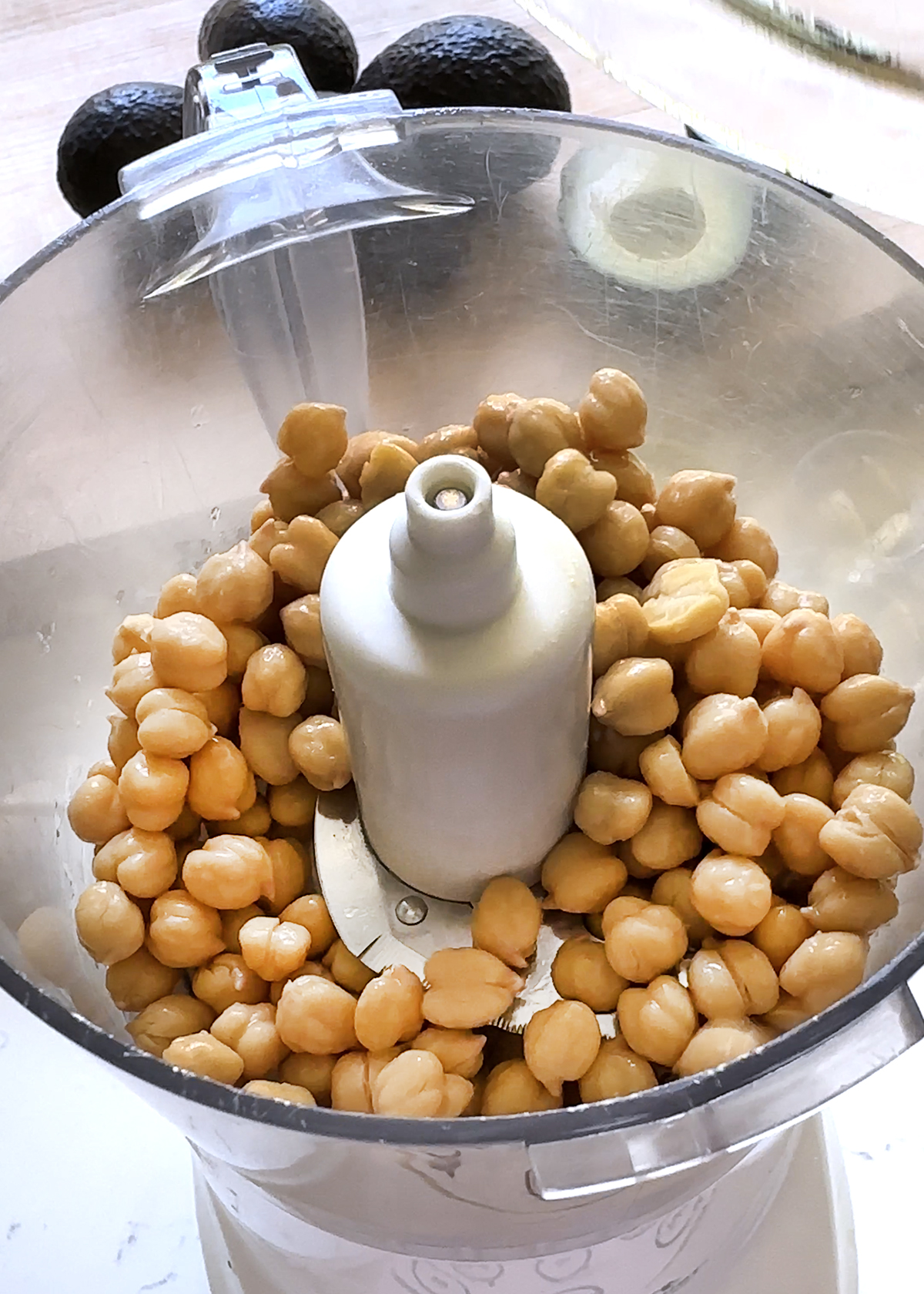 Place the chickpeas in a food processor and process until you get a dry, stiff, crumbly mixture. This will take about three minutes.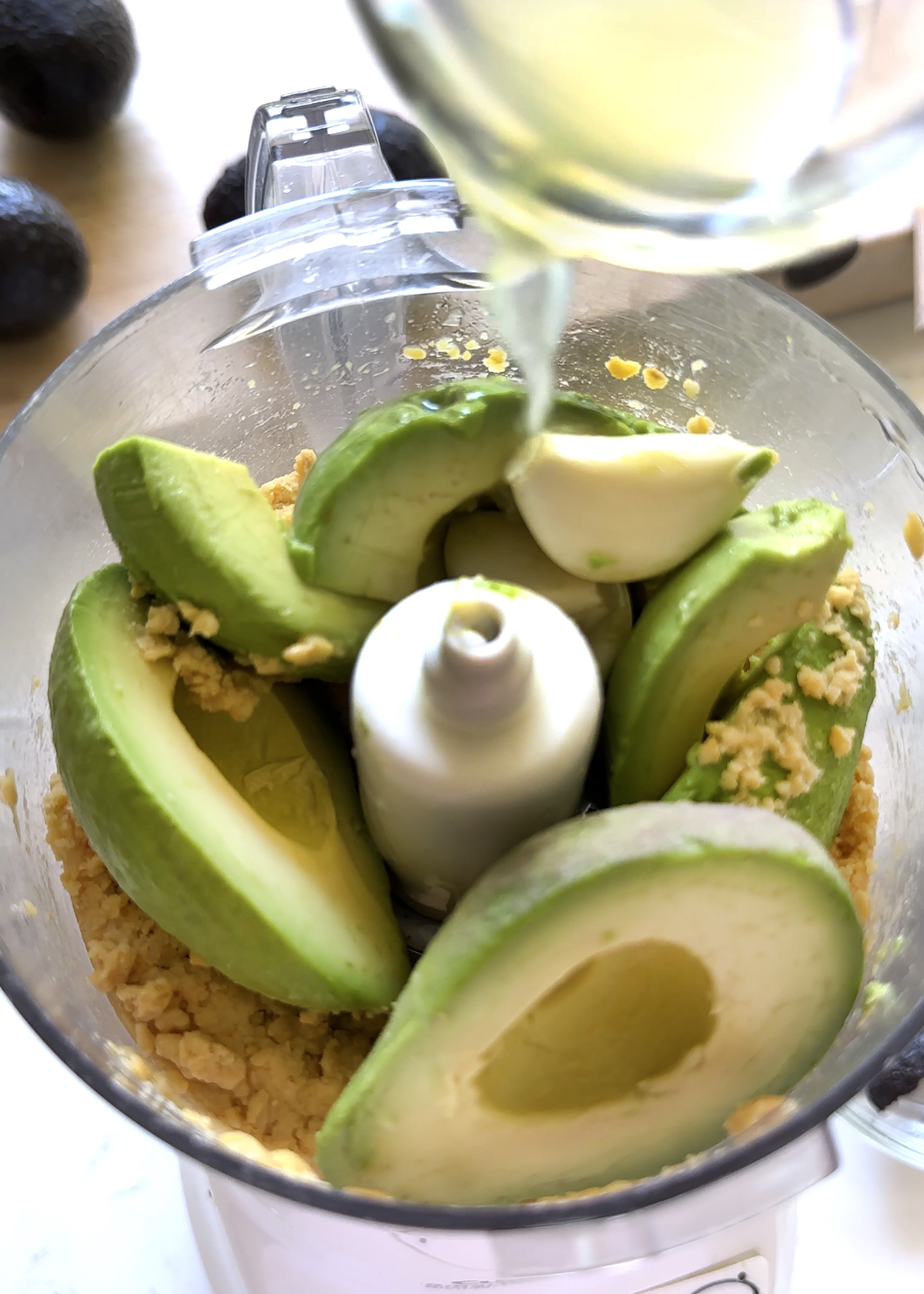 Add the avocado, garlic, lemon juice, and 1 teaspoon salt. Pulse the machine until the mixture moves smoothly in the bowl. The mixture will still be thick and somewhat stiff.
With the machine running, add the cold aquafaba from the freezer one tablespoon at a time until the hummus is smooth and the consistency you prefer. For 1 can of chickpeas, I usually end up using 2 tablespoons, resulting in hummus with the consistency of thick frosting. If you need more liquid, use ice cold water.
Stop the machine and taste the hummus. Add more lemon juice and/or salt if needed. Scrape the hummus into a serving bowl, drizzle with a few tablespoons of olive oil and garnish with chopped fresh herbs.
Pro Tips and Techniques
Simmer the Chickpeas. If you have the time, simmer the drained chickpeas in enough water to cover the chickpeas by an inch and one teaspoon of baking soda for 15 minutes. The baking soda will break down the chickpeas. It doesn't matter if you simmer with or without the skins on. If you leave the skins on, a lot of them will come off anyway. You can skim them out of the pot with a slotted spoon. Drain the chickpeas and proceed with the recipe as directed.
Let the Avocado Hummus rest. If you let the Avocado Hummus rest for about 15 minutes before actually serving, the flavors will loosen up and settle into each other. I don't know what the chemistry is there, but it works.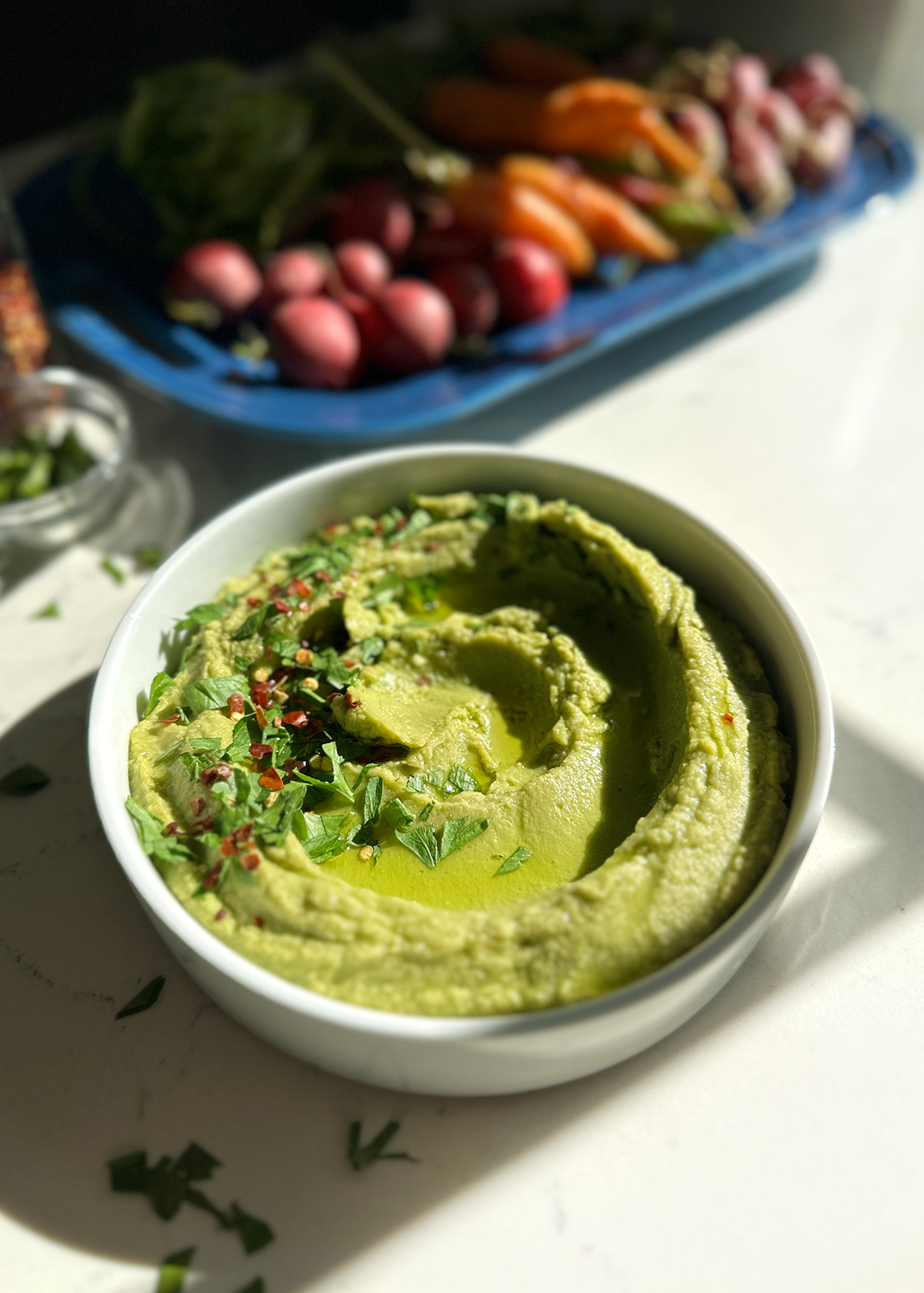 Can I Make Ingredient Substitutions?
Other Beans. Though "hummus" literally translates from Arabic to chickpeas or garbanzo beans, you can definitely use other light colored beans or legumes to make a puréed, hummus-like dip with avocado! Cannellini beans aka white kidney beans and Great Northern beans are both good substitutes. I would stay away from black beans, which make a great dip on their own, but might result in a somewhat unappetizing shade of greenish-gray when combined with avocado, even though we already know they taste great together.
Lime for Lemon. You can substitute lime juice for lemon juice in this recipe! Just know that using lime juice will make the hummus taste more like guacamole than hummus.
Health Benefits of Avocado*
One 50-gram serving of avocado, which is ⅓ of a medium sized avocado:
provides 3 grams of dietary fiber
has

only 80 calories per serving

is good source of monounsaturated fats
is a good source of B and K vitamins
* nutritional information via California Avocados
Dietary Considerations and Health Benefits of Avocado Hummus
This recipe for Avocado Hummus as published, is:
100% plant-based, suitable for vegans
vegetarian
dairy-free
gluten-free
refined sugar-free
In addition to the health benefits of avocado above, Avocado Hummus also includes the protein-rich and fiber-forward health benefits of chickpeas. 1 cup of canned chickpeas provides 10.7 grams of protein and 9.6 grams of fiber! (source: USDA)
Tools and Equipment
High power blender to blend the chickpeas
Food processor
Silicone spatula
Garlic press if you want to start with minced garlic, though your blender or food processor will be able to do the work for you!
Measuring cups
Measuring spoons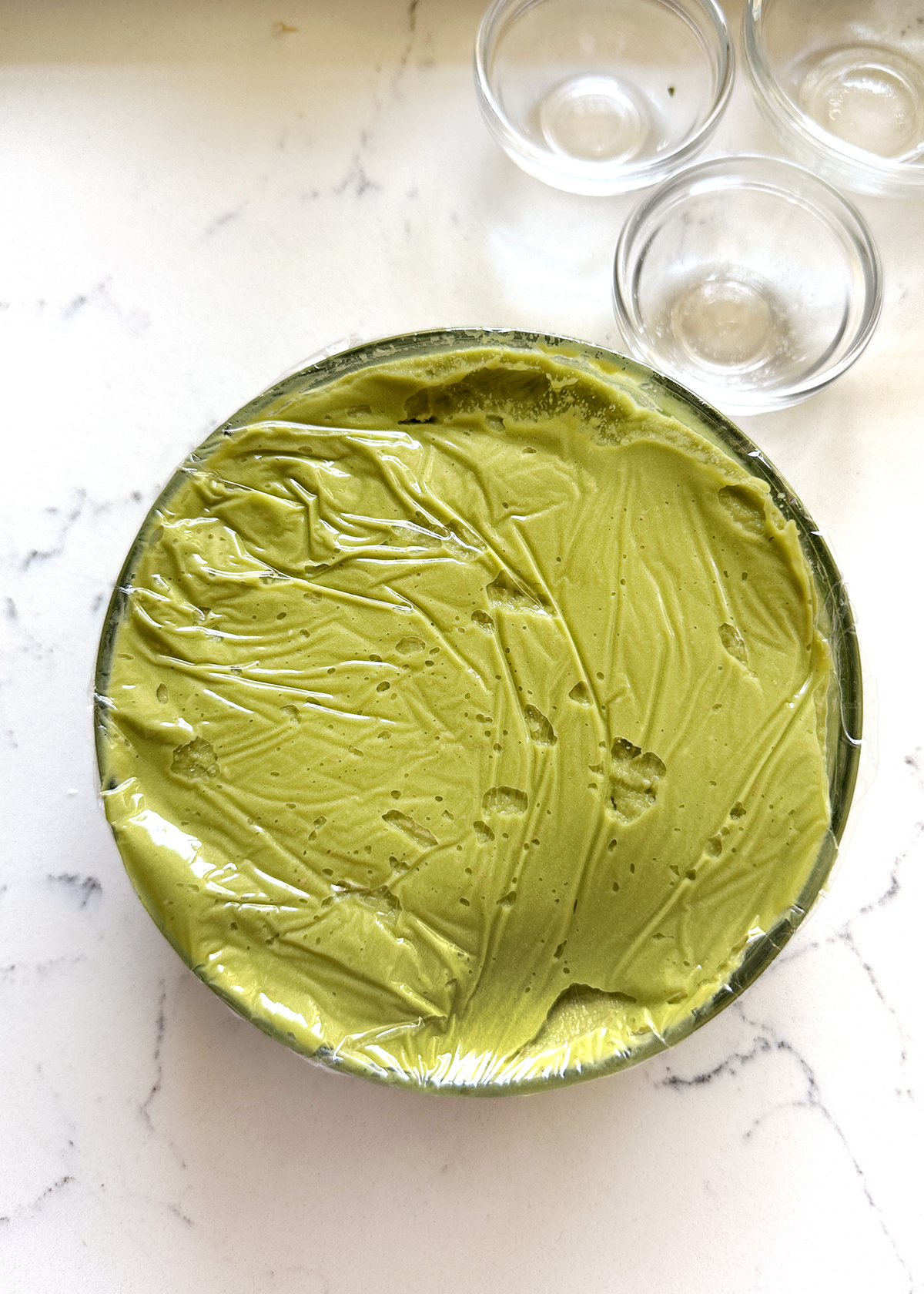 Leftovers and Storage
Refrigerator. Leftover Avocado Hummus will keep in an airtight container in the refrigerator for two days. As we all know from our experience with guacamole, avocado does darken when you expose it to oxygen, so do your best to protect as much of the leftover Avocado Hummus from air with either plastic wrap or a thin layer of olive oil directly on the surface of the hummus.
Freezer. Leftover Avocado Hummus can be stored for the longer term in the freezer, up to 3 months, though the texture and color might change slightly. Place the Avocado Hummus in an airtight, freezer-safe container, with as much of the air removed as possible. A plastic zip-top freezer bag is the best for this. Thaw in refrigerator overnight. The texture and color of the Avocado Hummus might change slightly, but will be fine to eat.
FAQ
How many cups of chickpeas are in one can?
One 15-ounce can of chickpeas has about 1¼ cups of chickpeas, after the liquid "aquafaba" is drained. If you need 2 cups of chickpeas, use 2 cans, and you'll have a few chickpeas leftover!
How much cooked chickpeas come from dried chickpeas?
One cup of dried chickpeas will yield three (3) cups of cooked chickpeas on average. For this recipe, if you want to start with dried chickpeas, you will need ½ cup dried chickpeas. However, my recommendation if you are starting with dried chickpeas is to cook more and save them for later.
How do you keep Avocado Hummus from turning brown when serving?
To keep Avocado Hummus from turning brown when serving, add the maximum amount of lemon juice, which in this recipe is ¼ cup. The acid will keep the avocado from oxidizing too quicky.
How do you keep Avocado Hummus from turning brown when storing?
To keep Avocado Hummus from turning brown when storing in the refrigerator, the goal is to minimize the amount of Avocado Hummus that is exposed to air. The best method is placing a piece of plastic wrap or parchment paper cut to the shape of the container directly on the surface of the Avocado Hummus in the storage container. You can also drizzle a thin layer of olive oil over the entire surface of the Avocado Hummus.
How long does Avocado Hummus last in the fridge?
Avocado Hummus will last in the refrigerator up to 2 days if properly stored.
Can you freeze hummus?
Yes, you can freeze hummus, and specifically, this Avocado Hummus, in an air-tight container, for up to two months. The texture and color may change slightly, but it will be edible.
Is hummus or guacamole healthier?
Both hummus and guacamole can be healthy depending on your individual health concerns and needs. Hummus is high in dietary fiber from the chickpeas and plant-based fats from the tahini (sesame seeds) and olive oil. Guacamole provides health-supporting plant-based fats from the avocado.
Is Avocado Hummus vegan?
Yes, Avocado Hummus is vegan. As presented, this recipe for Avocado Hummus is 100% plant-based, suitable for vegan lifestyles.
What to Serve with Avocado Hummus
Jokes about "dip for dinner" aside, Avocado Hummus with fluffy pita bread, chips, or some vege crudites can be dinner because it provides both healthy fat and dietary fiber! If you do want round out an entire table though, here are some awesome ways to serve and use Avocado Hummus:
For More Recipes with Avocados
If You're Here for Hummus and Dips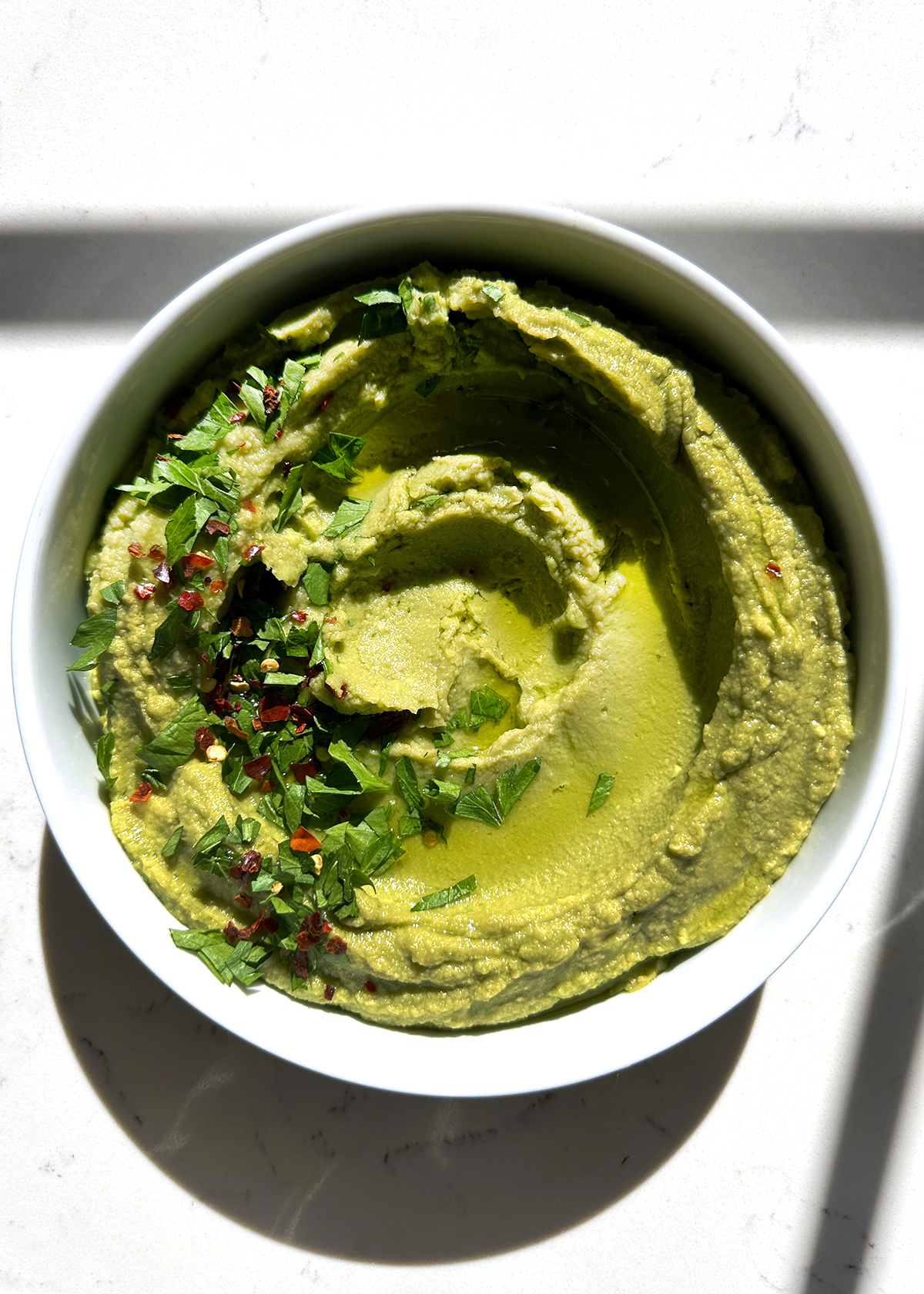 Print Recipe
Avocado Hummus Recipe
You will never buy pre-made hummus at the grocery store again after you realize how FAST and EASY it is to make at home, and how customizable it is!
Ingredients
1¼

cups

chickpeas, from 15-ounce can, liquid from can reserved

2

medium avocados, or about 10 ounces total

skin and pits removed

2-3

cloves

garlic

peeled, crushed, and inner green stem removed

¼

cup

lemon juice

1

teaspoon

kosher salt + more to taste

ice cold water in a small bowl or glass

as needed by the tablespoon, for texture

2

tablespoons

olive oil for drizzle at end
Optional Garnishes, Serve with
optional garnish for serving: extra whole chickpeas, extra chopped or sliced avocado, chopped fresh soft herbs e.g. parsley, mint, dill

serve with: vegetable crudités, grilled flatbread, just itself
Instructions
Drain chickpeas, reserving the liquid from the can and placing it in the freezer to rapidly chill down.

Remove the thin, diaphanous skins from the chickpeas either by gently squeezing each chickpea and popping it out of the skin, or by placing a clean kitchen towel or paper towel on a flat surface, laying the chickpeas in a single layer, and rubbing them gently with a second kitchen towel or paper towel.

Place peeled chickpeas into the blender or food processor and pulse until the chickpeas are puréed. The mixture will be thick and may require stopping the machine several times and scraping down the sides of the bowl.

Add the avocado, garlic, lemon juice, and salt, and pulse until the mixture moves smoothly in the bowl. Add the chilled liquid from the can from the freezer by the tablespoon to the food processor as it is running until the hummus is smooth and the consistency you prefer.

Taste, add more lemon juice and/or salt if needed.

Scrape the hummus into a serving bowl, drizzle with a few tablespoons of olive oil and garnish with chopped fresh herbs if using.
Avocado and Blueberry Recipes from Friends
Check out these recipes by friends who also visited Temecula, California with me!
This recipe and post are produced in partnership with California Grown. You can see more of my fawning all over California and California-grown produce on California Grown's blog, and TheDeliciousLife.com posts here.