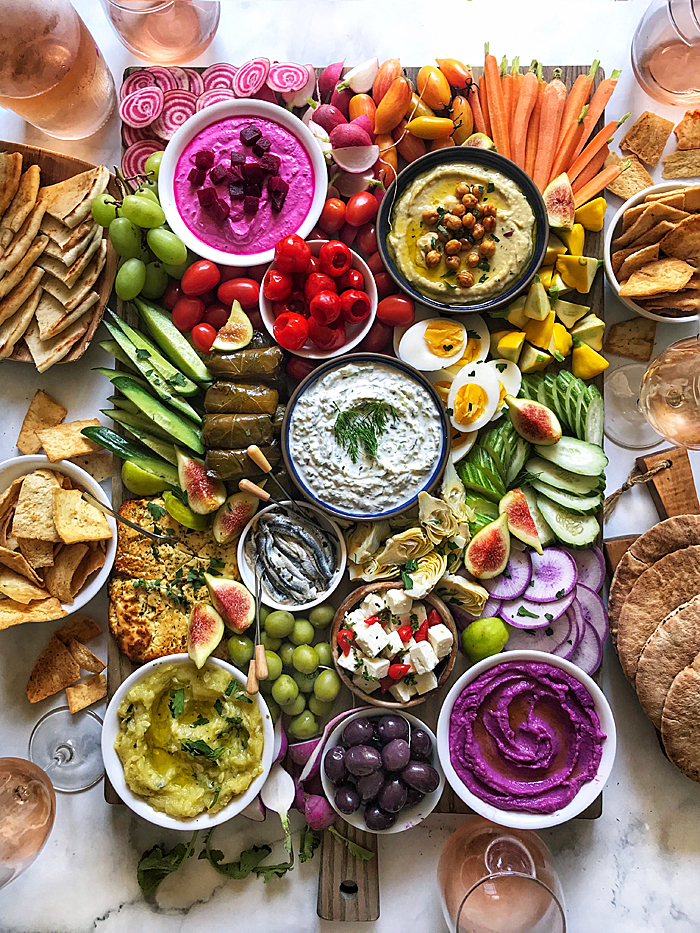 Use Hummus as a dip for pita bread and crudites as on the Epic Mediterranean Mezze Board, or spread on toast, grilled flatbread, or baked pizza piled with other vibrant vegetables, or as meditative therapy as prescribed below.
Recipe for Classic Hummus with Canned Chickpeas below, cooking Notes and ingredients Resources follow. If you're more of a visual person, watch a short video of the making of the hummus here.
Classic Hummus, with Canned Chickpeas
makes about 2 cups, easily ratio'd up or down
INGREDIENTS
2 15-ounce cans of chickpeas, a few whole chickpeas reserved to use as garnish
1 garlic clove, peeled, crushed, and inner green stem removed
¼ cup tahini paste
¼ cup lemon juice
1 teaspoon kosher salt + more to taste
ice cold water in a small bowl or glass, as needed by the tablespoon, for texture
optional garnish for serving as dip: extra virgin olive oil, extra whole chickpeas, chopped fresh soft herbs e.g. parsley, mint, dill
serve with: mezze, vegetable crudites, grilled flatbread, just itself
DIRECTIONS
Drain chickpeas and rinse. Remove the thin, diaphanous skins from the chickpeas either by gently squeezing each chickpea and popping it out of the skin, or by placing a clean kitchen towel or paper towel on a flat surface, laying the chickpeas in a single layer, and rubbing them gently with a second kitchen towel or paper towel. The first method is slow, repetitive, and for two cans of chickpeas, takes about 25 minutes. I consider it meditation.
In the bowl of a food processor, pulse the crushed garlic until chopped. Pour peeled, canned chickpeas into the food processor and pulse until the chickpeas are puréed. The mixture will be thick and may require stopping the machine several times and scraping down the sides of the bowl.
Add the tahini, half the lemon juice, and salt, and pulse until the mixture moves smoothly in the bowl. Add cold water by the tablespoon to the food processor as it is running until the hummus is smooth and the consistency you prefer. For two cans of chickpeas, I usually end up using 3 tablespoons of cold water, resulting in hummus with the consistency of thick frosting.
Taste, add more lemon juice and/or salt if needed.
Scrape the hummus into a serving bowl, drizzle with a few tablespoons of olive oil and garnish with chopped fresh herbs.
Hummus can be kept in an airtight container in the refrigerator for three days.
NOTES and RESOURCES
TOOLS and EQUIPMENT