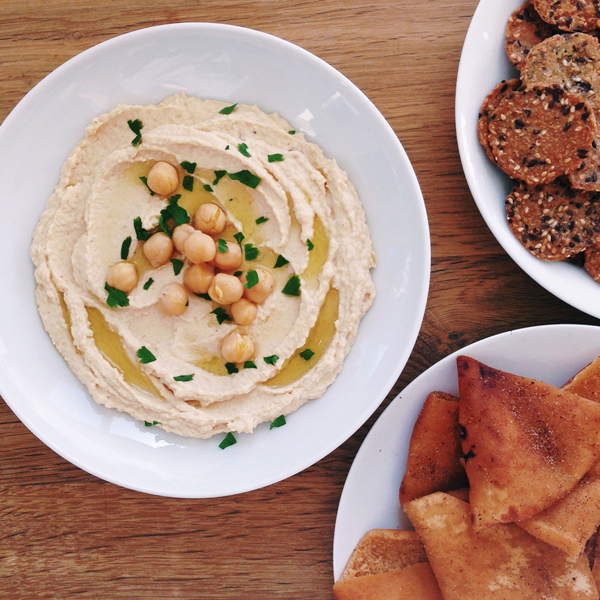 When making homemade hummus, canned chickpeas are easy and convenient, but if you've got the time, energy, and curiosity, try this recipe for Hummus with Dried Chickpeas.
There might be some science to starting with dried chickpeas and dry-sautéing them with baking soda that makes the resulting hummus super creamy and fluffy, but truth be told, starting with either dried chickpeas and slow-cooking them myself, or using great quality canned chickpeas didn't seem to make a difference in the texture in my own endeavors. (There is actually something else that
The reason to start with dried chickpeas is that they are less expensive, there is no question about whether the chickpeas have added preservatives, and why not?
Ingredients You Need for Homemade Hummus with Dried Chickpeas
Almost every recipe for hummus has the same few ingredients. The specific amounts and order in the directions are what make the recipes different. These are the ingredients you need for hummus:
dried chickpeas
tahini
garlic
lemon/lemon juice
olive oil salt
a not-so-secret ingredient, see below!
How to Get the Restaurant-style Fluffy, Creamy Hummus
The first few times I made hummus, I cobbled together bits and pieces of different hummus recipes I found on the internet. My hummus always tasted okay, spicy with garlic and tart with lemon juice, but I never got the same ultra creamy, fluffy consistency of the restaurant hummus.
I tweaked here and there trying to achieve that creamy, fluffy hummus. Adding more lemon juice made the hummus, duh, too lemony. Putting all of the ingredients in the food processor at the same time as opposed to puréeing the chickpeas first made no difference. Adding more olive oil to the hummus left it grainy and just more runny.
Then, like every good food-obsessive a few years ago, I got my hands on Yotam Ottolenghi's cookbook, Jerusalem. I made hummus following Ottolenghi's recipe in the book.
The hummus was perfect.
The simple recipe for hummus was a revelation to me. The recipe uses no olive oil, called for a lot of tahini, and added of all things, ice water.
The key here was the ice water, which seemed counter-intuitive to me. I'm no food scientist, but something about cold water at high-speed emulsifies the fat in the tahini, creating a smooth, creamy texture, not unlike the way emulsification of oil and vinegar creates a smooth and creamy salad dressing.
How to Make Homemade Hummus with Dried Chickpeas
Making hummus with dried chickpeas isn't necessarily more difficult or complicated than using canned chickpeas. It just takes more time because you have to factor in cooking time, which itself isn't that long at 20-40 minutes, but the pre-cook soaking time, which is overnight (or 12 hours). You have to know a day in advance that you want to eat hummus.
Here's how to make Hummus with Dried Chickpeas:
soak and cook chickpeas
pulse garlic and chickpeas until you get a thick mixture
tahini, lemon juice, and salt to "loosen" the puree
ice water one tablespoon at a time until fluffy
If you're more of a visual person, watch a short video of the making of the hummus here.
Ingredients Notes and Shopping Resources for Homemade Hummus
How and Where to Eat Homemade Hummus
Wait. I don't understand the question? You mean there are ways to eat Homemade Hummus other than just immediately out of the food processor with a spoon?
These are some awesome ways to serve and eat Homemade Hummus, which you can treat as a dip, spread, salad base, and it doesn't have to be considered just an appetizer:
Variations of Classic Homemade Hummus
Of course you've seen all the different flavored hummuses (hummi?) at the grocery store like roasted red pepper and cilantro.
Once you've gotten yourself into the rhythm of making this classic hummus, you can branch out and add ingredients like fresh or dried herbs, spices, and even other roasted or cooked vegetables for different flavors. Puree larger ingredients like roasted vegetables right along with with chickpeas. Add seasonings like herbs and spices when you add the tahini, lemon juice, and salt.
Here are a few of my favorite variations:
Roasted Garlic Hummus. 1 full head of roasted garlic added with the chickpeas make the most insanely garlick-y Roasted Garlic Hummus ever
Roasted Beet Hummus. 1 small chopped roasted red beet added with the chickpeas makes a bright fuschia Roasted Beet Hummus with an earthy flavor
Avocado Hummus. half a small avocado added with the chickpeas for Avocado Hummus (you could use half lime juice for the lemon juice and add a jalapeno to make it even more interesting!)
Olive Hummus. ¼ cup chopped olives with the tahini and lemon juice
Green Goddess Hummus. 1 tablespoon each chopped basil chives or green onion, dill, and parsley for a bright, herbal hummus
Sriracha Hummus. 1-2 tablespoons sriracha or other hot sauce added with the tahini and about half lemon juice
Tools and Equipment You Need to Make Homemade Hummus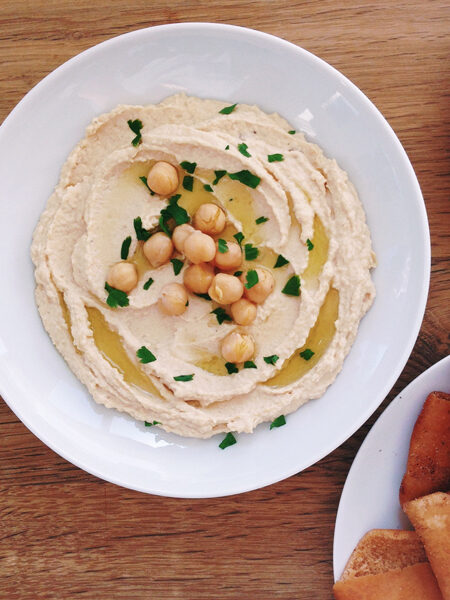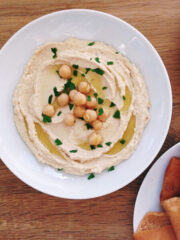 Print Recipe
Classic Hummus Recipe with Dried Chickpeas
Recipe for a Homemade Hummus from scratch, made with dried chickpeas
Ingredients
1¼

cups

dried chickpeas

1

teaspoon

baking soda

6½

cups

water

for cooking chickpeas

1

cup

plus 2 tablespoons light tahini paste

4

tablespoons

freshly squeezed lemon juice

4

cloves

garlic

crushed

6-8

tablespoons

ice cold water

salt

garnishes: olive oil, whole chickpeas, and chopped parsley
Instructions
The night before, put the chickpeas in a large bowl and cover them with cold clean, filtered water at least twice their volume. Leave to soak overnight.

The next day, drain the chickpeas. Place a medium saucepan over high heat and add the drained chickpeas and baking soda. Cook for about three minutes, stirring constantly.

Add water and bring to a boil. Cook, skimming off any foam and any skins that float to the surface. The chickpeas will need to cook for 20 to 40 minutes, depending on the type of chickpeas and freshness, sometimes even longer. Once done, they should be very tender, breaking up easily when pressed between your thumb and finger, almost but not quite mushy.

Drain the chickpeas. You should have roughly 3 ⅔ cups now.

Optional step: Peel the chickpeas of their thin skins either by gently squeezing each chickpea between your finger until the chickpea slips or pops out of the skin, or by pouring the chickpeas onto a clean dry kitchen towel or paper towel and rubbing them with another towel or paper towel to remove the skins.

Place the chickpeas in a food processor and process until you get a stiff mixture. Then, with the machine sill running, add the tahini, lemon juice, garlic, and 1½ teaspoons salt. Finally, slowly drizzle in the ice water and allow it to mix for about five minutes, until you get a very smooth and creamy paste.

Transfer the hummus to a bowl, cover the surface with plastic wrap, and let it rest for at least 30 minutes. If not using straightaway, refrigerate until needed. Make sure to take it out of the fridge at least 30 minutes before serving.